Victoria has hit a new daily case record from the latest COVID-19 outbreak, with 567 infections acquired locally today after the three local government areas (LGAs) of Geelong, Surf Coast and Mitchell Shire went into lockdown overnight.
However, lockdown-weary Victorians have something to look forward to now after a roadmap out of COVID-19 restrictions was delivered yesterday, detailing what life will look like once key vaccination targets are hit.
Based on expert modelling from the Burnet Institute, the roadmap is set against COVID-19 thresholds including hospitalisation rates and is subject to public health advice and health system capacity.
Over four different stages Victoria will gradually reopen, but many venues will only accept attendees that have received the vaccine.
In addition, once certain targets are hit for double-dose vaccination, public and private gatherings will be able to accommodate more people, with Premier Daniel Andrews hoping up to 30 people will be able to gather by Christmas.
"While we're no longer aiming for COVID zero, it's imperative we don't jeopardise our health system as we open up – too many Victorians rely on it every day," Andrews said.
"The COVID-19 thresholds detailed in the Roadmap will be important measures to maintain as we move through the different stages in order to safeguard the health system. There will be a "guard rail" system in place, which will allow our public health team to adjust restrictions if hospital admissions become too high."
Andrews also said the roadmap details there will be a time at which unvaccinated Victorians will be "left behind", but for those that do get the jab it is expected that more freedoms will be available come Summer.
"As we've flagged before, there will come a time when Victorians who choose not to get vaccinated will be left behind – that time has now been firmly set in the Roadmap," Andrews said.
"When Victoria reaches 70 per cent double dose vaccination, changes will include an increase in numbers for public gatherings outdoors, funerals, weddings and religious gatherings – with larger caps for people who are fully vaccinated."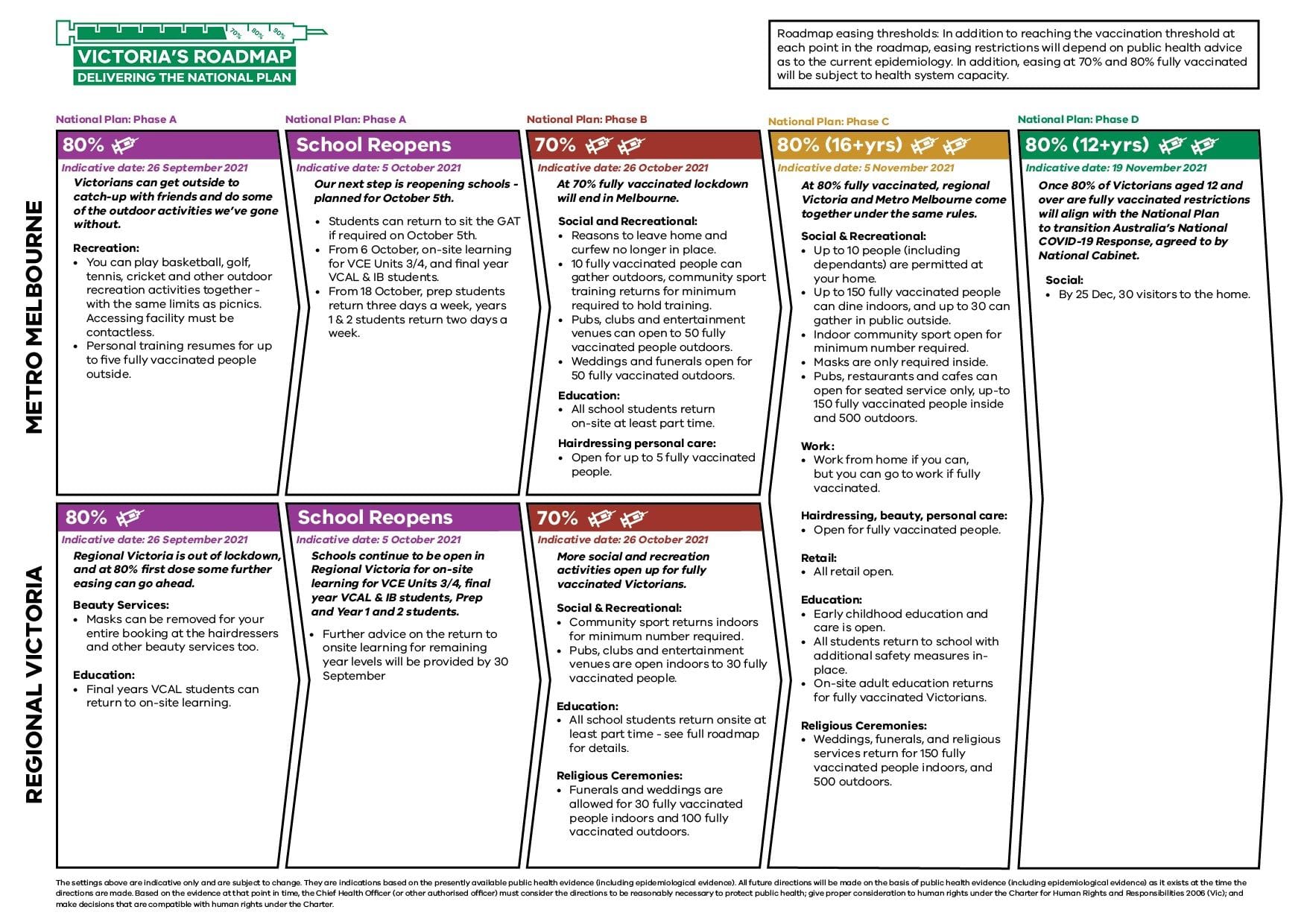 The four stages of Victoria's roadmap to freedom
Phase A: 80 per cent single dose
Once Victoria hits 80 per cent of its eligible population having received one dose of the COVID-19 vaccine people will be able to get outside to catch-up with friends.
The state expects this to occur on 26 September 2021, and will also allow for regional Victoria to leave lockdown.
In metropolitan Melbourne:
You can play basketball, golf, tennis, cricket and other outdoor recreation activities together - with the same limits as picnics. Accessing facility must be contactless,
Personal training resumes for up to five fully vaccinated people outside.
In regional Victoria:
Final years VCAL students can return to on-site learning,
Masks can be removed during beauty services by the client if the service requires it.
Schools in Melbourne are also planned to reopen on 5 October, with on-site learning for VCE Units 3/4 and final year VCAL and IB students to resume on 6 October.
Phase B: 70 per cent double dose
Once 70 per cent of the state's population is fully vaccinated, the lockdown in Melbourne will end. This is anticipated to occur around 26 October.
Once this happens, more social and recreational activities will open up for those who have been fully vaccinated.
Social and recreational
In metropolitan Melbourne:
Reasons to leave home and curfew no longer in place.
10 fully vaccinated people can gather outdoors, community sport training returns for minimum required to hold training.
Pubs, clubs and entertainment venues can open to 50 fully vaccinated people outdoors.
In regional Victoria:
Community sport returns indoors for minimum number required.
Pubs, clubs and entertainment venues are open indoors to 30 fully vaccinated people.
Education
In metropolitan Melbourne:
All school students return on-site at least part-time.
In regional Victoria:
All school students return onsite at least part-time.
Religious ceremonies
In metropolitan Melbourne:
Funerals are allowed for 20 fully vaccinated people indoors and 50 fully vaccinated outdoors.
Weddings allowed for 50 fully vaccinated people outdoors.
In regional Victoria:
Funerals and weddings are allowed for 30 fully vaccinated people indoors and 100 fully vaccinated outdoors.
Hairdressing, personal care
In metropolitan Melbourne:
Open for up to 5 fully vaccinated people.
Phase C: 80 per cent fully vaccinated
At 80 per cent of the state's eligible population fully vaccinated, regional Victoria and metropolitan Melbourne will come together under the same rules.
This is expected to occur around 5 November, and will see more people permitted to gather together at home, all retail will reopen, and fully-vaccinated workers can return to the office.
Social and recreational
Up to 10 people (including dependants) are permitted at your home.
Up to 150 fully vaccinated people can dine indoors, and up to 30 can gather in public outside.
Indoor community sport open for minimum number required.
Masks are only required inside.
Pubs, restaurants and cafes can open for seated service only, up to 150 fully vaccinated people inside and 500 outdoors.
Work
Work from home if you can, but you can go to work if fully vaccinated.
Education
Early childhood education and care is open.
All students return to school with additional safety measures in place.
On-site adult education returns for fully vaccinated Victorians.
Religious ceremonies
Weddings, funerals, and religious services return for 150 fully vaccinated people indoors, and 500 outdoors.
Hairdressing, beauty, personal care
Open for fully vaccinated people.
Retail
Phase D: 80 per cent double dose
Once 80 per cent of Victorians aged 12 and over are fully vaccinated, expected to occur on 19 November, restrictions will align to the National Plan to transition Australia's National COVID-19 Response, as agreed to by National Cabinet.
At this stage, the state will permit 30 visitors to the home.
"We know how important getting to the end of the year and being able to celebrate Christmas will be for so many," Andrews said.
"That's why we are working towards having 30 visitors to the home by late December – and with travel across both interstate and international borders open again, many families will be able to reunite."
Peak industry bodies have welcomed the Victorian Roadmap which gives businesses a glimmer of hope, but further clarity on certain issues has been requested.
Australian Retailers Association (ARA) CEO Paul Zahra said whilst it's pleasing that hairdressers and personal care services can reopen at 70 per cent double dose, other discretionary retail businesses face a longer wait, limiting their ability to trade in the lead up to the all-important Christmas period.
"Victorian businesses have been desperate for hope and certainty out of the ongoing Delta devastation, and whilst the roadmap details what life will look like after lockdown, it's disappointing that most of discretionary retail faces a longer wait to reopen," Zahra said.
"Discretionary retail has been the hardest hit throughout the pandemic. Many small retail businesses are on the brink of financial, emotional and mental health collapse. Sadly, they'll be closed for at least another seven weeks, while other sections of the economy can open and trade at 70 per cent double dose.
"We appreciate the health and safety of the community needs to come first, but we can't hide our concern for vulnerable retailers who will have been continuously closed for 13 weeks in total – which will sadly be unsustainable for some. In NSW, retail businesses, along with hospitality and hair and beauty services will reopen when 70 per cent of their population is fully vaccinated."
Zahra also said he would welcome more detail about how proof of vaccination will work and be enforced, especially in retail settings.
"There's some important details to be finalised with the Victorian Government around how proof of vaccination will work and will be enforced," he said.
"Front-line retail staff have unfortunately been the victims of increased customer aggression as a result of the QR code and mask mandates, and while these instances are in the minority, asking for a customer's vaccination history will certainly elevate this concern.
"It's important that retailers have the backing of law enforcement agencies so they can manage the safe reopening of their businesses."
The Property Council of Australia Victorian executive director Danni Hunter also welcomed the roadmap, labelling it "sensible" and "balanced".
"After 230 days of lockdowns, Melbourne's CBD has been devastated by the pandemic. Many businesses have closed, office occupancy and vacancies are at record high levels and the city is on life support. This plan balances the health challenge with the social and economic challenge and gives Victorians hope," Hunter said.
"The plan to allow vaccinated workers to return to the office from November 5 is a welcome beacon of hope which will keep CBD business holding on, and within weeks we'll be able to start to turn Melbourne from a ghost town into the world's most liveable city once again."
Geelong, Surf Coast & Mitchell Shire in seven-day lockdown
In addition to releasing the roadmap yesterday, the Victorian Government reimposed lockdown restrictions on the three LGAs of Geelong, Surf Coast and Mitchell Shire.
Commencing at 11.59pm last night, the restrictions are the same as those in Ballarat and metropolitan Melbourne, excluding the curfew.
The state's health authorities are concerned about the large caseload in Greater Geelong and Mitchell Shire, with 17 and 15 active cases in these LGAs respectively as of 18 September.
"If you're in Geelong, Surf Coast or Mitchell Shire, follow the restrictions, get tested if you have symptoms, and get vaccinated if you haven't already. Regional communities have overcome outbreaks before – and this will be no different," Premier Andrews said.
Updated at 10.08am AEST on 20 September 2021.
This update is brought to you by Employment Hero.
Click here to go to Employment Hero's COVID-19 Resource Hub for essential resources to help employers, managers and HR specialists navigate the ongoing pandemic.
---
Help us deliver quality journalism to you.
As a free and independent news site providing daily updates
during a period of unprecedented challenges for businesses everywhere
we call on your support