The Australian Banking Association (ABA) revealed positive signs of economic recovery today, with payments resuming for almost half the nation's deferred loans.
The number of paused loans in Australia peaked in June with around 500,000 mortgages and more than 200,000 small business loans.
Data revealed by the association shows that as of last week repayments had resumed on 224,000 mortgages and 82,000 small and medium business loans.
This means that two in five business loans that were deferred are getting back on track, while the improvement is slightly better for mortgages at 45 per cent.
To provie some breathing pace during the worst of the COVID-19 pandemic, Australian banks provided a loan repayment deferral to around one in 11 Australian mortgage holders and one in 8 small business owners.
ABA chief executive Anna Bligh highlights the latest numbers as a good sign for the economy.
"It shows that more Australians are getting back on their feet and resuming their loan repayments," she says.
"These loan deferrals have helped hundreds of thousands of Australian families and small businesses survive the pandemic."
In just the past month, as customers came to the end of their six-month deferral, more than 130,000 mortgages and 50,000 SME loans had their repayments resumed.
According to the data from Australia's seven largest banks, the total number of deferred loans has dropped to 439,000.
"Right now, it's really important that people contact their bank to figure out the path ahead. The earlier you speak to your bank, the more options they have to help you find a way through," says Bligh.
"Banks will work with customers to figure out a tailor-made solution. That might include restructuring a loan, or in some cases, granting an additional four-month deferral.
"If you are in financial difficulty, please call your bank, they can help you find a way through. Don't tough it out on your own."
RBA Governor: Recovery from a very uneven recession
As a symbolic reflection of the changes afoot in the economy, Reserve Bank Governor Philip Lowe gave a speech this morning not on a Zoom call, but rather a room of people at Citi's 12th Annual Australia and New Zealand Investment Conference.
"It is especially good to be able to join you in person, rather than over the internet," he told attendees.
"This is the first time since February that I have been able to speak to a room of people. I hope this is another sign that the worst is behind us and that a recovery is under way."
Governor Lowe said we could look forward to the recovery continuing, but its shape and nature remains highly uncertain.
"Much depends upon how as a society we can live with the virus and the success of the scientists in terms of a vaccine, anti-viral treatments and rapid testing," he said.
"There has been positive news on these fronts recently and we hope for more positive news, but success is not yet assured.
"So the single most important influence on the recovery is how successful we are in containing the virus."
He described a certain unevenness in the recession that was especially evident in the labour market.
"The picture is pretty clear. The job losses have been largest for young people, with around 500,000 people under 35 losing their jobs in the early stages of the pandemic, and around 300,000 still out of work in August," he said.
"The hospitality industry - in which many young people and women work - has been worst affected, with almost 300,000 job losses between February and May.
"There has been an encouraging recovery of late, and for this to be sustained our economy will need to open up further. In contrast, a number of other areas including the finance industry, the public sector and mining have been much less affected."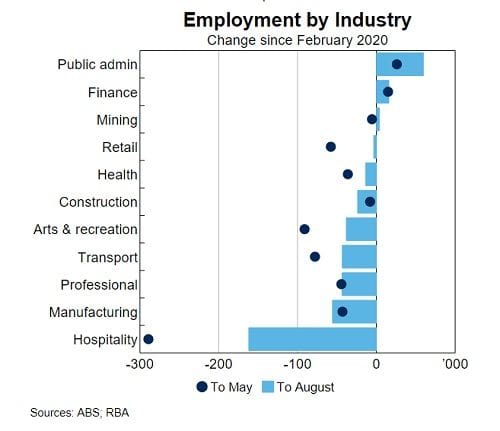 People working in lower-paid occupations have been the hardest hit on average, while employment has actually increased for occupations with the highest hourly earnings.
"The difference in experience is striking," Governor Lowe said.
"The uneven effect of the pandemic is also evident in small businesses being harder hit, on average, than large businesses," he added.
"As at mid September, the number of people on the payrolls of firms with at least 200 employees was down just 1 per cent on the level of mid March."
He said in contrast, payrolls are down seven per cent on average for firms with between 20 and 200 employees, with a similar decline for firms with fewer than 20 employees.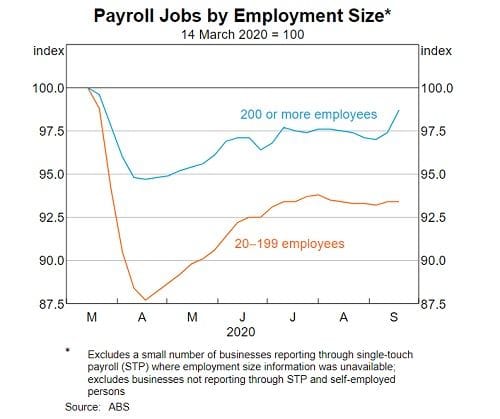 That unnevenness of experience can also be suneen geographically, with Western Australia seeing the strongest recovery, so much so that the RBA's business liaison is hearing reports of some labour shortages.
"Consistent with the labour market data, retail spending, consumer confidence and house building have also picked up by more in Western Australia than elsewhere," he said.
"At the other end of the distribution is Victoria, where the second wave has meant that the earlier recovery in jobs has been reversed, with the number of jobs there still down by 8 per cent from that in March.
"Retail spending in Victoria in August was also 11 per cent lower than at the start of the year - in contrast, spending in the rest of the country was up by 13 per cent."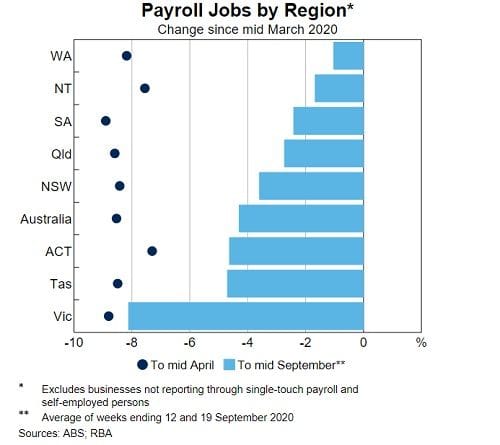 He said one factor that will shape the recovery is how willing people and businesses are to draw on their accumulated financial buffers to spend and invest over the months ahead.
"One of the many unique features of this recession is that it has been associated with a big increase in household saving," Governor Lowe said.
"Normally in a recession, income falls and many people draw on their savings to get through the hard times. But in the June quarter, when fears about the pandemic were at their peak, the household saving rate surged to 20 per cent, the highest in almost 50 years."
He said this high savings rate came down to caution and Australians having fewer opportunities to spend as many services were not on offer, in addition to a large boost to incomes from various government support programs.
"Many households have used this extra income and their increased savings to put their balance sheets on a firmer footing," the Governor said.
"Some of the money withdrawn from superannuation funds under the early release scheme - which is now equivalent to about an additional 10 per cent of quarterly household disposable income - has also been used to pay down debt and strengthen cash buffers."
He said for many people with mortgages, much of the extra savings and some of the superannuation withdrawals have been used to increase their balances in their offset accounts, with offset balances up 10 per cent since March.
"Other people have simply paid down principal directly. Combined, all forms of mortgage payments including the additional balances in offset accounts reached a record high over recent months, despite repayments being deferred on around eight per cent of housing loans," he said.
"In aggregate, household income is likely to decline in the December quarter as the unemployment rate increases and government support becomes more targeted.
"In normal times, a decline in income would be expected to affect consumption, but these are not normal times. It is entirely possible that as restrictions ease, people will choose to draw on their accumulated buffers to sustain and increase their spending."
Whether it's for households or businesses, the recovery hinges on confidence, and the ongoing pandemic response will have an important role to play in that.
"If people are nervous about the health situation or their job prospects, they are likely to sit on their savings. On the other hand, if they are confident that the virus can be contained and that they will have a job, they will be more willing to spend," Governor Lowe said.
"This means that there are large payoffs to be had from ensuring public confidence in the capacity of the health system to respond.
"From this perspective alone, there are likely to be large returns from public investments in first-class testing, contact tracing and quarantine arrangements. These are essential, not only to open up our economy successfully but to also build the confidence that is required for people to spend and invest."
Australia's debt "entirely manageable and affordable"
The issue of national debt is a divisive topic in Australia, and opinions vary as to how much borrowing is appropriate to fuel the country's Keynesian response to the recession; that is, stimulating demand through government policy such as economic stimulus and cutting taxes.
Whilst the RBA's role is to handle the monetary supply side of the economic equation and keep inflation under control, Governor Lowe said the fiscal support from government necessarily involves increased borrowing.
"For a country that became used to low budget deficits and low levels of public debt, this is quite a change," he said.
"But it is a change that is entirely manageable and affordable and it is the right thing to do in the national interest.
"Debt across all levels of government in Australia, relative to the size of our economy, is much lower than in many other countries and it is likely to remain so."
He reiterated the national balance sheet was in a strong position and able to provide the support that is now required.
"Government can borrow at the lowest rates ever and the demand from investors for government bonds remains very strong," he said.
"The states and territories can also borrow at record low rates and have an important role to play in the national fiscal response."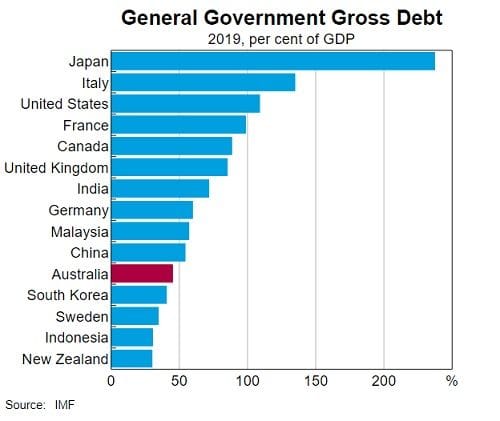 Updated at 3:12pm AEDT on 15 October 2020.
Get our daily business news
Sign up to our free email news updates.
Help us deliver quality journalism to you.
As a free and independent news site providing daily updates
during a period of unprecedented challenges for businesses everywhere
we call on your support