A proposed acquisition of one of Australia's leading listed cannabis companies will not go ahead after its board heeded independent advice from BDO that the deal was "neither fair nor reasonable".
Red flags were raised on Friday when Creso Pharma (ASX: CPH) announced it had intended to release an announcement about schemes of arrangement with its suitor PharmaCielo (CVE: PCLO), but it was not in a position to do so.
The company therefore remained in voluntary suspension, and this morning it told the ASX what PharmaCielo had already told the Canadian market on 5 November - a deal between Creso and the parent company of Colombia's largest cannabis producer would not proceed.
"While we are disappointed by this outcome, we have appreciated the interactions between our teams over the past several months and wish them much success in their future endeavours," PharmaCielo chief executive officer David Attard said last week.
Creso told the ASX it had received BDO's supplementary independent expert report from BDO on 1 November "opining that the Share Scheme is neither fair nor reasonable and not in the best interests of Creso Pharma shareholders".
"In light of the change in recommendation of the Independent Expert, Creso Pharma and PharmaCielo have mutually agreed that the SIA (Scheme Implementation Agreement) has been terminated.
"In connection therewith, on 11 November 2019, Creso Pharma and PharmaCielo executed an agreement of mutual release and settlement in relation to the SIA, whereby each of Creso Pharma and PharmaCielo agreed to release each other from all claims arising under or in connection with the SIA or the related transaction documents."
Under the terms of the mutual release Creso Pharma is now required to repay the outstanding amounts of the loans advanced by PharmaCielo, valued at around CAD$3.9 million ($4.3 million)
When the scrip deal was announced in June it was estimated to be worth $122 million and sent Creso's shares rising 30 per cent in one day. But the values of both companies, and hence any deal, have fallen significantly since then.
In the supplementary report BDO estimated the deal would now have been worth between $58.7 million and $73.5 million.
BDO also changed its estimated values for Creso Pharma pre- and post-takeover, representing a sharp drop on its September assessment.
While it calculated a value for Creso of between $0.309 and $0.401 per share, BDO believed the value of partial shares in the merged entity would only be worth between $0.216 and $0.281 each.
The reasonability test was put under strain as in the event Creso Pharma shareholders didn't approve the scheme they would have been "required to raise significant funding to service the repayment of outstanding debts to PharmaCielo".
"Funding will also be required to service working capital requirements for the growth projections of the Creso Pharma operations," BDO said.
"We consider this required funding will need to be undertaken via a form of equity or quasi-equity raising (ordinary share capital, convertible notes, etc) which could result in a significant dilution to current Shareholders.
"However, we consider the disadvantages of potential dilution associated with Creso Pharma raising a form of equity to be outweighed by the loss of value to Shareholders on approval of the Schemes, given the recent significant decline in the PharmaCielo share price has resulted in the Share Scheme Consideration declining significantly."
BDO also drew attention to the overall decline in value for ASX listed medicinal cannabis companies.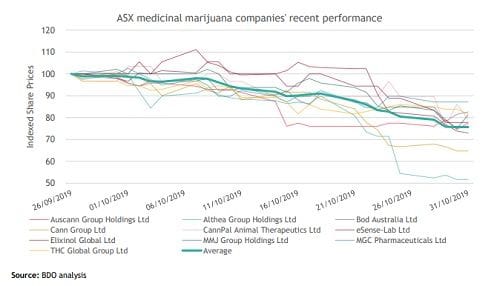 Never miss a news update, subscribe here. Follow us on Facebook, LinkedIn, Instagram and Twitter.
Business News Australia
Get our daily business news
Sign up to our free email news updates.