States that were free of restrictions led a bounce-back for Australian retail sales last month as the country recorded a 4.2 per cent increase year-on-year, while spending was up 10.1 per cent on pre-pandemic levels for October 2019.
Data from MasterCard SpendingPulse shows Victoria saw the highest sales increase at 12.4 per cent, however the state was in lockdown for most of the month of October in both 2020 and 2021.
In the lockdown-free states, Queensland's retail sales grew by 5.3 per cent, followed by Western Australia (up 5.2 per cent), Tasmania (up 4.7 per cent) and South Australia (up 3.5 per cent).
Sales have remained subdued in NSW and the ACT, with a large drop of 12.2 per cent for the nation's capital - skewed by its own lockdown - and a slight drop of 1.1 per cent in Australia's most populous state.
Australian Retailers Association CEO Paul Zahra said with 39 days to go to Christmas and the worst of COVID now behind us, retailers were ramping up their operations and looking forward to a positive festive trading period.
"Whilst it's encouraging to see retail sales overall on the rebound in October, the results are mixed across the different categories and the states and territories," Zahra said.
"Department stores have recorded five consecutive months of negative sales growth, driven by the lockdown of the Australia's two largest cities, however we are hopeful of a strong finish to the year.
"Retailers in Sydney reopened on October 11, on October 22 in Canberra and on October 29 in Melbourne – so we are yet to see a full month's worth of insights where lockdowns haven't been a feature."
Department stores recorded a sharp downturn of 12.3 per cent in year-on-year sales this month.
The leading retail category was household goods which recorded 14.2 per cent sales growth. Other categories such as clothing and food recorded marginal sales lifts of 0.8 per cent and 1.7 per cent respectively.
With the holiday season around the corner, it is forecast consumers will spend a record $5.4 billion in the Black Friday and Cyber Monday sales.
"Consumer sentiment is upbeat and we're set for a positive Christmas, despite the numerous COVID setbacks in 2021," Zahra said.
MasterCard SpendingPulse findings are based on aggregate sales activity in the Mastercard payments network, coupled with survey-based estimates for certain other payment forms such as cash and cheque.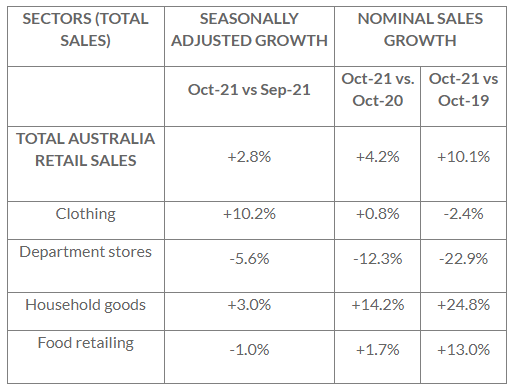 Get our daily business news
Sign up to our free email news updates.