Fund manager Blue Sky Alternative Investments (ASX: BLA) ended its 7.5-year run on the ASX after going into receivership.
At its peak the Brisbane-based investment firm was worth almost $1.2 billion, with capital raisings easily fulfilled and an aggressive investment strategy fuelling global interest.
During what appeared to be a an upward trajectory for the business model, cracks started to show in January 2017 when concerns were raised about Blue Sky's lack of independent directors, five months after the departure of founder Mark Sowerby.
It was 14 months later that everything fell apart following a short-selling report from US-based Glaucus criticising "wildly exaggerated" asset values at the firm, and by the time shares were suspended on 20 May BLA had a market capitalisation of just over $14 million.
This represents a drop from $14.70 per share at Blue Sky's peak down to $0.18.
In the following timeline, which is being continuously updated as the story unravels, we take a look at the rise and fall of this Brisbane-based investment firm which began so positively but got lost along the way.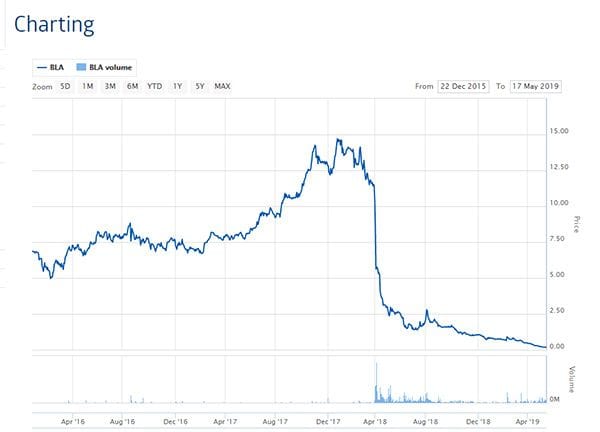 2012
Blue Sky Lists on the ASX on 24 January 2012
Around six years after its creation as a private equity house in 2006, Blue Sky Alternative Investments (ASX: BLA) lists on the ASX after raising $6.47 million from its pre-Christmas initial public offering. Founder and managing director Mark Sowerby views the IPO as a good platform to attract offshore investor support with particular interest in the water asset and hedge funds business. "A lot of IPOs are about the exit but ours is all about the entry," he says.
2013
26 March 2013
Blue Sky invests $3 million in Beach Burrito Company
A decade after its founding investment in the North Bondi-founded Mexican food chain, Blue Sky makes further investments in the company which later prove to be a sticking point for short sellers who hold the company's valuations up to scrutiny.
2014
27 February 2014
Blue Sky revenue grows 241 per cent in the first half of FY14
Two years post-IPO and Blue Sky's aggressive growth strategy is in full swing, although the fund is still running at a loss after tax. Revenue more than triples year-on-year to reach $8.15 million in the first half of FY14 with the company on track to achieving more than $500 million in assets under management (AUM) by the financial year's end. Almost $35 million worth of capital is raised, signaling a pattern that is to develop over time to fund the group's expansive investment strategy.
2 May 2014
Assets under management at Blue Sky grow past $500 million
An office has been opened in Melbourne and the fund has just purchased Investment Science Pty Ltd, a fund manager with $70 million of assets under management, and Sowerby highlights increased allocations into alternatives. Whether it be private equity, private real estate, hedge funds or real assets, if it's at Blue Sky you can be sure it's experiencing growth.
7 May 2014
Blue Sky launches IPO for Alternatives Access Fund
The Blue Sky Alternatives Access Fund (BASSF) is set to become Australia's first diversified, alternatives-focused listed investment company (LIC) on the bourse, with plans to raise between $50-100 million through an IPO at $1 per share. Investment director Alexander McNab describes the investment vehicle as a long-term strategy, creating new opportunities for Australian investors. "There is a growing appetite for alternatives in Australia, but access and liquidity have been problematic....The Blue Sky Alternatives Access Fund is removing these barriers," he says.
12 June 2014
Blue Sky beats the low end of its IPO target raising $60mil for BAF IPO
Investors secure 60.39 million shares at $1 each in the new fund, which is set to list on June 16.
29 August 2014
Blue Sky posts 60 per cent lift in full year profit for FY14
The company's assets under management have now hit $700 million - the result of "mainstreaming" alternative assets as an increasingly popular choice for investors, according to Sowerby. "It's been hard work, but I think we're going to see the fruits of our labour over the next few years," he says.
2015
23 February 2015
First half net profit for FY15 lifted to $2.6 million from $0.3 million in 1H14
Blue Sky keeps capitalising on the growing trend towards alternative investments, reporting strong results. A year ago the fund was in the red after tax, but now profits are streaming in and are predicted to grow significantly.
2 March 2015
Blue Sky facilitates $7m financing round for ParcelPoint
BLUE Sky's venture capital arm facilitates a $7 million financing round for online retail delivery company ParcelPoint, a group that allows online shoppers to collect and return their purchases beyond traditional postal services with more locations and extended hours.
20 March 2015
Blue Sky cracks $1bn mark for assets under management ahead of forecast
The fund is expected to surpass $1 billion in assets under management, giving Blue Sky the means to capitalise on earlier investments and add scale with larger transactions. The news comes hard on the heels of the Brisbane-based company's addition to the All Ordinaries index and a solid first-half profit result, prompting Morgans to maintain its buy recommendation on the stock.
10 April 2015
Blue Sky's first entry into Brisbane Top Company's list.
Blue Sky joins Brisbane's Top Companies List, coming in at #36.
1 May 2015
Blue Sky buys two sites in Brisbane to build $160m worth of student accommodation
Blue Sky Private Real Estate announces it will develop more than 1,000 rooms in South Bank and Woolloongabba to service the city's student lodging undersupply. The company will partner with accommodation operator The Pad to target domestic and international students.
22 May 2015
Blue Sky raises $20 million to build portfolio of investments
The capital will be used to build on the LIC's managed portfolio of alternatives. Ord Minnett Limited and Morgans Corporate acted as joint lead managers for the non-renounceable entitlement offer.
26 June 2015
Blue Sky raises $15 million for its venture capital fund
Strong interest among investors means Blue Sky Venture Capital is well placed to achieve the fund's target of $30 million. The fund is also a registered Early Stage Venture Capital Limited Partnership, which means investor returns will be exempt from tax. Blue Sky Venture Capital investment director Dr Elaine Stead says renewed interest in the sector has been supported by the company's strong investment performance.
13 July 2015
Blue Sky acquires pharmacy services provider HPS
Blue Sky enters the $2.3 billion hospital pharmacy market after purchasing a major stake in HPS. The investment arm of Blue Sky teams up with Partners Group to acquire the pharmacy services provider for an undisclosed amount. HPS has an annual turnover of more than $130 million, backed by long-term contracts with Healthscope, Calvary and St John of God.
24 August 2015
Blue Sky posts $10.4 million profit for FY15
A year of heavy investment bolsters the bottom line, with the asset manager posting a $10.4 million profit for the year. The result is a 68 per cent lift on the previous year, with revenue also improving 82 per cent to $43.6 million. The company also reaches $1.35 billion in fee-earning assets under management (AUM) in the past year, up from $700 million in FY14.
11 September 2015
Blue Sky acquires stake in ORIGO Education
Blue Sky stamps the education-technology sector as one to watch after securing a multimillion-dollar stake in ORIGO Education through its private equity division. ORIGO delivers primary school mathematics solutions tailored to local curricula through a cloud-based learning management system. The capital investment will allow ORIGO to boost research and development across its existing suite of products, as well as expand its sales and teaching team as it gears up for expansion in the US.
15 September 2015
Blue Sky Venture Capital makes its first exit with head lice treatment company Hatchtech
Blue Sky marks a milestone in its venture capital division with the exit of head lice treatment company Hatchtech, in which it made an investment in 2013 as part of a $12 million syndicate led by OneVentures. The Melbourne-based pharmaceutical company enters into a commercial agreement with Dr Reddy's Laboratories in India. The deal is expected to be valued at up to $278 million.
2016
22 February 2016
Blue Sky reports 69 per cent profit lift at end of 1H16
An AUM target of $2 billion has been fast-tracked 18 months ahead of schedule. "Our strong and consistent decade-long track record of growth and investment performance across all our funds places us in a very competitive position," says Sowerby. "Our focus in recent years on the essentials - food, water, education, housing, student accommodation, agriculture and infrastructure - has been the key to this performance."
3 March 2016
Blue Sky buys an office tower in Manhattan
Cove Property Group and Blue Sky's joint venture investment vehicle will acquire an office tower located in Manhattan. The transaction value exceeds $280 million with the majority of the equity provided by a US-based institutional investor. Blue Sky holds a 38 per cent interest in Cove Property Group, which was established in 2015 to acquire and manage commercial real estate assets with an initial focus on investment opportunities in New York City.
21 March 2016
Blue Sky signs $1bn joint venture with Goldman Sachs to build student accommodation portfolio in Australia and New Zealand
Blue Sky Private Real Estate and Goldman Sachs have teamed up to form a $1 billion student accommodation joint venture. The two companies aim to build a portfolio of 5,000 to 10,000 purpose-built student accommodation beds across Australia and New Zealand, in what they describe as a heavily undersupplied market relative to other global student markets including the US and UK.
5 April 2016
Blue Sky invests $25 million in Vinomofo
Melbourne wine startup Vinomofo completes its first capital raise at A$25 million backed entirely by Blue Sky Venture Capital. The raise coincides with the company's fifth year in business and the roll out of a business 'lite' model offer into six new markets including New Zealand, the USA, the UK, Singapore, Hong Kong and China. Launched from an Adelaide garage in 2011 by co-founders Andre Eikmeier and Justin Dry. Vinomofo's online offering is based on curation and value. The startup sources direct from producers, on-selling to 400,000-plus members.
8 April 2016
Blue Sky reaches 24th spot in Brisbane's Top Companies List
14 April 2016
Blue Sky, Goldman Sachs buy up student pads
Blue Sky joint venture with Goldman Sachs makes investment in student accommodation manager The PAD, a student accommodation manager which manages accommodation for nearly 2,000 students. The private equity deal will see The PAD manage the joint venture's student accommodation assets as the parties build a $1 billion portfolio of 5,000 to 10,000 purpose-built student accommodation beds across Australia and New Zealand over the next few years.
11 May 2016
Blue Sky announces $67 million raise
An offer is made to raise funding for co-investment in Blue Sky's managed funds and demonstrating balance sheet scale. "Once we complete this raise, we will have more than $120 million in net assets on our balance sheet," says Sowerby. "This, combined with our 10-year investment track record, provides a significant platform as we rapidly scale the business and take advantage of ongoing growth in alternatives."
13 May 2016
Blue Sky raises $45.15 million in two days
Blue Sky Alternative Investments' accelerated entitlement offer and placement receives strong support and is heavily oversubscribed, raising $45.15 million in two days. By now the company has a market cap of $400 million.
19 August 2016
Blue Sky posts 57 per cent profit rise, Mark Sowerby founder departs after ten years
A decade after starting the company Mark Sowerby hands over the reins to chief operating officer Robert Shand. Sowerby will remain an active adviser to the business and a significant shareholder, but says he is stepping down to spend time with his family and working on social impact projects. "As a founder you have a limited life cycle and the challenge is to not go too early or too late," he says. "The last few years we have grown at 50 per cent per annum, and we see no reason for that to slow down....The business is in amazing shape." The announcement coincides with the announcement of a 57 per cent profit rise to $16.3 million
11 November 2016
The company's alternative access fund BAF raises $47 million through an ASX share offer. The capital is raised through existing investors and a shortfall offer to new investors, opened on 10 November, that was heavily oversubscribed.
21 November 2016
Blue Sky enters US student accommodation sector
The LIC forms a joint venture with Atlanta-based Student Quarters, an independent student housing investment manager with approximately 5,000 beds under management. "We think the risk profile of student housing is highly attractive and remains underpriced," says Blue Sky US investment director Fabian Roche.
7 December 2016
Blue Sky buys second Manhattan office tower
Located in Manhattan, 441 Ninth Avenue represents a transaction value of more than $400 million and follows the purchase of 2 Rector Street in March. The majority of the equity for the deal is provided by a blue chip institutional investor in the US. The eight-storey building is a five-minute walk away from Penn Station, Hudson Yards and Manhattan West.
2017
6 January 2017
Blue Sky sells stake in Pet Circle
The fund continues on a divestment streak, completing the sale of its stake in Millell Pty Ltd which trades as Pet Circle. The online supplier of pet food and accessories is sold to two venture capital funds managed by Blue Sky for an undisclosed amount. Since the purchase was made in 2013, Blue Sky says it has achieved a four-fold increase in sales and a 1.8x return on invested capital net of fees.
19 January 2017
Blue Sky defends criticism of board makeup
Concerns have been raised about the company's lack of independent directors on its seven-member board, where only the chairman is independent. Does this pose a risk to the alternative investment portfolio? Reports the company has high levels of debt are described as inaccurate. "Blue Sky's own underlying balance sheet remains in a significant net cash position," says managing director Rob Shand.
The company has pledged to hire another two independent directors in March, but it will still fail to meet the ASX recommendation for a majority of independent directors. It also has to deal with the sudden departure of founder Mark Sowerby, but Shand assures Business News Australia succession is planned in line with the company's growth plans.
"As previously reported, for the 30 assets that we have realised since inception, 27 have been at a value either in line with, or higher than their book value and our realised returns are superior to our overall returns," says Shand.
In regards to valuing its investments, Blue Sky uses KPMG in private equity and venture capital matters, JLL for private real estate, Colliers for real assets and NAB for hedge funds, and these valuations are reviewed each reporting period by Ernst & Young.
10 February 2017
Blue Sky announces 130 per cent increase in underlying profit in 1H17
Shand says the company is "just scratching the surface" of its potential as the company announces a 130 per cent increase in underlying profit in the six months to 31 December. The company reveals underlying NPAT of $10.1 million in the half year results, with projections profits will be up 50 per cent for FY17 at $24-26 million.
The company now has $2.7 billion worth of fee paying assets under management after adding $1 billion in the past 12 months, and it expects to raise AUM to between $3.1-$3.3 billion by the end of FY17. The fund's institutional backers, including Australian superannuation fund First State Super, Goldman Sachs, and LGIAsuper, have increased their investments in the company.
28 April 2017
Blue Sky the #24 company in Brisbane's Top Company list
31 May 2017
Blue Sky funds under management hit $3b mark
Blue Sky confirms it is one of the fastest growing funds management companies in Australia as it hits the $3 billion mark ahead of the end of financial year 2017. The company is aiming to have its funds under management reach $5 billion by 2019 with a longer-term goal of $10 billion, and it has institutional backing from Australian superannuation fund First State Super and Goldman Sachs.
7 July 2017
Blue Sky tapped to manage $50 million SA Venture Capital Fund
Blue Sky is selected to manage South Australia's new $50 million Venture Capital Fund (SAVC). The SAVCF will support local ventures with high growth potential to secure funding and accelerate growth into national and global markets.
Blue Sky will work alongside local businesses and organisations to identify high growth potential South Australian companies for investment and help attract additional private sector funding from investors.
South Australia Premier Jay Weatherill says the SAVCF will stimulate the local economy.
15 August 2017
Blue Sky reports $25.6 million full year profit in FY17
An enlarged investor base coupled with a big increase in AUM has driven Blue Sky to a full year profit of $25.6 million, an increase of 56 per cent on the previous year. "Our approach to investing remains unchanged," says Shand. "We focus on making long-term investments in private markets with an emphasis on businesses and assets that have exposure to what we call 'the essentials' things that people need rather than things that people want."
2018
20 February 2018
Blue Sky forecasts solid growth through institutional investors
Blue Sky's CEO Robert Shand delivers a first half underlying profit by 59 per cent to $16.1 million and reports fee-earning AUM rose by $1.2 billion to $3.9 billion. Shares in BLA close at $13.96. Mark Sowerby says the company is gaining momentum exponentially and is going through a phase of rapid and impressive growth.
"When I left the company, I did so because it was in a great position and we're really only seeing the tip of the iceberg, even right now, of what is possible," he says. "It's a business that's structurally and incredibly strong and it's growing at 50 per cent per annum."
5 March 2018
Blue Sky looks to raise $125 million
The company announces a capital raising of $125 million as it looks to boost its balance sheet and provide additional funding for ongoing co-investment alongside institutional investors.
28 March 2018
Short seller hits Blue Sky, sends shares tumbling
Glaucus Research in the US releases a short selling report sending Blue Sky shares plunging. The company is placed in a trading halt after the short selling hedge fund claims its fee earning assets under management have been wildly exaggerated, declaring the share price should only be worth $2.66. At the time it was worth $10.46.
3 April 2018
Blue Sky requests trading halt extension on short seller's negative report
Blue Sky requests an extension on its trading suspension as it continues to prepare a response to Glaucus' claims its share price is only worth one fifth of the current value.
4 April 2018

Blue Sky in freefall, calling for ASIC intervention
The investment company resumes trade on the ASX and its stock price continues to plummet after the report that sent it into freefall the previous week. Attempts to refute all of Glaucus' claims can't prevent an 18 per cent downfall for shares to hit $8. Blue Sky has called on ASIC to launch an investigation into the short selling hedge fund.
Blue Sky admits that for some of its funds, fee-earning assets under management were calculated based on revaluations of its portfolio and that increases in asset values have driven up management fees.
The group defends its revaluation of Vinomofo, which "grew materially in that financial year" and its carrying value of Beach Burrito at less than $20 million instead of the $62 million asserted by Glaucus. The group denies the allegation that new investors bought out old investors in the chicken chain Lenard's and portaloo company Viking Rentals, the latter an acquisition Glaucus described as "deeply suspicious".
Blue Sky also defends the 2016 exit of Mark Sowerby, with his sale of almost $27 million worth of company stock. "His family, and particularly his boys, had reached an age where he needed to be around, and this wasn't possible as managing director of Blue Sky," the company said.
5 April 2018

Blue Sky shares take another big hit on Glaucus stoush
Blue Sky shares trade down by a further 20 per cent after short seller Glaucus Research launches another attack on the investment company. "We simply do not see how investors can have any confidence in a Blue Sky management team that cannot answer basic questions about its fee structure, AUM and historic performance," says Glaucus.
Trading in BLA shares are halted for around 50 minutes as the bitter stoush between the two companies continues with claims and counter-claims.
Glaucus says its analysis estimates Blue Sky's assets under management (AUM) does not exceed $1.5 billion - 63 per cent less than the company's reported figure. A couple of months earlier, Blue Sky's CEO Robert Shand reported fee-earning AUM rose by $1.2 billion to $3.9 billion.
11 April 2018

Blue Sky denies insolvency rumours as McGrath Nicol begins work on Wild Breads
McGrath Nicol has stepped in to assess the future of Wild Breads, a company operating under Blue Sky's private equity fund. Wild Breads is a wholesale artisan bakery that encompasses the Sol Breads, Nomad Breads and Wild Breads brands. This appointment does not involve the insolvency arm of McGrath Nicol's business, as intimated in media reports, the company said in a statement.
Blue Sky's share price tumbles to $5.24 after this update.
16 April 2018

Blue Sky shares continue freefall on downgraded guidance
Blue Sky downgrades its full year guidance and assets under management following the Glaucus attack. The company revises its fee-earning AUM guidance for FY18 from $4.25-$4.75 billion to $4.0-$4.25 billion, and underlying net profit after tax guidance from $34-$36 million to $20-$25 million."
23 April 2018

Blue Sky MD and executives resign in the wake of Glaucus saga
Managing director Robert Shand resigns along with executive directors Elaine Stead and Nicholas Dignam. Shand is replaced by interim managing director Kim Morison, who has headed up Blue Sky Water Partners and Blue Sky's real assets business. He hopes to rebuild public confidence and restore the reputation of the investment company.
The company is also subject to a potential class action being led by Gadens stemming from the Glaucus accusations. The firm is currently investigating whether Blue Sky has failed to comply with its statutory obligations and has misled the market.
BLA shares have fallen a further and are trading at $3.31.
8 May 2018

Blue Sky turmoil continues with board purge, further share slide
Under fire, the company has abandoned guidance for FY18 as it announces another purge of its board members and management including the exit of chairman John Kain.
BLA shares have been savaged by nearly 80 per cent in the wake of Glaucus' report. Executive director and chief investment officer Alexander McNab also retires while Tim Wilson steps down as independent non-executive director, but will continue in his executive role as managing director of Blue Sky's Private Equity business.
Blue Sky expects to complete exits for four of five assets during the financial year. Contracts have recently been exchanged to sell Blue Sky's fund interests in Gundaline and Foundation Early Learning.
The share price hits an all time low of $2.50.
14 May 2018

Blue Sky board veteran steps down due to health reasons
Non-executive director Michael Gordon steps down due to health reasons.
15 May 2018

Blue Sky lowers profit guidance by $7m after first round of valuations
The company says it has completed the first phase of its previously announced independent review of asset valuations, involving 12 of 93 assets managed by Blue Sky.
As a result, the company makes a non-cash adjustment for reductions in accrued performance fees but stands by its stance on fee earning assets under management (FEAUM) of $4 billion, claiming there has been no material impact.
28 May 2018
Blue Sky falls to #40 in Business News Australia's Top Brisbane Companies list
6 June 2018

Blue Sky confirms KPMG to carry out comprehensive review
The fund announces it is undergoing an independent valuation review of all assets by KPMG, a day after its shares took another hit on the news it is winding up its domestic retail hedge fund, One Managed Investment Funds Limited, with proceeds to be returned to investors. Shares close at $2.31.
13 June 2018
Blue Sky darkens on latest $60 million hit and share price freefall
After exiting a trading halt on the previous afternoon, BLA shares go into freefall again, causing more damage to the already battered investment firm.
Blue Sky's foreshadowed $60 million hit to annual net profits is expected to stem from its exit from a number of property managements rights businesses and regional real estate development projects. BLA shares are trading at $1.68 per share.
25 July 2018

Lenard's back in founder's control after Blue Sky takes flight
Blue Sky sells its minority stake in chicken shop Lenard's Chicken, which is back in the hands of founder Len Poulter after he struck a buyout deal with the company
Under the terms of the sale, Blue Sky has also provided Poulter with a working capital facility to get the deal over the line. The chicken retailer, founded by Poulter 30 years ago, has been struggling with profitability in recent years.
27 July 2018

Blue Sky in discussions to receive lifeline from US investment firm
The embattled investment company confirms rumours it is in discussions with a US-based investment firm Oaktree Capital that could potentially save the company. The deal is expected to give Blue Sky a significant enough amount of funds to demonstrate to investors that is has sufficient liquidity.
30 August 2018

Rough trot continues for Blue Sky with poor results
Deteriorating market sentiment towards the company deals a blow to its bottom line in FY18, with losses more than tripling year-on-year to $85.6 million. With revenue down 63 per cent at $24.9 million, interim managing director Kim Morison says the market's feelings about the group have impacted on its ability to attract capital.
28 September 2018
Blue Sky receives $50 million "investment" loan from Oaktree Capital
The LIC reaches a deal with Oaktree for a seven-year loan facility worth $50 million. Blue Sky says funds from the loan will be used for co-investments and general working capital requirements.
18 October 2018
Blue Sky CFO Matthew Whyte resigns and Blue Sky considers plans to offload Alternative Access Fund
The agreement will see Pinnacle Investment (ASX: PNI) establish a new affiliate called Alterum to manage Blue Sky's $177 million Alternative Access Fund Limited (ASX: BAF). Subject to shareholder approval, BAF would be majority owned by Pinnacle under the new name Alternative Market Access Funds Limited (ASX: AMF). If all goes to plan BLA will no longer manage the alternative fund from the start of next year. Alterum will focus on private markets and multi-management and be led by BAF's current executive chairman Andrew Champion.
24 October 2018

Wilson makes counter bid to run Blue Sky access fund
Less than a week after BLA reached a deal for Pinnacle Investment (ASX: PNI) to manage its alternative access fund from the start of 2019, a new contender has come on the scene. In an announcement, the group's $177 million Blue Sky Alternative Access Fund (ASX: BAF) informed shareholders it had received a proposal from Wilson Asset Management (ASX: WAM) to be appointed as its new manager.
2019
12 February 2019
Blue Sky in the red, anticipates loss of $28-32 million

Restructuring costs, valuation cuts and reimbursements have taken their toll on Blue Sky's bottom line, with the embattled fund manager anticipating a loss of between $28-32 million for the first half of FY18. And if it weren't for Oaktree's $50 million convertible note facility, the cash position would be just shy of $5 million.
28 February 2018

Blue Sky's restructure continues to hit the bottom line hard
The company reports an underlying net loss after tax of $25.7 million, down by $41.8 million from the profit at the end of 2017. This loss was outside the lower end of what the company predicted just two weeks ago on 12 February. Revenue and expenses were reportedly negatively impacted by impairments adjustments relating to the restructure of the business.
13 March 2019

Joel Cann takes the reins at Blue Sky
The appointment of Joel Cann comes 11 months after Rob Shand resigned in the midst of Blue Sky's rough trot in 2018. Chief executive chairman Andrew Day says Cann's experience rebuilding Aspen will be useful as Blue Sky dusts itself off.
18 March 2019

Blue Sky CFO resigns
Elizabeth Walker resigns as chief financial officer two months after her appointment.
1 April 2019

Doubts linger as Blue Sky issues debt update
Blue Sky announces it may not be able to comply with covenants of Oaktree loan. Speaking with Business News Australia, a Blue Sky spokesperson clarified the announcement was an acknowledgement the 31 March date had passed, and that the group would need two or three weeks to determine whether it was in breach of its covenants or not.
9 May 2019

Blue Sky fails to meet Oaktree loan conditions
Blue Sky confirms it is in breach of a financial covenant of the Oaktree loan. The company is in breach of its minimum recurring cash earnings requirement. Blue Sky says it has been in "constant" discussions with Oaktree and is attempting to form a new agreement, although a deal has not been reached with Oaktree in relation to a variation or restructure at this stage, and Oaktree has not waived the financial covenant breach.
14 May 2019

Blue Sky's Alternative Access Fund cuts supply to mothership
The sought-after Alternative Access Fund has taken a heavy-handed approach to its parent company's woes and cuts supply while it considers the best course of legal action. BAF is considering terminating Blue Sky's management services agreement and it is also assessing options including an "orderly wind-down of BAF and return of capital to shareholders".
17 May 2019

Blue Sky appoints third CFO in seven months
Justine Henwood is appointed as the new chief financial officer just months after the sudden resignation of her predecessor Elizabeth Walker."
20 May 2019

Blue Sky calls in receivers
After a year of languishing results, director conflicts, class action speculation and a failed rescue deal with a US venture capital fund, Blue Sky finally hits the wall. Shares in the company have been suspended from the ASX after Blue Sky announces it has appointed KordaMentha as its receiver and manager."
21 May 2019
Blue Sky director Cheryl Edwardes resigned from her role with the company.
27 May 2019
Blue Sky breakaway fund wants Wilson to take the reins
Blue Sky's seceeded subsidiary BAF calls proposes an extraordinary general meeting (EGM) to push out a management agreement with BSAAF Management Pty Limited and replace it with Wilson Asset Management International (WAMI). BAF chairman Michael Cottier expresses his disappointment that Blue Sky ceased negotiations with WAMI prior ot the appointment of KordaMentha and Pilot Partners.
30 May 2019
The first meeting of creditors is held at Pilot Partners' Brisbane office. No Committee of Inspection was appointed with more investigations ongoing. A second meeting of creditors is to be called for a later stage, potentially in late June.
4 June 2019
Blue Sky director Robert Kaye resigns from his role with the company.
11 June 2019
Blue Sky CEO no longer required
Given the company is under administration and receivership, a strategic assessment determines a CEO is no longer required. The company informs the market that Joel Cann, who was only in the position for just over two months until the group went into receivership, stepped down on 7 June.
12 June 2019
Blue Sky settles lawsuit against former directors
A lawsuit involving the alleged illegal downloading of company data, in which the company had brought proceedings against Blue Sky Water Partners, Pinnacle Investment Management Group, Riparian Capital Partners (RCP) and former Blue Sky employees, is resolved on confidential terms. The news is followed by the announcement of resignations from directors Andrew Day and John McDonald, effective 11 June.
30 July 2019
Oaktree takes hold of Blue Sky's water assets
Restructuring begins for Blue Sky with the announcement assets will be transferred in phases to Oaktree Capital subsidiary Australian Alternative Asset Partners (AAAP). The first transfer will be for its real assets business comprising water and agricultural funds, with the understanding AAAP will enter into arrangements with Argyle Capital Partners (ACP). Argyle is majority owned by Blue Sky Water Partners managing director Kim Morison, who was also Blue Sky's interim managing director when the Oaktree agreement was made in September 2018.
5 August 2019
Blue Sky ditched as SA capital fund manager
After more than two years of managing South Australia's $50 million SA Venture Capital Fund (SAVCF) and working alongside local businesses in the state, Blue Sky is removed from the role as a response to its voluntary administration. Despite all of Blue Sky's problems, South Australian treasurer Rob Lucas notes the fund has met all its obligations.
30 August 2019
Profits flow as Blue Sky Alternatives Access Fund beats the odds
Blue Sky Alternatives Access Fund (ASX: BAF) is seeking to remove BLA subsidiary BSAAF as its manager, flagging an extraordinary general meeting (EGM) to present options for a replacement manager in the last quarter of 2019. The fund may need to be wound up if BSAAF - now represented by KordaMentha - does not support its proposal, but financially the fund is looking rosy under the circumstances with revenue up 26 per cent at $11.17 million in FY19, and net profit after tax (NPAT) higher by a third at $6.71 million.
2 October 2019
Blue Sky Alternatives Access Fund sells Atira student living interests
As Blue Sky Alternatives Access Fund (ASX: BAF) puts the house in order ahead of a possible management replacement, it confirms settlement the sale of all its interests in the Atira student accommodation portfolio. The price is not disclosed but is likely in the area of $36 million, representing an aggregate return on invested capital of 1.47x. The move follows the exit of seven funds in FY19 for BAF.
15 October 2019
New manager talks delayed at Blue Sky Alternatives Access Fund
Blue Sky Alternatives Access Fund (ASX: BAF) chair Michael Cottier reveals negotiations for a new manager are "well advanced but incomplete" however the proposal won't be ready in time for the company's AGM on 13 November. Instead, an EGM will need to be called if negotiations are successfully completed.
29 October 2019
BAF struggles to shake off links to Blue Sky
Blue Sky Alternatives Access Fund (ASX: BAF) continues to rue the day it adopted the name of its Gold Coast counterpart now in administration, claiming the connection has led to an undervaluation with a large differential between its pre-tax net tangible assets and the share price.
13 November 2019
Breakthrough: Blue Sky's Alternatives Access Fund finds new manager
BAF finally secures a deal to transfer management rights from Blue Sky Alternative Investments (ASX: BLA) to Wilson Asset Management.
25 February 2020
BAF shows signs of recovery post-Blue Sky uncoupling
Whilst still negotiating new management, Blue Sky Alternatives Access Fund (ASX: BAF) posts impressive revenue and profit growth for the first half of FY20, along with "attractive" returns on its exits from 13 funds.
28 February 2020
BAF announces the successful negotiation of a favourable exit from its management arrangements, agreeing to in-principle terms with BSAAF Management Pty Limited and Wilson Asset Management.
29 May 2020
BAF appoints Pitcher Partners Sydney as its new auditor, replacing Ernst & Young and putting it more in alignment with Wilson as its proposed new manager.
30 June 2020
BAF one step closer to exit from Blue Sky management after long delays
BAF reveals that the outbreak of COVID-19 and other factors had led to delays in negotiations, as certain matters needed to be renegotiated. However, the parties have now resolved these issues in principle on terms the board considers acceptable to shareholders. BAF signals it should have longform legal documentation shortly for the vote to proceed.
16 July 2020
Management exit deal signals "brighter future" for Blue Sky spin-off BAF
Blue Sky Alternatives Access Fund (ASX: BAF) announces it has signed agreements to transition management to Wilson Asset Management (WAM), subject to an extraordinary general meeting (EGM) due to take place in early September.
31 August 2020
Blue Sky Alternative Investments (ASX: BLA) is removed from the Official List of the ASX.
This ongoing timeline was originally published on 21 May 2019 and was last updated on 1 September 2020.
Never miss a news update, subscribe here. Follow us on Facebook, LinkedIn, Instagram and Twitter.
Business News Australia
Get our daily business news
Sign up to our free email news updates.