Blame it on millennials, blame it on Instagram, or just blame it on the slow march of time but face it, giant hotel chains are out; boutique hotels are in.
Over the last few years boutique hotels have made a serious business case for their existence.
Struggling with the competition of Airbnb, a service that promised to offer 'bespoke' and 'authentic' experiences, giant hoteliers introduced boutique hotel chains to entice travellers off the moth-ridden suburban sofa bed and back into the comfort of a hotel.
The rise of boutique hotels has been deconstructed by CBRE in its new research report; Are Boutique Hotels Becoming Mainstream?.
According to the report Sydney, Melbourne, and Canberra have the largest share of boutique hotel developments, with boutique offerings representing up to 20 per cent of the pipeline and 12 per cent being the national average of CBD hotel developments.
"It is evident that boutique hotels are becoming more mainstream as they contribute to a larger share of stock," says CBRE senior research manager Danny Lee.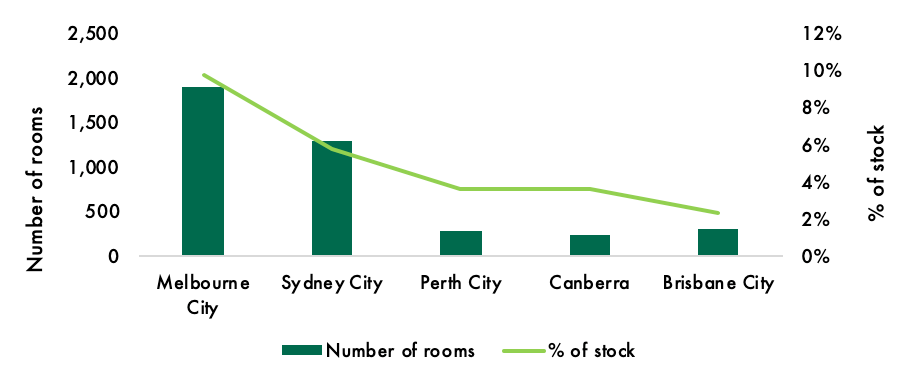 Number of rooms and percentage of stock as boutique hotels over the next five years (SOURCE: CBRE)
Lee says that social media and digital content had promoted the idea of authenticity and experiential travel, especially for younger travellers.
"Experience-based travel is becoming prevalent across all demographics, but highly preferred by younger cohorts, giving boutique and lifestyle hotels the upper hand in the battle for customers," says Lee.
"As the hotel environment witnesses an increasing level of competition between sharing platforms, independents and hotel chains, hoteliers are focusing on innovation and personality-based offerings in order to differentiate and retain market share."
In a survey by Topdeck Travel on those aged 18-24, 86 per cent said that experiencing a new culture is the most important factor for their travel experience.
Smart Travel Asia also recently found that younger travellers are increasingly 'brand blind', preferring boutique experiences to classic names.
The demands of younger travellers are more important than ever before. In Australia, those aged between 20-39 accounted for 42 per cent of all international visitors, and one third of domestic visitors.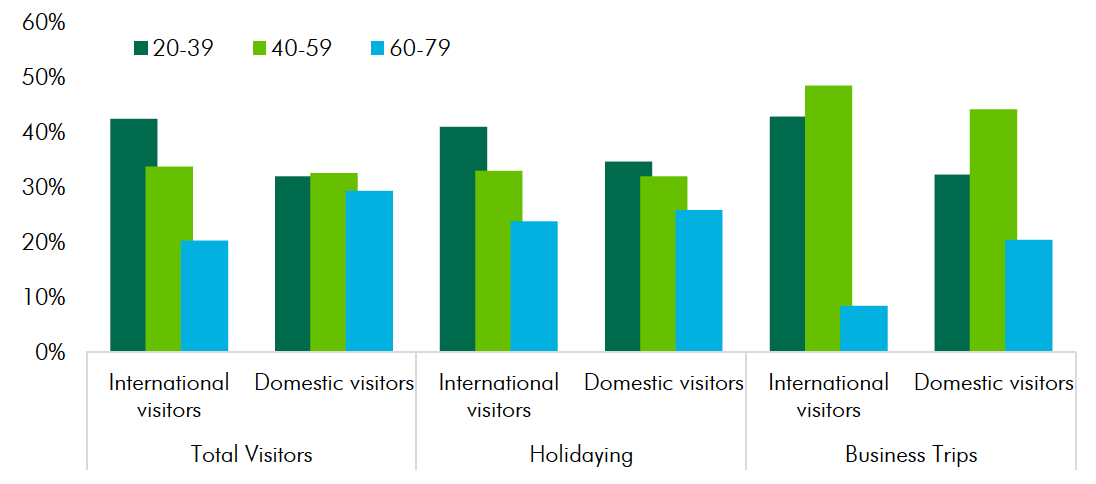 Share of visitors in 2018 by purpose and age group (SOURCE: CBRE)
While Australia is yet to see a large influx of major international brands target the boutique market, several acquisitions and launches has highlighted interest from the bigger players in this segment of the market.
Accor's recent acquisition of Tribe, an Australian brand that focuses on accessibly priced, high-quality hotel experiences, signals the company's foray into boutique brands in Australia.
Art Series is another Accor boutique brand that is making waves across the country due to its colourful concepts and theming based on Australian contemporary artists.
Marriott Hotels is also due to launch its own boutique brand, Moxy, in 2021. The company hopes to entice the millennial market into these boutique experiences.
CBRE hotels national director Wayne Bunz says that lifestyle boutique hotels do not need a major hotel's name attached, so long as owners are able to provide a tailored, premium experience to clients.
"The Crystalbrook Collection hospitality brand's new Riley hotel in Cairns and Little Albion in Sydney are evidence of this, offering guests a bespoke experience," says Bunz.
"The success of independent local boutique brands over the past decade has supported the case for both international groups and smaller players to undertake boutique hotel developments, such as Ovolo The Valley, Brisbane; The Old Clare Hotel, Sydney; Veriu, Sydney; Little National Hotel, Canberra; Emporium, Brisbane; The Calile Hotel, Brisbane and the Jackalope Hotel on the Mornington Peninsula."
The Little Albion Hotel in Sydney
In conclusion, CBRE says that hoteliers must innovate, or they will miss out entirely.
"The changing of the guard as millennials take more seniority in the workforce and size in the population pyramid means that big hotel operators need to cater to their demand," says CBRE in its Are Boutique Hotels Becoming Mainstream? report.
"Personalisation has become the "new thing" to attract and retain modern travellers; winning their loyalty means brands must deliver the experience."
Never miss a news update, subscribe here. Follow us on Facebook, LinkedIn, Instagram and Twitter.
Business News Australia
Help us deliver quality journalism to you.
As a free and independent news site providing daily updates
during a period of unprecedented challenges for businesses everywhere
we call on your support