Canberra-based non-alcoholic beer company Heaps Normal is fronting a new campaign from the Australian business community to draw attention to the need for more decisive action on climate.
The This Is Not Normal initiative unites several forward-thinking Australian businesses in encouraging their community bases to vote with climate change in mind in the upcoming federal election.
The campaign is centred around an open letter to the government asking for it to take the science of climate change seriously and act on it to give Australia a chance to create a more sustainable future for the next generation.
The letter's founding signatories include some of the country's most ambitious start-ups and scale-ups, including Breathe Architecture; Compass Studio; Fable Food Co; Ffutures; Fungi Solutions; Great Wrap; Hatched; Heaps Normal; Intrepid; Jaunt Motors; Just World Investments; Koskela; Marque Lawyers; M8 Ventures; Nightingale Housing; People With Purpose; Ping; Quiip; Radian Energy; Regen Sydney; Rooy; Syncio; The Carbon Bank; Unified; Unyoked and Verve Super.
"Like so many businesses around the country, we're investing in responsibility at both an environmental and social level. But sometimes it feels like we're using a garden hose to fight a megafire," Heaps Normal's CEO and co-founder Andy Miller said.
"By coming together to sign the This Is Not Normal letter, we're using the power of the collective to draw attention to an issue that we're extremely passionate about."
The collaborating businesses are looking for support from whoever ends up in government to supercharge the efforts of companies working to reduce their environmental impact.
"The fact is that we have an incredible opportunity in this country to lead the world's transition to a more sustainable future, but we need political leadership that will wholeheartedly embrace this opportunity," added Miller, who says that with an election around the corner, the stakes for climate policy have never felt higher.
"Regardless of how things shake out at the upcoming election, the people of Australia want and need our elected officials to act. I believe it starts with a sound, science-based climate policy that will give our country a fair go at making a positive global impact on climate."
Following the federal election on 21 May 2022, the business community behind This Is Not Normal will explore further ways to engage constructively with the government to encourage meaningful political leadership on climate policy.
"This Is Not Normal is uniting businesses around a common cause: to put climate at the top of the political agenda, not only as we head into a critical election, but into the future," said Miller.
"As business leaders and founders representing a wide spectrum of industries and sectors, we know it's an incredibly important issue for so many within our various communities. We will continue advocating for decisive, strong action from our political leaders in tackling what is the defining issue of our time."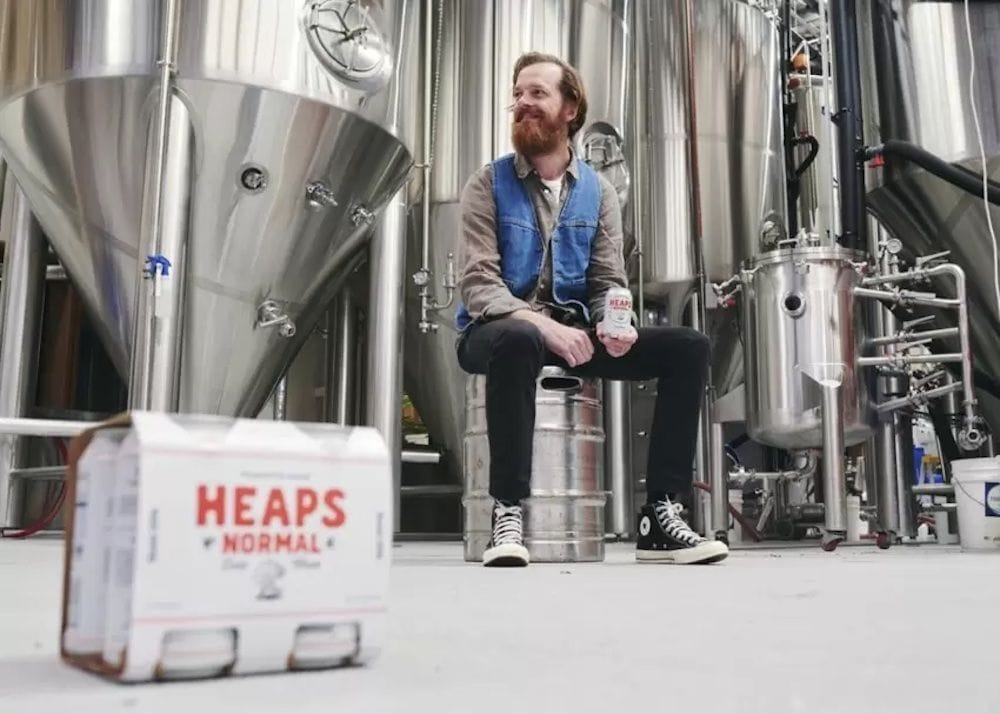 The group's open letter to the government highlights the climate disasters which have ravaged the country over the last three years, including the uncontrollable bushfires, record-breaking rainfall and devastating floods.
The group believes Australia has an unparalleled opportunity to reimagine a better, more sustainable future for the next generation, but that will mean taking power out of the hands of the fossil fuel industry.
The solution, the group believes, lies in harnessing renewable energy and leading the world's transition to low-emissions technologies.
"There are so many people from my generation who look at the issue of climate change and feel as though we're powerless to affect change at a meaningful level," Great Wrap co-founder Julia Kay said.
"We think it's really important that everyone knows that their vote is important. That it can be a vote for a new normal on the issue of climate in this country."
Intrepid's global environmental impact manager Dr Susanne Ett acknowledges that businesses have a significant role in tackling climate change but believes the Australian government has an even more prominent role in meeting the challenge.
"Intrepid has science-based targets in place in line with a 1.5°C future to work for a world where we are keeping global warming to 1.5°C above pre-industrial levels - we are transforming our business for a low carbon economy," she said.
"In turn, we require the economy to support climate action based on science."
Custom-designer Koskela's founder Sasha Titchkosky said that SME businesses are the backbone of the Australian economy, representing 99 per cent of all Aussie businesses, employing more than seven million people and representing more than 57 per cent of GDP.
"This is why it's critical for us to be taking climate action, showing leadership and helping drive change. While each of us may be small individually, together, we can have a huge impact if we help drive change across our businesses, workforce, customers and supply chains," she said.
"This election is the make or break one for Australia. We can't afford another three years of inaction because our political parties are beholden to fossil fuel donors.
"The incoming government must work to reform our broken political system to shift the focus back to good policy rather than politics."
M8 Ventures general partner Alan Jones wants Australia to be a major exporter of renewable technology rather than an importer.
"The global move to renewables is our biggest opportunity ever to build the wealth of our nation. We owe it to customers, shareholders and the community to expect more of our next government," he said.
"They must do more to support the growth of our startup industry in developing innovative new renewable generation and emissions reduction technologies."
Nightingale Housing founder Jeremy McLeod is adamant that this election is one of the most important in a generation.
"The climate crisis is the biggest challenge we face, and it's time to vote fossil fuel funded candidates out. We've signed up to be part of This is Not Normal to focus attention where it matters most - people and planet," he said.
Hatched founder Timothy O'Brien works with some of the largest organisations in the world to help elevate their social and environmental impact but finds the old way of doing things is stopping meaningful change.
"As businesses lead the charge, government is falling behind. If we can create more incentives, more favourable regulation and operating environments that help us implement these changes, we can unite in transitioning ourselves to a new normal. One where planet, people and profits can co-exist," he said.
Future Friendly partner Luke Parry thinks it's abundantly clear that Australia has all the knowledge and clean resources to secure our wellbeing and drive an inclusive climate transition.
"Those currently in power are holding us back," he said.
"This is why Future Friendly are supporting the This Is Not Normal campaign – because systemic change starts with individuals, teams, and communities who take decisive action to hold our leaders to account."
Compass Studio co-founder and co-director Natalie Dean-Weymark referenced the Climate Change Performance Index, noting Australia is the fifth biggest contributor to carbon emission globally but is the only country without a climate policy.
"It's not normal the weight of the responsibility that sits before us as voters this election. Above all, the greatest gift that we can give future generations is a future – and everything should come back to this fact.
"We cannot continue to lag behind the rest of the world in our climate action and as business leaders, consumers and most importantly, votes – we need to ask our government to do better. There is no time to waste and no better time to prioritise this than today."
People With Purpose CEO and founder Danielle Duell thinks climate change is everyone's business.
"It's threatening the way we live and the future of our planet. As the incumbent generation, it's our responsibility to be leaders and to choose leaders who will take action to secure a livable future for those who follow us," she said.
Get our daily business news
Sign up to our free email news updates.
Help us deliver quality journalism to you.
As a free and independent news site providing daily updates
during a period of unprecedented challenges for businesses everywhere
we call on your support