You know your tutoring business is on the right track when the vast majority of your students with poor grades are suddenly getting As and Bs.
In his early high school years Hayden McEvoy struggled with attention deficit disorder (ADD), but with a disciplined approach he transformed his own learning to achieve almost straight high distinctions in his science undergraduate degree.
Since then he's been on a mission to help Queensland children follow in the same footsteps through his business A Team Tuition.
"Most other tutoring businesses are a bit of a scam," McEvoy claims.
"They'll teach specific subjects without focusing on the process of teaching their clients how to learn and study.
"You'll also find that these other tutoring businesses won't publish their results and what their clients have accomplished. But with A Team Tuition, we'll update our website constantly and show off what we've accomplished."
McEvoy believes that before A Team Tuition the state of tutoring in Australia was not at the level it could be, often in the form of either a one-man operation with limited training or the service would be dished out by tutoring companies that sometimes had "never met the tutor they had employed".
"There's essentially zero quality control and parents were paying a lot of money for basically no results," he says.
"We wanted to create a business that actually produced results every single time. That was the core vision of what we were trying to create in the first few years of A Team.
"When we were able to solve that, we grew to 56 staff without spending a single dollar on marketing, just from word-of-mouth."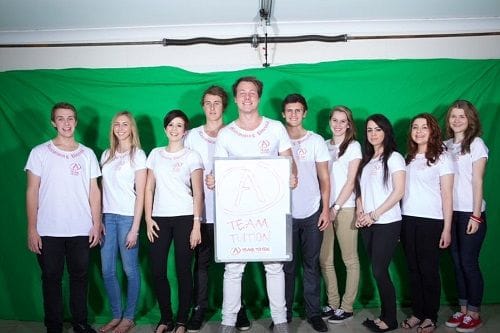 After the screening process, successful tutoring candidates attend an intense three-day training program, arming them with the knowledge and skills they need to be able to boost the learning potential of clients.
These tutors are nurtured by 'success managers' every week, ensuring that they have the support and resources they need to perform at their best.
The young entrepreneur company has also gone on to have school partnerships, allowing McEvoy to implement A Team Tuition's tutoring program in 15 major Queensland schools, improving the grades of thousands of students.
He says all the schools he had initially approached had refused to take on his tutoring program, turning him away until he took on one of the best.
"We decided to target TSS (The Southport School), as we were working with 167 of their students already," McEvoy says.
"There was an 18 per cent grade improvement from all students across 6 months. I created a report showing how our program was improving their students' grades. I took this report to the Head of Boarding, who at the beginning was saying 'we won't take on a tutoring business'.
"Then after he saw the report, he became more and more interested in what I was saying and then we implemented the program."
The success of A Team Tuition has not been without its setbacks however, with McEvoy noting the intense growth of the business being an issue that required critical management.
"With our rapid expansion, it became harder to manage the tutoring program. We found we had toxic tutors who weren't engaging in the program correctly and it led to a bit of a setback," he says.
"I sat down with everyone and did the classic SWOT analysis. I got 55 different people's perspective on it. After that, I just sat down and put it all on a whiteboard and pulled together 12-ish projects that identified to me areas that needed to be improved.
"I spent the next year and a half just researching, learning, developing and building the map and improving them."
This thoughtful reflection led McEvoy and A Team Tuition to now think about how they will expand in the future with eyes set on spreading the business across Australia.
"We're looking to upgrade to a fully scalable system, which is Salesforce and Xero, so that we can expand around the country," says McEvoy.
"We're creating a resource, for every single year level, years one to 12, for every single subject, every single topic.
"There's a huge issue where teachers and schools won't share their curriculum with parents because they're not allowed to. In the next year or so, when they sign up with us, they'll get access to that app as well."
Never miss a news update, subscribe here. Follow us on Facebook, LinkedIn, Instagram and Twitter.
Business News Australia
Get our daily business news
Sign up to our free email news updates.