It's no secret that consumer expectations have changed.
We're currently living in what I like to call the Values Economy, a marketplace driven by consumers who, no longer content with buying what we do, but why we do it.
Like all major shifts, this change in purchasing behaviour has been disruptive, but in some ways it's not a surprise. It was perhaps inevitable in its coming.
Consumers are fed up with disheartening sameness
As the marketplace has become increasingly globalised, it has become increasingly saturated. Fed up with the disheartening sameness and tedious facelessness of businesses, corporations and governments, consumers have begun to purchase not from businesses whose products and services meet their needs, but from those whose values and ethea align with their own.
In short, consumers have begun to vote with their wallets, and the idea that our purchases contribute to the construction of our personal identity is becoming increasingly pervasive. Consumers are filtering brands through a sieve of moral scrutiny.
Don't run the risk of alienating your business
This notion of a Values Economy may seem simple, and in essence it is. However, the sad truth is that countless brands and business are failing to grasp the gravity of this paradigm shift in consumer behaviour.
They ignore it and disregard the importance of company values and culture to their own detriment. In truth, ambivalent business owners solely focused on generating profit run the risk of alienating themselves from the modern marketplace. They have no culture, no values and no purpose beyond dollar signs.
Now, when it comes to values-led marketing, we could all learn a thing or two from York Jewellers - a family-owned and operated a jewellery store in the Western Sydney suburb of Penrith, NSW, who for the month October have been running an incredible fundraising campaign for the McGrath Foundation.
Founded by Glenn McGrath and his wife the late Jane McGrath, the McGrath Foundation raises money to fund the placement of breast cancer nurses in regional and metropolitan areas.
These nurses provide invaluable support and care to women and men experiencing breast cancer. From diagnosis right through to treatment, the McGrath Breast Care Nurses assist individuals and their families completely free of charge and without the need for a referral.
In support of the charity, York's head jeweller and designer Douglas Ely created an incredibly beautiful white and rose gold pendant that features a constellation of beguiling Argyle Pink Diamonds, some of the rarest and most coveted stones in existence.
Drawn as a raffle prize at the end of the month, 100 per cent of the proceeds raised by the sale of raffle tickets for this beautiful creation will be donated directly to the McGrath Foundation in a selfless display of charity, community and generosity.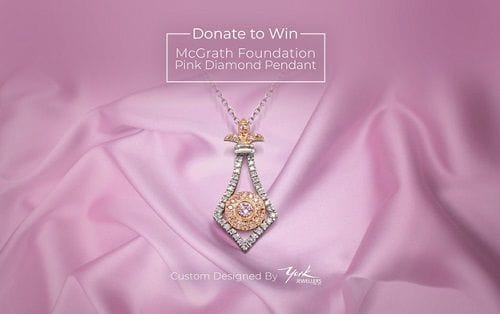 Valued at over $15,000 this stunning piece of Australian history is being given away on 31 October with all proceeds going directly to the McGrath Foundation.
The lucky winner, to be announced on 31 October, will walk away with not only a veritable piece of Australian history but also the heartwarming feeling that comes with contributing to an invaluable cause and helping those in need. To enter the draw, simply visit York in-store, or buy your raffle tickets online.
What does this have to do with marketing?
Well, philanthropic actions such as this enable businesses to build trusting relationships with their community and the wider public by showcasing a side of their business that is completely removed from economic growth.
And, if the Values Economy teaches us anything, it's that successful businesses not only give the public reasons to purchase their product or service but reasons to make them feel good about doing it.
But, it doesn't just end there.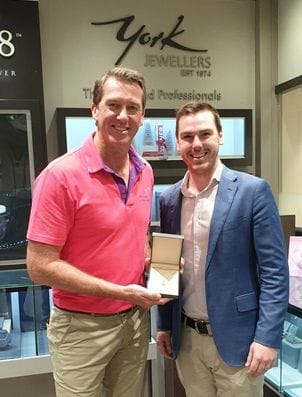 On top of earning the trust and support of their already loyal community, York's fundraising campaign has also garnered some significant publicity and recognition from the wider public.
Upon hearing about this incredible campaign, co-founder of the McGrath Foundation and Australian cricketing legend Glenn Mcgrath visited Douglas and his team in their Penrith store to congratulate and thank them for their incredible campaign.
The images from his visit have made invaluable marketing collateral, and the story piqued the interest of News Corp who published it in their paper.
What I've come to realise is that If a business has any hope of achieving longevity in today's saturated market, it's imperative that they establish a trusting relationship with the market.
By supporting such an amazing and inspiring cause as the McGrath Foundation, York Jewellers have revealed a side of their business completely removed from the sale of their products, with money-making and business in general.
In doing so, they have positively identified a set of company value that informs their business culture. They have given something back to the community that enables them to flourish. They have strengthened their relationship with their market and are already reaping not only the PR benefits but also seeing greater engagement in-store and online.
I couldn't be more proud of Douglas. His open-mindedness to accept our strategic direction and fullfil on just one of his personal/company values has paid us a huge compliment but has also made a major impact on his business.
This article is sponsored content published in partnership with MeMedia.
Get our daily business news
Sign up to our free email news updates.