GEOLOGIST Paul Messenger had an obsession with rum, but not in a bad way.
Instead, he used that obsession to create a new boutique venture, Husk Distillers, which is making more noise these days with its Ink Gin than its rum.
Messenger took three years to develop his bright blue botanical gin, which changes colour when mixed with tonic water.
Ink Gin's pH sensitive butterfly pea flower turns the spirit into a light pink concoction, which is proving popular with some of the biggest bars in the country.
However, Messenger originally set out to create a premium, paddock-to-bottle agricole rum with a unique Australian expression. This has also become a reality.
Inspired by the diverse and vibrant rum culture of the Caribbean Island, Messenger and his family embarked on a journey in 2009 to create a plantation distillery on their cattle and cane farm which is located on the Tweed River.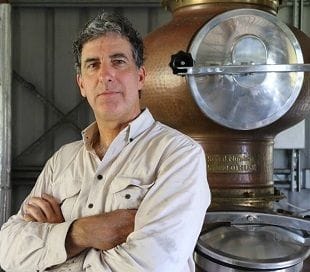 "I wondered why there were so many rums in the Caribbean, while in Queensland, where there is so much sugar cane, there are only one or two rums," says Messenger (pictured right). "After discovering this idea, it became a bit of an obsession."
Messenger returned to Australia and began Googling how to make rum, which he decided he wanted to make from cane juice rather than the traditional molasses.
Messenger, together with his wife Mandy and their children, found a local farmer in Jacobs Well who provided sugar cane for a trial. The family filled up the car, cleaned it up, crushed it, fermented it and made their first batch of rum.
"From there, we just took it step by step and went further into this unknown business venture," says Messenger.
"It is one of those things where I think if you knew what you were getting into, you probably wouldn't have done it - naivety is sometimes a good thing."
Messenger planted his first sugar cane in 2012 and the same year made his first two barrels from six tonnes of the neighbour's crops.
Just last year Husk Distillers released its first barrel, from 2012, which sold out in three days. The second barrel will be released later this year.
Husk Rum can only be made from freshly crushed cane juice so its production is restricted to the harvest season from August to November. While the rum from the first harvest in 2012 was maturing on oak the family began creating Ink Gin.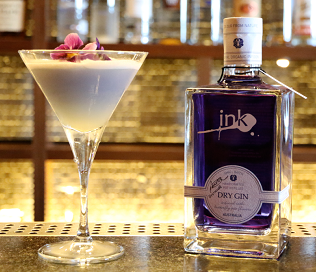 "To have a commercial business we needed to have an unaged product to get some earlier cash flow," says Messenger. "Having said that, it took me three years to perfect that recipe."
Ink Gin features the traditional flavours of juniper berries with a range of other ingredients including Tasmanian pepper berries, locally grown lemon myrtle, locally grown orange peel, coriander and liquorice root.
"The important thing was that all of those ingredients work in harmony with the flower," says Messenger.
"Because the ink in the flower is pH sensitive we needed to make sure that nothing would knock that out. It had to be blue and then change colour when you mix it with tonic water."
Ink Gin was released to the market last June and since then around 8000 bottles have been sold.
With an aim to increase production capabilities, both gin and rum, Husk Distillers is in the midst of getting approval to build a new distillery building.
The aim is to create a complete destination with a café and offer tours and tastings.
Husk Distillers is also in the process of producing and unaged rum, which Messenger predicts will be as popular as the Ink Gin.
Get our daily business news
Sign up to our free email news updates.