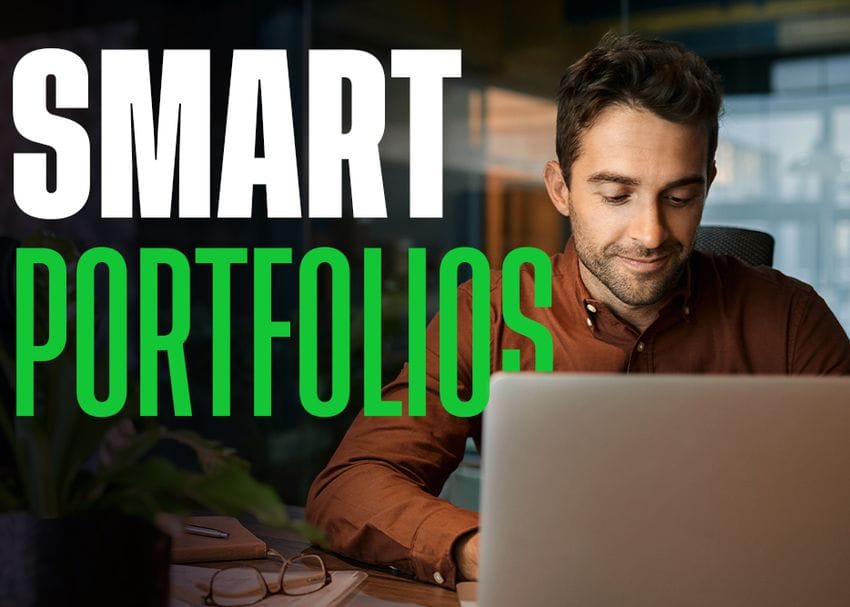 A smarter way to invest: eToro Smart Portfolios
Many traders know that it is a time-consuming process to find the right companies to diversify your portfolio with. However, it's important to do so in order to protect your assets during a market swoon.
To remove the tedious process of investing in various different assets, eToro has created a solution that allows you to invest in the markets you believe in.
Using eToro's Smart Portfolios, you can focus on the big picture and invest in macro trends while eliminating the risk of putting all your eggs in one basket.
What are eToro Smart Portfolios?
eToro Smart Portfolios are a curated collection of stocks that track a specific theme or strategy put together by eToro's market experts.
Because these portfolios aim to capture big ideas, megatrends and major impacts in the world, they are created with long-term strategy in mind and take into account factors such as balance, exposure, potential yield, risk and more.
To select assets, eToro's market experts analyse available stocks that suit a portfolio's theme. From there, each stock undergoes a screening process based on a series of metrics such as market capitalisation, liquidity of the shares, financial ratios and analysts' consensus ratings.
There are three types of Smart Portfolio:
Top Trader Portfolios: these eToro portfolios are composed of the best-performing investors on the platform, according to predefined strategies
Thematic Market Portfolios: eToro offers a selection of assets focused on predefined themes, sectors, regions, or trends.
Partner Portfolios: eToro is partnered with some of the most innovative investment startups in the world and has enabled them to create their own portfolios.
Invest in the future you believe in now and choose from more than 40 Smart Portfolios across a range of themes and industries.
Thematic eToro Smart Portfolios
Renewable Energy
From solar energy to wind turbines to hydrogen, renewable energy is an exciting industry that has the potential to see big gains in the market over the long term. Once prohibitive costs to produce renewables is dropping and governments worldwide are increasing their funding toward a greener future.
According to the International Energy Agency (IEA), the amount of renewable capacity added over the period of 2021 to 2026 is expected to be 50 per cent higher than from 2015 to 2020.
As is generally true, early adopters willing to invest for the long term in this emerging sector stand to gain the most.
"The renewable energy sector has fallen behind in recent months, with traditional energy such as oil and gas surging in popularity, with prices soaring. However, this has rejuvenated and refocused the need for renewable energy and the transition," eToro market analyst Josh Gilbert said.
"Long-term adoption is evident, and this is supported by investors. From our Q1 Retail Investor Beat Survey, interviewing 8500 retail investors, clean energy was the most popular long-term investment theme, ahead of digital transformation and crypto.
"However, there is a long way to go, so I think the term 'long-term growth' is important. Only 29 per cent of the global electricity supply is renewable, and this transition could take years. Nevertheless, progress is being made, with most countries globally choosing to ban combustion engines by 2035 - 2040."
eToro's portfolio for this industry includes companies such as Gevo, which convert sustainably raw materials such as corn into gasoline components, jet fuel and diesel fuel.
The portfolio also includes global solar manufacturer ReneSola, which has more than 30 subsidiaries catering to all levels of the commercial and residential solar power markets across Europe, North America and Asia.
It also includes California-based ENPH, which develops and sells micro inverter-based solar and battery systems in more than 130 countries.
Join more than 9,000 investors currently using this portfolio and invest in the future you believe in today.
Big Tech
Whether you're looking at your phone, streaming entertainment or shopping online it's undeniable that technology plays a major role in our day-to-day lives.
At the centre of this tech wave are some of the world's largest companies such as Apple, Amazon, Microsoft and Meta, which have collectively impacted billions of lives through innovations in electronics, software development and artificial intelligence (AI).
Other powerhouses include automotive and clean energy company Tesla, which rose to prominence due to its disruptive innovations in the electric vehicle (EV) industry. According to BloombergNEF forecasts, EVs will comprise 57 per cent of all new passenger cars by 2040.
"Big Tech companies have managed to navigate supply chain disruptions relatively well due to their size and global influence," Gilbert said.
"For example, companies like Apple won't use one supplier, they have multiple suppliers in order to avoid disruptions. Then you have a company like Amazon that can employ hundreds of thousands of workers in its warehouses to support supply chain disruptions and speed up delays.
"COVID-19 has caused supply disruptions to most companies worldwide, impacting shipping, efficiency and, in some cases, revenue. This is in the form of AI, machine learning, and even blockchain technology. This improved visibility ensures that companies have the right resources, people and equipment to meet supply demands."
"From here, we will continue to see emerging technologies explored. This would be from robotics in warehouse management systems to driverless technology for deliveries. These technologies are helping to solve the current labour challenges that most businesses face. "
Global payment processing solutions such as MasterCard, Visa and PayPal are also included in eToro's portfolio.
Chip Tech
Semiconductors, or better known as chips, are at the core of electronic devices such as phones, laptops, smart appliances, medical equipment and more. As technology continues to rapidly evolve, the demand for this industry grows alongside it.
"By 2028, the global chip market is expected to be worth around USD$800 billion, nearly double what it was in 2020," Gilbert said.
"The growth of technology has seen the semiconductor industry move from strength to strength. Whether it's from electric vehicles, AI, cloud computing or 5G technology, these growing trends are delivering robust demand and growth from chip companies.
"For example, the AI chip market alone is expected to grow from USD$10 billion in 2020 to more than USD$250 billion in 2030, showing the growth of technology and the opportunities for chip companies.
The swift pace of tech today is the driving force behind companies such as NVIDIA, which develops graphics processing units (GPUs), mobile technologies and desktop computers. In 2000, the company won the contract to develop graphics hardware for Microsoft's Xbox and is also behind platforms such as NVIDIA DRIVE – which is used by Toyota and Volvo to develop, train and deploy safe self-driving cars.
The company also has a presence in the gaming industry with its handheld game consoles Shield Portable, Shield Tablet, and Shield Android TV. Founded in 1993, the company's line of GPUs is used in workstations for fields such as architecture, engineering and construction, media and entertainment and manufacturing design.
Other global semiconductor giants in the portfolio include Analog Devices Inc, which provides signal processing integrated circuits – used in virtually all types of electronic equipment – to more than 125,000 customers worldwide.
The company's products play a fundamental role in helping electronic devices process real-world phenomena such as temperature, pressure, sound, light, speed and motion.
Three months ago, Analog Devices announced it will invest €100 million (AUD$152 million) over the next three years in ADI Catalyst, which is a 100,00sqm facility for chip tech innovation located in Limerick, Ireland. The latest phase of expansion will create 250 new jobs in the Irish market by 2025.
The global powerhouse currently employs more than 24,700 people worldwide.
The benefits of eToro Smart Portfolios
Explore research-backed opportunities without any management fees
Invest with less: Low minimum investment of $500
The latest technologies are being used to create and manage the portfolios
Knowledge: the eToro investment team have an in-depth understanding of markets
Portfolios are backed by professional research
Each portfolio has its own risk considerations and management tools
Choose the markets and strategies you believe show the most potential and invest in a fully allocated eToro portfolio with just a few clicks.