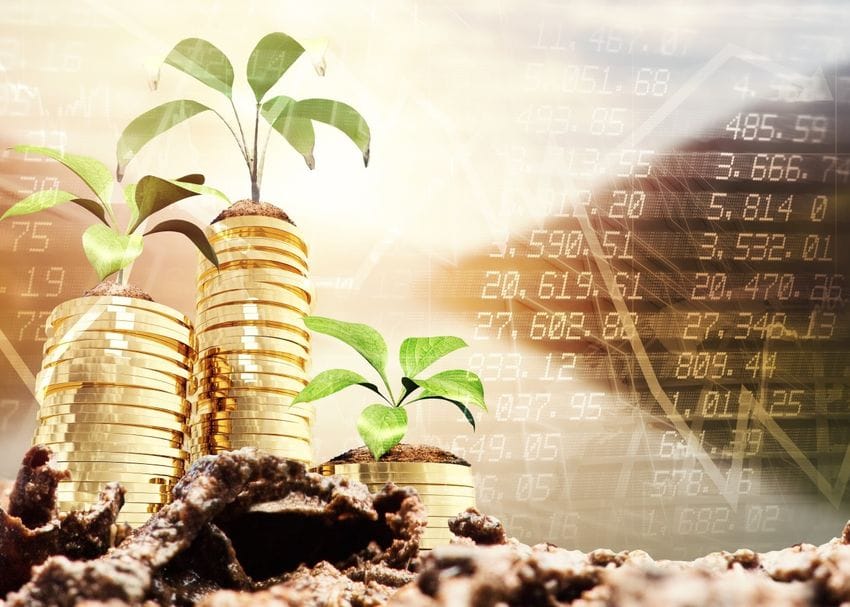 Environment, Social, Governance: Six ASX companies at the forefront of ESG future
ESG (Environment, Social, Governance) has become essential in business and investment circles, setting a new standard in measuring the sustainability and ethical impact that a company makes.
Global sustainable investment now tops $30 trillion - up 68 percent since 2014 and tenfold since 2004.
The acceleration has been driven by heightened social, governmental, and consumer attention on the broader impact of corporations, as well as by the investors and executives who realise that a strong ESG proposition can safeguard a company's long-term success.
---
This article is sponsored content in partnership with Socialsuite. Business News Australia does not give financial advice.
---
ESG reporting offers a way for customers, investors and society to hold companies to account, making sure that the issues people care about (social justice, equality, diversity, environment, etc.) are reflected and appropriately addressed by the companies we choose to do business with and invest in.
All while delivering outsized financial returns to investors, meaning a win-win for every stakeholder.
Six ASX/listed companies are leading the way being the first to start reporting on ESG using a recently launched global standard ESG framework / they are reporting over and above the quarterly financial and operational update required by the Australian Stock Exchange.
Why will ESG companies (and their investors) win in 2021 and beyond?
Businesses that can demonstrate real ESG commitments, progress and credentials can gain from significant benefits, such as:
Access ESG funds: There is currently more ESG money than there are ESG investment-ready opportunities.
Secure top tier customers: Top companies are conscious of ESG in their supply chain and want to buy from best-in-class ESG suppliers
Attract the most talented teams: Smart people no longer want to work for non-ESG companies.
Positive community perception: Doing business at all levels is just easier when the community wants you to exist and supports you.
Shareholder returns with positive impact: Be proud in creating positive change in the world while providing outsized returns to shareholders.
Companies that align their goals to the long-term goals of society are most likely to create long-term sustainable value, while driving positive outcomes for the business, the economy, society and the planet and ultimately shareholders as well.
From an investor's point of view, ESG companies will deliver better returns as they attract more customers, more investors and better talent.
Before choosing an investment or purchase, all stakeholders want to be assured businesses are truly "walking the ESG walk" and not just 'ESG washing'. However, the key challenge for many companies is the lack of a universal and consistent framework to measure and report the shared and sustainable value they create.
A new universal ESG framework
To address the lack of consistency in reporting ESG, the World Economic Forum (WEF) set out, with the support of the Big Four accounting firms (Deloitte, EY, KPMG and PwC), to create a common ESG framework to measure and disclose meaningful and relevant aspects of corporate performance on environmental, social and governance matters.
In September 2020, WEF launched its White Paper "Measuring Stakeholder Capitalism: Towards Common Metrics and Consistent Reporting of Sustainable Value Creation" which called for a universal framework for ESG measurement. This framework consists of 21 core and 34 expanded metrics and disclosures aimed at mainstreaming reporting and progressing towards a generally accepted international standard for ESG. Click the image below to see the full ESG Dashboard.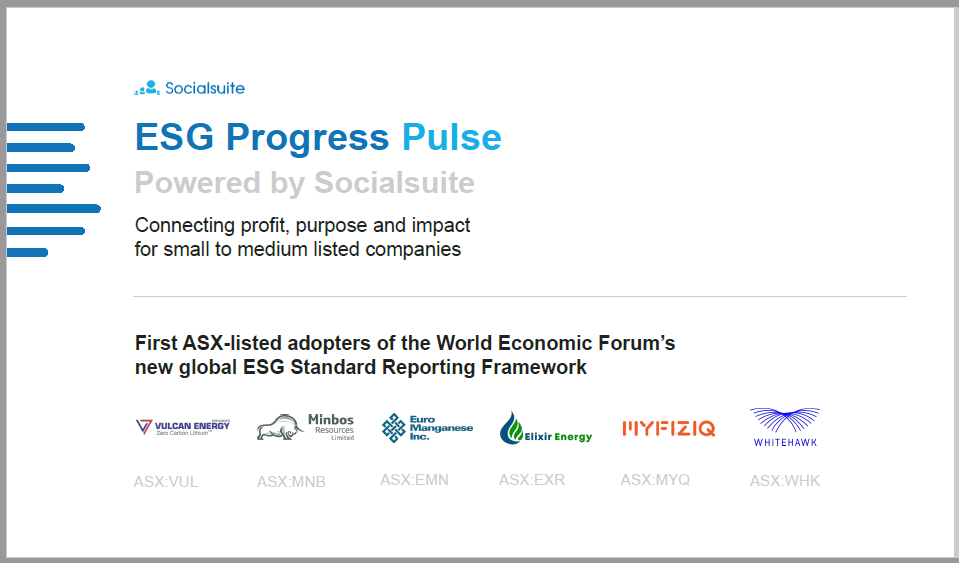 First group of ASX companies have adopted this ESG framework
Keen to maximise the benefits associated with demonstrable ESG, the first cohort of small to medium ASX listed companies have released their first quarterly ESG Progress report using the newly released WEF ESG metrics.
Companies who have released their first ESG progress report include:
Vulcan Energy (ASX:VUL) - Exists to decarbonize the currently high carbon production footprint of lithium-ion batteries used in electric vehicles by producing a world-first Zero Carbon Lithium hydroxide product in Germany.
Whitehawk (ASX:WHK) - Empowering a fearless internet through Online Cybersecurity Exchange platform that provides cyber risk scoping, prioritization and mitigation products and services
Euro Manganese Inc. (ASX:EMN) - Green and European source of ultra high purity manganese for electric vehicle batteries developed from the recycling of a tailings deposit located in the Czech Republic.
Elixir Energy (ASX:EXR) - Elixir Energy is exploring for natural gas on the Mongolian-China border to replace burning of coal for energy in China
Minbos Resources Limited (ASX:MNB) - Exploration and development of a phosphate (fertiliser) project in Angola and training local farmers to increase crop yields
Myfiziq (ASX:MYQ) - Health Tech - Accessible yet advanced human imaging via smartphone app for health, fitness and wellbeing
You can see each company's full ESG dashboard here.
Getting started technology plus metrics delivers accessible ESG
The above companies are using impact monitoring technology, Socialsuite, to periodically collect and report across the World Economic Forum's recently released 21 standard ESG metrics.
Socialsuite's impact monitoring technology provides structured ESG data collection, ongoing ESG reports that can be directly inserted into quarterly reports, benchmarking across other similar companies' ESG journeys and expanding ESG reporting depth/complexity as the company grows over time.
Socialsuite provides a clear and practical way businesses can get started with ESG measurement based on the company's size and resources, which can be scaled and extended as capacity increases. It uses the World Economic Forum's 21 material ESG metrics and records "ESG Progress velocity" from quarter to quarter, enabling businesses to measure, track and report progress toward the ESG indicators.
The benefits of ESG compliance for small to medium listed companies are significant, which is why the first cohort of ESG reporters have been so quick to pioneer ESG compliance in Australia by beginning to measure their progress and demonstrate their credentials.
A technology platform like Socialsuite combined with the new WEF ESG metrics has made best practice ESG reporting accessible.
Vulcan Energy managing director Francis Wedin says ESG is the core reason his company was started in the first place, along with its Zero Carbon Lithium project.
"We are proud therefore to be a first adopter of the ESG Global Standard Metrics. We know that by delivering against ESG we can create long term sustainable value, while driving positive outcomes for the business, the economy, society and the planet," says Wedin.
"Working with Socialsuite technology and the standard ESG metrics has helped us get started with reporting our ESG position and understanding how we can continue to build over time."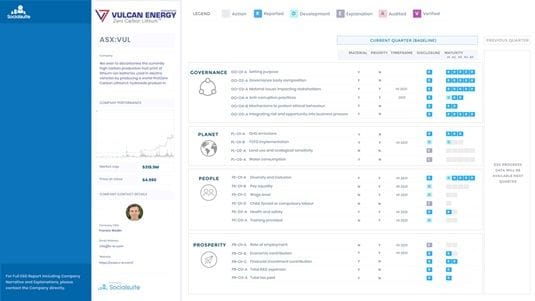 If you want start growing your ESG monitoring capacity you can start your baseline ESG report today at https://socialsuitehq.com/esg/
ESG (Environment, Social, Governance) has become essential in business and investment circles, setting a new standard in measuring the sustainability and ethical impact that a company makes.
Socialsuite is a fast-growing global company based in Melbourne, Australia. Its impact management software helps a diverse range of organisations monitor their impact on people.
Clients include financial institutions, large companies, government agencies, philanthropic foundations, not-for-profits and NGOs that want to monitor and fully understand how they impact people.
More from Socialsuite
ESG (Environment, Social, Governance) has become essential in business and investment...
Socialsuite