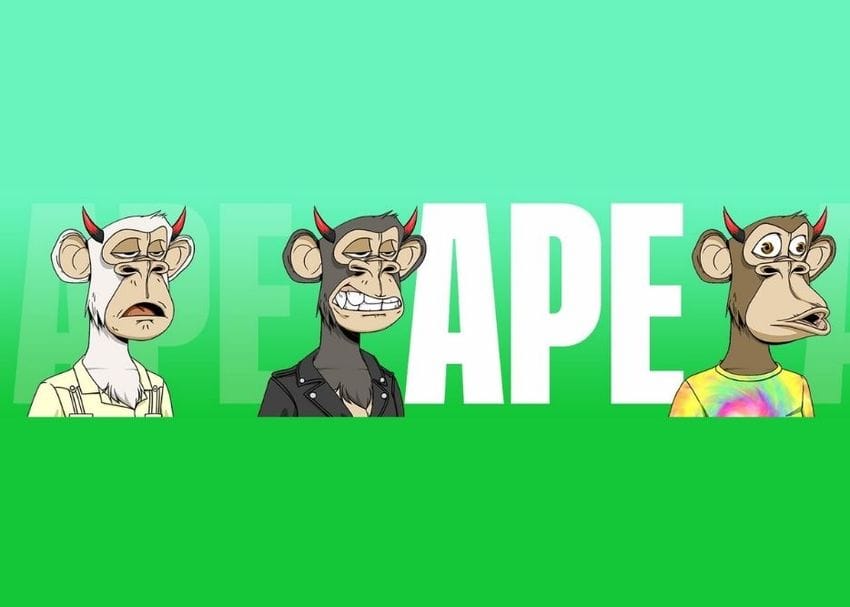 From APE to Shiba: The top cryptoassets on eToro right now
By now, you've surely heard plenty about cryptoassets, their utility, and their role in a diversified portfolio - but with so many on the market it's hard to work out which ones to trade.
Whether backed by a buzzing community of Web3 enthusiasts, art fanatics or dog lovers, these cryptoassets are more than just an asset to watch, they're also a key into a new, decentralised online world.
Better yet, these top cryptoassets are all available to trade on eToro - the world's leading social investment community.
$APE
The Bored Ape non-fungible token (NFT) is definitely the year's hottest community and art project, but the trending altcoin backing it is far more than pixels arranged to look like a gorilla.
Built on the Ethereum blockchain, $APE is the token of the APE ecosystem. The ecosystem consists of play-to-earn blockchain games, merchandise, exclusive events, and so much more.
Third-party developers can also incorporate $APE into their projects, allowing them to participate in the APE ecosystem. There is a total supply of 1 billion $APE, the majority of which is allocated to the Ecosystem Fund.
Holding and using $APE also brings you a step closer to being part of the Bored Ape Yacht Club (BAYC) - a collection of 10,000 cartoon ape NFTs which double as membership cards and are owned by the likes of Eminem, Snoop Dogg, Justin Bieber and more.
From an initial mint price of only 0.08, they now sell for upwards of 100 ETH, reflecting their status as one of the most highly prized NFT projects that has pioneered the category of blockchain-based collectibles.
Among the many exciting features, the avatars give owners full commercialisation rights, allowing them to print the ape on anything — from skateboards to mugs and tee shirts — and sell it for commercial gain. This intellectual property has helped make the apes a key part of Adidas' metaverse strategy, and attracted artists such as songwriter Timbaland, whose latest venture is centred around NFTs.
Want to join the club? Well you can buy $APE on eToro right now.
Shiba Inu
Though it has its origins in the world of internet memes, Shiba Inu has become a serious cryptoasset in its own right - shaking off associations with infamous meme-coin Dogecoin.
Trading under the ticker SHIBxM on eToro, Shiba is named after the popular Japanese breed of hunting dog - a namesake it has stuck true to.
The group which created Shiba describes it as 'a decentralised meme token that evolved into a vibrant ecosystem', and since its formation has become quite a powerhouse community.
Things started when 1 quadrillion Shiba coins were minted, which were then "burned" by mysterious founder Ryoshi to Ethereum co-founder Vitalik Buterin for safekeeping.
While initially a joke, the cryptoasset and its holders have since been a bit more serious, largely in part to Buterin's charitable streak.
To assist with India's COVID-19 resilience and recovery efforts, the Ethereum co-founder used SHIBxM in the largest crypto donation in history before burning 40 per cent of its total supply to a dead wallet.
"Thank you to the woofmeister for enabling true decentralisation. Now we truly begin," said Ryoshi at the time.
Alongside two other complementary cryptoassets called LEASH and BONE, the three have created ShibaSwap - a decentralised finance (DeFi) platform.
According to ShibaToken.com, ShibaSwap gives users the ability to DIG (provide liquidity), BURY (stake) and SWAP tokes to gain WOOF Returns - the DeFi's income reward system.
The DeFi platform aims to give Shiba holders access to NFT drops and additional tools such as portfolio trackers.
Shiba holders love dogs as much as their crypto, and have also partnered with Amazon Smile to donate a percentage of Amazon purchases to the Shiba Inu Rescue Association.
Cardano
In many respects, Cardano is a cryptoasset that has learnt from the mistakes of many that came before it.
Founded by Ethereum co-founder Charles Hoskinson, Cardano is open-sourced, decentralised, and facilitates peer-to-peer transactions with its in-house coin ADA - which can be traded on eToro under the same ticker.
One of the crypto world's biggest criticisms in recent years has been how energy inefficient the process is, with many mining processes contributing to worsening climate change.
Cardano claims to be different. In fact, it says it is the "most environmentally sustainable" cryptoasset on the market.
Ultimately, Cardano aims to bring about global change with its blockchain platform that is used in a variety of sectors.
For example, Atala PRISM is an ed-tech platform built on the Cardano blockchain that gives students ownership and control of their academic achievements with no third party intermediaries.
Atala SCAN is another application that uses Cardano, this time in the retail space. The product leverages blockchain technology to establish product provenance and audibility to ensure every product sold is certified original.
The applications go beyond education and retail, and Cardano has products built on top that service the agriculture, government, finance and healthcare sectors too.
At the core though is ADA - the token that users of these platforms transact with to achieve traceability. They can be traded on eToro using the ticker ADA.
Ethereum
The Ethererum (or Ether) network promises the decentralised vision of the Internet many dreamed of just a couple of years ago.
From buying and selling art, to gaming, trading cryptoassets and much more, Ethereum envisions a global economy run by and for holders of Ether.
While Ether's application is essentially whatever users want it to be, the cryptoasset has become a major part of the buying and selling of art.
The NFT boom, which kicked off in earnest last year and shows no signs of slowing down, saw artists and collectors alike come together to do away with the old guard of the art world - shunning IRL galleries in favour of digital art.
While many NFTs took the form of collectible tokens, the art space flourished - with artists that use new technologies taking advantage of a fairer digital shopfront and a captive consumer base.
For many, the NFT boom was the first mainstream example of crypto being used en masse. For Ether holders, the boom meant the value of the cryptoasset rose in parallel. This is because to buy or sell art on NFT platforms like Foundation, OpenSea or SuperRare you need to use Ether.
But art is just the beginning when it comes to Ethereum. Ether-powered tools and services, also called decentralised applications (or dapps) are a growing movement of applications that use Ethereum to disrupt business models or invent new ones.
For example, Tornado Cash is a dapp that lets users send anonymous transactions on Ethereum, Audius is a decentralised music streaming platform, and Decentraland is a virtual world built on the Ethereum network.
Launched in July 2015, Ether has since risen to become the second most popular cryptoasset after Bitcoin, and can be traded on eToro under the ticker ETH.