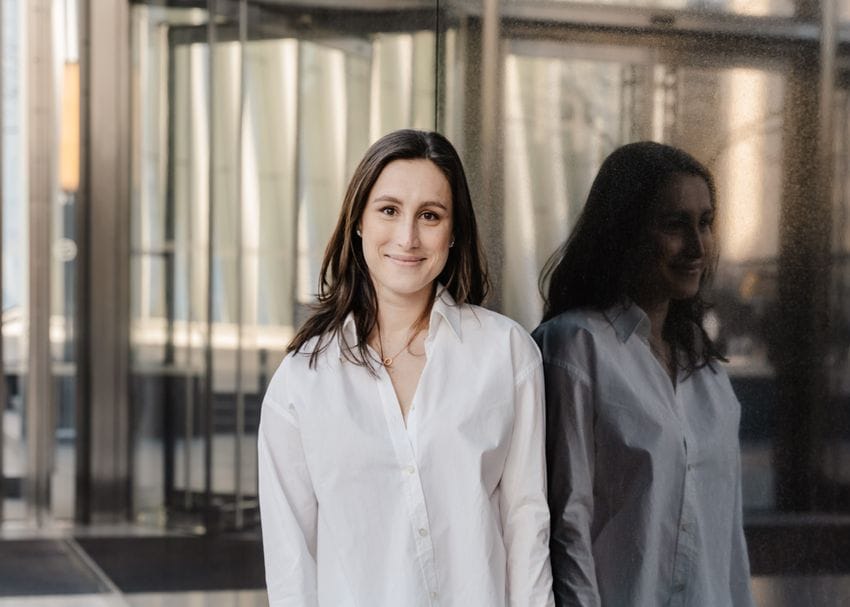 From Brisbane to New York with QUT's real-world approach
When Maddie Landsberg moved to New York City in 2019, she embarked on an opportunity of a lifetime. Having been a consultant in Brisbane, she pivoted her career to secure a job at a leading global tech company. Thanks to the skills and knowledge gained during her Master of Business, she felt confident enough to take on a new challenge. Only five years after finishing her degree at the Queensland University of Technology (QUT), Maddie Landsberg is now Chief of Staff for US and Canada Delivery at tech giant Uber.
Having started her career in financial consulting at PwC Australia, Maddie Landsberg embarked on a Master of Business (Marketing) at QUT, balancing her studies with full-time work. She was able to implement skills from her master's in real-time, pivoting her career from finance to technology when she secured a role at nbn™ Australia in her second year of postgrad studies.
Upon graduation, Landsberg's career progressed further when she accepted a project manager position at boutique consultancy firm Nous Group, a move facilitated by the more profound understanding of business concepts gained from her studies.
"Had I not completed my master's degree at QUT, it would have been much harder to pivot from financial consulting into different roles and industries," Landsberg says.
"Having a solid understanding of the business landscape that I could apply to different contexts gave me the foundation I needed to grow my career."
When the Landsberg family moved to New York in 2019, Maddie had forged a solid career in consultancy and was ready for a change.
"By the time we relocated to New York, I'd been working in consulting for a few years and had grown professionally," she says.
"I saw the move as an opportunity to test my skills in a bigger market, so when an opening at Uber Eats came up, I jumped at the chance. Having the transferable skills I'd gained during my Master of Business proved hugely beneficial while transitioning into tech."
Landsberg joined Uber Eats as senior regional operations manager just months before the business world reached a total standstill as the unfolding pandemic shut the world down.
"The business fundamentally changed throughout COVID, more than doubling in size, and we had to quickly adapt in a really uncertain environment," Landsberg says.
"When I joined the company four months earlier, I had no idea what the next year would entail. It was challenging, but I could rely on my professional and academic background to take on new opportunities as they arose."
By July 2022, Landsberg had been promoted to Chief of Staff at Uber, a steep climb in such a short time, propelled by how well she adapted to the intensely busy period they experienced throughout COVID.
"What I love about my current role is having a 360-degree view of the business and getting to work cross-functionally with senior executives on prominent and often sensitive projects. The functional skills I gained at QUT have helped so much in this aspect and prepared me for any career development," she says.
"The rounded education I gained on my master's degree has proved timeless. The course was really practical with opportunities to test my learning with real life application while studying."
"I feel ready for any career challenges that might be thrown my way and to evolve and adapt as needed."
As well as equipping her with skills to handle future career challenges, her QUT course also offered the flexibility and convenience to fit around a full-time job.
"I initially chose QUT as an undergrad due to its flexibility," Landsberg says.
"Then, when I moved on to do my Master's I was working full time so the city location and ability to shuffle the course program to suit my schedule was key to being able to successfully balance work and study."
After graduating with her master's degree with a perfect grade point average, she returned to QUT as a tutor, maintaining the strong connections she'd made during her studies.
"I decided to come back and teach because I'd formed such a great relationship with the business faculty when I was a student," she says.
"Becoming a tutor was a great way to keep that relationship open.
"I found my master's at QUT endlessly rewarding, and the skills and experience I gained have proved invaluable. Going back to study as a postgraduate demonstrates a deeper commitment to your career. And if you throw yourself all in, the opportunities are endless."
More from Queensland University of Technology