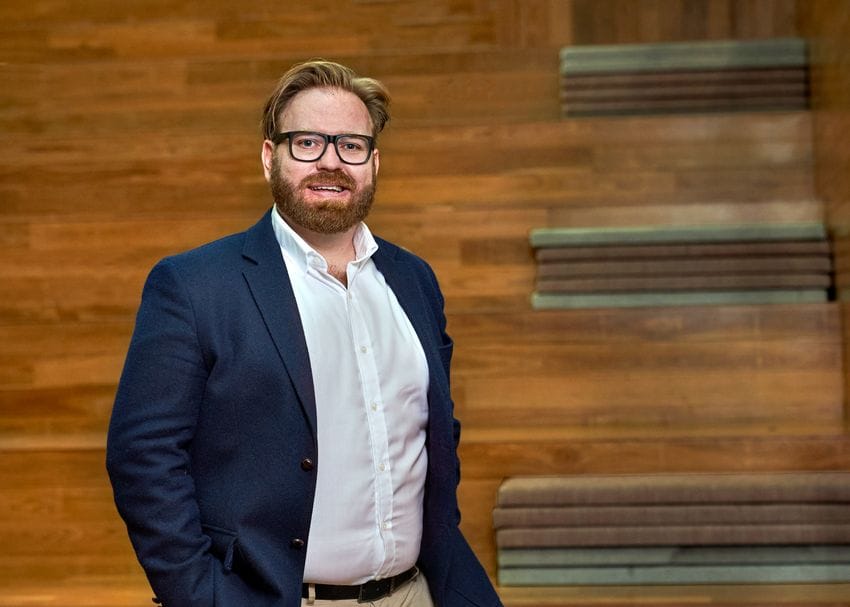 From selling ice cream to startup success with the help of QUT
For entrepreneur Sam Hussey, new business ideas have always come naturally.
After starting his first business at 13, selling ice creams to friends, he caught the entrepreneurial bug and went straight from school into full-time work, opting out of university. A decade (and many business ventures) later, Hussey realised he was missing critical business skills to further his success and returned to education, bolstering his on-the-job skills with a Graduate Certificate in Business at QUT.
His new abilities gave him the confidence to venture further into the startup world and co-found leading immersive technology companies.
---
A natural self-starter, Sam Hussey had a long history of building businesses from scratch, which allowed him to save up for a camcorder to film surf videos. This led to a career in production that continued into his early twenties, working alongside clients and ad agencies to make TV commercials.
"What led me to technology was that I was always storytelling," Hussey said. "In everything I've done with my companies, there's always some major tech that's been used from a storytelling point of view."
After almost a decade of running his own businesses, Hussey started noticing gaps in his knowledge that he wanted to strengthen before moving forward professionally.
"I'd been running around since I was a teenager, trying to understand how I was supposed to run a business and making huge decisions I wasn't sure of," he said. "Finally, it got to the point where I said, 'right, I need to fill these gaps', and that's when I started looking at courses with QUT."
Hussey extolls the virtues of returning to study later in life, having gained so much from this experience. "For anyone who feels like they need to upskill and fill gaps in their understanding, my advice would be to think about the key areas you want to focus on and see it as a future investment. A Graduate Certificate in Business is a powerful tool that can open new worlds of understanding for my businesses and the people I work with."
Having not studied at university previously, Hussey applied to QUT's Graduate Certificate in Business, using his work experience to qualify for the postgraduate business program in lieu of formal qualifications.
"It was an interesting time because I hadn't done a bachelor's degree," he said. "Then suddenly, I'm being asked to work completely differently, like referencing sources in essays. It was a learning curve for sure, but what made such a difference was how welcoming and supportive the lecturers and staff were. They were incredibly understanding of my situation and helped me along the way."
Any challenges Hussey encountered throughout his Graduate Certificate in Business were far outweighed by the benefits he gained. "It opened new pathways for me," he says. "Enabling me to reach new career heights as my self-confidence and business understanding grew."
He explained that the six-months of study he undertook did exactly what he was looking for in filling his knowledge gaps. "I was probably pretty burnt out leading into QUT because I'd just done so many things and I was making mistakes," he said. "By the time that I finished I had a new sense of fire for what I was going to do. I started building my own companies again, and that's kind of been the rocket ship that's gone on ever since."
A year after graduating with his Graduate Certificate in Business, Hussey noticed a revival of the virtual reality technology that unsuccessfully first appeared on the market in the '90s. With the strong understanding of what makes a successful business he'd gained from QUT, he kept a watchful eye on the growing popularity of virtual reality before devising a business plan, harnessing the power of this revolutionary new technology. As a result, in 2015, Hussey co-founded Lightweave. The company grew rapidly to become one of Australia's virtual and augmented reality leaders, working with companies including DreamWorks and Tennis Australia.
"When virtual reality started making a comeback in 2014, I had a whole new perspective on how to incorporate it into a business concept thanks to what I learnt at QUT," Hussey said. "Those blind spots I previously had that would feed my insecurities were replaced with a new understanding. And with that came more confidence in my visions and business decisions."
Business awards and nominations have followed Hussey's business acumen, with recognition in Australia and internationally. He has received many awards, including Young Businessperson of the Year, as well as securing a listing in Business News Australia's 2018 Top 100 Australian Entrepreneurs and a #2 spot on Newscorp's 2018 Top 20 under 40 Queensland Entrepreneurs and Business Leaders.
Continuing his integration of storytelling and technology, Hussey began a new venture, Deployable, in 2020. Soon after starting it was impacted by COVID, with Hussey describing the following months as the most challenging time in his professional life. Using his previous career and study learnings, he was able to leverage these to continue growing the business over the last two years.
"Even today, I still call on the skills I learnt in my Graduate Certificate of Business," Hussey said. "The knowledge I gained has been instrumental in making my career – and future businesses – a success."
Deployable, Hussey's new company, is a self-service audience engagement platform which lets users build their own digital experiences. It is now working with international companies, such as Hasbro, an impressive feat for a Brisbane-based start-up. Reflecting on the last ten years of his career, Hussey is amazed by how far he has come.
"When I think about 2012, when I wasn't at QUT and I was freaking out about the fact that I had all these gaps in my learning, to now. I've come a long way," he said. "It's pretty rewarding."
More from Queensland University of Technology
When Maddie Landsberg moved to New York City in 2019, she embarked on an opportunity of...
Queensland University of Technology
For entrepreneur Sam Hussey, new business ideas have always come naturally. After sta...
Queensland University of Technology