61. Emilly Hankin (34)
Emilly Hadrill Hair
Gold Coast
Emilly launched her eponymous hair extension salon when she was just 20, and in the 14 years since she's become a well-known name in the space with a reputation for quality.
Her first salon was based on the Gold Coast, and after noticing people were travelling from far and wide to get their extensions done by the best, she expanded interstate.
Emilly Hadrill Hair now has four salons across Australia in Brisbane, Gold Coast, Sydney and Melbourne.
Like many entrepreneurs on this list, protracted lockdowns in Sydney and Melbourne during 2021 meant she had to close temporarily. However, like her Top 100 peers, she adapted in a way that made up for the pause in trading.
As such, she branched out into the e-commerce space and now runs a successful online store selling premium hair care products for clients to enjoy at home.
The online platform now sells the best in hair care, clip-in extensions, styling tools, and much more for those looking to touch things up in between appointments with stylists.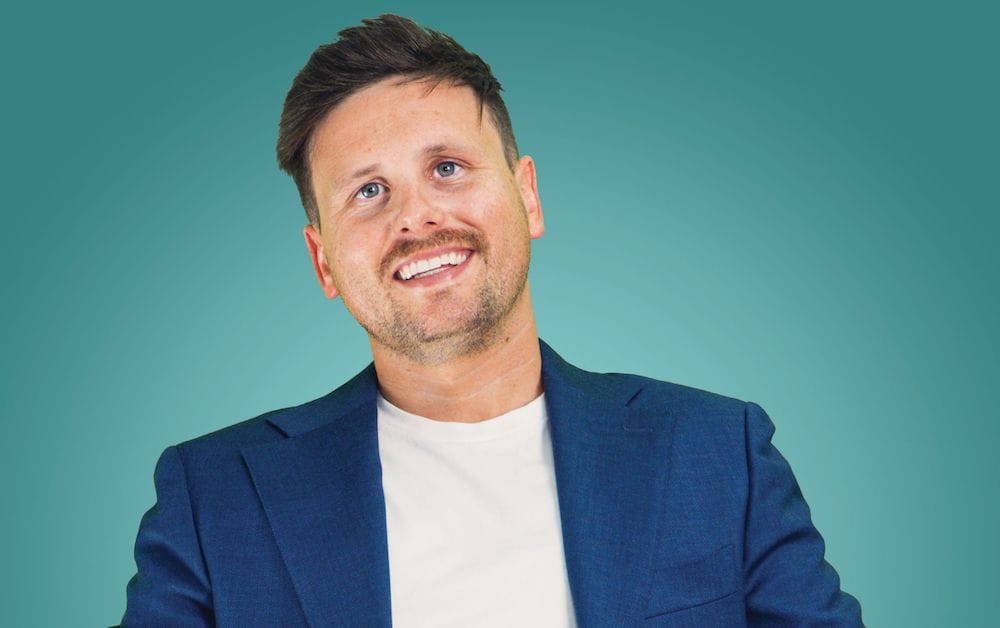 62. Jack Petersen (31)
Sydney
From schools to large corporates, in the past 18 months organisations have cottoned on to the need to upgrade their audiovisual capabilities as videoconferencing becomes the norm, not to mention greater digital interaction with their consumers or stakeholders.
So while COVID-19 has had its drawbacks for Jack Petersen and his company specialising in audiovisual systems, including the global shortage of chips and subsequent delays for technological products, overall it has turned up the volume on projects.
"Partnering with many second and third tier builders, we are moving forward at an accelerated pace," Petersen says.
"Construction in Sydney, Brisbane and Melbourne is at an all-time high. We forecast another year of doubling turnover, if not more.
"Having multiple verticals in our business, InVista was also the main contractor engaged for all digital signage for KFC, Subway and 7/11 nationally with over 11,000 screens (menu boards) installed within the last two years."
This growth then allowed the group to transition into supply and install for most major hotel chains whilst they were at minimum capacity, adding to a pipeline of work that also comprises projects for state education bodies and private schools for installation and maintenance.
"We actually still have grown in this time, and I hate saying that when others haven't, but it's only because we are a specialist in what we do, and a lot of corporates and education providers use this downtime to prepare for the next step and they bring us in," he says.
"Our pipeline is becoming more solid every single week."
Petersen started the business after working as an electrician apprentice at another company that "dabbled" in AV, and brought several family members on board to make it a family company.
"I took some ideas from there [his former job], but we created some of our own – you surround yourself with clever people and we've made some pretty magical things happen. It's pretty cool," he says.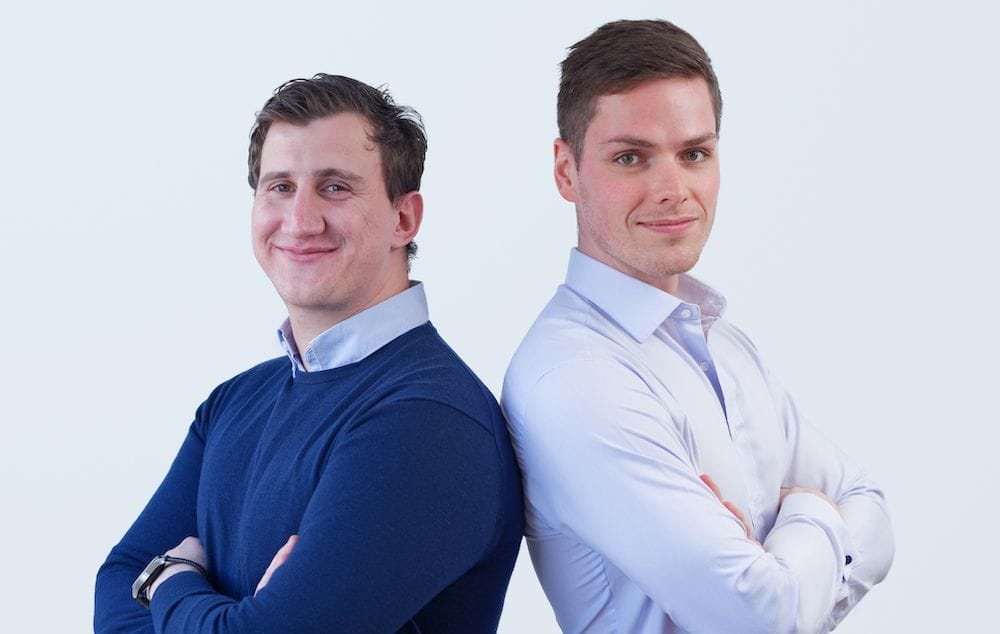 63. Jamie Shostak (26) and Michael MacRae (31)
Appetiser Apps
Melbourne
Developing apps for the likes of ANZ, Telstra, Europcar as well as countless startups and scale-ups, the business founded by Michael MacRae and Jamie Shostak has a wide reach to say the least.
"On a digital impact perspective, we have every eighth Australian use technology built by Appetiser Apps, and that number is growing rapidly every day," says Shostak.
"Our north star is product success. We don't count the number of clients we have - we count how many clients become successful in what they want to achieve."
"For most projects it starts with design and strategy. Many of our individual designers have billion-dollar portfolios by now, and we're using data to share all of our learnings across the entire design team."
Post-design, the team moves into development alongside ongoing mentoring and management, with constant iteration after an app is launched.
Shostak adds the company tripled its conversion rate in FY21, finishing the financial year on a strong note after "reinventing ourselves" by shifting from being process-driven to a focus on education and context.
"Talking about success, three of our clients publicly listed that year, one client became a unicorn, we reduced development times by an average of 26 per cent, our design team went from being ranked 11th in the world to the 7th best in the world, and we rolled product management and business analysis departments," he says.
MacRae says the company "invested into the crisis" in 2020, with an emphasis not just on client growth, but staff and community support.
"We're not shrinking, we're sticking together and looking out for each other and that's really paid off. Even from a company morale perspective I'm incredibly proud," he says.
"One project I'm particularly proud of is we launched this charity platform with a gentleman from Perth called Matt Golan for the Australian Horizons Foundation."
That charity raised $10 million in its first year to help COVID-impacted communities around the country. Appetiser Care has also been launched whereby for every team member a child in need is sponsored.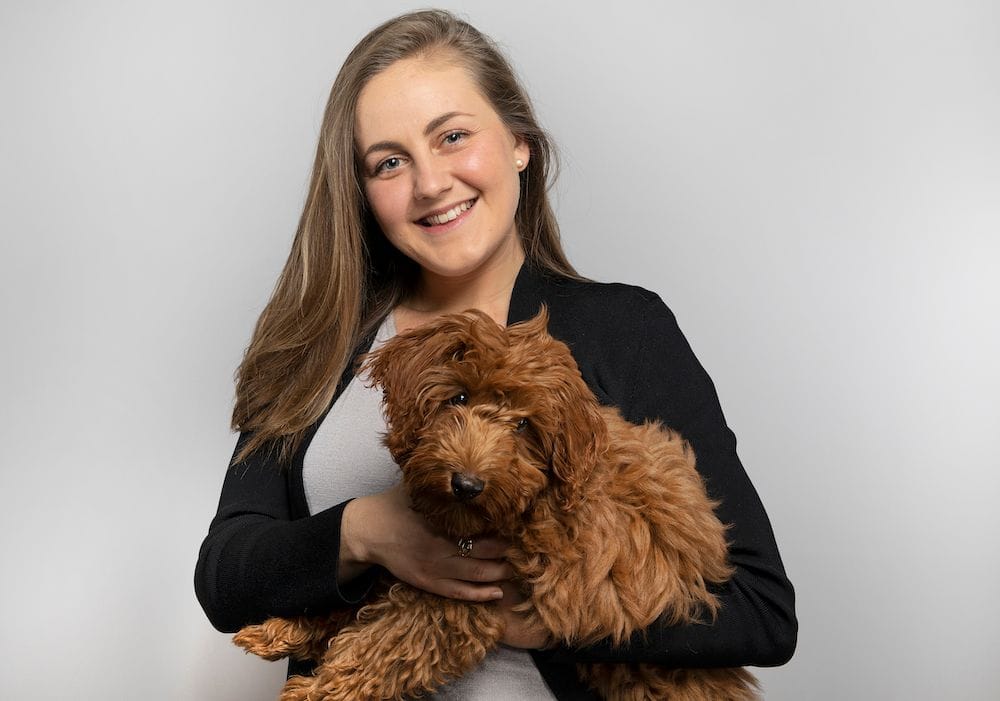 64. Anna Podolsky (30)
Lyka Pet Food
Sydney
Anna Podolsky has experienced how a minimally processed food diet can change a dog's health, having travelled with her dog Lyka across five countries and witnessing her deteriorating condition even with the premium kibble that was available.
"When she was about five years old, she was experiencing some health issues – she was itchy, constantly scratching, and had really bad teeth, so much so that the vet suggested removing some of them," Podolsky explains.
At the time Podolsky was working as a management consultant for Bain & Company in Chile, befuddled by the ingredients in the dog food which she couldn't understand even when she ran them through Google Translate from Spanish to English.
This is when she and her partner started cooking Lyka's meals, leading to an "incredible" health transformation.
"Within weeks, her fur was softer, she'd stopped itching and she had so much more energy – she was like a playful puppy again," she says.
"Even her teeth improved. I left my consulting role in 2018 and made the move back to Australia to pursue my passion of dog nutrition."
Thus, Lyka Pet Food was co-founded with integrative vet Matthew Muir, who formulates cooked recipes with all-natural, human-grade ingredients.
The company also uses a proprietary algorithm to customise meal plans for each individual dog based on its age, breed, weight, activity level and sensitivities to deliver pre-portioned, ready-to-serve meals direct to customers' doors.
It is a service that has seen Lyka grow rapidly across the eastern seaboard and Adelaide, with plans to expand into Western Australia and Tasmania in the first and second halves of 2022 respectively.
In April the company was able to consolidate its position with the acquisition of a Melbourne-based competitor Wholesome Dog which was founded in the same year, followed by a $6.5 million Series A raise in June that is being invested in growth, operations and the production facility, the ordering system, enterprise resource planning, and developing new treats.
"We firmly believe that our main goal is to really change the status quo in terms of how consumers think about this category – what dog food means really," she says.
"There is this humanisation trend where people are having kids less, they're spending more on their pets and they're really treating them like fur babies.
"There's so much opportunity in the market and our ambition as a company is really big," she says, also hinting a move into products for other pets like cats may be on the cards.
65. Aden Levin (34) and James Farrell (38)
Viral Ventures, Hidden
Sydney
From a novelty 'hot tub cinema' event at the University of Sydney, within four years Viral Ventures has bubbled up to become a global immersive and themed event experience outfit with customers in five countries.
Whether it's ball pit parties, bumper cars or 'Karen's diner' where staff and patrons alike can be as rude as they want, Viral Ventures now has a presence all over Australia, more than 20 venues in the USA, and is growing its footprint in Canada, New Zealand and the UK.
Next year Farrell and Levin plan to take the idea to Japan and Singapore, adding to a venture that has already produced thousands of events for more than 500,000 people.
"Every seven or eight months we'll try to flip something new. Our business model is we test concepts in Sydney, and then we roll them out overseas," Levin explains.
Hosting fun events for Millennials was not exactly Levin's first rodeo though, having already founded one of the UK's largest youth travel agencies Main Stage Travel with around 300,000 passengers per year, arranging tours in continental Europe for young people as well as festivals in France and Croatia.
After selling most of his stake in that company to private equity (he still retains around an 8 per cent share) the entrepreneur decided to move to Australia with his Aussie partner.
"I moved to Sydney and after a while of just doing nothing I was like 'what do people do for fun in Sydney?' This was during the winter and I saw there was a big opportunity in Australia for people to do immersive, pop-up experiences that three or four years ago weren't really happening," he says.
"Our first event was a pop-up actually at Sydney Uni called Hot Tub Cinema...it picked up loads of press and media, and obviously got loads of virality. From there we were like 'hey, there's something in doing this business of pop-ups and experiences'.
"There is a huge market out there of people wanting to do something different. They didn't want to just go to a pub and gamble on the pokies or whatever."
Viral Ventures then took the business global in early 2019 with its US launch, and in the past 18 months during the pandemic there has been a diversification into company-owned venues in addition to the pop-up events.
"We've got about 13 venues globally that we run – they're all different themed and experience venues, but they're fixed bricks and mortar spaces where we house our own experiences," he says.
"As a business with no live events happening, we did move into the virtual space. We weren't just doing a Zoom quiz – we did a dance class with one of Britney Spears' choreographers in LA, and that was a global event.
"Having all our venues and events closed actually gave us time for our business where we actually built our own ticketing site and our own event platform. Previously we were selling tickets through Eventbrite and Ticketmaster, so we thought why don't we build our own marketplace for these events, which has become the brand Hidden."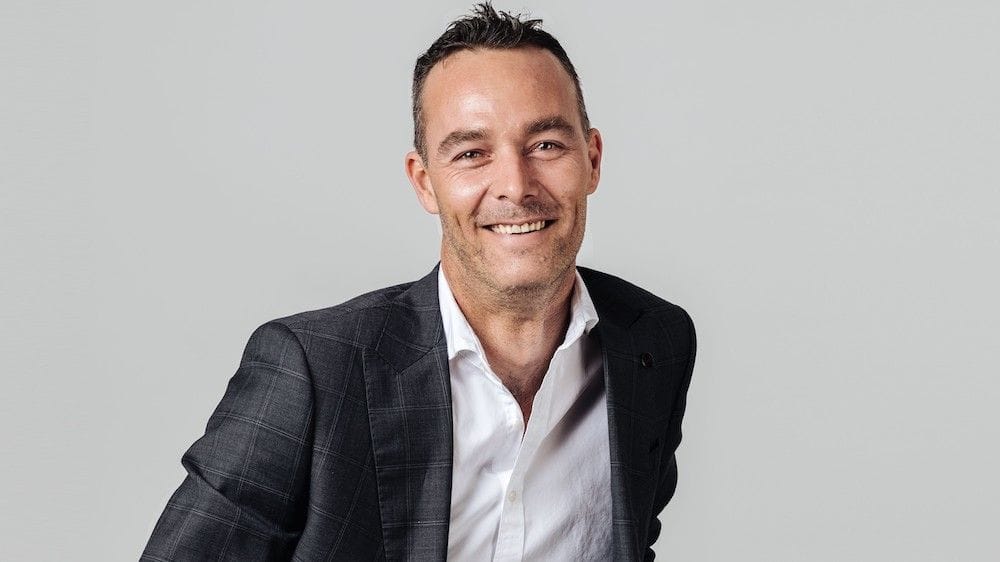 66. Braden Voigt (38)
Lynkz, PolyVision
Brisbane
Data, machine learning, artificial intelligence and cognitive services are at the heart of software developer Lynkz's modus operandi, catering to ASX-listed companies, law firms and international behemoths, all the while spinning off innovative ventures.
Founder Braden Voigt says current growth rates, with revenue set to triple at Lynkz in the current financial year, were never anticipated by the team and the big challenge of 2021 has been recruiting enough staff to keep up with the bourgeoning opportunities.
The group secured a major contract in the first half of the calendar year to deliver a Honda Motors dealer management platform in Indonesia, while spin-off PolyVision has been going gangbusters.
The AI video and image analysis platform was only formally launched to the market on 1 July, but by then it had already run successful trials with companies that are now its clients.
The company is currently servicing some of Australia's largest meat processors using AI to detect product defects, while it is also working with National Storage subsidiary Wine Ark harnessing 3D imaging to detect issues with labels, corks and ullage.
PolyVision has also been engaged with council governments in Australia and New Zealand to tackle pressing issues that can be addressed with its technology, as well as mining companies to look for certain types of minerals on production lines.
But he says one of the biggest developments of 2021 has been PolyVision partnering with Panasonic.
"They obviously produce cameras but they don't do the level of AI that we do, or the analysis that we can do.
"They're looking at how we can supplement their stack, and use PolyVision to analyse more than they could ever analyse. There's so much happening, that being a massive one for us."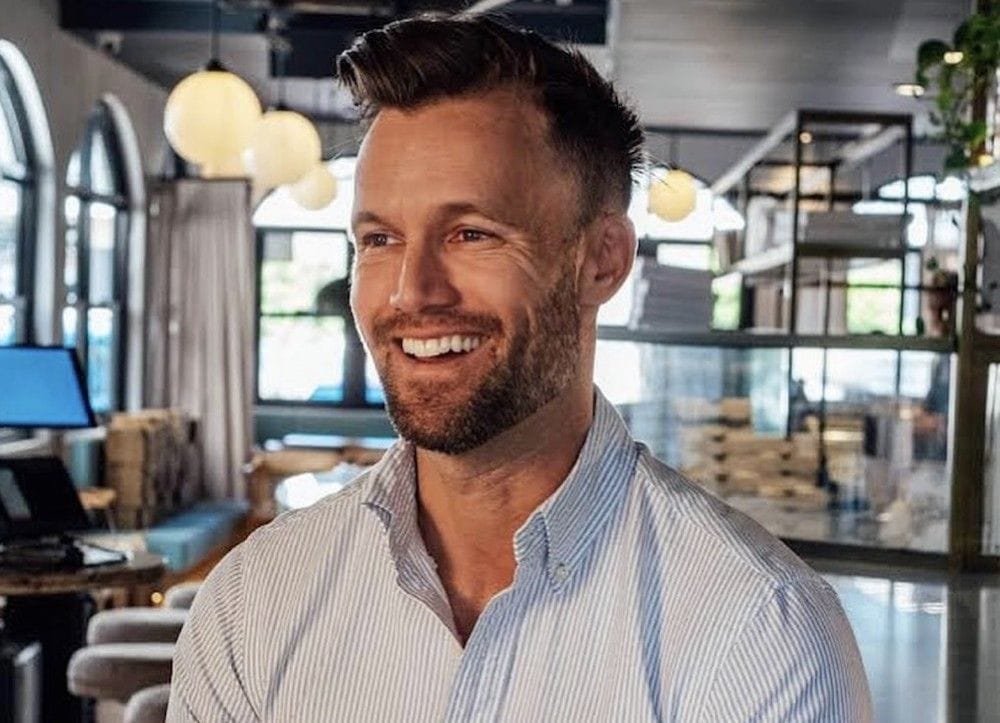 67. Tim Johnson (39)
Corbett & Claude, Comuna Cantina, Tetto Rooftop Bar, Mr Claude
Brisbane
As the operator of some of Brisbane's trendiest eateries and bars, Tim Johnson entered the pandemic with strong foundations in place.
Just as well, because the pandemic's reign of terror on the hospitality industry extended all the way through 2021 - leaving many in a precarious position.
Not Tim though. Over the last two years he was able to adapt so well that he opened two venues - a Mr Claude on Elizabeth Street in October 2020 and the new Comuna City in the Brisbane CBD in December of the same year.
"My view on business and hospitality is that every day you're fighting for survival," Johnson said.
"So COVID itself is just another challenge really - it's not some massive issue that we don't know what to do with.
"People are always going to have to eat, they're always going to be hungry, so it's a matter of 'how do we engage with our audience and how do we deliver a product in an experience that's engaging?"
He well and truly achieved this by pivoting toward exciting takeaway options for the brands' die hard fans, launching bundled deals, take-home alcohol, vacuum sealed pizzas that can be heated up at home, picnic kits, a Ben & Jerry's ice cream collaboration, and a tonne of online engagement.
"Anything that can bring a bit of fun into people's lives as well is always good," he said.
"Just being as accessible and available as possible, so we were on all the different delivery platforms and really working on social media to show the products that were available.
"We also retained all our staff. We want to be remembered for doing the right thing and looking after our people and our customers during this time because we know that we will be coming out on the other side, and we don't want to be remembered for cutting corners."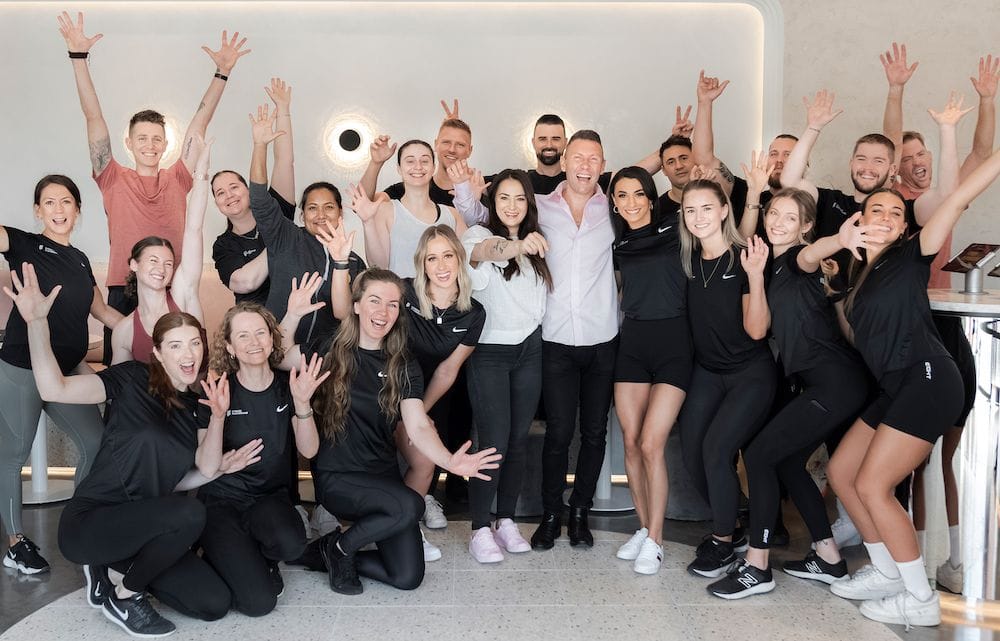 68. Serra Burmin (34) and Justin Ashley (38)
Fitness Playground, Fitness Playground Academy
Sydney
When lockdowns sent gyms into a downward spiral, this duo's determination to connect with its members did not waver despite their five Fitness Playground locations becoming inaccessible.
Instead of hibernating, the team shot 200 videos in the span of five days, and the birth of Virtual Playground resulted in an influx of gym junkies joining their online fitness regime.
This pivot ensured no redundancies and set the foundations for a hybrid approach towards health. When things began to open up, members could still get their gym routine done from anywhere else instead.
Now, they're working on their latest addition – a new 2,500sqm flagship gym in Zetland, Sydney that is due to open before the end of the year.
Named "The Mothership" the space will feature six unique studios, one of which will allow members to perform aerial and circus-style training in a safe environment.
While Justin Ashley describes the business as a gym brand first and foremost, his passion for educating others compelled him to create Fitness Playground Academy in late 2020.
Currently, the academy offers a mix of free and certified courses but he envisions a future where short 4-8 weeks programs are no longer the industry standard.
"Our real long-term objective for Fitness Playground Academy is to ultimately transform the way fitness professionals are educated," Ashley says.

"If I could fast-forward five or ten years into the future in terms of what I would love – it would be to create a degree that is designed for fitness professionals or personal trainers."
"We want to be able to inspire change at a member level to make sure that there's not so many members who waste their memberships and there aren't so many members that feel intimidated and uncomfortable in the gym. We believe that starts with staff and education."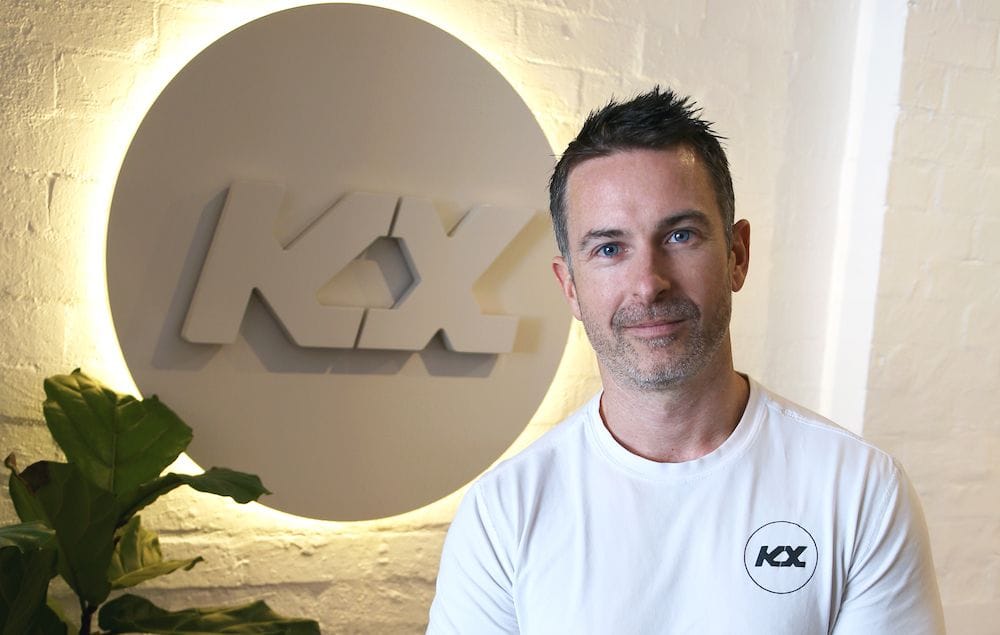 69. Aaron Smith (38)
KX Pilates
Melbourne
As an early mover in the Australian high-performance pilates space in 2010, Aaron Smith learned early on that his franchise would need an exclusive point of difference in a sea of "copycat studios".
This started with KX's own weighted poles and branded customised equipment, although it didn't take long before that was imitated as well and he knew the intellectual property (IP) offering needed to be taken up a notch.
"For the last seven years I've been thinking we need our own machine that's specific to our workouts, specific to KX, and everything is controlled with us," Smith explains.
The entrepreneur pumped hundreds of thousands of dollars into development of prototypes for a machine with a Chinese manufacturer, with 150 rolled out in company studios for testing.
Unfortunately, those machines missed the mark and were discontinued.
So while China wasn't the right fit for the growing studio empire's manufacturing piece, it was a breakthrough franchise agreement in China last year – and the opportunities it promised for a significant scale-up - that gave Smith a seat at the negotiation table with one of the world's leading pilates equipment companies Balanced Body.
He had pitched to the US-based giant before the Chinese manufacturer, but it wasn't feasible for it to develop a customisable machine for just the Australian market. But with an ambitious Chinese market growth plan, suddenly a tie-up became more appealing.
"When they realised our growth potential and how big we want to get, they said they were happy to develop now. We basically made one of their machines a hybrid, and the Balanced Body KX Former was formed," Smith says.
"Balanced Body has been in existence for about 50 years and we're the first company in the world they've ever done an exclusive deal with, which was incredible for us – a small business out here in Australia. That's really put us on the map.
"Intensity is now raised in classes, there's about 20 new features on these machines that basically relay to hundreds more exercise that we can use, so variety for our trainers to teach, variety for our clients who've been with the brand for 10 years. We've put that into 10 studios now."
The KX Pilates network currently includes 79 studios in Australia, 12 in China, one in Jakarta, and a recently signed franchise agreement in New Zealand that should lead to the first studio opening across the Tasman in February or March next year.
Since late last year all new studios have the new machines, and Smith has given the network three years to fully transition to them. In the meantime, KX Pilates is eyeing growth in China, a potential franchise agreement in Singapore and is in talks with potential US partners.
"My partner over in China, he basically wants to open 500 studios in the next three to five years. We would be happy with 50 to 100, but you're talking to a man who's been in fitness businesses over there for 20 years, and a 1.4 billion population compared to 26 million here," Smith says.
"He's going to grow fast, because of the classic Chinese model that if you don't grow fast, somebody's going to overtake you and grow faster."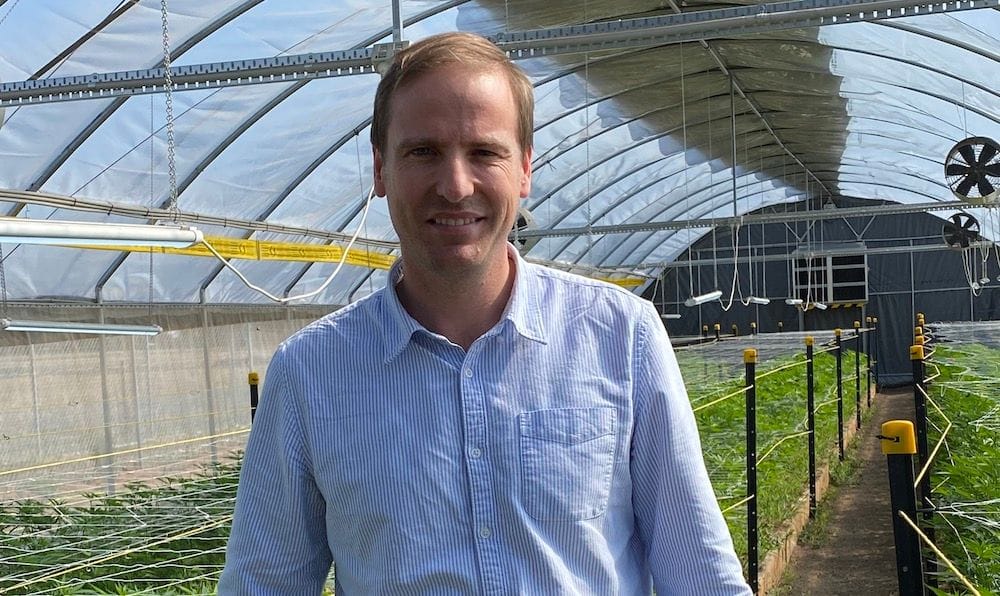 70. Alex Keach (40)
ECS Botanics
Sydney
Sydney-based ECS Botanics (ASX: ECS) is no stranger to Business News Australia's lists, having made its debut in the Australian Top 20 Cannabis Companies list this year.
The vertically integrated medicinal cannabis company, with agricultural roots in Tasmania, is on the precipice of major growth following an ambitious expansion into Victoria this year and plans to grow its Tasmanian farm by more than 100 times its current area.
If the latter is approved, its cultivation area would be expanded from 2,500sqm to 320,000sqm - an Australian first according to managing director and founder Alex Keach.
The company, which listed on the ASX two years ago following a reverse takeover of WA-based Axxis Technology, makes its money by growing, cultivating, and manufacturing premium medicinal cannabis dried flower, biomass and oil products.
It is also anticipating a boom in sales soon, following the $7.5 million acquisition of Murray Meds - one of Australia's largest producers of medicinal cannabis.
Since then, deals have been coming in thick and fast for the cannabis player, including a multi-million-dollar supply and toll processing agreement with a subsidiary of Indian giant Sun Pharma.
Sun Pharma, a subsidiary of one of the largest specialty generic pharmaceutical companies in the world, will have ECS Botanics MC supply no less than 55 per cent of its annual biomass requirements, which is yet to be specified.
Based on indicative volumes, it will equate to total revenue between $6.6 million and $9.8 million for ECS, representing a significant scale-up for the company's operations.
Keach's ECS also recently penned a deal to supply medicinal cannabis resin to medicinal cannabis clinic operator Cannvalate. ECS expects the agreement will generate a minimum of $4.9 million in revenue.
---
---
Click below for this year's top 100
Get our daily business news
Sign up to our free email news updates.
Help us deliver quality journalism to you.
As a free and independent news site providing daily updates
during a period of unprecedented challenges for businesses everywhere
we call on your support