81. Bao Hoang (39), Ray Esquieres (39) & Tin Ly (39)
Roll'd
Melbourne
Australia's love affair with Vietnamese fare has been deftly rolled up into a neat fast food franchise model by the founders of Roll'd since the trio converted a little Italian cafe in Melbourne's CBD into their first store back in 2012.
In the years since, the brand has staked out a national presence in our food courts, high streets, and even in grocery giant Coles where Roll'd sells sauces, rice paper and noodles for home chefs.
From this firm position, the three founders hope to take the brand overseas in 2022; plans are already in place to expand into the United States with its first store in Utah - a journey three years in the making.
The company hopes to then push into more overseas markets including Canada, the UK, France, Japan and New Zealand.
Since the beginning of the pandemic, Roll'd opened 20 Australian stores, and a further 10 are slated to welcome customers before the end of 2021. The company also celebrated its 100th store milestone in March 2021.
"When COVID hit, Roll'd's executive team were unanimous that we would work hard to really support our team and minimise job loss during this time," Roll'd founder and CEO Bao Hoang said.
"Our strategy has paid off and through 2020 and 2021 Roll'd has expanded with over 20 new store openings, new catering options and the launch of our FMGC (fast moving consumer goods) product range into Coles."
As a leader in the FMCG space, Roll'd has also teamed up with Alphabet's drone delivery program called Wing, and is currently trialing on-demand deliveries in Canberra and Logan.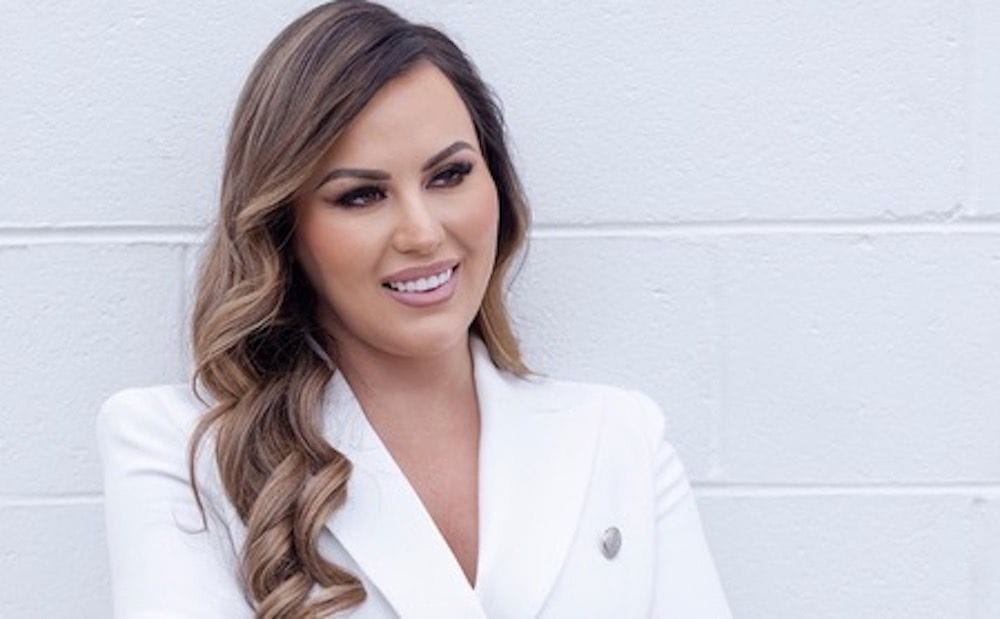 82. Kristie Baird (32)
Gold Coast
Suffering from chronic fatigue for more than a decade, Katie Baird saw no harm in trying vitamin IV therapy while in LA.
As soon as she felt the benefits, she realised the potential for a similar service Down Under and got to work streamlining it.
"We actually manufacture our own supplies branded under Mode Medical so that we can use everything that's more tailored to our treatments with our own branding. We can distribute [supplies] to employed nurses [and] our licenses," explains Baird.
"And then we can always distribute to people that don't work with Drip IV, whether that be plastic surgeons, cosmetic injectors, or medical practices."
Once a week, Baird's team of registered nurses request stock to continue servicing clients from any location. While Drip IV offers clinic services, its mobile operation accounts for 80 per cent of the business.
The model has fared for the company, which has treated more than 25,000 patients in Australia.
"We have a lot of referrals from nutritionists, naturopaths, doctors, oncologists. We work with a lot of cancer patients, people with autoimmune disease, hyperemesis and women that have severe morning sickness," says Baird.
"It grows in that way because there's so many people seeking the service. It is so common overseas and sometimes no one even knows that it is available here."
Having injected itself into New Zealand and the US in September, Drip IV is looking to maintain quality service before exploring further options.
"We've got our hands full with Australia, New Zealand, and America," says Baird.
"I think it's great growing fast, but sometimes you need to make sure that everything is working systematically very well before you rapidly expand."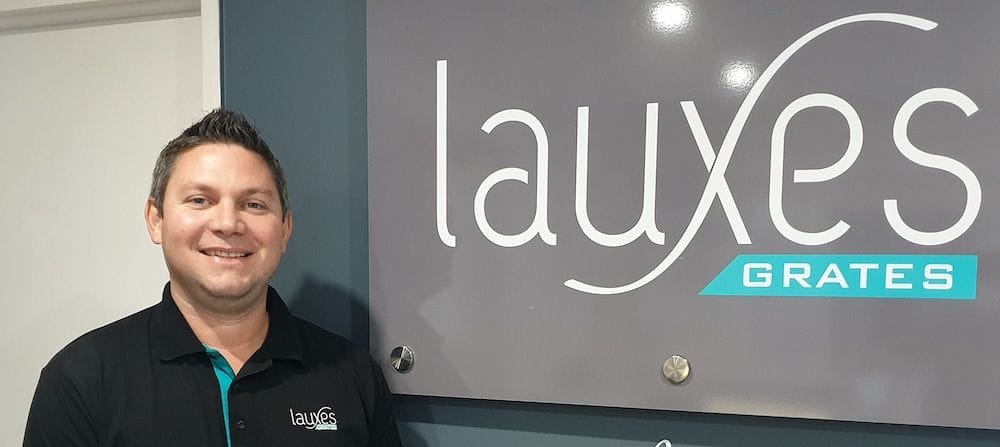 83. Tim Dawson (40)
Gold Coast
While the world of business can be brutal and unforgiving, Lauxes Grates took an entirely different approach with its distributors when COVID-19 struck.
"I smelt so much fear and uncertainty for so many people, even our key clients and customers," Tim Dawson explains.
"I said to my team 'share the love', so whatever they were feeling, whatever thoughts were going on, just share the love, [let them know] that we're thinking of them."
"If there was a hurdle or some sort of obstacle they couldn't see past, we'd try to remove that obstacle and remove that hurdle for them."
So, that was exactly what happened. Whether it meant overlooking delayed payments or chasing late deliveries, the team worked to resolve each issue and continued to "keep the flow".
As the dust settled, the company's versatile range of indoor and outdoor water drainage solutions was launched in the US and the UK, receiving sizeable orders from both countries.
"We've now been shipping containers to them in the last couple of months," Dawson elaborated.
"We've got four new customers in America and two customers in the UK."
"So, we need a new warehouse and head office and [to have] everything set up over there as soon as possible."
Sticking to its two-year schedule, Lauxes prepared a VR room to host the digital launch of its new product line. Taking the limelight was its DIY storm water grates, which were introduced as a stylish and cost-effective replacement for its plastic counterpart.
The company also began a partnership with the Gold Coast Titans and have agreed to sponsor the NRL team for the next three years.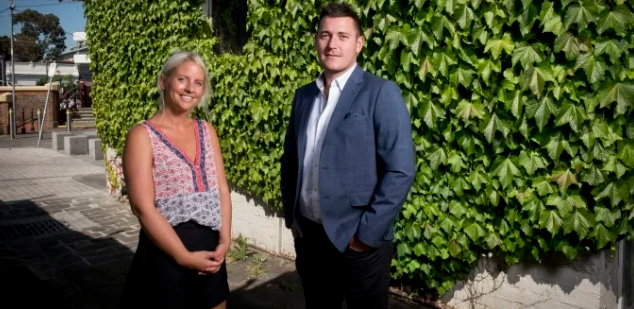 84. Simon te Hennepe (33)
TRAVLR
Melbourne
11 years ago, Simon and his wife Lani published a humble PDF called 'The Bali Bible' detailing the best spots and hidden gems in the Indonesian tourist hotspot.
So popular was the file that Simon embarked on a journey that would see him really disrupt travel marketing, establishing his tech platform called TRAVLR.
The business now partners with major media organisations to build a solution enabling customers to book their ultimate travel experience - all within the media company's existing assets.
It's a platform that one might assume was heavily impacted by COVID-19 restrictions, but te Hennepe's grit meant these last two years have been some of his most important in terms of scaling TRAVLR.
"These structural changes to the travel sector have put TRAVLR in a very exciting position to capitalise on the rebound of travel by leveraging the unprecedented access we have to our partners' global audiences and ability to leverage such strong audiences to create brand specific experiences," te Hennepe said.
"We've been able to generate a very capital light business model that allows us to access these customers for free.
"In a post COVID sector where there is far less competition, we have an immediate focus on curating unique domestic travel experiences for our partners under their own end-to-end travel environments, to enhance the experience and then transition our focus internationally as borders re-open."
So enticing is the promise of TRAVLR that the company recently raised $6.7 million in a pre-Series B round backed by Tony Gandel, Antony Catalano, Alex Waislitz's ACM and Unlockd founder Matt Berriman.
Building on existing partnerships with Network 10 to create 10Travlr, Stuff.co.nz's Stuff Travel, MTV and Nickelodeon, TRAVLR also announced a new deal with BBC Global News's Discover Beyond platform which launched in Australia and New Zealand in October.
"We want to enrich travel experiences like never before and after the last 18 months we've all had, the future of travel is more about the quality of the experience than just the size of the inflated discount," Simon says.
"The opportunity for global expansion is ripe and we are currently in discussions with media companies to launch platforms in open markets like the US and UK.
"Through these outstanding partners and our unprecedented audience access, our focus will be on providing global audiences with unique and unforgettable travel experiences."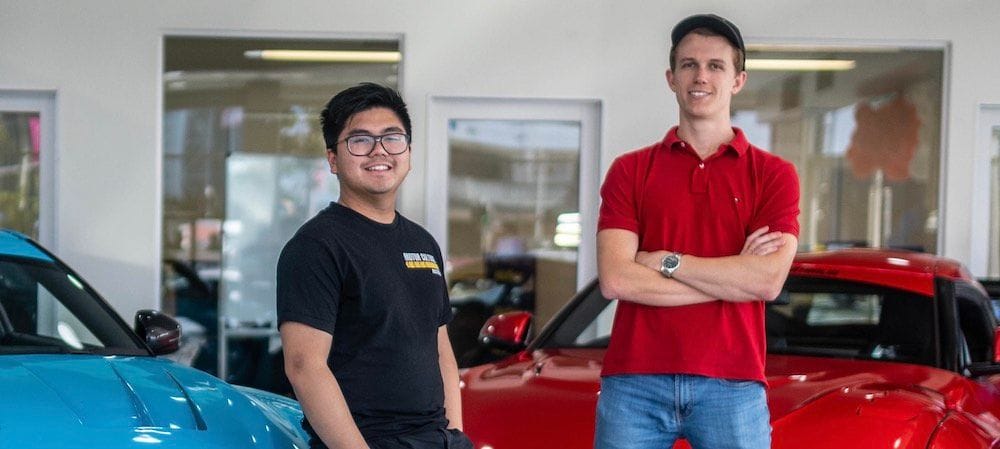 85. Thomas Fu (22) and Tom Mcpherson (22)
Motor Culture Australia
Brisbane
As young budding car enthusiasts, Thomas Fu and Tom Mcpherson observed "toxic culture" at car events with people driving "dangerously or erratically", often with traffic bottlenecks and the police showing up.
With a bit of business experience behind them from dabbling in electronics dropshipping, the pair had the ideas and enough gas in the tank to start their own community with a very different vision.
"We noticed a lot of the big car events have this toxic environment where if your car is not as good as the other ones, other people bag on it, so you have this hooning connotation around those events," Fu explains.
"What we really wanted to create was an environment that's very family friendly – you can bring your kids, you can bring your dogs – it'll be a show where everyone can enjoy themselves regardless of what kind of car they drive.
"What we're trying to push is to be the most diverse automotive community in Australia."
In a very short space of time since founding Motor Culture Australia in 2020, the startup has built up a community of more than 150,000 members nationwide, Momentum began in Brisbane and on the Gold Coast where they host an event every month, followed by expansions into to Adelaide and Sydney.
NSW and VIC represent a large part of the membership base, but even during lockdowns and in the absence of events, the company was able to keep those users engaged through other elements of the business model – educational content, car giveaways and various discounts with partners.
The business model has attracted global attention, including in the USA where Fu and Mcpherson plan to take the business eventually, but the first big push globally is into the UK where they have set up a company with staff on the ground and event planning in the works.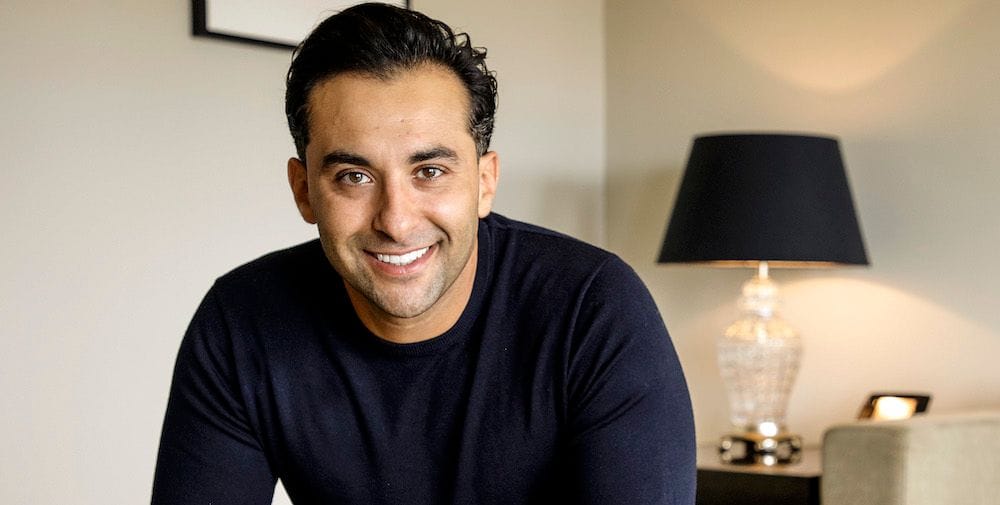 86. Robert Tadros (36)
Melbourne
More than just your average digital marketing agency, the team at Impressive uses specialised resources and senior talent to become an extension of every business it works alongside.
Working with clients such as Acer and Mitre 10, the company has become a mainstay for brands looking to grow digital traffic and generate more leads.
"Whilst other agencies are still trying to figure out what to do, we've been up and running and doing it for six years. We've got enough capability to take on new clients, we've got innovation and we've got a really good team of very talented marketers," founder Robert Tadros explains.
"All that combined, you've got a very good value proposition that you can take to market and help a lot of brands innovate in this current environment."
With no plans of slowing down, Impressive has set-up-shop in Austin, Texas in a strategic move to secure US talent and establish itself in what Tadros describes as "the up-and-coming Silicon Valley".
With notable companies such as Tesla making the move in October, he decided to follow suit.
"Our Austin office is now fully up and running so getting those guys humming along is going to be very important for us from now until the end of this year," he says.
Complementing the expansion, Impressive has grown to 75 employees across Australia and the US.
"The collaboration between the two offices in the US and Australia is also very important. So how do we take businesses and retailers from Australia into the US is a focus for us."
"The reason why we opened up a US office in the first place is to have people on the ground over there that can assist us with running multi-country campaigns."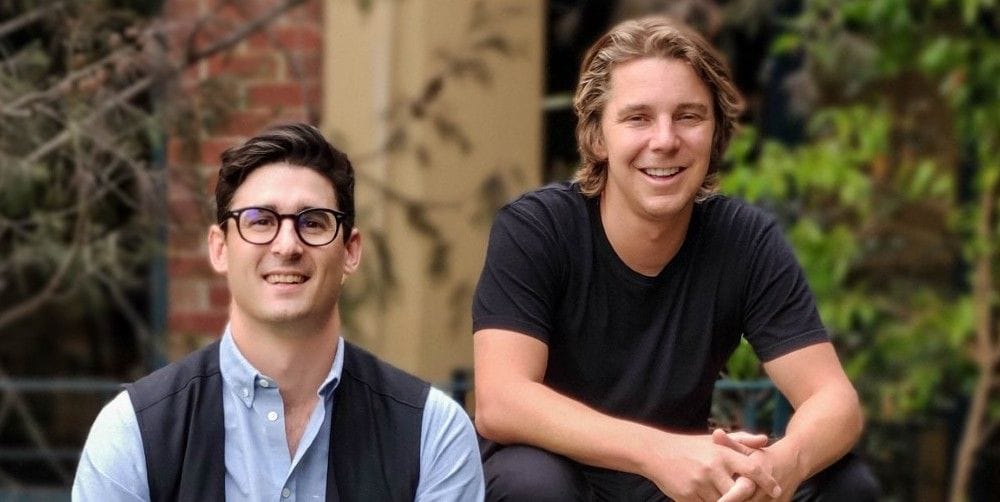 87. George Glover (32), Michael Bird (32) and Andrew Archibald (33)
Social Garden (urban.com.au, snaplistings.com, studentgarden.com)
Melbourne
A master in nurturing leads for property and education, performance marketing agency Social Garden helps its enterprise clients connect with potential home buyers and university students.
From conversation rate optimisation to digital cloud marketing to social media marketing, the company's extensive offering has secured customers such as Australian National University and Satterley Property Group.
Although real estate and schooling require very different considerations, both are life-shaping financial decisions.
"There are actually a lot of similarities in the customer journey, because it's obviously two of the biggest decisions you're going to make in your life, right?" proposes co-founder George Glover.
"That's why data-driven lead nurture and marketing automation plays such an important role in converting prospects and helping us support the customer as they're going through that sales process."
A separate arm of the business known as Student Garden enables universities, TAFEs and registered training organisations to have students make user-generated marketing for a competitive price.
Bird also works on other ventures, with his site Urban allowing users to search and snatch up development projects before it's too late.
Despite Social Garden being familiar with its consumers, it has not lost sight of its responsibility towards them throughout the last nine years.
"It's our job as marketers to give consumers as much relevant information as possible in order for them to be able to make an informed decision about these pivotal decisions that they're making."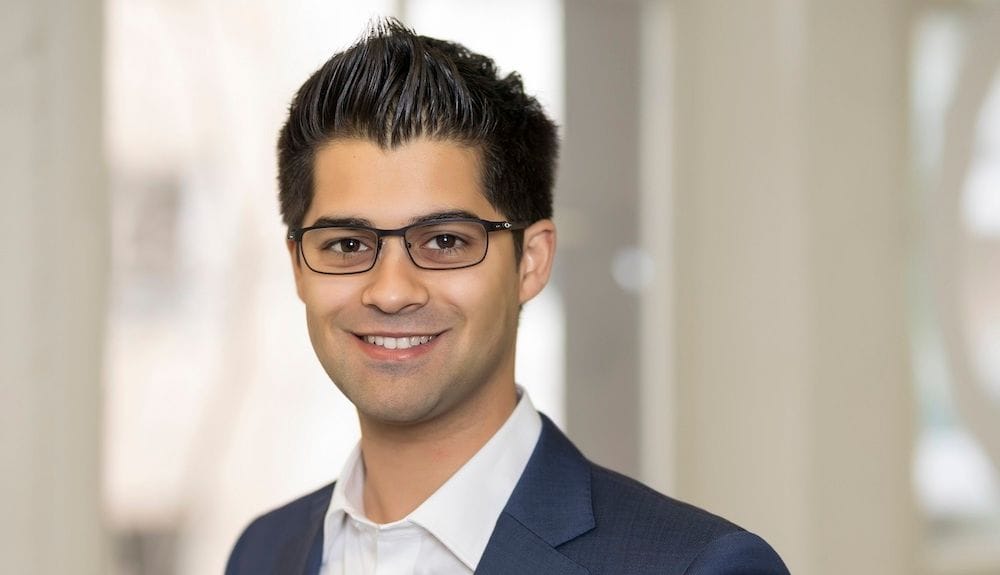 88. Adam Brimo (34)
OpenLearning
Sydney
For many students in Australia and around the world, the pandemic was extremely disruptive, forcing most into online, disconnected classes on platforms not designed for distanced learning.
Were it not for Adam Brimo's innovative e-learning platform OpenLearning (ASX: OLL), many would've endured months of education without a tailor-made platform.
"Some lecturers when they first look at moving online just think 'I've got my content', which is usually Powerpoint slides, and they want to upload that to a website," Brimo told Business News Australia.
"I mean, if you're going to do that you might as well just use Dropbox, because there's no learning experience there."
Instead, the ASX-listed company's platform is designed with e-learning in mind, running courses that are more engaging, active, based on projects, and with a strong focus on community practice.
The company listed in December 2019 following a $6 million IPO, and is trusted by a raft of Australia's top universities including Bond University, Griffith University, UNSW, The University of Adelaide, Notre Dame and many more.
To date, the company has assisted more than 2.7 million students and has more than 160 education institutions on its books.
In the first half to 31 August 2021, OLL generated $1.3 million in revenue but is still loss making as it continues to scale in Australia and South East Asia.
Since then, the company announced its third quarter was a bumper period, seeing revenues surge by 186 per cent year on year.
A recent investment from global tech-growth firm Alchemy Tribridge Sapphire (ATL) saw the company receive $2.9 million in late-November, giving the company some fuel for growth and scoring the appointment of ATL founding partner Ben Shields to its board.
Its ambitious goal is to move even more education providers online to its end-to-end platform, and expand its software-as-a-service model to new sectors and geographies.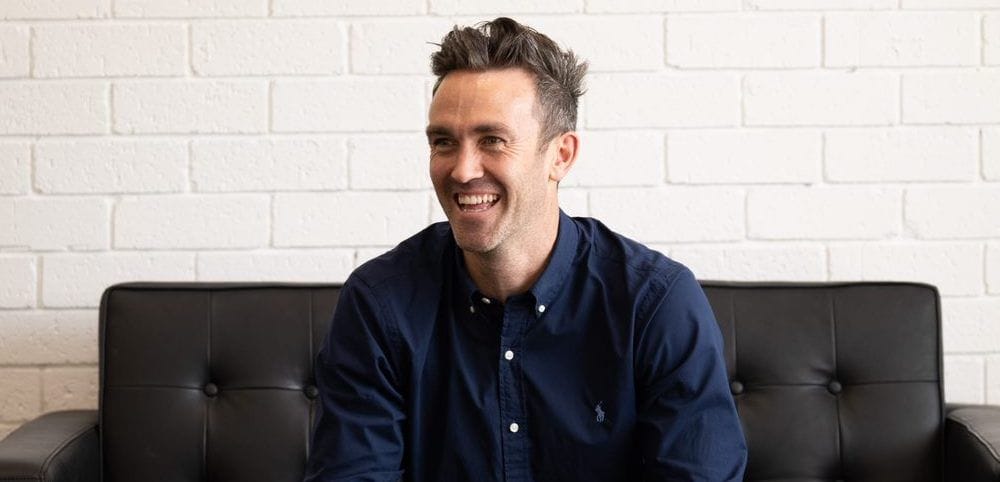 89. Matthew Holloway (36)
Holloway Group (A Plus Plastics, Ausdrain, Biax Foundations, GEOHEX, Group Tooling, Pulse 3D, Plasmar)
Sydney
Unafraid to tackle various industries, Matthew Holloway's seven brands each serve a unique purpose in construction, manufacturing and agriculture. From moulds to stormwater management to 3D printing, he leaves no opportunity by the wayside.
"A few years ago, I rebranded the organization because we built so many proprietary businesses and products under A Plus Plastics that we were pigeon-holed into being just a plastics manufacturer. We're so much more than that," Holloway says.
The adjustment was a reasonable one. While A Plus Plastics and Group Tooling handle the design and manufacturing of injection moulds, Ausdrain has spent more than two decades specialising in drainage cell products.
However, this only scratches the surface of the group's brands.
Made of 100 per cent recycled post-consumer plastic, GEOHEX's turf offers a more sustainable solution to concrete soil stabilisation and has caught the attention of overseas businesses.
"We sell product into Indonesia. We've got a licensee now in South Africa. It's kind of it's taking us in all different areas of the globe," says Holloway.
Biax Foundations and Plasmar are also driven by the same eco-friendly values. While the former is being used to replace polystyrene foam slabs during residential construction, the latter offers a rot-free solution to fencing.
As Holloway continues to grow those brands, the future for GEOHEX is looking bright.
"We've only just started the international footprint so I'd say 2022 we'll see a big a shift into a global licensing network."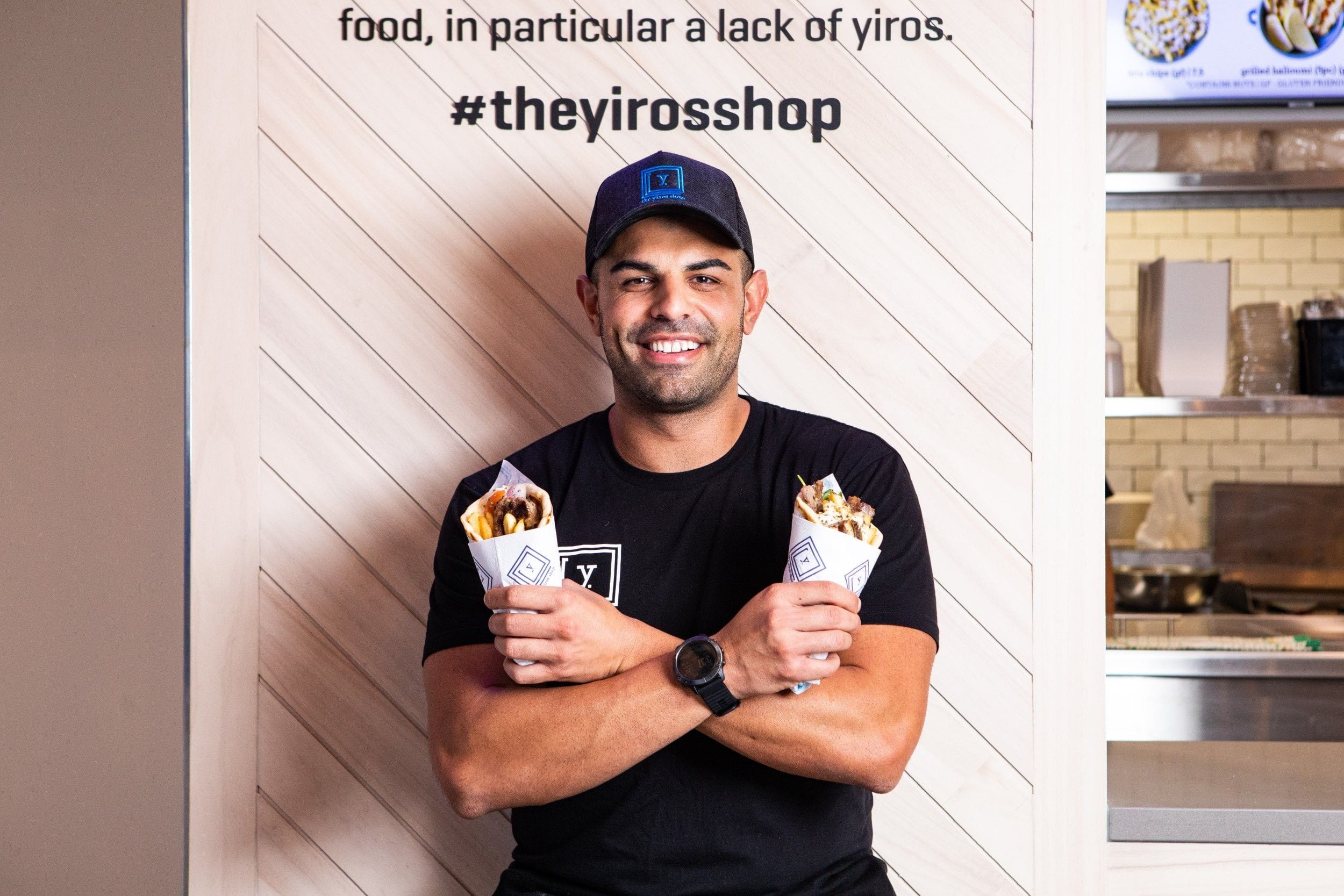 90. Nicholas Mitrossilis (31)
Brisbane
From its origins as an authentic Greek food takeaway chain with outlets spread around Southeast Queensland, The Yiros Shop could be set to skewer a new market segment after a successful drive-thru launch in Logan early this year.
The concept has given founder Nicholas Mitrossilis the confidence to roll out more drive-thrus as the main source of expansion in the near future, driven by franchising following the February launch of the chain's first franchised store at the Jindalee DFO.
He explains it is actually easier to secure sites for The Yiros Shop with drive-thru given the lack of Greek food options in the format.
"There aren't a whole lot of options for drive-thrus. If you're competing for an in-line store there's 100 people that could go for it, but when we're looking for a drive-thru site there's only 10 or so, and there's nothing like our offering," Mitrossilis says.
"You can't go put three burger places next to each other, two Mexican places, so we always get asked to go in the mix."
He says there are still some in-line store openings because existing leases have already been signed, but now the main focus will be drive-thru unless it's for a flagship site like what The Yiros Shop has in Burleigh Heads on the Gold Coast.
"After opening this restaurant we learned quickly we were onto something big. We gained huge popularity and traction, even though we had opened in a brand new area where we had to 'educate' our customer base on what a 'Yiros' was," the entrepreneur explains.
The company has previously channelled a significant portion of its sales through Uber and other delivery apps, given its strong foothold in suburban takeaway locations, but this year The Yiros Shop also launched its own app to handle pick-up and delivery.
"This means we were able to control some of our pricing which made us competitive in the market as opposed to other delivery platforms," Mitrossilis says.
"We were able to through planning, integrate with DoorDash and Uber, using their contracted drivers to deliver on the behalf of our restaurants.
"As customers choose delivery orders through our App, it alerts DoorDash or Uber drivers and they complete the order for us seamlessly without the customer knowing it is not our own delivery driver."
For the future the entrepreneur plans to open up restaurants all over Australia with an ambitious goal to create the biggest Greek food franchise in the country, and one of Australia's largest fast-food franchises.
---
---
Click below for this year's top 100
Get our daily business news
Sign up to our free email news updates.
Help us deliver quality journalism to you.
As a free and independent news site providing daily updates
during a period of unprecedented challenges for businesses everywhere
we call on your support