From a daily production of just a few hundred kilograms three years ago, Mathew Stillone's Integrity Food Co has been scaling up rapidly as it taps into trends of consumers avoiding various "nasties" such as sugar and artificial flavourings.
Today that daily manufacturing output is closer to 10,000kg, and just as well because his brand Botanika Blends has now started supplying vegan protein cookies and bars to more than 800 Coles stores Australia-wide.
The entrepreneur tells Business News Australia that making a dint in the import-dominated health food industry is about finding the niches today's consumer seeks, and he hopes the latest deal is a sign the country's majors will stock more food from their own backyard.
But the email alerts are coming in thick and fast from export markets too, while a local Brisbane collaboration also sees the food-preneur trying his hand at high-protein, vegan ice cream.
---
Mathew Stillone is on the hunt for prime real estate, both in the figurative sense of shelf space at retail but also quite literally - his company needs land to grow.
2021 is a year of consolidation for Integrity Food Co, a food manufacturer that does 'white labelling' for health food producers, as well as various affiliated brands such as Botanika Blends, Flexible Foods and Protein Supplies Australia.
Last year from its multiple manufacturing centres in Southeast Queensland the Brisbane-based group released more than 20 new items, but this year - aside from a few star products and fresh forays - the focus is more on existing products and brand awareness.
"We're doing a heap of R&D in the space, but we're kind of keeping our cards close to our chest and we're just going to be slowly dropping products throughout the year," Stillone tells Business News Australia.
"We've got multiple manufacturing facilities, so we're looking at consolidating into one big purpose-built facility where we can extend on our current capabilities and start getting into more healthy snacking.
"We do protein powders and sports nutrition products, but I really want to make an impact on how Australians eat...so the opportunities with the cookies and the bars is us dipping our toes in with what we can achieve, and hopefully we can roll out more healthier snacking options in Australia and hopefully internationally as well."
Stillone is banking on consumer trends around 'free' food; not as in giving it away, but marketing a product based on what it lacks, such as dairy-free, egg-free, gluten-free, sugar-free, but still flavourful.
"We realise that to make a dint in the industry we need to look at what are people really looking for," says Stillone, who last year featured in Australia's Top 100 Young Entrepreneurs list and won the Food & Beverage category of the 2020 Brisbane Young Entrepreneur Awards.
"I know the consumer trends and that people are looking for lower sugar, if not sugar-free, options - date paste and dates in particular are super high in sugars.
"We developed these bars and cookies with a huge focus on gut health as well a heat stable probiotic too so they can withstand the manufacturing process."
The first step with the protein bars was a small Christmas promotion with Aldi last year, which helped build awareness around the product before some Coles Local stores in Sydney and Melbourne took them on as a trial in early 2021.
"That paid off as well because traffic came from the Aldi people buying it and selling out and not being able to access it anymore, and then they went to the Coles Local stores and purchased it," he says.
"The sell-through rate was quite high, which obviously gave us that opportunity to be national ranging."
The entrepreneur explains the pandemic changed the way Australians looked at food and their supply chains with 'Australian Made' a stronger priority than before.
"I'm a big advocate for smaller Australian business in general," Stillone says.
"What I get disappointed with time and time again is when I go into major retailers, health food stores, or supermarkets for example, and there are so many great Australian-made products that are right at the doorstep here but unfortunately the buyers get so caught up in the hype of international business and imported goods that they'll constantly range imported products over Australian made products.
He says his fight right now is to keep Australian manufacturing happening, and hopes other local food producers are also able to get greater shelf space at national retail.
"It's so encouraging and so exciting for other businesses as well in the same industry, as it gives them a bit of hope that this is a sign that Coles and all the other majors are looking in their backyard now," he says.
"Hopefully we can be more successful so more and more homegrown brands can get a bit of limelight."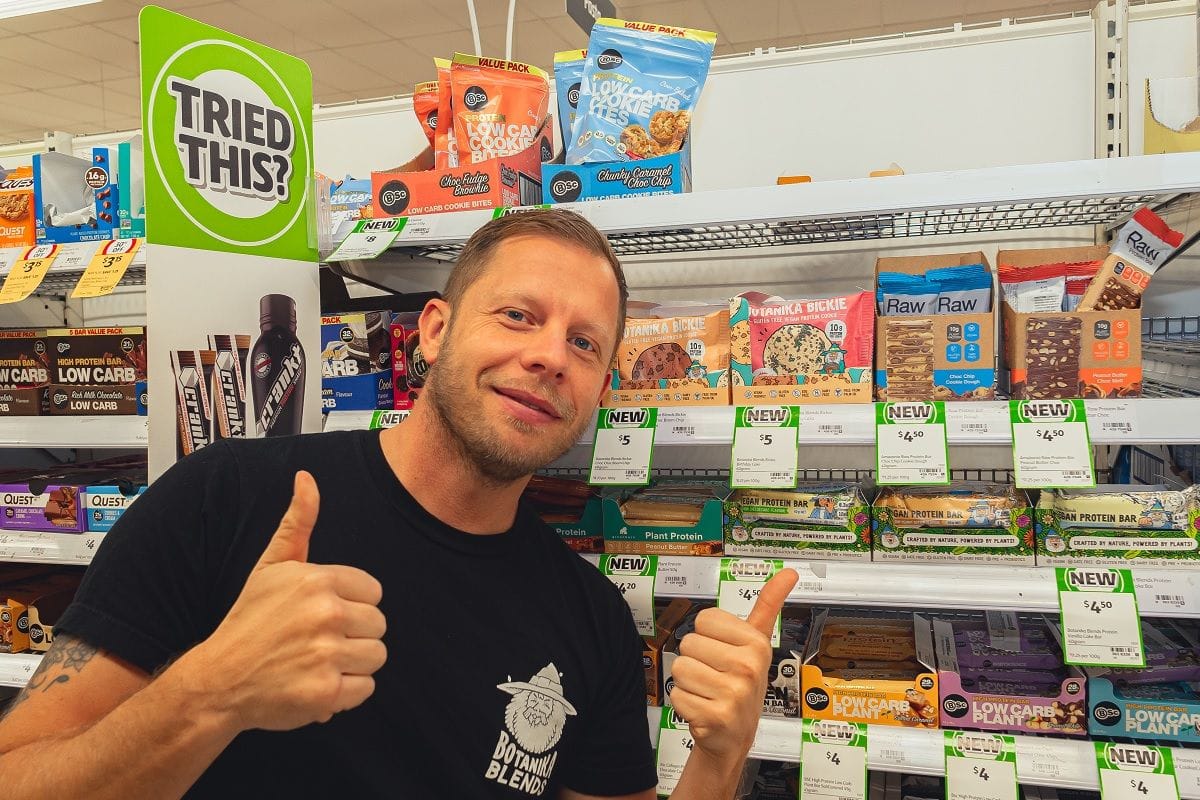 Export possibilities
Stillone has come close to securing the right property in Brisbane but nothing has been locked in yet. Remote working may have become the norm for many businesses, but for an entrepreneur dealing with food manufacturing and distribution, physical location is still key.
"I'm being pretty strategic in where I want it to be positioned - it has to be close to the port and close to the highway, close to the infrastructure we'll need, and close to my staff," he says, adding his team is now more than 40 people.
"I don't want people having to travel an hour to work in the traffic every day. That's not something personally that I want to have a lifestyle around my business."
Proximity to the port relates to a fast-growing side of the business that Stillone believes will proportionally become more relevant as time goes on - export.
"We have had a lot of interest internationally with export. We're right now working into into New Zealand, in Asia and in particular Hong Kong, Singapore, Taiwan, India as well. They're new markets for us that we're tackling at the moment," he says.
"Navigating that is not something that we've really ever done before in the business," he says.
He adds Austrade and Trade Investment Queensland have been extremely helpful, as has the Growth Roadmap grant, as Integrity Food Co, Botanika Blends and other brands work towards ambitious goals globally.
"Roughly speaking export is around 10 per cent of sales at the moment, which isn't huge but we're over the $10 million mark revenue now. So it's a significant part of the business, and this year we've only just started dabbling in that realm," Stillone says.
"Once we have an established market and we start building our brand over there, I can just see that growing.
"If what we did in Australia is any indication, especially Botanika Blends, that will quickly increase to 30 to 40 per cent I'm hoping."
Ingredient innovations a boost for product pipeline
Following a nationwide ranging with Coles for two new products, Stillone is also excited about an ice cream collaboration the group has scooped up with Ciao Gelato in Nundah on Brisbane's northside.
"We've got a vegan or dairy-free protein frozen dessert coming out very soon with another Brisbane-based company as well - a collaboration product. That's going to be going into all the IGAs, so that's something for me that's super exciting as well," he says.
"We've done a lot of business with IGA with some of our brands already, but we've never done an ice cream before."
Stillone emphasises the ice cream and frozen goods market is both highly competitive and very different logistically to anything else in the business.
"In frozen goods, logistics is a whole new world to me. It's not something that I've ever done before, so I've partnered up with someone that knows the game pretty well we've done a heap of trials and R&D and we're really happy with the product."
He says the Ciao Gelato trial sold out three times last week, giving him confidence it will be a huge hit.
"The brand we're collaborating with is called Fit-Lato. They're a fairly new business as well, they're a startup that had their gelato shop in Nundah for maybe five years," he says.
"While they've been in the game making hand-crafted gelato in their store, then they ventured into more high-protein ice creams.
"I came to them with the idea that we should do a dairy-free, vegan version of their locally popular product, and it just kind of evolved from there."
But as with anything in the food industry, you can tick all the boxes with various consumer trends but your brand won't go far if it lacks taste - the key driver of repeat sales.
"I find that people say to me 'how much does it cost? What's it taste like? And is it good for me?' And in that order," he explains.
"The biggest challenge with developing products that are better for you or healthier is the taste, but thankfully there's a lot of innovation in the food space now where we're finding more and more functional ingredients in terms of application into different products where we can mimic certain things.
"For example, cane sugar is used in every single dessert that tastes great, so how do we how do we give people that sweetness? Thankfully there's alternate sweeteners that are really coming out over the artificial such as like monk fruit. Monk fruit is becoming more and more commonly found over stevia even."
Stillone discusses the importance of functional fibres as well, which are not just healthy but go a long way in achieving an appealing texture in food products.
"Not only are you getting a good fibre count, because fibre is super important for you, but in ice cream for example it has that thickness and that mouth feel so you get that creaminess to it as well," says Stillone.
"And in fats, trans fats are not great but there's a whole bunch of other products that people are starting to use that can be incorporated into healthier options.
"What we've been good at is taking these traditionally nasty products or what I'd consider as unhealthy products, for example the mudcakes that we do, and we make a healthier option in the 'better for you' category.
"That's something I've been super passionate about and so far I've been able to do. So far, so good."
Get our daily business news
Sign up to our free email news updates.