BPS Technology (ASX:BPS), the company that owns Bartercard, sees itself as the 'gorilla in the room' in a trade exchange industry worth $20 billion globally.
And the Gold Coast-based company is planning to feed that gorilla over the next year as its takes a bigger bite of a market it says is ripe with opportunities.
CEO Trevor Dietz (pictured left) effectively told shareholders at the company's first annual general meeting as an operating company this morning to 'watch this space'. He says BPS has a number of acquisitions in train over the next year to further its reach into consumer engagement.
The strategy will run in tandem with growth of the company's Tess technology, which is now rated as the preferred platform for the world's 2500 trade exchanges by the International Reciprocal Trade Association (IRTA).
"Our goal is to become the Microsoft of the barter industry," says Dietz.
"We have an agreement with IRTA over 15 years that they will recommend our technology as the preferred technology for the industry."
Today's AGM comes on the heels of a 70 per cent surge in the BPS Technology share price since August after the company bettered most of its prospectus forecasts in FY15.
Chairman Murray d'Almeida (pictured right) says the shares had been trading well below their $1 issue price due to a US fund last year selling its entire Australian portfolio, including more than 1.5 million BPS shares, because of the lower Australian dollar.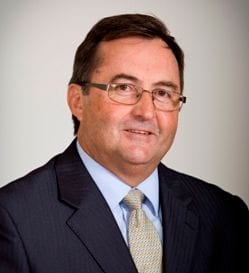 "We were not contacted prior to this action and hence had no opportunity to place the shares with other funds," d'Almeida told shareholders.
"It is pleasing to note that BPS has retained the strong support of several well-known Institutions, some of which have increased their stake in our company and by all indications are looking at us as a medium to long-term investment."
BPS posted a net profit of $7.9 million in FY15, up from a forecast $6.5 million, although revenue of $48.1 million was slightly below prospectus forecasts due to the delay in the launch of the company's new customer rewards technology, known as Bucqi.
Dietz says while Bartercard and Tess were the foundations of the business over FY15, he sees major growth potential through Bucqi which offers merchants a unified rewards system for clients.
Bucqi also incorporates a unique smartphone payment technology that utilises rewards dollars known as 'bucqs'.
Dietz says market research shows that this new loyalty scheme provides consumers with clarity regarding the value of their rewards, with one bucq worth $1, and that this is gaining traction with consumers.
"Our technology is quite unique and strong, so our ability to be able to grow our business beyond that which we currently do is also strong," says Dietz.
Over the next 12 months, BPS Technology is targeting acquisitions and joint ventures with groups that have developed payment gateways, loyalty programs and rewards and mobile payments as it rolls out Bucqi domestically before looking at international markets.
"We continue to focus on being an international organisation," says Dietz, adding that all acquisitions will be earnings accretive.
"There are good opportunities for us to grow our relationship with SME market base. We're about bringing consumers to merchants.
"We style ourselves as a company with a disruptive payment system for merchants globally.
"The emerging business of Bucqi and Tess can lead towards greater revenue and market penetration."
The Tess technology platform was launched last month in North America, leading to 13 expressions of interest for the product. Over the past year, BPS launched in South Africa and signed agreements in India and China.
Bartercard accounts for $600 million of the $20 billion transaction pool produced from the 2500 trade exchanges across the world.
"We are the gorilla in the room with $600 million," says Dietz.
"There is none bigger out there doing what we do, but importantly from our viewpoint, if we can address part of that $19.4 billion, the opportunity for us to be able to expand our business is strong."
Get our daily business news
Sign up to our free email news updates.
Help us deliver quality journalism to you.
As a free and independent news site providing daily updates
during a period of unprecedented challenges for businesses everywhere
we call on your support