A Hong Kong-based researcher that does not engage in short selling has weighed in to the debate around besieged Australian farmland owner Rural Funds (ASX: RFF).
Bucephalus, a research subscription service with the motto 'exposing creative accounting', followed Texas-based Bonitas Research's lead in criticising RFF in a report published Monday and obtained today by Business News Australia.
"In August, Bonitas Research accused Rural Funds Group ("RFF") of fraud and asset inflation. We have had a look and are very concerned," the report said.
"Criminal fraud is hard to prove, but we see a clear cut case of financial engineering and creative accounting being used to inflate asset values and line the pockets of the management company, ("RFM").
"RFF's unitholders (mainly Australian retail or pension fund investors) are no doubt very happy with the performance of their investment so far, but we believe they are inadvertently being drawn into a Ponzi scheme that could collapse at any time."
The report claims RFF has a fair value of $1.20 per share based on a "generous appraisal" of accounting profits, or $0.73 based on reported cash flow.
"Unfortunately, these numbers could still be too high, if the assets get revalued and the covenants are breached," the Bucephalus report said.
"We note that at RFF distributions exceed recurring profits, even ignoring cost capitalisation and capital raising continues."
After becoming aware of the report in circulation, RFM dismissed the concerns raised.
"In RFM's opinion, the document's criticisms are substantially similar to those made in the recent documents selectively released by short seller Bonitas," the manager of RFF said.
In response, RFF advised investors to refer to and rely on its full year statutory accounts, the presentation of its full year results for FY19 and the Ernst & Young report in response to the Bonitas document.
However, Bucephalus Research managing partner Robert Medd (pictured) begs to differ.
"Our conclusion is similar, which is we think that they are exploiting investors and we think there is a good chance the equity might be worthless, but how we get to that conclusion is quite different," Medd tells Business News Australia.
Medd clarifies Bucephalus is not a short seller, does not sell shares and has no connection to Bonitas.
The Bucephalus report raises concerns about the issuance of RFF funds to raise $149 million for the purchase of assets from the JBS Group of Brazil, allowing RFM to "to use RFF money to take a 100% equity stake in J&F at no cost".
"This gives RFM any upside, and a 1 per cent fee the credit instrument issued to RFF, leaving RFF exposed to the downside," the report said.
"Given that the owners of JBS Brazil have a history of fraud, corruption and criminality, the risk is material."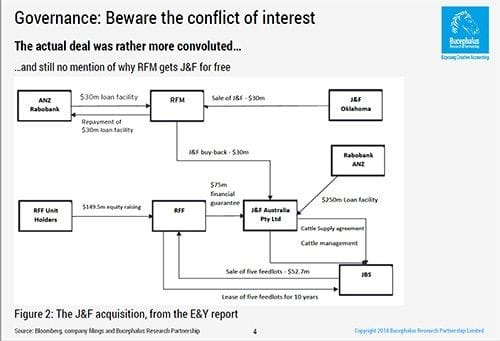 The report claims RFF's fee structure rewards asset growth irrespective of risk, returns or quality.
"Bonitas said that the management company was paid in excess of its 1 per cent of fees. Now actually it wasn't, but it benefited more than the 1 per cent of fees - that's because of how they structured the transaction," says Medd.
"Now, what they've done here is quite an interesting transaction because the management company bought the asset J&F and then went to the bank and said, 'if I can get my unitholders to guarantee the loan, will you give me some cash so that I can essentially pay off all the money I paid off to buy the asset?'"
"Our argument is backed up by the Ernst & Young report. There's no debate about that."
In its report, Bucephalus notes its surprise at RFM's claim that the E&Y report vindicates them.
"As we read them, both the E&Y report and RFF's accounts CONFIRM that RFM is a) using legalese to disguise a deal with a dodgy partner that rewarded RFM above and beyond a 1% fee and b) using dubious asset accounting to boost management fees and profit," the report said.
---
"Remember, these guys are in a situation where they are hoping to milk this cow - to use a bad pun - for years to come, and they're now in a bind because if it doesn't survive, they're in trouble. So they will throw anything at it to keep it going," says Bucephalus Research managing partner Rob Medd.
---
Just like Bonitas said in response to the E&Y report, Medd points out it was not an audit. He goes on to emphasise E&Y did not visit the farms in question, and conducted most of its analysis based on information provided by RFF.
"Actually Ernst & Young said in their report that the people doing the valuations, many of them didn't actually visit any of the farms, so they just took a spreadsheet and said 'do the numbers add up?' Ernst & Young didn't visit the farms either.'
"So I'm sitting there going, hold on management, you're telling us that we should have faith in a report written by Ernst & Young that specifically says all they've done is ask you for information?"
Bucephalus also raised concerns about how RFF's assets were calculated, especially as RFM gets paid based on the accounting book value of those assets and is "incentivised to make these as high as possible".
"In a break with conventions used at most business, RFF looks to be booking assets expenses as asset improvements. These are cash costs, which most farmers would consider to be an operating expense," the report said.
"Booking these as an improvement lifts asset values which allows RFM to charge higher fees. It also means that accounting profit is far higher than real cash generation.
"As a result when RFF makes distributions, they are unfunded and effectively a return of capital. We believe the company is using fund raising to make up the shortfall."
Medd likens this kind of accounting as the difference in how you would value a house based on building a pool versus painting the windowsill; one is a material improvement on the asset and the other is maintenance that if not done would lead to a devaluation.
"By capitalising all of their costs they keep driving up the asset value for which they take a 1 per cent management fee," he says.
Medd is not convinced there might be some agricultural nuances that make such an analysis different to standard property valuations, and he is not persuaded by management's large investments in RFF in order to boost confidence.
"Remember, these guys are in a situation where they are hoping to milk this cow - to use a bad pun - for years to come, and they're now in a bind because if it doesn't survive, they're in trouble. So they will throw anything at it to keep it going," he says.
Never miss a news update, subscribe here. Follow us on Facebook, LinkedIn, Instagram and Twitter.
Business News Australia
Get our daily business news
Sign up to our free email news updates.