Co-founded by brothers Adam Sarfati and Ace Reunis, sustainable packaging startup HeapsGood was born out of a deep frustration with the amount of plastic waste produced by the e-commerce industry.
The business, which recently raised just shy of $1 million via equity crowdfunding, is fast emerging as one of Australia's frontrunners in providing eco-friendly, plant-based and compostable packaging products for retailers nationally.
Co-founder Adam Sarfati spoke to Business News Australia about the progress the company has made over the past 18 months, why female-led businesses are getting behind the scaleup, and his plans for HeapsGood to become the "authority" in Australian e-commerce.
---
So close, so agonisingly close did HeapsGood come to the magic million-dollar mark in a recent Birchal crowdfunding round that for brothers Adam Sarfati and Ace Reunis it almost seemed like they could have been victims of a practical joke.
The co-founders of HeapsGood fell a tantalisingly $13,415.20 short of raising $1 million during the initial crowdfunding raise this month, backed by 929 new investors. This was well above the $400,000 target during the seed funding round.
"If we knew we would get that close, I would have put a call out to a family friend," joked Sarfati.
"It would have been great for media attention to say we received $1 million, and it crossed my mind to pretend that we did if anybody asked, but clearly we didn't, as we fell just short.
"I think the last 24 hours exceeded everybody's expectations, so it was hard for us to predict. But look, there may have been a tinge of regret for about a second, but ultimately we were really pleased and excited."
For the bootstrapped Melbourne-based business, crowdfunding offered the two young, relatively inexperienced entrepreneurs an opportunity to raise funds away from the world of private investment – where neither had built up the contacts or had gone through the venture capital process before.
"One of the big draws for us was that we knew that a lot of our customers were very loyal, were interested in us and loved what we're doing, so wanted to get on board," Sarfati said.
"We saw crowdfunding as a great way to reward those early adopters who have been with us and believe in what we're doing while also building a community.
"We're going to lean on them at times, now they are investors, to ask about new products that we're looking at and things we're doing. It was about bringing them on that ride with us, which was the key driving factor."
The concept for HeapsGood was formed just before COVID-19 hit in 2020 and was born out of a deep frustration held by the siblings with the waste generated from plastic packaging in the e-commerce sector - an industry they both have experience in.
Reunis is a co-founder of e-comm brand Threadheads, a direct-to-consumer graphic t-shirt business based out of Melbourne, while Sarfati cut his teeth working at e-commerce business Zazz for more than eight years.
Before establishing the business, Sarfati started researching attitudes to sustainable packaging, coming across a survey that said roughly one in four millennials are more likely to choose to buy products from a company that uses sustainable packaging.
With e-commerce, Safarti notes there are limited touchpoints between the customer and the digital business, making each one critical.
Comparing it to a child opening a present at Christmas, Sarfati believes that if a customer doesn't get any excitement from opening a package, then the positive vibe of the shopping experience will be lost. For this reason, he thinks more and more retailers are now willing to pay an additional 10 or 15 cents on packaging so that they don't potentially lose the customer.
The first discussions between the two brothers about the business took place in Sarfati's lounge room, which later became the official first headquarters of the company when it launched in early 2020. With the help of the business' graphic designer Anthony Teazis, the brand HeapsGood came to be after what Sarfati described as an arduous process of finding an original name.
The trio stumbled on HeapsGood and loved the name as it sounded Aussie, had subtexts of 'compost heap' and was positive in nature.
"I guess I've always wanted to have a business that was actually solving a problem, a purpose-led business, as I think it's a lot more rewarding," said Sarfati, who was determined to make a significant impact by finding a sustainable alternative to plastic packaging
"It's also much easier to sell a product if you know it will make a tangible difference in people's lives."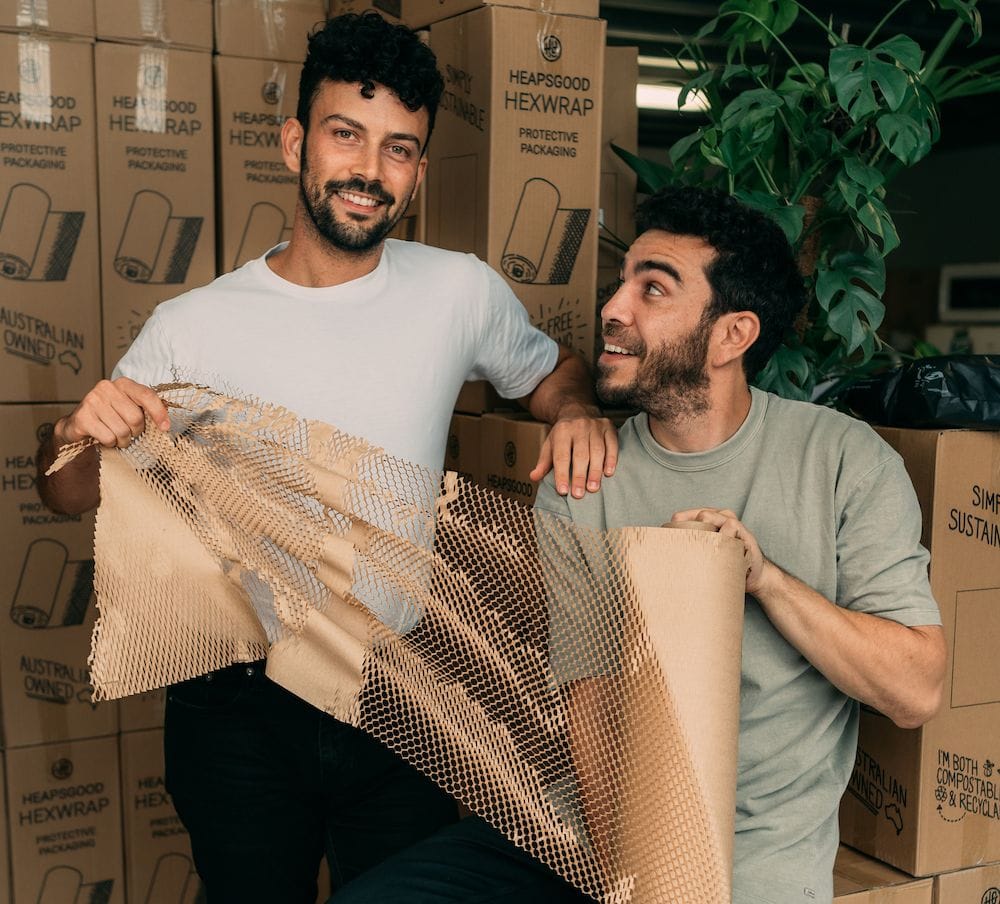 For the founders of HeapsGood, the timing of COVID couldn't have been better. Sarfati acknowledges that although it was very unfortunate for many local retail businesses and cafes, the Australian e-commerce industry was jump-started by lockdowns.
"Look, it was the right place at the right time, and I feel like we were really blessed in that sense. It's so hard to start a business, and timing can be everything, and we were just so fortunate," Sarfati said.
"We ordered our stock, but it was delayed because of that whole COVID process. It arrived here as COVID kicked off, and everything went into lockdown around April 2020, just as we launched and everyone started to go online.
"The product was right, the marketing was right, and our website was working well, but the timing was amazingly helpful."
The business eventually outgrew the loungeroom and moved into a small warehouse in Melbourne 18 months ago, where it started selling its original ecomailer product. The company has since expanded its range of products to now include hex wrap, ecostickers, hex rollers, ecotape and hemp cord.
HeapsGood's compostable shipping mailers are made from a combination of cornstarch, PLA (vegetable-based plastic material) and PBAT (composting co-polymer).
The business initially sourced its products from China but has consciously tried to bring on newer products manufactured in Australia and would ultimately like to have all the manufacturing done at home.
Three of the core range of existing products are currently sourced from China as it's not viable to have the manufacturing exclusively done in Australia yet. While the mailing bag's materials are available in Australia, Sarfati says it's four or five times the price, which is not competitive for the consumer just yet.
During the early days of the business, most customers were small and medium-sized startups and e-commerce businesses that were ahead of the trend in realising consumers were looking for more sustainable packaging. As this becomes normalised, he believes larger clients will come on board.
With a bigger warehouse on the horizon, he says that the additional space will allow the business to better scale and hold larger stock quantities.
HeapsGood has sent more than seven million parcels in the past year, generating $1.5 million in revenue. Sarfati sees HeapsGood's main focus as continuing to expand its existing range of 12 products to cater to any and every e-commerce brand and eventually push into the US market.
"I hope our brand has made packaging and the idea of composting and recycling a little bit sexy and fun," he said.
"Packaging is pretty boring as a product normally, so if you can inject that fun into it and make it attractive, that is what we are aiming to do, which is maybe a little bit different to some of our competitors."

The entrepreneur said that achieving the crowdfunding target was a relief, but found the whole process draining and stressful.
"I think for me, the biggest thing is I've been looking forward to getting back into normal business mode and working on the business. It takes a lot of your time away when crowdfunding," Sarfati said.
"It was a great experience, and you get to speak to a lot of your clients, so you do learn a lot about your business, which is a real benefit.
"But now I'm looking forward to getting back to normal business and all those things – hiring staff, growing the team, new products – exciting stuff."
The crowdfunding raise allows the business to move forward with revenue goals, but he sees HeapsGood as more than just a one-stop-shop for e-commerce businesses' packaging needs.
Having spent a considerable amount of time cultivating an online community following through publishing content on the HeapsGood website, he hopes to have created a dedicated following - as passionate about the environment and e-commerce as he is.
"I think more than revenue, it's about building on what we have already built and becoming a central place for people starting an e-commerce business," he said.
"We want to build a community that serves aspiring founders and becomes a source of knowledge for sustainability, e-commerce and entrepreneurship. Plus, we'll continue to share a lot of what we've learned on our journey.
"We are still primarily a packaging business, but I think the future for us is to be servicing e-commerce because there's no one else in that area, so we are the authority. You can come and find all your information and purchase the products you need to start and sustainably run your e-commerce business."
---
Entrepreneur profile:
First Job: My first job was selling houses and land packages for Orbit Homes. I've always looked relatively young and didn't have a beard at that stage, so I probably looked like a 15-year-old trying to sell the house to people, which must have been a strange dynamic.
Last holiday: Before coming back to Australia three years ago, I spent a long-time teaching English in Southeast Asia, so my last holiday was in Vietnam.
Best advice: 'Just go for it'. Sometimes we overcomplicate things and try to be perfect, but sometimes you need to just do it (without stealing the Nike slogan) and really put yourself out there and have a go because you will figure out all the little bits and pieces on the way.
How do you relax: I love to say that I play football, but I broke my leg last year, so that's changed! I like to go out and meet friends…I want to say travel, but I'm locked in with this business now.
Favourite podcast: The Ecommerce Opportunity by Chase Dimond.
Favourite City: Barcelona but I love anywhere in Spain.
---
He noticed very early on in the business' journey that female-led companies supported HeapsGood more than their male counterparts. The business has had more than 18,000 bulk orders for its products, of which 74 per cent were from retailers with a female leader.
Sarfati can't quite put his finger on the reason for the discrepancy but has called on men to step up their game and start to think about the planet.
The divergence in financial support during crowdfunding was also evident, with females representing 60 per cent of investors that backed HeapsGood.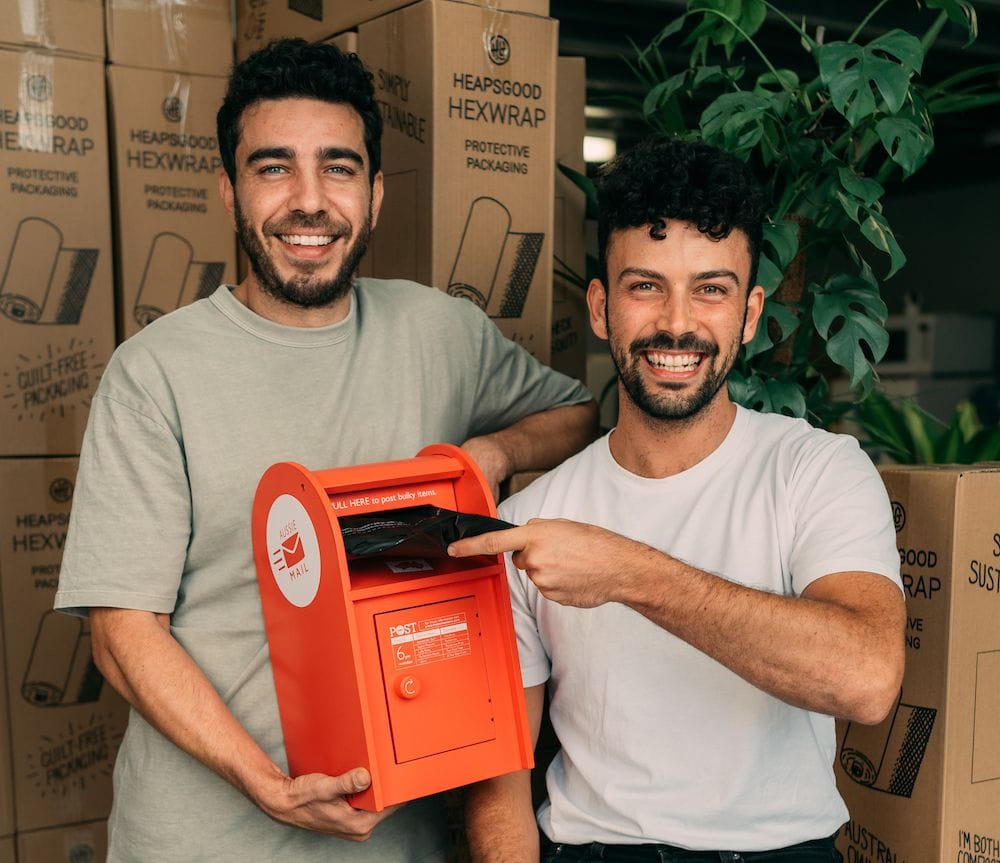 For every order placed with HeapsGood, the company plants a tree through its partnership with Ecologi.
So far, the two brothers and their customers have planted a forest of 15,666 trees – offsetting 23 tonnes of carbon and making the business carbon neutral.
The siblings completed due diligence on Ecologi before partnering with the company and were impressed by the transparency of the site, which offers a visual representation of where all the trees are planted around the world. For example, many of the trees planted with support from HeapsGood have been grown in Madagascar.
It's not always easy for siblings to work together, but Sarfati believes it has been good for their relationship.
"When you get older, you don't spend as much time, and you don't speak to each other as much, so it's been great for the relationship," Sarfati says.
"I think we both seen each other's strengths, we also have some different ones, and we've been able to utilise that and play off each other.
"Overall, it's been positive; I've really enjoyed it - like anything, you want to share the journey with other people, and it's best if you can do that with friends and family. The fact that we're both involved makes it really exciting."
Get our daily business news
Sign up to our free email news updates.
Help us deliver quality journalism to you.
As a free and independent news site providing daily updates
during a period of unprecedented challenges for businesses everywhere
we call on your support