Melbourne-based HR technology company Culture Amp has successfully raised US$82 million ($120 million) in a Series E funding round led by Sequoia Capital China.
The latest round values the people and culture platform at US$700 million ($1.04 billion) and will go towards global expansion for a company that already has 2,500 company customers on its books including the likes of Airbnb, Salesforce, Slack and McDonald's.
With 400 people employeed across its offices in Melbourne, San Francisco, New York and London, Culture Amp collects intelligence from employee surveys and helps companies improve their staff engagement, retention and performance.
To date the company has gathered more than three million employee surveys and has built the largest independent dataset in the industry, bringing performance management and predictive capabilities to the mix as tools for business leaders.
The next goal is to expand more deeply in industries and geographies "tackling seismic changes in workplace culture head on", including Europe, the Middle East, Africa, Latin America and Asia.
"This round of funding will help us to continue to deliver on our mission of building a better world of work by getting the Culture Amp platform into the hands of more people, and more leaders, who believe that culture is the biggest lever that you have to be successful," says co-founder and CEO Didier Elzinga.
"It also underpins the deepening sophistication of one of our core competitive differentiators our platform's ability not only to pinpoint what is going on, and what to do about it, but to also drive the change necessary to bridge the knowledge to action gap at all levels of the organisation."
Elzinga adds Culture Amp will continue to invest in building diverse and collaborative communities across the globe. The company currently has an active community of nearly 100,000 people representing 147 countries.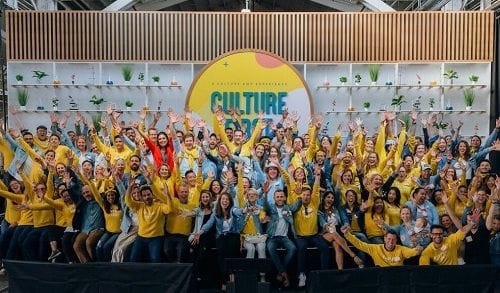 Sequoia Capital China is a new investor in the group along with Global Founders Capital and TDM Growth Partners, while the round also included investments from existing investors Sapphire Ventures, Felicis Ventures, Index Ventures, Blackbird Ventures, Hostplus, Skip Capital and Grok Ventures.
Skip and Grok are backed by Atlassian co-founders Mike Cannon-Brookes and Scott Farquhar respectively.
"Sequoia Capital China's substantial investment in this stage of Culture Amp's growth underscores our confidence that they have the vision and the leadership team in place to help companies take action on complex workplace issues. Culture Amp has carved out a dominant niche in the global market," says Sequoia Capital China partner Steven Ji.
Global Founders Capital US partner Don Stalter says his company's goal is to support Culture Amp's workplace movement in every country around the globe, and collaborate to discover partners who have the same level of "focus, empathy and heart".
"In this day of technological acceleration and employee innovation, Culture Amp is defining a new category that has the trappings of solving for a foundational global need," says Stalter.
TDM Growth Partners (TDM) co-founder Hamish Corlett says Culture Amp is at the forefront of helping businesses achieve good culture.
"Our core belief is that people and culture are the heartbeat of high performing businesses and from our experience, culture is one of the most durable long term competitive advantages any business can have," says Corlett.
"We rarely see a business of this quality, growth trajectory and opportunity ahead of it, and we are very proud to be shareholders."
Taking a look back at how far the startup company has come in eight years, Felicis Ventures managing director Wesley Chan says Culture Amp's growth has continued to be astounding.
Felicis led the Series A four years ago, which also involved investment from Blackbird Ventures.
"Our mission is to supercharge Australia's most ambitious founders. With Culture Amp, we've found that ambition," says Blackbird Ventures general partner Nick Crocker.
"We are inspired by the team's pursuit of building a culture first company at scale and consider it a privilege to work alongside them as they blossom into a company that is having a profound impact on the world of work for millions of people."
The total funds raised by Culture Amp are now more than US$158 million ($234 million).
LaunchVic CEO Dr Kate Cornick has congratulated Culture Amp on achieving 'Unicorn' status.
"Culture Amp is the second Victorian startup to reach unicorn status this year, with our state now home to eight unicorns more than any other state in Australia," says Cornick.
"Culture Amp's success is another indicator that startups have an important role to play in Victoria's future economic mix. It's innovative startups like Culture Amp that are leading this vision, providing economic benefits and jobs for the region."
Never miss a news update, subscribe here. Follow us on Facebook, LinkedIn, Instagram and Twitter.
Business News Australia
Help us deliver quality journalism to you.
As a free and independent news site providing daily updates
during a period of unprecedented challenges for businesses everywhere
we call on your support