If there was a single key theme running through this year's season of Shark Tank it would be a sharp focus on businesses that are doing something good for the environment.
This year we've seen entrepreneurs pitching eco-friendly nappies, and just last night, a green alternative to storing vegetables in the crisper.
The Sharks have been very receptive to these products that are doing something to change the planet, especially in light of the progressive direction Australian society is going (hooray for the plastic bag ban!).
On last night's show, the Sharks jumped at the chance to invest in Peita Pini's (pictured left) innovative solution to caring for fresh veg in the fridge; The Swag.
The Swag is a non-toxic, environmentally friendly, sustainable, machine-washable, breathable bag for fruit and vegetables that can keep vegetables fresh for twice the amount of time a plastic bag can.
Pini's product is relatively young, having only launched 18 months ago. But during that time Pini has seen considerable success.
In 18 months of trading she has sold 60,000 units, had The Swag featured on Ellen DeGeneres' website, and was a finalist in the Westpac Top 200 Businesses of Tomorrow Awards after existing for only eight months.
Pini, a mother of six, went full time with the business at the start of 2018, and hopes to take the business international with the help of Dr Glen Richards (pictured right), who invested $150,000 in equity for 25 per cent of her business.
Business News Australia sat down with Pini to chat about her time on Shark Tank, the green revolution sweeping the nation, and that pesky valuation that almost cost her any investment opportunities from the Sharks.
What did you learn from the experience of being on the show?
It's got me to look really closely at my numbers and how I'm running the business because as you go through the due diligence with your investor they go through your financials with a fine toothed comb. It's really helped me to take a closer look at that and putting a lot more strategic planning for the business and getting to really understand my numbers in terms of margins and creating the growth funnel that I need.
The Sharks gave you a lot of trouble about the valuation do you stand by that still?
I'm certainly not in the business of valuing companies so I went to a couple of professionals that do this quite regularly they valued it at $3 million. I still think with the manufacturing and the timeline and the customer base and now the distribution and what we've already developed to date in such a short amount of time it's definitely a much bigger price tag than what shark tank has valued it at. However they're investors and they want to buy in at ground level into an investment that they can see potential with so obviously they're going to negotiate and going to try to get that price down. So I think it's a little bit of both.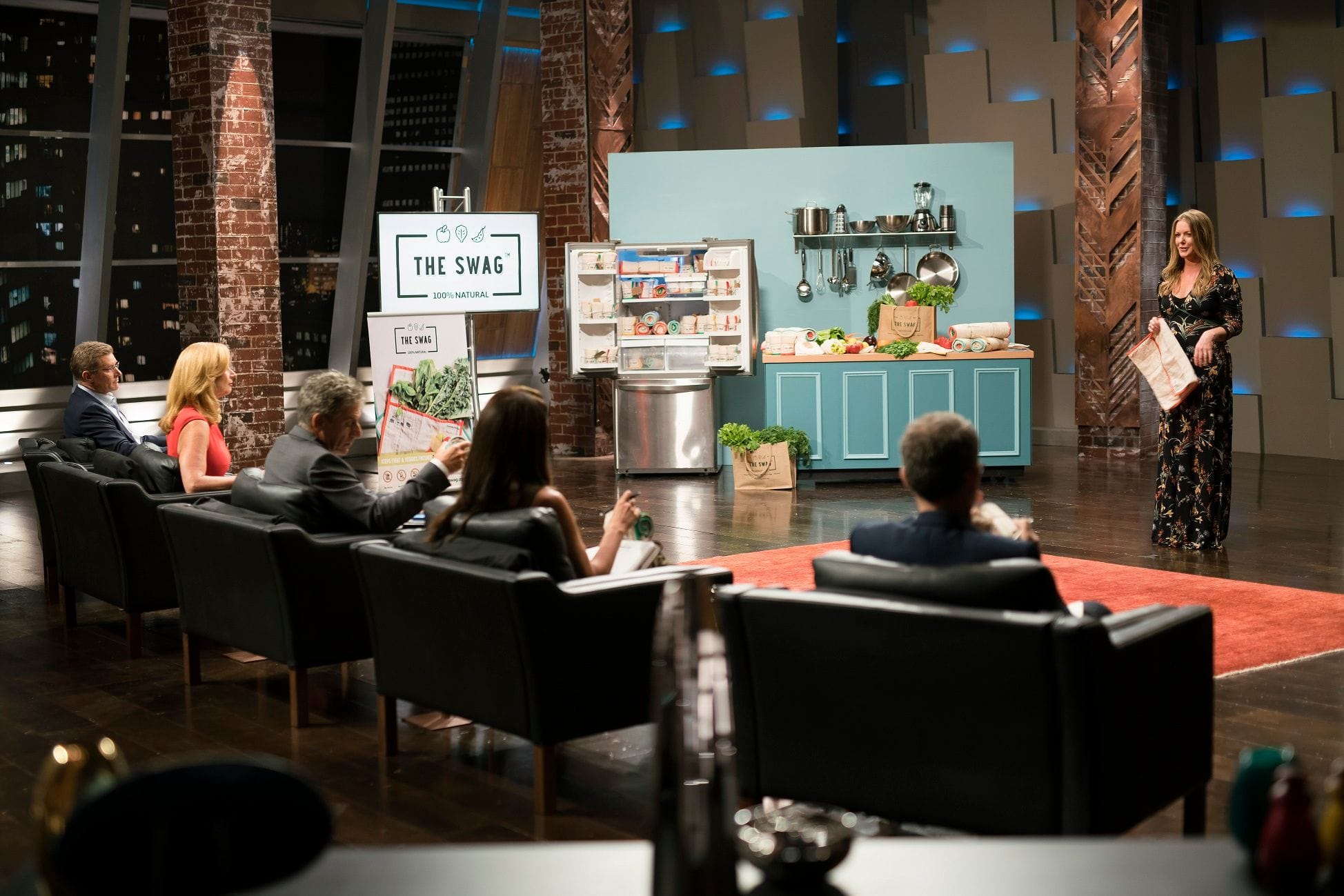 Photos courtesy of Network Ten
What inspired you to create The Swag in the first place?
I was just a keen observer, obviously a very frustrated consumer, throwing out copious amounts of rotting fruit and veggies. And then I just started really keenly observing what was happening to my fruit and veggies I could see them suffocating and the condensation that was building up on the inside of the plastic bag. And after doing a little bit of research learnt that that's actually the nutrients leaving your fresh produce. So then I started playing with different materials, and as soon as I started moving into permeable fabrics I could see there was a massive difference in terms of the life span of the produce. I came up with the perfect combination of the unique three layer design The Swag has, which lets your fresh produce breathe and hydrate.
You got some investment from Glen what will you be doing with the funds? Are you still wanting to go overseas?
Our focus is just to get Australia really humming. Something that we've noticed is that 70% of our customers come to us by word of mouth so that's a really strong result for us. We want to make The Swag a household name.
What else is in the pipeline?
We're launching four new products actually. We've got reusable tea swags to fill with your loose leaf tea, they're little muslin drawstring bags. We've got lunch swags for your sandwiches and snacks for your kids and they've got a nifty little ice block holder. We've got bread swags and aprons as well which are all 100% natural. They're all built to last for many years but when they come to the end of their life you can literally stick them into the ground and the earthworms and bacteria will break them down with 0 impact on the wildlife.
Never miss a news update, subscribe here. Follow us on Facebook, LinkedIn, Instagram and Twitter.
Business News Australia
Help us deliver quality journalism to you.
As a free and independent news site providing daily updates
during a period of unprecedented challenges for businesses everywhere
we call on your support