A report released today has found just one of the 25 CEO appointments at ASX200 companies in the past year was female, while the overall representation of women as CEOs dropped from 12 to 10.
The 2020 Chief Executive Women (CEW) ASX200 Senior Executive Census reveals the number of women reaching senior leadership positions in ASX200 companies has flatlined, with just three female appointments over the past two years.
Boards are also putting fewer women in executive roles with profit and loss responsibility, with almost two thirds (65 per cent) having no women in these roles compared to 57 per cent last year.
By contrast, there is only one company in the ASX200 with no males in executive leadership team line roles.
The census found companies in industries with predominantly female workorces, such as health care, had a huge under-representation with only 5 per cent of leadership line roles in the sector filled by women, down from 15 per cent four years ago.
On a more positive note, in the four years since the CEW Census began the number of companies with 40-60 per cent women in their executive leadership teams has doubled to 15 per cent, or 30 companies.
The number of women in chief financial officer roles has increased in the past four years, up from 9 percent in 2017 to 16 per cent in 2020, but there was no increase in the past year. in terms of sectors, telecommunications has the highest proportion of women in line roles with profit and loss responsibility, at 24 per cent.
Chief Executive Women president Sue Morphet (pictured) says the evidence is clear that greater diversity leads to improved company culture, more inclusive workforces and better decision making.
"We know that if businesses take immediate action to remove systemic barriers for women, particularly in career-forming years, they will see the most talented and qualified people appointed to senior positions which will benefit their company performance, and their bottom line," says Morphet.
"Companies have been forced to think differently about how they operate and what the future looks like as a result of COVID-19 - now is the moment to use every opportunity to improve company results and support strong economic recovery.
"We need business to unleash the largely untapped resource that highly educated, experienced and capable women are, leading to better performing businesses at a time when every job counts more than ever."
Morphet urges business leaders to focus on practical actions that will result in a real step change.
"They must hold their teams accountable for gender balance targets and have clear succession planning in place, especially for roles with profit and loss responsibility," she says.
"Where businesses have focused effort in this area, they see results. More than policy, it requires immediate action."
The CEW Census calls for a number of actions from the ASX200, including:
Lead from the top and hold teams accountable for diversity targets and initiatives to address pay inequality;
Reduce gender bias in recruitment and promotion processes by using consistent and objective data to make appointments;
Have clear succession planning, especially for roles with profit and loss responsibility which are key CEO feeder roles; and
Role model that flexible and part-time working is for all employees, especially senior men.
Chief Executive Women is also calling for the federal government to invest in making childcare more accessible in next month's budget, to enable more women to progress through the
leadership pipeline.
"We can't expect to see improvement in gender balance at a CEO level without considerable improvement in line roles," adds Bain & Company partner Agathe Gross.
"In companies that have achieved or improved gender balance in line roles, we see some common actions: providing access to flexible working arrangements, having strong parental support programs and providing women with the relevant career experience required to thrive and progress in leadership roles."
Spencer Stuart consultant and practice leader Kerri Burgess says organisations and leaders need to be aware of and address unconscious biases that may undermine even the best intentions towards increasing gender equality and inclusion.
"Broadening candidate slates to deliberately include more women, gathering recent, consistent and objective data on the capabilities and future potential of all candidates and selecting hiring teams that include more females are some of the ways to begin to remove the subjective biases in candidate assessment and selection processes that can disadvantage women," says Burgess.
The report showed the following companies had the highest female representations in executive leadership team (ELT) roles:
Waypoint REIT Limited
Ingenia Communities Group
Premier Investments Limited
Woodside Petroleum Ltd
Spark New Zealand Limited
Corporate Travel Management Limited
Blackmores Limited
Australia and New Zealand Banking Group Limited
Transurban Group
REA Group Limited
In contrast, the following companies has no female representation in ELT roles: Mineral Resources Limited, BWP Trust, Charter Hall Long WALE REIT, Silver Lake Resources Limited, Charter Hall Retail Real Estate Investment Trust, IPH Limited, ARB Corporation Limited, Clinuvel Pharmaceuticals Limited, Costa Group Holdings Limited, Bravura Solutions Limited, GUD Holdings Limited, Sandfire Resources Limited, NRW Holdings Limited, Western Areas Limited.
Female hiring has fallen relative to males
The news coincides with data released by LinkedIn today that shows women have been less likely to be hired than men during lockdowns.
"LinkedIn's labour market data shows that hiring of women has been impacted over the course of the pandemic," says LinkedIn Talent Solutions, Australia & NZ, senior director Adam Gregory.
"This is likely due to increased pressures as they have had to balance household responsibilities in addition to work. This might have led to a situation where they might have not been able to focus fully on developing their career."
Gregory says organisations have the power to create long-term change, and highlights an opportunity for business leaders to use this moment to introduce policies that will build a more equitable future.
"To continue this recovery and aim towards gender parity in the workforce, we encourage employers to be flexible and have policies in place to help all Australians stay employed," he says.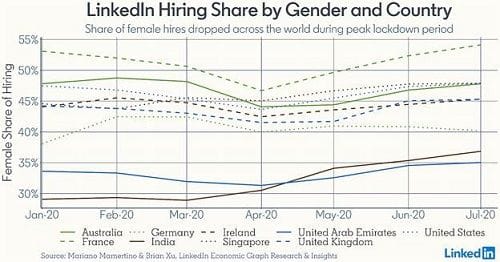 LinkedIn's recent Workforce Confidence Index (WCI) in August also found that female workers in Australia were significantly less confident when it comes to jobs, career and finances than their male counterparts, with WCI score of 16 compared to 27 for men.
Never miss a news update, subscribe here. Follow us on Facebook, LinkedIn, Instagram and Twitter.
Business News Australia
Get our daily business news
Sign up to our free email news updates.
Help us deliver quality journalism to you.
As a free and independent news site providing daily updates
during a period of unprecedented challenges for businesses everywhere
we call on your support