Construction has kicked off for an $850 million mixed-use property project on Brisbane's southside that is expected to create 631 jobs during development.
Developed by Consolidated Properties Group and CVS Lane Capital Partners, the Yeerongpilly Green Riverside community is due for completion in mid-2023 and also includes a $30 million from Economic Development Queensland (EDQ) to deliver parks and public infrastructure.
Deputy Premier and Minister for State Development Steven Miles was on-site to turn the first sod with the developers.
"Projects such as Yeerongpilly Green Riverside help address land supply challenges, catering for Queensland's booming population whilst creating local jobs," Miles said.
"The commencement of construction of the first stage is a major milestone that will deliver 83 apartments and 10 luxury terrace homes, together with a Woolworths retail centre, café and dining precinct, specialty stores and commercial offices which will support 631 jobs during construction.
"The Yeerongpilly Green Riverside master plan, which includes up to 1,200 homes, will generate around 6,600 construction jobs, including 335 apprentice jobs and 1,000 full-time long-term jobs on completion – providing a major boost to Queensland's COVID-19 Economic Recovery Plan."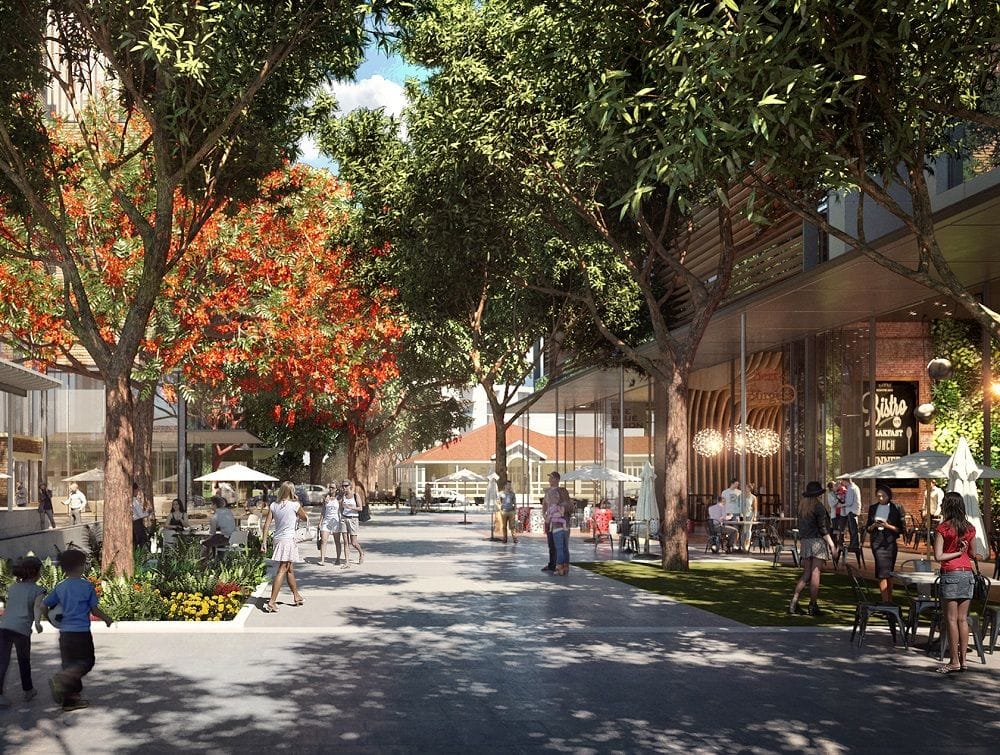 Member for Miller, Mark Bailey, said Yeerongpilly Green was a great example of how EDQ was investing in local communities and supporting job creation.
"We have created a pedestrian spine between the Yeerongpilly Railway Station and the Pat Rafter Tennis Arena and parks as well as other infrastructure including roads, verges, landscaped public spaces and all services necessary for a modern master planned community," Bailey said.
"With this now all complete, I'm looking forward to seeing the area take shape, with easily accessible facilities that will benefit everyone in our community."
Consolidated Properties Group chairman and CEO Don O'Rorke said the start of construction followed years of hard work on approvals, design and community consultation.
"Yeerongpilly Green Riverside has been holistically designed to include everything a community could want from health and wellness services through to shopping, public transport, parkland and premium homes that complement the local environment," O'Rorke said.
"It delivers a destination on Brisbane's southside away from the hustle and bustle of the CBD with well-known food and beverage operators creating bespoke dining experiences alongside Yeerongpilly Green Riverside's heritage buildings.
"The residences have really resonated with buyers, which can be seen from the 90 per cent pre-sales achieved so far."
CVS Lane chief executive officer Lee Centra said that the start of construction at Yeerongpilly Green Riverside was a major milestone for what is a nationally significant urban regeneration project.
"The vision for Yeerongpilly Green Riverside has been to transform an underutilised 14-hectare site, only seven kilometres from the Brisbane CBD, into a major residential, retail and commercial destination, and it's very pleasing to see that vision taking shape," Centra said.
"With Brisbane's growth set to accelerate in the next few years in the build up to the 2032 Olympics we'll see increased demand for quality mixed used lifestyle precincts and so the project is very well positioned.
"We offer sincere thanks to Economic Development Queensland, Hutchinson Builders, Consolidated Properties Group, and all our partners in bringing Yeerongpilly Green Riverside to fruition."
Get our daily business news
Sign up to our free email news updates.