For years, online marketers have warned "change is imminent" as mobile becomes dominant, taking over traditional advertising platforms like desktop searches and print media.
On the other hand, Daniel Stoten of Localsearch says the tipping point has already come.
Localsearch began as a phonebook publisher to help connect the people and businesses of regional Australia, but over the last 10 years the business has grown exponentially into the digital marketing space.
As one of the founders of Localsearch, Stoten says nowadays even the most remote Aussie towns frequently turn to smartphones and Google to find goods and services.
"There's been an absolute crystallisation," he says.
"Years ago, we warned our clients, our team and representatives that change was coming, but now it's come. In 2018, it's happened.
"The digital game is on and it's all about trying to improve your online presence."
Stoten transformed his own business to survive the digital age, taking a model based on hard copy phone books and turning it into a thriving online hub to address the new search and online marketing needs of regional Australia.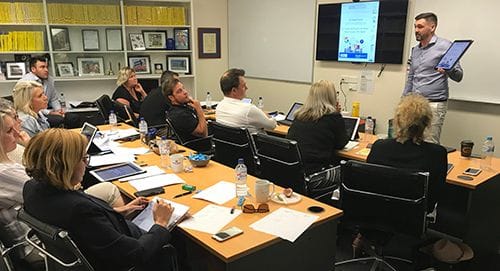 Training session at Localsearch
Overcoming that transition is the key experience which Stoten passes onto his clients.
"What we had in our favour was 40,000 clients who had trusted us over a long period of time, and they wanted us to provide them a different service," he explains.
"The two problems our clients had was that they had no time, and they didn't have the expertise needed in the digital marketing world to make the transition.
"We transformed our business so that we could answer and be relevant to those two problems that regional businesses have."
Localsearch is now among the largest website builders and hosts in regional Australia, creating around 1,000 new websites per year and offering leading marketing expertise.
Recently Localsearch was named a Google Premier Partner, which recognises the company's status as a specialist in online channels including Google My Business and Google AdWords.
In the year ahead, Stoten says Localsearch will continue to focus on training its staff to the highest standard.
He advises other businesses who are struggling with the online transition to simply keep one thing in mind.
"The key to any business is to be relevant," he says.
"You can't compromise on that relevance. You have to be honest with yourself, honest with your product and honest with how it's promoted."
This article was written in partnership with Localsearch.
Never miss a news update, subscribe here. Follow us on Facebook, LinkedIn, Instagram and Twitter.
Get our daily business news
Sign up to our free email news updates.