JAMIE Pherous, the founder of Corporate Travel Management (market cap $1.4 billion) said it well at the Brisbane Business News breakfast last week: "Business is simple, don't overcomplicate. Learn the rules of the game and play hard".

Business is a little like a game of rugby, where you pass the ball backwards and run forwards. It's a game where you always have to make sure income is greater than expenditure. What happens when I'm being pitched on Shark Tank, or outside the tank, by a technology company with negative earnings?

I've tried to move from gut instinct to a more calculated approach when deciding whether to invest. Holding a finger in the air and feeling for the breeze doesn't seem the smartest approach, but to be fair, there is still so much speculation and execution risk in valuing tech companies. The founders want minimal dilution in a valuation process and an investor wants as much bang for his buck during negotiations. This is all in the hope the company makes it through the 'valley of death' as expenses run aggressively ahead of revenue with corresponding difficulties to raise capital.

My approach in evaluating these speculative investments is influenced by McKinsey & Company. As an angel investor, I prefer to invest after the entrepreneur, friends and family have invested but before venture capital gets too interested. This is at the stage where there is proof of concept, product and business plan have been developed, financial forecasts have been made, and marketing has been sweated over. The business should be about to move from an exhausted boot strapped startup to an interesting 'scale up' business with potential, provided it manages to raise capital.

My initial framework includes asking a series of basic questions:
Understanding
Do I understand and like the idea, product or concept?
Does it resonate with me personally?
Do I like the industry that it relates to?
Team
Do I think the right team and founders are involved?
Are they capable of executing the business plan?
Is there in-house or highly responsive tech capabilities (fellow Shark Steve Baxter's favourite)?
Journey
Am I investing at the right phase in the company's journey (transitioning from boot strapped startup)?
Are we starting to see some traction by customers?
Is the product past the proof of concept phase?
Am I getting in at a sensible valuation? Will I have to keep kicking the tin for this company to survive before it thrives?
Following that, I review the company's five-year financial forecasts and see if they gel with my view of the future - be it from a pessimistic, probable or optimistic standpoint.
Customers
How many customers does the business currently have and what is the likely customer penetration rate five years from now?
What is the revenue per customer and operating margin per customer (and is the margin sustainable up against likely competition)?
Capital
What are the fixed costs versus variable costs versus income and how much more capital is needed before profitability emerges (i.e. Is revenue climbing faster than wages, rents, marketing and technology spends, and at what stage does it go from burning cash to printing cash?)
What size of the pie do I want and what return on my invested capital am I hoping for based on the forecasts out to five years? Discounted-cash-flow valuation is the preferred method by the guys at McKinsey.
...with all that said and done, and with plenty of time to review and speculate, I still think my large gut plays an exceptionally large part in my decision making. Or was that my wet index finger?

Dr Glen Richards joins resident Sharks Steve Baxter (internet pioneer), Janine Allis (Boost Juice), Andrew Banks (Talent2), and Naomi Simson (RedBalloon) for season two of the Network Ten series Shark Tank Australia on Wednesday and Thursday nights. Follow 'From the Tank' - Business News Australia's Think Tank - for Richards' views on everything from private equity to IPOs and those unbelievable Shark Tank pitches.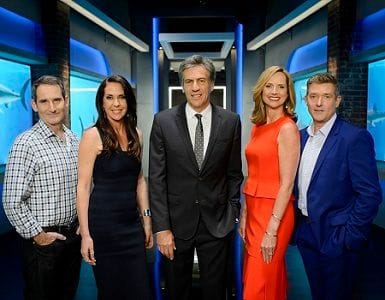 Read more about Jamie Pherous' simple business strategy, the inspiration behind this column.
More From the Tank:
Help us deliver quality journalism to you.
As a free and independent news site providing daily updates
during a period of unprecedented challenges for businesses everywhere
we call on your support