WHAT am I looking for on Shark Tank? In actual fact, I am looking for 'who' rather than 'what'.

The product or service has to be market relevant but I am more interested in the capability of the entrepreneur. Exceptional entrepreneurs take companies on exceptional journeys and I am looking for people who I want to work with, who are humble about their business, and more importantly, who I think have the mojo (self-belief, passion and capability) to go all the way.

An exceptional entrepreneur is a storyteller and passionate salesperson. They understand their numbers and closely monitor their cash flow. However, more importantly to me, is an ability to articulate vision, purpose and values, and engage with capable internal and external stakeholders to scale their business. Exceptional entrepreneurs have strong self-belief but a humble awareness of their strengths and weaknesses. They evolve a synergistic team that will deliver the vision and business plan for investors like myself.

The Greencross (ASX: GXL) journey became exciting once I worked out what I was good at and where I needed support to compliment my skills. In our first year after floating Greencross on the ASX, my very experienced CFO suggested to the chairman and my board that I was 'blindly optimistic' and lacking the experience and skills to run a publicly listed company. They felt I couldn't deliver on the numbers in the prospectus. To be fair, the CFO was right about my lack of experience and skills - but he didn't respect my passion, focus and tenacious desire to succeed. I had rolled all my wealth into Greencross shares. My back was against the wall and I was going to deliver on my promises to shareholders.

The CFO moved on and I spent time putting together a team committed to delivering our five-year road map of 25 per cent year on year growth in revenue and profits. As the CEO, it was my job to hold the senior management team accountable and responsible for this expected performance and get the team to work in harmony and synergy in the relentless pursuit of our Big Hairy Audacious Goal (BHAG). From Verne Harnish's book Mastering the Rockefeller Habits, the BHAG provides the communication and accountability framework needed to drive the company forward in a very disciplined manner. This would deliver the expected growth and support our high performance culture.

As an investor in early stage businesses, I am looking for exceptional entrepreneurs on a similar journey to mine. They have to be capable business people who know their industry. Foremost, they must be passionate, focused, driven, fiercely competitive and have evolved a product or service to a reasonable stage.

An entrepreneur ready for investment will have reached a point in their journey that, as well as seeking financial support, they are seeking strong mentorship and strategic thinking that will scale their business faster and in a more systematic manner.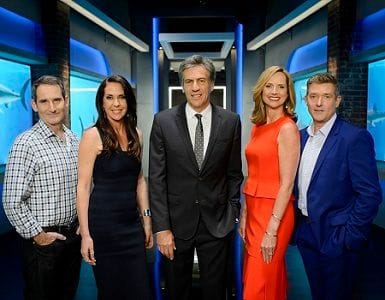 Dr Glen Richards joins resident Sharks Steve Baxter (internet pioneer), Janine Allis (Boost Juice), Andrew Banks (Talent2), and Naomi Simson (RedBalloon) for season two of the Network Ten series Shark Tank Australia. Follow 'From the Tank' - Business News Australia's Think Tank - for Richards' views on everything from private equity to IPOs and those unbelievable Shark Tank pitches.

Read more about Richards' relationship with his best business friend, Mastering the Rockefeller Habits, and read his inaugural column from last week on why 'roll ups' often blow up.

Get our daily business news
Sign up to our free email news updates.