A FAST-PACED game of whack-a-mole often evolves as a business begins to scale up.
Based on my past experience with Greencross (ASX: GXL) and my work these days on a number of companies including Shark Tank startups, it seems the faster you grow, the more chaos occurs.
For the unacquainted, whack-a-mole is the game you sometimes play as little issues pop up across the business. These could be related to HR, supply chain, marketing programs failing to get lift-off, cash flow crises, funding headaches and IT glitches.
Typical early stage entrepreneurs try to solve every crisis themselves or in actual fact, they create these crises due to inflicting many and varied new ideas on to their business. They see too many opportunities, have too little control and too little time to keep all the balls in the air.
Resources of cash and time are limited, but it is vital for the leadership team to slow down and become more focused, more disciplined and more strategic.
There's simply no other way to success, even though it will seem at odds with the pace of the business at the time.
Quarterly company resets, such as planning retreats, that take input from employees, customers, and market and industry trends are vital to focus the company on the critical issues that will lead to success. The five key imperatives or company focus points that come out of planning retreats determine where the company and team should spend their time and money. If a company is growing rapidly, they may need to undertake these resets as often as every 30 days to keep chaos at bay.
In the early days of Greencross, I would often have an 'entrepreneurial seizure' in the shower and then roll in to work to hijack my team to look at my next 'big idea'.
As CEO it was obviously my right to do this. We would then scurry around for a few days, ignoring our plans and roadmaps to investigate the possible opportunity, only to realise we were wasting time and energy on the wrong things. The 90-day company reset forced me to stop hijacking my team. I was 'allowed' to turn up every 90 days with my list of ideas and contribute to the planning session alongside the critical issues that were being raised by our employees, customers and fellow managers.
Greencross' Healthy Pets Plus wellness program for pets was one such idea. I had the 'idea seizure' but had to wait for the next planning session before I could put it in front of my leadership team. This afforded me the ability to actually put some work into the idea as well, which included putting together financial forecasts, gauging the reaction of key opinion leaders in our veterinary hospitals, and investigating relevant programs around the world. By the time I fronted my management team, I was ready to argue my case. We now have over 50,000 pets enrolled in the program. It has been an amazing success for pet health, client loyalty and shareholders.
Whack-a-mole is a fun game but not something you want to be playing in business. Businesses scaling rapidly should especially steer clear of playing by focusing their time, energy and money on the key issues and just a small number of imperatives that will deliver the best bang for their buck.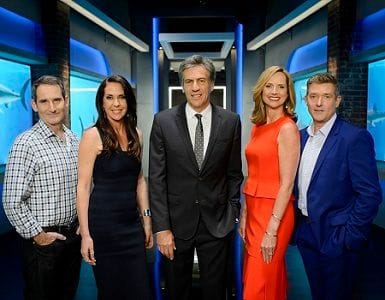 Dr Glen Richards joins resident Sharks Steve Baxter (internet pioneer), Janine Allis (Boost Juice), Andrew Banks (Talent2), and Naomi Simson (RedBalloon) for season two of the Network Ten series Shark Tank Australia on Wednesday and Thursday nights. Follow 'From the Tank' - Business News Australia's Think Tank - for Richards' views on everything from private equity to IPOs and those unbelievable Shark Tank pitches.

Read up on the exact framework Dr Glen Richards uses to judge whether a startup is worthy for investment.
Help us deliver quality journalism to you.
As a free and independent news site providing daily updates
during a period of unprecedented challenges for businesses everywhere
we call on your support