The internet of things (IoT) and augmented intelligence are set to overhaul the way we live, but in this new and sometimes scary world it is the startups that will have the edge.
Futurist Chris Riddell made this assertion during a presentation recently at Gold Coast Business Week, highlighting the companies with the best chance of success are those that can respond quickly to challenges.
While emphasising technology is not an end in itself and that ultimately companies must focus on human experience, Riddell broke down the business world into two broad metaphors - the banana plantation and the rainforest.
"Banana plantations are what I call 'old world' businesses - businesses that have been around for decades...they are often multinationals and they've got offices around the world," Riddell explained.
"Whatever the logo is at the top of the building, whatever they make, whatever they do, whatever they sell, they're all exactly the same."
Employees at these 'planation' companies will often sit down at their desks in the morning wondering how they're going to meet the new banana production target.
"I have no idea how, I have no idea why. All I know is I've got to grow more bananas" is the best summary of this model.
In contrast you have startups and entrepreneurs who live in the figurative rainforest - driven by life-changing opportunities and excited by danger.
"Rainforests are stupid places to go. You could go into a rainforest, be bitten by a snake and die immediately," Riddell said.
"So why do startups, why do entrepreneurs like yourself, why do they love the danger of the rainforest? Because you might go in there, and you might find a spider that has the venom that will help you cure cancer all around the world.
He explained the rules in both these systems are very different as well.
"In the banana plantation it's about perfection, being right every time, it's around climbing the corporate ladder and being great at your job.
"But in the rainforest, it's about failure not being a bad word. It's if you do fail, pick yourself up, try again and try again until you are where you want to be.
"It's about paying it forward. And also, it's about being trusted. Trust is a huge pillar in the rainforest."
IoT to shape our lives
There are broadly four major trends that will be setting down roots in this figurative rainforest of the global economy: augmented intelligence, the sharing economy, blockchain and IoT.
"The big one for me that I find most exciting is IoT, and in Australia here this is of particular relevance to us," he said, noting the country has one of the highest mobile tech spends per capita worldwide.
"Forget what you read about the NBN speeds, we are killing it when it comes to mobile data speeds here in Australia...in fact we're the third fastest country in the world when it comes to 4G speeds.
"What this has resulted in is a huge amount of innovation around mobile and consumer experiences."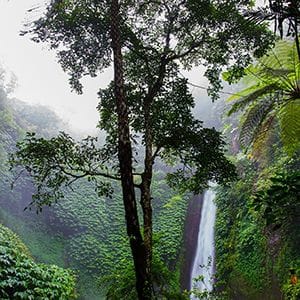 He emphasised so many aspects of our lives will become connected online; a trend that is only bolstered by the roll-out of 5G.
"We are now going to move a tip into this truly automotive space, particularly with things like driverless cars," he said.
"5G technology is super-fast and has super low latency so we're able to get phenomenal amounts of information between devices."
For companies, this means they can start treating customers or potential customers as individuals rather than trying to guess the needs and desires of specific groups.
"Up until now we've been categorizing people as Gen Y Gen Z, male or female living in Melbourne or Sydney, and we've kind of been trying to do a one size fits many," he said.
"But now with IoT and augmented intelligence, we are moving into an era of real time. We can create real time experiences which are prescriptive and predictive, and they are for an individual.
"This is absolutely the biggest thing we've had in the last few years. The big challenge with this is large enterprise has not been designed structurally to deal with this era that we're in.
"The chaos that we've seen so far is only a taste of what is coming around the corner."
He noted many industries would struggle with this shift, and as a result we'll likely see multinationals sending their staff "on secondment to the rainforest". A prime example is GM CEO Mary Barra's decision to take a stake in Uber's competitor Lyft.
"Gen X, Gen Z and Gen Alpha are not taking their driving test at the same rate that we were, and we're seeing this across here in Australia and it's also happening in Europe and America as well," Riddell said.
"The car industry is suffering as a result of this so Mary Barra is having to reinvent GM; she's having to behave as though she's a rainforest and she sees the future of them as being a transportation service provider.
"She's partnered with Lyft, Uber's biggest competitor a true rainforest business. Big banana plantations partnering with rainforests; the next wave of disruption."
How to thrive in the era of "category killers"
When 'rainforest' startups scale up to 'banana plantation' proportions, with the right approach they have the potential to dominate entire sectors, becoming what Riddell describes as "category killers".
Examples include Google/Alphabet when it comes to data, Facebook in media and Amazon in retail. The latter's dramatic shift into online-to-offline (O2O) retailing was demonstrated in its 2017 takeover of US high-end supermarket chain Whole Foods for US$13.7 billion.
"Overnight Amazon, a purely online company, became the biggest and most dominant force in bricks and mortar retail by market cap," Riddell said.
"And the reason I tell you this story is this is the first time in history we have ever had such a huge move from online to offline.
"And many of your businesses here are built to help these traditional organizations around our world go from physical to digital; we've now got the reverse happening, where pure digital businesses are now going physical."
The existence of these category killers may be discouraging for some, but Riddell believes there are some core principles entrepreneurs can follow to get ahead in these times.
"Trust is never going to go back to what it was. We need to reinvent trust, and fundamentally technology does sit as a part of that," he said.
"The other thing for me is that we are now moving into a very much more cognitive era - we are out of this digital era that everyone's been talking about.
"We are fusing humanity together with technology to help us achieve and do things that we simply couldn't even dream of just a few years ago."
For a business owner, this means putting customer or user experience front and centre, because big does not necessarily mean best.
"I think we're going through a wave at the moment where size is certainly becoming important, but certainly small businesses can focus around things like experiences and points of difference," Riddell told Business News Australia.
Using retail as an example, he mentioned so many people had doubted the future physical stores over the years but many have proved the pessimists wrong.
"We've had boutique retail set up some amazing businesses. Australia loves independent businesses as well, and we push against big brands - we hate them," he said.
"In fact, we see many stories of the big global brands trying to come in here and set up the retail space, and they quickly realise it doesn't work over here.
"Where retailers win this is around removing the friction out of the experience and adding personalisation."
For entrepreneurs generally, the trick is all about finding that balance between harnessing technology but not becoming too distracted by it.
"Don't try and create the next Uber or Airbnb when your basic experience isn't fixed or your website isn't mobile compliant or when you haven't got a way that you're blending the physical and digital between your customer journey.
"Those are the bits that people are missing out on. They're getting distracted by gizmos and gadgets when they really could spend a lot less time and get so much more value by fixing the most basic stuff."
Never miss a news update, subscribe here. Follow us on Facebook, LinkedIn, Instagram and Twitter.
Business News Australia
Get our daily business news
Sign up to our free email news updates.