Sydney-based development and hospitality group Iris Capital has capped off an eventful month after the Gold Coast Council approved its $800 million project in the heart of Broadbeach, representing the first precinct of its kind in the area since the Oracle Towers were built more than a decade ago.
Founded and led by CEO Sam Arnaout, Iris Capital announced the two-tower V&A Apartments development in September 2021, slating plans for the Broadbeach Mall-facing Niecon Plaza site acquired for $58 million earlier that year.
Arnaout has hailed the decision, saying it paves the way for an anticipated construction start later this year.
"We're absolutely delighted that the Gold Coast Council has seen the vision of V&A and how it will play an enormous role in transforming Broadbeach," he says of the project, named after Victoria and Albert Streets.
"We were very eager to get the approval to meet our timelines for delivery and we're now focusing our attention on sales and marketing with the view of a construction start later this year."
The council's decision comes within weeks of Iris Group announcing a $70 million expansion for the Lasseters Hotel Casino in Alice Springs - a site purchase by the company for $105 million just over a year ago.
In December 2021 the developer also revealed plans to build a luxury 51-room luxury apartment block at 71-73 Garfield Terrace in Surfers Paradise, just a 10-minute drive south of V&A.
Iris Capital has also increased the number of apartments contemplated for the Broadbeach project. It had previously indicated the two towers would have 40-plus and 30-plus levels with 333 apartments in total, but that number has been lifted to 398 across two towers of 56 and 40 storeys.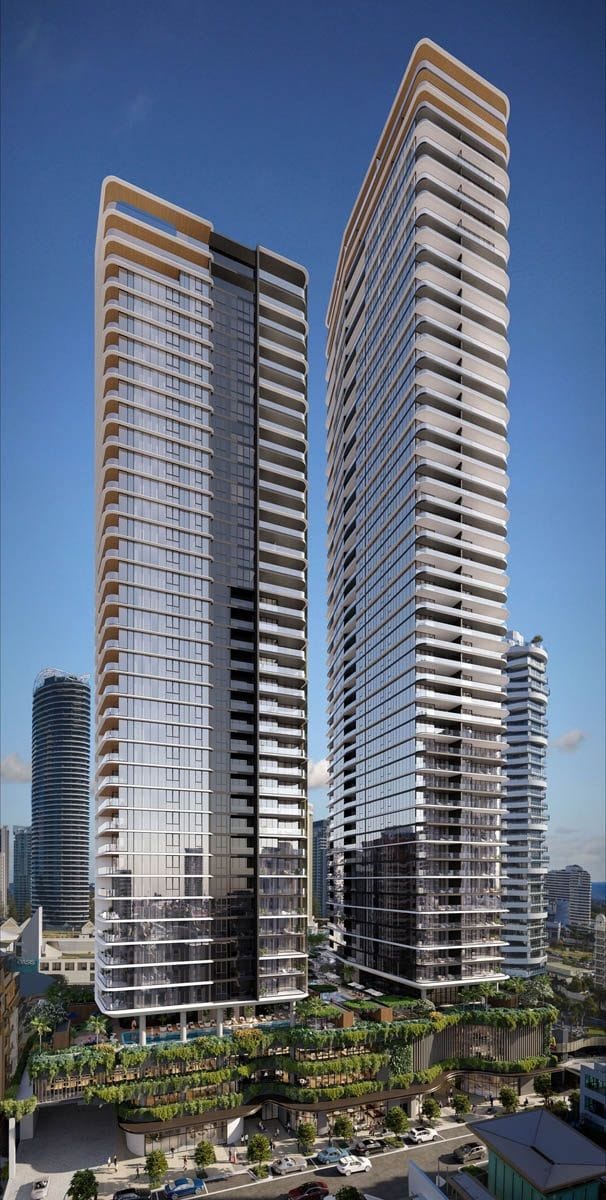 Each tower will have an elevated recreational podium with a 25m lap pool, a gym, a yoga deck, kid's area, dining spaces with BBQs and resident's lounge, while on each top floor there will be a luxury, spacious owners' lounge complete with dining, yoga room, offices and spectacular views all beautifully finished with high end, coastal furnishings.
The design comes from DBI Architects, focused on a coastal environment and moving away from smaller unit types to embrace the growing demand for larger apartments.
"V&A Broadbeach presented a unique opportunity to create a lasting icon for the coastal precinct that can be appreciate by more than just its residents," says DBI director Raith Anderson.
"Its design is quintessentially Gold Coast, from its lavish double beach shower and surfboards storages to its cascading subtropical landscaped terraces, V&A is a rare product for those in pursuit of a coastal destination with the lifestyle and cultural variety of a cosmopolitan locale."
Colliers' director residential David Higgins says the council approval removes any impediments to the project, which has been well received by the market.
"This is an unbelievable project for the city in terms of liveability and the creation of a new commercial, office and dining precinct within the heart of Broadbeach," Higgins says.
"The council has recognised the significance and merits of V&A and also acknowledged the incredible role that the project will play in the city's cosmopolitan heart.
"Unlike many of the projects that have been launched in recent years, V&A will bring an air of sophistication to the cosmopolitan heart and provide apartments from which people can walk to everything they need."
Higgins explains Broadbeach currently has plentiful luxury full-floor and half-floor three-bedroom plus apartments on the market, but very few offer a choice of one-, two, or three-bedroom apartments with the same kind of luxury.
"Historically Broadbeach has had a very strong family market and V&A will bring this market right back into the frame," he says.
"We've introduced a mix of product right in the heart of Broadbeach that attracts the family buyer, luxury downsizer and investors looking for solid returns as the Gold Coast grows out of the COVID lockdowns.
"The project scores a 10 out of 10 for walkability located in the heart of Broadbeach in walking distance to the light rail, the casino, convention centre, the restaurant precinct and the beach and will bring a new type of residential apartments to the market that we have not seen for some time."
Iris Capital now holds $5 billion in enterprise value, having significantly expanded its footprint over the past year through the acquisition of 17 Ibis hotels from AccorInvest. The company is also developing the $350 million luxury apartment and hotel project Queensgate Potts Point in Sydney, and also has luxury residential developments in the pipeline for Manly Corso, Manly Beach and Coffs Harbour, adding to an ongoing $1 billion urban renewal project in Newcastle's city centre.
The company was chosen for the East End development in Newcastle in 2016 following a competitive government tender process.
In September last year, Arnaout said Iris Capital had been looking to expanding its operations outside of NSW for some time, initially exploring a move into Victoria.
"However, the way the market is heading and how buyers have responded to south-east Queensland has definitely driven our decision to expand further north as opposed to Victoria," he said when announcing plans for V&A.
"The onslaught of investment and migration into south-east Queensland, the prospect of the Olympics in 2032 and regional growth over the next decade have certainly changed our strategic focus. For us, it's a no brainer."
Get our daily business news
Sign up to our free email news updates.