Chronic conditions are the leading cause of illness, disability and death in Australia, affecting half the population with common conditions including arthritis, asthma and back pain.
Health-tech startup Vively aims to help people with lifestyle-driven chronic conditions by analysing and comparing the effect different meals and ingredients have on their metabolism, while also investigating what impact sleep quality and exercise routines can have.
Vively founder and CEO Tim Veron spoke to Business News Australia about his background in tech, the motivation behind founding a social purpose-driven business, and how recently experimenting with the company's new product led him to an eye-opening diagnosis.
---
The founder of holistic health platform Vively, Tim Veron, recently discovered he was pre-diabetic after taking part in beta testing of the company's soon-to-be-released continuous glucose monitor (CGM) product.
It was a shock to the system for the relatively healthy triathlon enthusiast, who is coming to terms with how certain ingredients led to his blood sugar levels spiking way higher than what' is accepted as normal.
Veron said his most profound realisation was that exercising after eating specific foods helped return his blood sugar levels to normal, providing him with a better appreciation of how best to prevent his prediabetes from turning into the full version of the chronic disease.
He said he also now felt empowered to make informed decisions about lifestyle decisions around diet, exercise, sleep and stress, based on whether he chose to continue to eat specific ingredients.
Veron founded Vively alongside his business co-founder Michael Pang in 2020, intending to help to tackle the growing chronic disease crises in Australia and further afield.
"Fundamentally, the problem that steers this crisis is one of human behaviour, so lifestyle-driven chronic conditions are driven by people's lifestyles," Veron told Business News Australia.
"It's the food that they eat; it's the way they move their bodies, it's the social lifestyle including sleep and stress, it's a range of different factors. But ultimately, it comes down to how humans behave, which ultimately leads to and drives their chronic condition.
"I'm talking about things like type 2 diabetes, heart disease, hypertension, metabolic syndrome, obesity; these are all the leading conditions and diseases that affect society and drive about 71 per cent of all deaths worldwide. However, they're entirely preventable because they're primarily driven by how humans behave.
Veron doesn't believe the Australian or global healthcare system is currently set up to manage and treat conditions with behavioural components often driven by small daily choices that accumulate over long periods.
Veron aims to reverse the current top-down approach, recognising that it can't change the current system in a meaningful way that will solve the problem.
Instead, he's looking to take a grassroots approach by going directly to the consumer to help them take control of their health outcomes.
"People are currently operating in the dark regarding understanding how their lifestyle choices affect their health; for example, most people have no idea how their breakfast, or lack of exercise, affects their health," the 2021 Sydney Young Entrepreneur finalist said.
"There's no direct link or connection showing them data and informing them about how their lifestyle choices impact their health. Even if people understand and figure out what's happening, changing your behaviours is challenging as they can become ingrained.
"People build up these habits over really long periods of time, and you've also got a range of other external factors, like advertising and social media, that make it easy to get stuck in poor behaviours around your health."
Vively is looking to solve this problem by integrating continuous glucose monitors (CGMs) and wearables to give people data-driven insights in real-time about how their lifestyle impacts their health.
Genes, body type and composition, as well as activity level, determine how people respond to food and no one diet works for everyone. Vively works with a team of leading integrative doctors, behavioural scientists and holistic health practitioners to create and combine digital therapeutic programs with on-demand coaching and health analytics.
While a high-sugar diet is associated with a higher risk of death, cardiovascular disease, and several chronic health issues, a poor-quality diet commonly contributes to symptoms of fatigue and depression, which lead to lower energy levels.
Vively is setting out to give people the power to understand how the foods people eat affect their personal glucose levels in real-time. Volatile glucose spikes or drops (fluctuation) are associated with poor blood vessel function and may cause lightheadedness, fatigue, headache, and sleepiness.
CGMs have been around for decades, helping almost to revolutionise the treatment and management of diabetes.
With the CGM technology not as prohibitively expensive as it once was, it has become relatively more accessible. Veron thinks the technology has reached an inflection point and believes that the blood sugar data could be extremely valuable outside the diabetes sphere.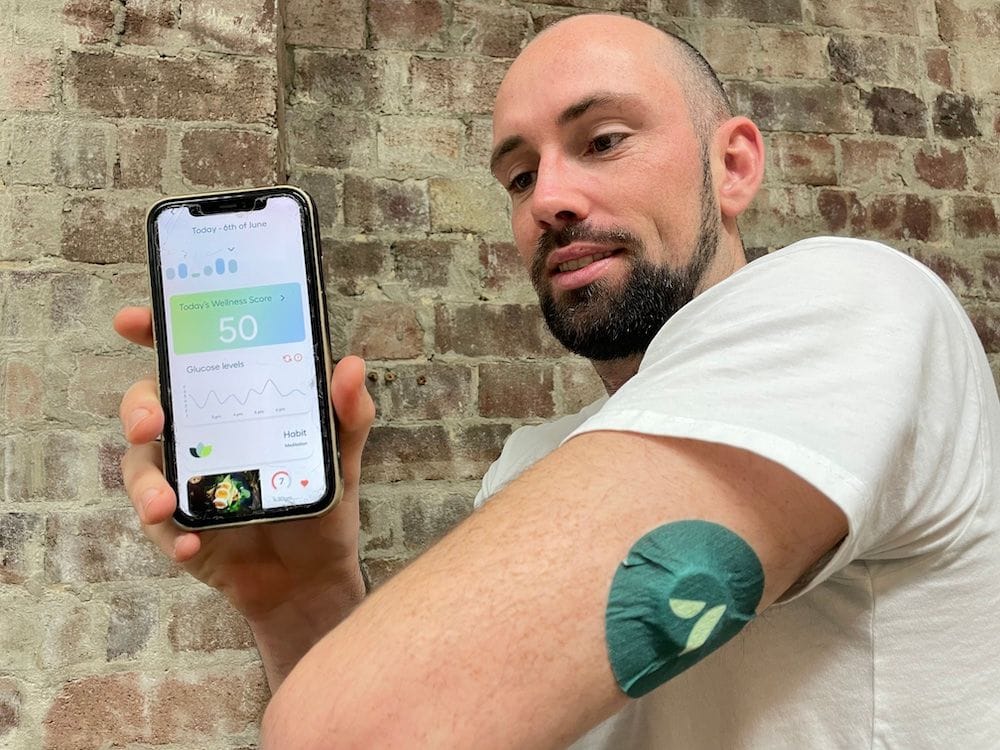 After a successful early career helping high-growth technology companies scale their business and raise capital, Veron quit his venture capital job to form Vively in April 2020 – two weeks into lockdown.
He wanted to build a platform that could have a meaningful impact on people's lives, while simultaneously solving a significant societal issue.
After taking the plunge and fully committing to Vively, Veron set about capturing a couple of strategic investments – acquiring complete control of Natural Therapy Pages alongside its co-founder and his current business partner Michael Pang.
Having operated since 2005, Natural Therapy Pages looks to make it easier for people to find complimentary health and wellness services and information online. The site has roughly 200,000 monthly visitors, with more than 15,000 natural health practitioners and courses in Australia, New Zealand and the UK.
Vively also purchased the wellness booking platform Honee in April 2021, providing the business better access to more people. The Vively founders believed the opportunity to acquire existing customers was a better tool for growth when compared to the alternative - hyper-competitive marketing platforms.
After some research and development, Vively launched its holistic health platform for people with chronic diseases in February 2022, gaining 50 per cent month-on-month traction from people signing up to the site.
Leveraging technology, the business receives a detailed overview of a person's health, automatically providing them with a personalised roadmap for getting better, connecting them with online and local practitioners to help them get better.
"What we realised was that behaviour change programmes are really good when you're highly motivated to make lifestyle changes, but if you're not highly motivated, then they're useless," Veron said.
"We realised we needed a more data-driven approach that gives people a valuable experience, regardless of whether they're motivated or not, but that would at least provide them with information and insights to make more informed decisions.
"One of the biggest things that we learned was that food, and specific diets, are the number one thing that people think about when it comes to their health and lifestyle - with people always trying to understand what's the right diet for them."
Having understood that people are highly motivated to understand what the right foods are, Vively shifted towards introducing technology to provide a proxy measure of how the metabolism and blood sugar levels perform.
With the CGM technology pencilled in for launch in August, Veron has ambitious targets for getting the technology into the hands of millions of people in Australia as soon as possible.
With a waiting list in the thousands ahead of the launch, Vively is working with an Australian manufacturer to help get more people to access the technology.
Veron is seeing a rapid uptake in people using wearable technology in the health space, like smartwatches and rings, and thinks the market is about to take off, having previously been constrained to diabetes.
"I think we're on the precipice of this huge explosion in the CGM space, but there are other tailwinds in our favour. With the rise of the digitalisation of healthcare, there's increased acceptance of seeking self-care online from a consumer's perspective," Veron said.
"If you can understand how your lifestyle is affecting your health, it means you don't have to spend unnecessary cash on ineffective supplements, practitioner visits, or potentially ineffective pharmaceuticals – leaving you in a more empowered and informed state while saving you money over the long term.
"As we go through this economic downturn, with inflation going up and rising prices, I think we've timed this product pretty well in terms of helping people save money."
The target audience is those who are more open to new ideas and looking for more of a natural-based solution.
Once the CGM technology is established, Veron hopes to work with allied and complementary health practitioners to get the product into the hands of as many people as possible.
Veron is aware many companies have attempted to solve this problem before but believes Vively has finally "cracked it".
Get our daily business news
Sign up to our free email news updates.
Help us deliver quality journalism to you.
As a free and independent news site providing daily updates
during a period of unprecedented challenges for businesses everywhere
we call on your support