VENTURE capitalists may have previously considered them 'crappy' businesses not worth a second look, but according to Silicon Valley's sharpest investor Steve Jurvetson the technological revolution is changing that.
Jurvetson, the co-founder of the $US6 billion venture capital group Draper Fisher Jurvetson and board member of Tesla and SpaceX, says while the revolution is well under way in the aerospace and manufacturing sector, he sees trillion-dollar industries such as building construction, agriculture and financial services at the early phases of a big shake-up.
"These (industries) are all going to go through as radical a change as you've seen in the computing sector and the datacom-telecoms sector," he says.
"Imagine having broadband satellites flying around giving you gigabit downlinks to anywhere on earth for cheaper than you get from any other path such as fibre optics. This is the tip of the iceberg."
Jurvetson was speaking at the inaugural Gold Coast Business Week alongside a panel of Silicon Valley venture capitalists and entrepreneurs, including Tony Conrad, the founder and partner of True Ventures, Jacqueline Garavente of Union Square Venture and Jeremy Bloom, the founder of marketing software company Integrate.
"Looking back 10 years ago I would never have guessed any of the companies that I have invested in of late, such as agricultural companies, satellite companies, automotive and aerospace," says Jurvetson, who was once named 'The Valley's Sharpest VC' by Business 2.0 magazine.
"These weren't on the radar screen 10 years ago, and certainly not 20 years ago.
"That's pretty important because there's a sea change going on with products and industries that were really crappy investor businesses with less margins, unattractive economics and no new entrants.
"The aerospace industry, for example, when they became software-centric businesses the way the cell phone business did, it transformed forever the basis of competition from the 'thing' to the software and services layer."
Jurvetson describes SpaceX as a manufacturer of an autonomous vehicle but its basis of competition is software. The same applies to Tesla.
"The best car companies of the future will be the best AI (artificial intelligence)," he says.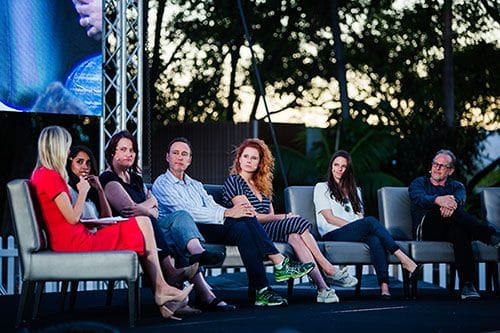 Panelists at Gold Coast Way Ahead event
"It won't be the people who have figured out some patented widget within the automobile. That's irrelevant. It's just a system engineering and software services layer.
"You can see that fully in the aerospace sector with rockets. The global ecosystem has given up. The competitive response to SpaceX is: 'we can't compete'."
One of the most innovative products Draper Fisher Jurvetson took a punt on last year was Memphis Meats, a 'meatless meat' start-up that aims to transform global food production. It is attempting to grow 'cultured' or 'clean' meat from animal cells.
Jurvetson has tried the product and describes it as no different in taste and texture to any steak. However, it uses 10 times less water and land than current production methods.
"This is going to shift the entire manufacturing base over the next 50 years," he says.
Help us deliver quality journalism to you.
As a free and independent news site providing daily updates
during a period of unprecedented challenges for businesses everywhere
we call on your support