Construction of a $600 million health education hub for the University of NSW will commence next year after a consortium led by infrastructure investment specialist Plenary Group and backed by property investor ISPT and super funds HESTA and UniSuper sealed the deal for its development.
The Plenary Health consortium will fully fund the 35,600sqm UNSW Health Translation Hub (HTH) in Sydney's Randwick, which will connect via skybridges to the UNSW Kensington Campus, the Randwick Health Campus and the future Minderoo Children's Comprehensive Cancer Centre.
Situated on the corner of High Street and Botany Street, the 15-storey building will be supported by an initial 20-year commitment from UNSW to occupy 65 per cent of the available space. The remaining space will be open to industry within the health, research and education sectors.
"Strong market fundamentals in the healthcare and life sciences sector are the drivers behind ISPT's growing portfolio in this space, driven by forecasted long-term sector growth and low volatility compared to alternative sectors," ISPT healthcare & life sciences general manager Robert Pepicelli said.
"This latest partnership reflects our desire to invest in real estate for a purpose in terms of health, medical research and education; allowing ISPT to play a pivotal role in one of NSW's largest co-located healthcare-anchored precincts."
The new hub will be based in the heart of the Randwick Health & Innovation Precinct, which received a $1.5 billion investment from the state government to see it become the largest community uniting world-class education, research and healthcare organisations over the next decade in NSW.
"The NSW Government's considerable investment in the Randwick Health & Innovation Precinct, together with UNSW's clear ambition to address some of society's most important health challenges, will see the HTH positioned at the forefront of international health research and education, fostering the translation of research into commercial outcomes and driving further investment in the precinct which ISPT along with its joint investment partners is excited to be a part of," Pepicelli added.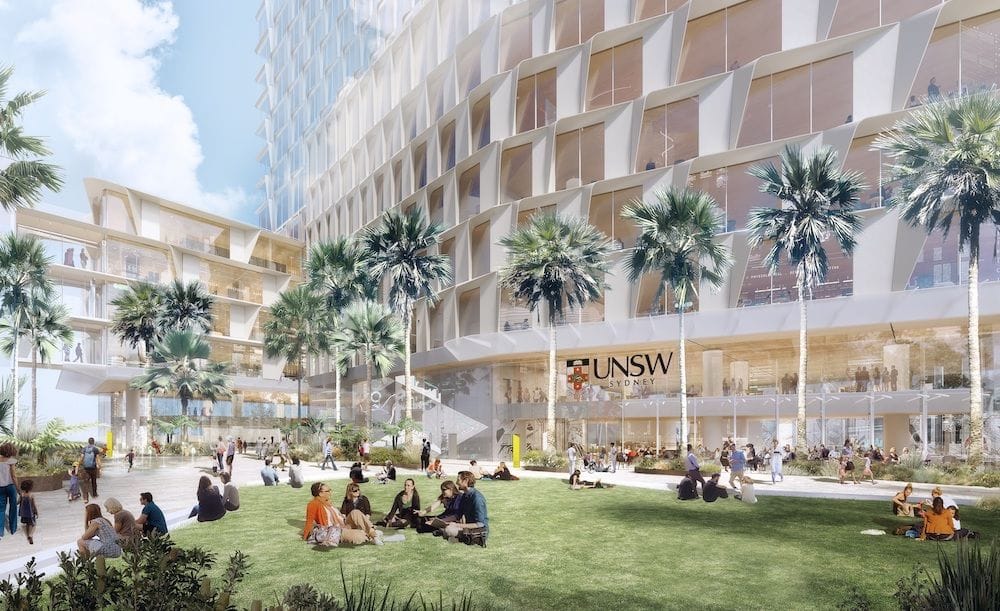 The announcement follows a highly competitive tender process involving both domestic and international developers and investors looking to win the project, which is on land owned by the Health Administration Corporation (HAC) and leased to UNSW.
UNSW will enter into a Project Deed with the Plenary Health consortium to design, develop, fund and grant a sub-ground lease to own the property once it's completed in 2025.
Builder Hansen Yuncken has been engaged as the design and construction partner, while Melbourne-based Architectus has been selected as the lead architect.
The move comes three months after ISPT partnered with HESTA to acquire a 50-year-old ground lease from St Vincent's Health Australia in Melbourne, which would see heritage-listed Brenan Hall retained and incorporated into a 12-level office tower. Each party will co-invest 50 per cent in the development.
"This exciting investment in what can be a critical health, education and research precinct can help deliver strong, long-term returns for HESTA members, while supporting future jobs, and growth in our economy and better health outcomes for many in our society," HESTA CEO Debby Blakey said.
The UNSW development will target a 6-Star Green Star Rating, net zero carbon emissions, full electrification, 100 per cent renewable energy, PV solar installation and a 5.5 Star NABERS Energy rating.
ISPT, HESTA and UniSuper will co-invest 33.3 per cent each in an ISPT investment vehicle holding the majority of the funds.
"UniSuper has a strong cash position, and we continue to look for quality investments that help our members grow their retirement savings," UniSuper chief investment officer John Pearce said.
"We're confident this will provide a great return for our members, and pay dividends in research outcomes for many years."
Get our daily business news
Sign up to our free email news updates.