A beer-brewed seltzer company founded in Sydney just 15 months ago has hit an inflection point as it rolls out with Endeavour Group's (ASX: EDV) Dan Murphy's and BWS chains nationally this week, to be followed by an expanded ranging with Coles next week across the East Coast.
FELLR co-founders Andy Skora and Will Morgan, who won the Australian Young Entrepreneur Award - Startup last year, are expecting to at least quadruple revenue in the current financial year as the momentum continues, fizzing with new product launches in the pipeline.
"It's always been our goal to start off small in New South Wales, grow the brand and gain loyal followers. But our plan was always to go across Australia, and it's always great to partner up with such a legitimate company as EDV to do so; Dan Murphy's and BWS are just so respected in the industry," Skora tells Business News Australia.
"We had really great success in our trial in the stores that we were in in NSW. Actually, FELLR had the highest rate of sale of any seltzer, independent or corporate, across the stores that we were in - specifically our watermelon flavour.
"We are in more stores with Coles, securing national ranging with Vintage Cellars and expanding our footprint in Liquorland and First Choice, mainly concentrated on the East Coast for now and then a further roll-out is being targeted.
Until recently Skora and Morgan were the only employees at FELLR as the company contract brews its seltzers, with the pair handling everything else from logistics to sourcing materials to packaging. However, the company has now brought on its first employee apart from the founders in Queensland, and will be expanding the team over the coming month by bringing in new sales, marketing and support roles.
"It's been pretty crazy. We always wanted to grow this business relatively organically, and we didn't want to bring in a tonne of investment money," Morgan says.
"While some have gone and raised millions, we've just done a small raise with friends and family and then set about growing the business with a focus on profitability."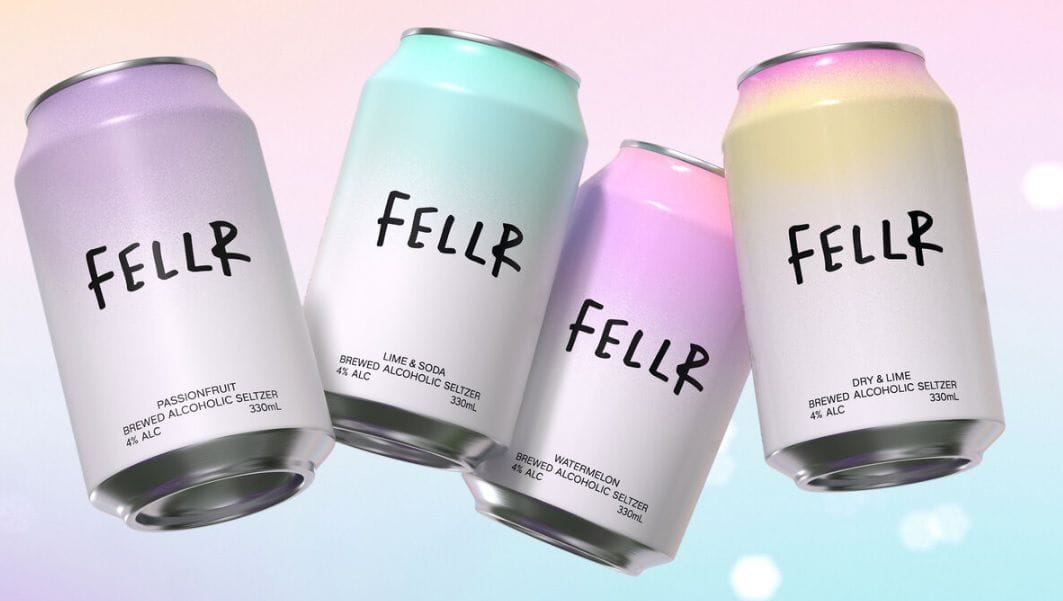 Morgan says FELLR cycled 50 per cent of its FY21 revenue within the first three months of FY22 - growth the company has experienced despite the effects of lockdowns which effectively cut off its kegs business to bars and restaurants in NSW.
"Retail hasn't made up for that [loss] in terms of like-for-like sales, but what we've been able to do is grow the business in terms of distribution points," Skora adds.
Morgan says the launch of a passionfruit seltzer a couple of weeks ago has gone very well in both Endeavour Group and Coles Group channels.
"It was a flavour that we identified that was an emerging trend from cocktail culture initially. Generally when cocktail flavours start to trend in the on-premise they're closely followed at retail," he says.
"We've seen that reflected in the data as soon as it was launched, doing similar numbers to watermelon, so it's been a great product to add to our arsenal."
The news comes as Endeavour Group reports today that seltzer sales in general have more than doubled in the past 12 months and become one of the fastest growing sub-categories across Dan Murphy's and BWS.
"Many customers have tried different brands and flavours of seltzers and fallen in love with them. In the coming months, we expect seltzers to be cemented as the official drink of the Australian summer," says Endeavour Group's RTD (ready-to-drink) category manager Lance Friedman.
To meet the demand, Endeavour Group has doubled its range of seltzers and now has more than 80 different varieties in stores.
"Seltzers is now a bigger RTD sub-category than gin-based premix and will soon be bigger than rum-based premix drinks," Friedman explains.
"Seltzers are the most popular in our stores in Mornington Peninsula, Noosa, Whitsundays and Bondi,
Endeavour reports the majority of seltzers in Dan Murphy's and BWS are Australian-made, with some of the most popular seltzers being those made by independent producers Coast in Torquay and Fellr in Sydney.
"We keep seeing a lot of great innovation from Australian producers in the seltzers category, local is important to customers and our business alike, so it has been great to see Seltzers being predominantly locally made and owned," Friedman says.
Get our daily business news
Sign up to our free email news updates.