YOU'VE seen it in the movies: the lone wanderer mugged in the alleyway, the family member taken hostage for ransom or the business person extorted for money at gunpoint.
While it's easy to adopt the mentality that 'it will never happen to me', statistically speaking, this is far from the truth when it comes to not just higher-risk areas of the world but our normal holiday destinations.
Matthew Ellis, founder of security company Castra Global and co-creator of its travel security course, says travellers can find themselves in trouble in the blink of an eye if they are not being diligent and careful at all times.
He warns that business people are especially prone to dangerous situations, as they often travel to unfamiliar places where risk is at its highest.
"With everything going on in the world, you can quickly find yourself in a situation which you don't want to be in," says Ellis.
"Business people are often finding themselves in places which are off the beaten track because of their work if you're a business person it's not all about just going to the simple parts of capital cities, especially for industries like mining in Africa or agriculture in Asia."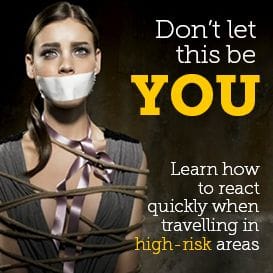 Fortunately, Ellis has co-created a workshop with Predator Security USA which helps prepare travellers for the worst-case scenario.
Its goal is to teach participants how to plan safe overseas trips, foresee danger, respond, behave and react quickly in threatening circumstances.
Ellis has enlisted the skills of ex-special forces personnel, who are experts in hostile environment awareness training, private security detail and self-defence, to help explain the most effective ways to stay safe overseas.
"We have an ex-US Navy Special Operations Diver, a former US Army tier one training instructor and ex-Afghanistan/Iraq combat operators all highly decorated fellows Top lead Counter Terrorist experts to train people for travel in high-risk zones," says Ellis.
"Our goal is to help people feel extremely confident about planning a trip while maintaining their own personal security."
The day-long course will cover modules including situational awareness, quick critical thinking and trip planning, as well as a few fun exercises including how to scope out a hotel and how to get out of handcuffs.
Ellis believes one of the biggest safety factors is in the planning. He says it's as much about preparation as it is when travellers are on the ground.
"The main reality is that a lot of corporate travel takes people into remote places, off grid, where there isn't a lot of support," says Ellis. It is vital those travelling are armed with the right advice and the right tools to conduct their business safely.
"The plan you make should involve all of the assets you have on hand: police stations, hospitals and schools for example."
"If I took someone to an area that was hostile, before going there I would want to know where all the police stations are, where the hospitals are, even what their blood type was. Those are the sorts of things people need to start thinking about when they go to these environments."
The course will teach people how to gather as much knowledge about a place and its resources which can assist in a crisis, as well as fully understanding the risks involved in any area.
For employers, sending staff members to Castra Global's workshop is a great way to help meet duty of care requirements and fulfil safety responsibilities for travelling employees.
The Castra Global travel security course is $395 for the full day (price includes lunch) and will run from 7:00am to 7:00pm on both Monday 29 May and Wednesday 31 May, in Brisbane.
Corporations with more than five bookings receive a 10 % discount.
For more information, you can visit the Castra Global website or give Matthew Ellis a call on 0423 233 376.
This has been a Business News sponsored feature, courtesy of Castra Global.
Get our daily business news
Sign up to our free email news updates.
Help us deliver quality journalism to you.
As a free and independent news site providing daily updates
during a period of unprecedented challenges for businesses everywhere
we call on your support