TWO-and-a-half years ago confectionery maker Darrell Lea was battling insolvency and cutting jobs, but after "swift un-emotional decisions", the rocky road came to an end.
The Quinn family, the owners of Gold Coast-headquartered VIP Petfoods, bought the iconic chocolate shop and were behind the aggressive cost cuttings that helped save the business and return it to profit.
General manager Klark Quinn who spearheaded the revival of Darrell Lea says the process was never easy, but necessary for the sustainability of the jobs that were able to be saved.
With the business back on track, Quinn talks to Gold Coast Business News about overcoming the challenges that came from purchasing a downward spiralling company, the highlights since taking over Darrell Lea and his businessman father who has inspired him to put his best foot forward.
What are three key leadership strengths you bring to Darrell Lea?
Delivery, it's as simple as that - you make a promise, you deliver the promise, and you get the chance to make another promise.
An honest and direct nature - this can get me into trouble sometimes but it is a shorter journey to the finish line if time is not wasted by trying to please everybody.
I try to be a fearless leader - when my team makes a call I will back them 100 per cent all the way through to the finish.
When you and your family purchased Darrell Lea you had to cut jobs and battle insolvency, how did it initially feel being up against these challenges and how did you overcome them?
Swift un-emotional decisions had to be made before we bought the business in order for the business to survive. The process was never easy, but necessary for the sustainability of the jobs that we did manage to save.
Once these changes were made it wasn't exactly fixed overnight either. It took a lot of coaching and convincing which ultimately means a lot of commitment from me to communicate to the staff the changes that were looming.
From the day that we bought the business I moved down to Sydney and lived at the factory. I still live on site to this date. This is necessary to implement change as we run a 24-hour production and there is still so much to do.
What have been some of the biggest highlights since you took over Darrell Lea?
The brand equity is the biggest eye opener. It is amazing to be a custodian of an 88-year-old business that everyone has a story about. And don't they tell me about them. It is genuinely remarkable how much of an impression Darrell Lea has made on the Australian public in this time. For any locally-made, small family business to be mentioned on national TV by the acting Prime Minister shows the strength in the brand.
What have been some of the biggest changes you have had to implement since purchasing Darrell Lea?
Many - everything needed fixing except for the quality and process of the products themselves, as these are well and truly sorted.
The new factory was one of many challenges and in some ways the biggest it was certainly the biggest financial investment. In 18 months we bought the business, built a brand new 14,000sqm facility, filled it with new equipment and relocated 120 staff. To do this in 18 months was a mammoth task and brilliantly executed by the whole team.
Another challenge we faced was revamping the whole range of packaging. The distribution of products also went through a massive change overnight as all of the company stores closed down.
How are you managing Darrell Lea to ensure it doesn't see a repeat of its financial struggles?
We have invested heavily in our new facility to future proof our manufacturing process which will last us another 20 years. Changing the distribution model was something that should have happened 20 years ago so having done this immediately ensures our products are sold to more distribution outlets than ever before.
Are there any other acquisition targets in the pipeline?
This is a natural part of our business and we see growth potential in both acquisition and organic growth in the Darrell Lea business. It is such an exciting category to be in as you are always trying to invent new ideas or take concepts from overseas and mash them together with what works in the region you are trying to sell to.
Right now we see opportunities in the US which has led us to buying another confectionery business in Charlotte, North Carolina, which again opens the doors to many opportunities.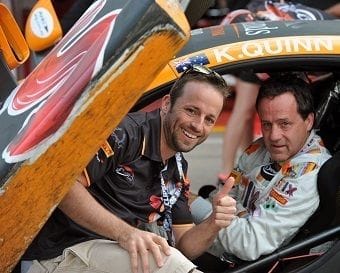 You come from a business-minded family - what are some key leadership attributes that your father Tony Quinn (pictured right) has engrained in you?
Again, delivery. Anybody that really knows the old man will tell you that he is up front and honest and if he says he is going to do something you can bet your house that promise will be delivered.
Also hard work - Dad never stops working. Even when he is playing he is working. Other attributes are working on the brand, strategising, building and value adding, the list could go on. He is very much a master of all and for me to have a mentor such as Dad is a real blessing and privilege.
What are some of the challenges for the business that you see moving forward?
Standing still - I don't think this is a challenge for us per se. But it is a challenge that all businesses face because if you are not growing, you are going backwards.
Being in the category we are in we need to innovate and we need to be competitive. Competing is a skill dad has helped me develop through motorsports and I am able to take those learnings into business.
To win a sprint race is a different mindset to winning an endurance race and winning a championship is a whole different story.
Get our daily business news
Sign up to our free email news updates.