STAY in school, kids, and you might just develop a business plan as great as Dustin Leonard's of HERO Condoms.

HERO Condoms began as a university assignment in Sydney, a business plan where the Texan-born entrepreneur identified the condom industry as ripe for disruption.

"The funny thing is, I never went out to start a condom company or sanitary hygiene company," Leonard tells Business News Australia.

"I was doing my Masters and really liked the Toms shoes business model. Whenever I go on holiday to places like Bali though, I don't even wear shoes half the time, so I thought there must be something that will have more of an impact around people's lives."

Que condoms, an industry already doing a world of good, but one Leonard thought could do a little more for the developing world. In Botswana, for example, the incidence of HIV is growing every year and residents don't have easy access to condoms.
"Being from the US, I was always under the impression we were giving billions of dollars of aid to solve these problems and we were on the right track," says Leonard.
"It's not the case. When we were in Botswana for HERO, we were speaking with an agency meant to be receiving a three-month supply from the government - but they said they would be out of stock for months on end.

"People try and get condoms, but transportation is quite difficult, and again and again they are told they are out of stock so they start to think, why waste my time trying?"

Leonard started the company in 2012 on a shoestring budget, with his University of Sydney professor believing in the cause so much that he came on board as the first investor.

The company operates on a one-for-one basis, where for every packet sold, another packet reaches someone in a developing nation like Botswana. This year HERO extended the model to include sanitary pads.

Despite this point of difference, HERO Condoms retail for more or less the same price as competition.
"We get the question all the time about how responsive our recipients actually are, and while in some parts of Africa less than 20 per cent of people believe in the good of condoms, each country is significantly different," says Leonard.
"Sometimes, or a lot of the time, people will receive foreign aid and actually resell it in another country for profit so it doesn't actually reach those who need it most.

"Botswana is one of the most politically stable countries in Africa and over the past 15 years its government has spent tonnes of time, money and resources around HIV education. The government keeps putting in place education programs, the latest being the CCC correct, consistent, condom use. Over 92 per cent of respondents in a recent Botswana survey recognised proper use can help stop the transmission of HIV.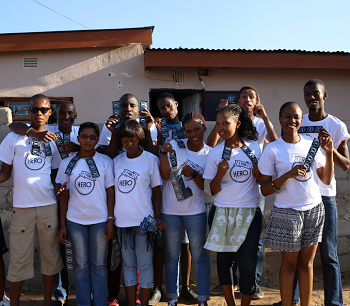 Spreading the good word across cultures has been tricky at times, but Leonard says the biggest challenge HERO Condoms faced right from the beginning was tracking down retailers.

He says it took more than two years to even get a meeting with Coles and Woolworths, which wouldn't respond to emails or calls.

"Apparently there are 3000 new products trying to be launched every year so these big retailers just get bombarded. We developed the product and realised we couldn't so easily get on shelves, pivoted, and then were able to get into larger pharmacy chains," he says.

"But we found out shoppers at these pharmacies were middle aged or older and decided to put more into social media marketing as 18 to 35 year old's are our lion's share. Pharmacies are on the decline among this demographic so we hit up the grocery chains again."

Leonard says he would reconsider starting up with so little cash despite the strides the company is making now.

He refers to a conversation he had with someone high up at Unilever who sent shivers down his spine when they said Unilever 'initially spends about $2 million' after developing the product and marketing collateral.
"We realised after about a year and a half that HERO would no longer be viable if we didn't get into grocery. It's tricky business," he says.
"While we are being socially responsible though, the retailers have recognised that, and have been a little kinder to us. We have been able to turn a penny into a dollar with all of our marketing spend, just via the cause and creativity."

Want more social enterprise?
Get our daily business news
Sign up to our free email news updates.
Help us deliver quality journalism to you.
As a free and independent news site providing daily updates
during a period of unprecedented challenges for businesses everywhere
we call on your support