Your staff have worked hard all year and deserve to party. Here's how you can make their end of year celebration unforgettable.
From an intimate get together to the most extravagant gala, there are many ways to show your team appreciation at Christmas time, but of course finding the right setting is always key.

To make the choice a simple one, we have handpicked some of the best spots where you and your team can celebrate the festive season.
Each of these venues are primed to offer something special, with events teams that are dedicated to making your experience a night to remember. Don't leave it to the last minute to secure a spot!
---
Sharks Events Centre - Jingle & Mingle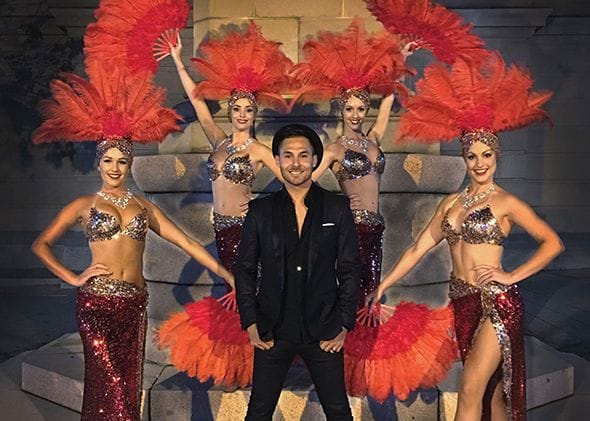 Each year the Sharks Events Centre embodies the festive spirit with its Jingle & Mingle Christmas Party.
This year's bash on Saturday 30 November promises to be one of the best yet.
Velvet Rope Entertainment, led by The Voice top 20 finalist Russel Francis, will take to the stage at the Sharks' Christmas celebration with a Latin Carnivale twist.
The spread includes a three-course menu, five-hour drinks package, a mojito bar as well as live entertainment, photo booth and many prizes to be won.
For those who want to make a night of it, the Sharks Events Centre is located only a short walk from the Mantra at Sharks.
Ticket and accommodation prices start from $250 for members and solo tickets to the Jingle & Mingle extravaganza begin at $125.
Website | Email | Phone: (07) 5532 1155
Christmas Parties at The William Inglis hotel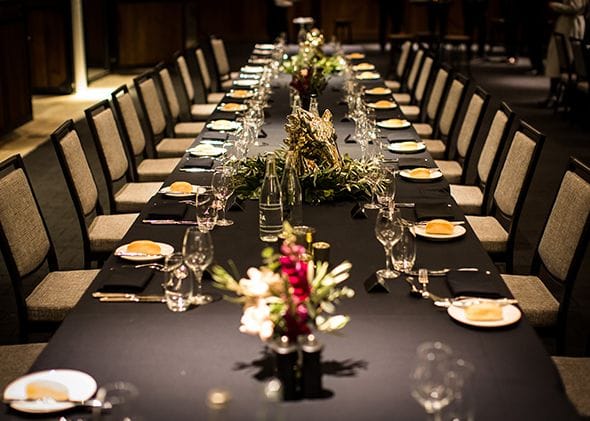 Christmas time may be the silly season but when it comes to a corporate Christmas celebration, The William Inglis doesn't horse around.
The equine-themed location which celebrates racing history and the thoroughbred industry has quickly become one of Sydney's favourite function venues.
At Christmas time, The William Inglis becomes a hotspot for professionals who want to treat their clients, staff and colleagues to an unforgettable night out.
This year the venue is offering several dining and events packages which start from $115 per person and include meal service, beverage packages, room hire and assorted Christmas bonbons.
There are 23 different function rooms at The William Inglis including the 1000-capacity Sales Arena, the intimate Gallery Suites and striking Garden Pavilion.
Most unique are the stables. There are more than 150 built-in 3x3m booths within the stables which are ideal spots to make a lasting impression.
Website | Email | Phone: (02) 9058 0312
Gold Coast Convention & Exhibition Centre: A Christmas Rhapsody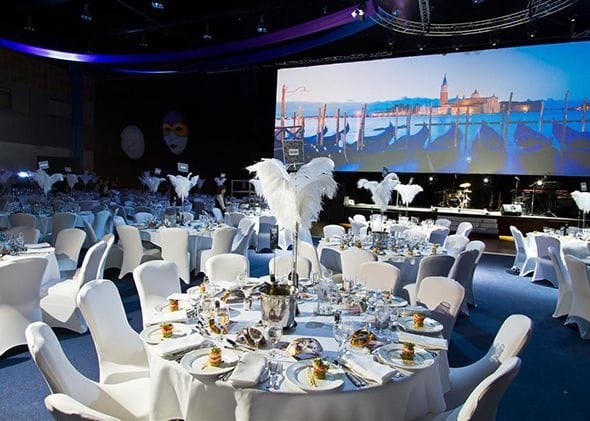 Is this the real life? Is this just fantasy? Not quite.
It's the Gold Coast Convention & Exhibition Centre's Christmas Rhapsody.
Featuring leading Queen tribute band Killer Queen, the GCCEC Christmas Rhapsody is set to be one of the hottest celebrations on the Gold Coast this festive season.
The event includes a four-course dinner, 4.5-hour beverage package, festive theming as well as a 90-minute show by Killer Queen which is "guaranteed to blow your mind".
But, if Queen isn't really your thing, the GCCEC still has corporate Christmas covered.
Private end of year function packages are also available across GCCEC's various unique event spaces.
To find out more about Christmas Rhapsody or hosting your own classic Christmas party at GCCEC, visit the links below.
Website | Email | Phone: (07) 5504 4000
Christmas at RACV venues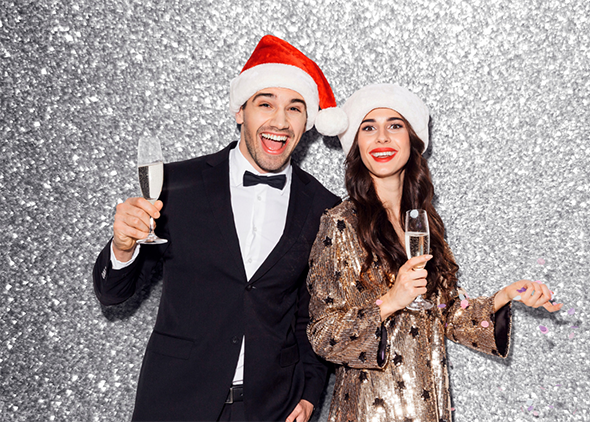 Planning a Christmas celebration is a mammoth task and can be a drain on even the most seasoned party planner.
That's why it's always a good idea to leave the task to a team of professionals, just like the ones at RACV.
RACV Resorts boasts nine unique locations stretching along the east coast from Queensland to Tasmania meaning that wherever you are based, there's a perfect spot to host your Christmas party nearby.
RACV's philosophy is to focus more on the party and less on the planning. At each of RACV's nine resorts there is a team of event planners ready to help create the perfect festive experience.
The event spaces are impeccable, unique and most importantly, plentiful.
To find out how RACV can help make your Christmas party an unforgettable one, visit the links below.
The perfect end of year celebration at The Westin Brisbane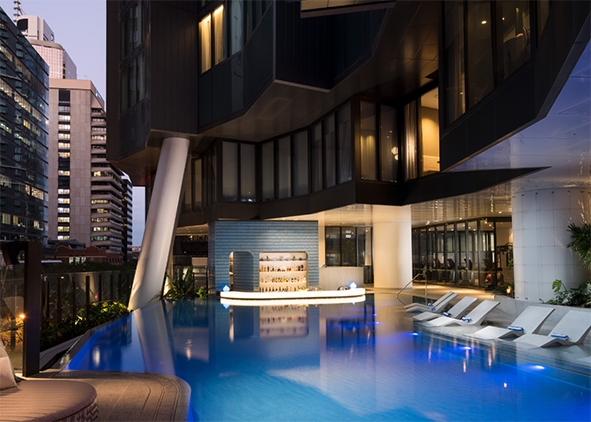 There's nothing worse than planning a Christmas party for your closest clients, colleagues and friends, only for the night to arrive and you to realise that the venue is a nightmare.
Thankfully, The Westin Brisbane and Four Points by Sheraton are eliminating that possibility.
These two sleek venues are among the best locations to host events in the heart of Brisbane's CBD.
They are set to prove as much at Corporate Open Day on Friday 30 August where prospective event hosts can try before they buy.
Anybody who wants to host a party or function this year is invited to view each of the unique event spaces at the Westin and Four Points, as well as meet the event planning team and sample the delicious catering options.
There are three sessions throughout the day starting at 7:30am, 11:30am and 4:00pm respectively, with each session including a complimentary light meal.
For more information about Corporate Open Day at The Westin and Four Points, visit the link below.
Website | Phone: (07) 3557 8888
RACV Royal Pines to host 'The Greatest Christmas Party'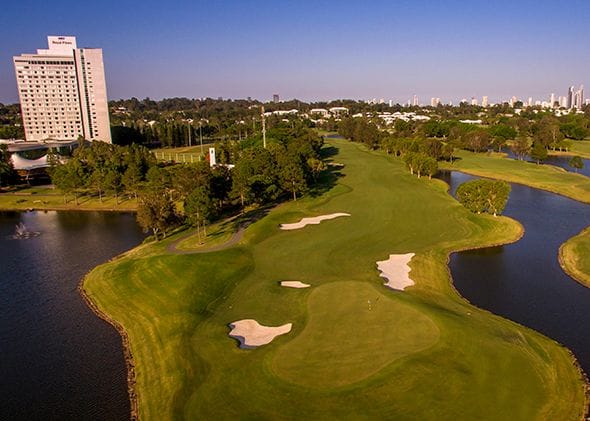 It's one of the Gold Coast's best-known legacy venues and this festive season the RACV Royal Pines is set to become a hotspot for corporate and social guests at 'The Greatest Christmas Party'.
If you're looking for the best way to treat your staff to a well-deserved celebration after a year of hard work, or even somewhere to network with clients in a relaxed and fun setting, look no further than this highly anticipated annual event.
On November 30, the Royal Pines will welcome guests from near and far to The Greatest Christmas Party which features a delectable three course meal, unmatched entertainment, generous drinks package and more.
Prices start from $155 for a single ticket and accommodation options are also available at the 333-room five-star resort.
This event is staggeringly popular and sells out year on year. Get in early and secure your spot today via the links below.
Website | Email | Phone: (07) 5597 8700
A grand gesture at The Hotel Grand Chancellor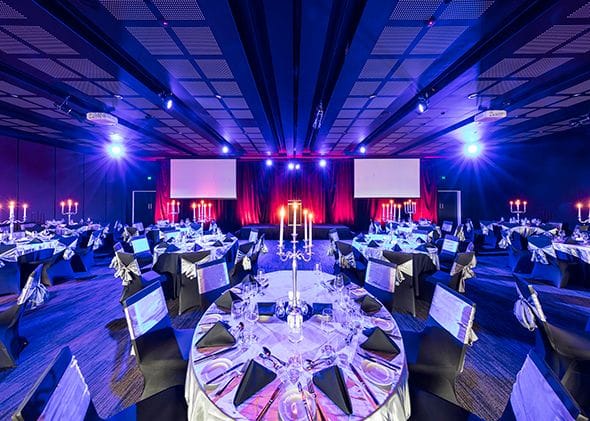 Having undergone a $16 million renovation, including building the Conference Centre, the Hotel Grand Chancellor is undoubtedly one of the freshest new venues to host a corporate Christmas celebration.
Overlooking Brisbane's sparkling skyline and the iconic Roma Street Parklands, the Hotel Grand Chancellor offers corporate party planners a truly unique experience.
Whether you are looking to host an intimate Christmas celebration of 40 with close colleagues and friends or an opulent gala of 800, the Hotel Grand Chancellor is the venue of choice.
This year the venue is offering several tailored party packages starting from $60 per person cocktail-style and $115 per person seated.
For more information about the Hotel Grand Chancellor's corporate Christmas offerings, visit the link below.
Website | Email | Phone: (07) 3834 4856
Surfers Paradise Marriott Resort & Spa's Christmas Carnival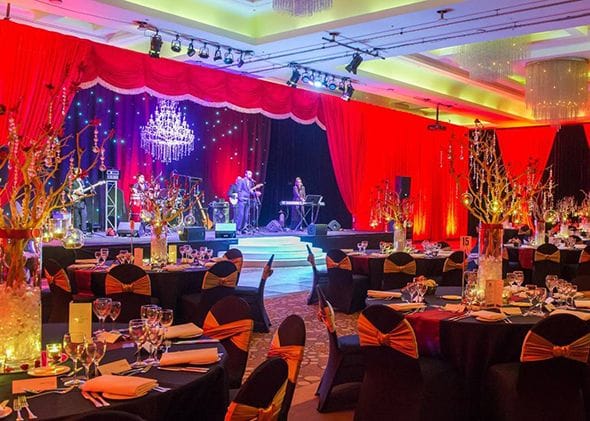 Anyone keen for some Sex & Chocolate? Well, you're in luck.
Sex & Chocolate, one of Brisbane and the Gold Coast's most popular cover bands, will be stealing the stage at the Surfers Paradise Marriott Resort & Spa at its annual Christmas Carnival Party on Friday 6 December.
Now this event has your interest, let it command your attention.
With a three-course meal hand crafted by executive chef Andrew Fraser, flowing bubbles, high flying acrobatic entertainment and carnival atmosphere, this Christmas party will undoubtedly be one of the Gold Coast's most unique.
In a city defined by young professionals who work hard yet also relax and indulge in style, this event is their perfect match.
Tickets start from $149 and exclusive overnight stays begin at $189 when using the code XCX.
To find out more about the Surfers Paradise Marriott Resort & Spa's Christmas Carnival extravaganza, visit the link below.
Website | Email | Phone: (07) 5592 9800
Unforgettable Christmas at the QT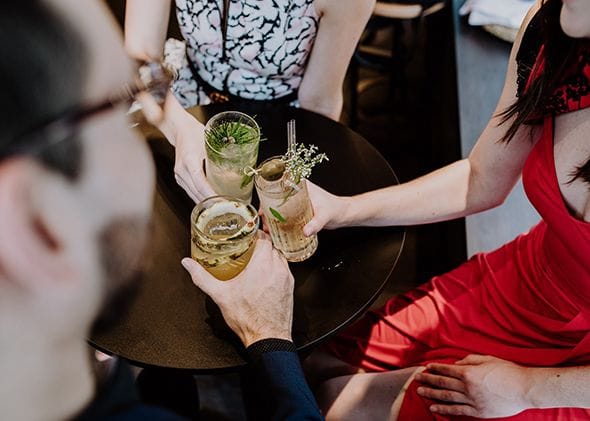 Anyone who has ever stayed at QT Gold Coast knows just how different the experience really is.
The word unique is an understatement when describing the 15 individual function and outdoor spaces at the QT, all ideal settings for an unforgettable Christmas party.
Calypso Terrace, the iconic Stingray Lounge, Bazaar Marketplace and Yamagen Restaurant; just a few of the many locations where you can celebrate the end of a massive 2019 with your staff, colleagues and clients.
Cocktail options begin from $99 per person including three hours of canapes and drinks. For a sit-down affair, Christmas dinner party packages start from $139 per person and include either a buffet or three course meal selection plus canapes and beverages.
To find out more about what the QT Gold Coast has in store for events this Christmas, visit the links below.
Website | Email | Phone: (07) 5584 1200
Help us deliver quality journalism to you.
As a free and independent news site providing daily updates
during a period of unprecedented challenges for businesses everywhere
we call on your support