FAST fashion retailers and online competitors are taking their toll on department stores globally, but the same can't be said for the innovative brands many of them rely upon to drive sales.

The department store struggle is reflected in falling market capitalisation, with Myer losing three-quarters of its value since its 2009 ASX debut and America's Nordstrom last month experiencing its steepest daily price decline since 2000.

Yet, against this trend are emerging fashion brands making significant inroads with consumers, and the equity market is rewarding them.

Sydney-born Shoes of Prey is one of them, today announcing a $US15.5 million Series B capital raising led by BlueSky Venture Capital, bringing the company's total combined funding to $US24.6 million.

Originally a pure play online retailer, Shoes of Prey moved its headquarters to Los Angeles in September to keep up with growing US demand, which helped fuel a sales spike of 119 per cent in the past year.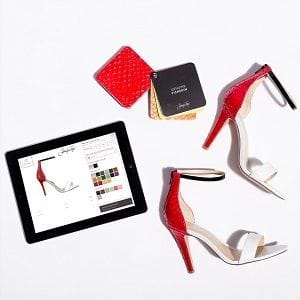 The women's shoe brand made the move after landing a deal with Nordstrom, the world's largest retailer of women's shoes. This went one further today, when Nordstrom was announced as a new equity partner along with Greycroft.
Nordstrom distribution was 'at the top of the list' for Shoes of Prey co-founder and co-CEO Michael Fox (pictured left with co-founder and chief creative officer Jodie Fox, co-founder and co-CEO Mike Knapp).
This is despite department stores drawing less and less foot traffic, despite starting the business in 2009 with a belief that 'bricks and mortar is dead'.
Fox says Shoes of Prey's unique business model, which he sees as the 'future of retail', means the team could actually view the opportunity to enter into Nordstrom as a way of reducing risk.
"If your product is just the lowest price like Kogan then bricks and mortar might no longer work, but it makes a lot of sense if you're trying to build a brand like us," says Fox.

"We had a huge problem in the early days where customers were designing shoe combinations but stopping at the cart. They wanted to try shoes on for size, they wanted to feel and touch the materials - at a price point of around $200 they want to understand they're getting a high quality product."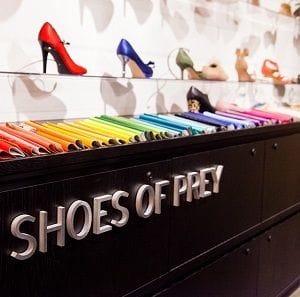 The business entered into bricks and clicks mode two and a half years ago, launching into David Jones and refusing to take on a standalone site.

The team came to this decision upon assessing America's best performing shoe brands of the past decade, turn of the century green starts like Tory Burch, Vince Camuto and Sam Edelman, and observing a trend in how they broke ground.
"We were profitable within six months of opening at David Jones and were the most productive space on the women's shoe floor in terms of sales dollars per square metre," says Fox.
"We thought we should try rolling out the strategy globally and Nordstrom was top of our list, with 173 department stores in the US. We noticed these brands focused the first four years on wholesale partnerships selling shoes through Nordstrom, and as they built up their brand they moved on to open their own stores and selling online.

"Nordstrom gave us a bunch of feedback on product updates that we should do for the US market, which we enacted over a period of 12 months, and then we opened our first store with them in Seattle in November last year and have rolled out six since then."

Fox doesn't view traditional retailers like Nordstrom as 'dinosaurs' but more open to change than ever as they try to navigate the new world.

Perhaps nothing is more telling of Nordstrom's humility than the company's co-president, Blake Nordstrom, admitting 'we're not economists, we're merchants' last month when being peppered as to why the company isn't delivering to high-level US economic barometers.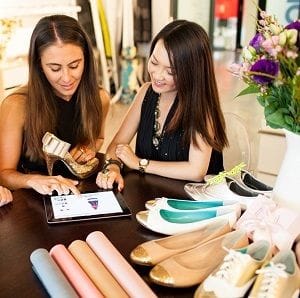 Fox believes two sides don't need to be the same size in a partnership for two-way dividends as long as the smaller collaborator is savvy to begin with. He notes Shoes of Prey introducing new technology to Nordstrom's online store as a case in point.
"It applies to any industry really; instead of trying to compete head-to-head with bigger retailers, ind a way to collaborate with them that works for their business and yours," says Fox.
"Because we have so many different shoe combinations available, online shoppers are actually viewing photo-realistic computer-generated product photos.

"We pitched this to Nordstrom as a condition to opening stores with them and our trial results performed 40 times what we and Nordstrom expected they would, and we basically had to scale the trial right back because our factory couldn't keep up with the production and number of orders coming through.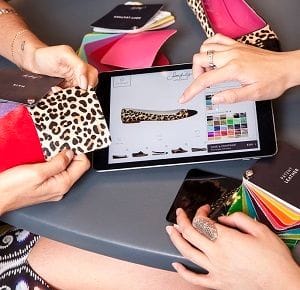 Fox discovered a passion for retail when undertaking Super Cheap Auto Group's graduate program, rotating through the capacities of merchandising, marketing, supply chain, HR, IT and retail operations of a then 300-store retail chain.

His powers of negotiation with the big guns may come in part from working as a lawyer previously, and his ability to innovate likely from his days as a Google executive.

Even though mass-production delivers better margins on the surface, Shoes of Prey doesn't hold inventory in a big warehouse anywhere, similar to disruptive contemporaries such as Uber and Airbnb. The department store rental model seems the startup's perfect fit for now.
"Manufacturing on demand is the next step for retail," says Fox.
"Newer mega retailers like Amazon and Zappos don't have 'design your own' shoes functions, so they will want to work with us and they will work with us exclusively and then we're able to leverage that to get our profit margins.

"We have to accept that in the future there won't be a need to mass-produce a lot of products because we're going to be able to 3D print.

"Our music and book industries are the canaries in the coalmine for what's going to happen to a whole range of other retail product categories."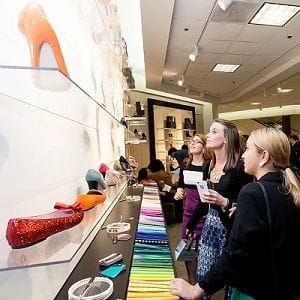 Putting matters into perspective, Elaine Stead, investment director at BlueSky Venture Capital which led the recent capital raising, believes Shoes of Prey is pioneering a vastly different future for two of the world's largest industries.

"You can look at Shoes of Prey as either a logistics and manufacturing business that has solved a fashion problem, or a fashion company that has solved a logistics and manufacturing problem," says Stead.

"Either way, both markets are ripe for disruption."

Help us deliver quality journalism to you.
As a free and independent news site providing daily updates
during a period of unprecedented challenges for businesses everywhere
we call on your support