Perth-based virtual reality gaming startup Ready Team One is looking to secure fresh funds in an ongoing Birchal crowdfunding campaign as the founders aim to open a second flagship location in Australia and secure deals with more global licensees.
The raise comes more than a year after Ready Team One set up a licensee operation in Italy, with founders Chris Cheng, Scott Whiteley and James Tang now in negotiations to seal further deals in Australia, the US and Oman.
At the time of writing, the company has received the support of 376 investors, who have collectively chipped in $534,000 as the Birchal campaign draws to a close.
"Our main growth path will be licensing our product to these licensees…that's the fastest way we can grow because there's no capital required for that," Cheng told Business News Australia.
"We've got so much interest from other people wanting to license that we're going to see where they land at the moment. We're talking to 25 people about licensing and we've got more than two people interested in Sydney [and] Melbourne."
"We've got the equipment set up. We just need to find partners that are probably a bit more knowledgeable about the local area either through licensing or joint ventures. If we if end up hitting our maximum target, that's when we were looking at opening a company-owned Ready Team One international flagship [location] in Australia," Tang added.
He also noted the company has set its sights on attending global exhibitions like the International Association of Amusement Parks and Attractions (IAAPA) to win over potential US customers.
"As part of this raise, we want to spread around Australia - that's number one…and also the American market," Tang said.
"There are a few expos that we've earmarked, such as IAAPA - it's where international amusement attractions go to showcase their product for centres. We want to get in front of an international audience there."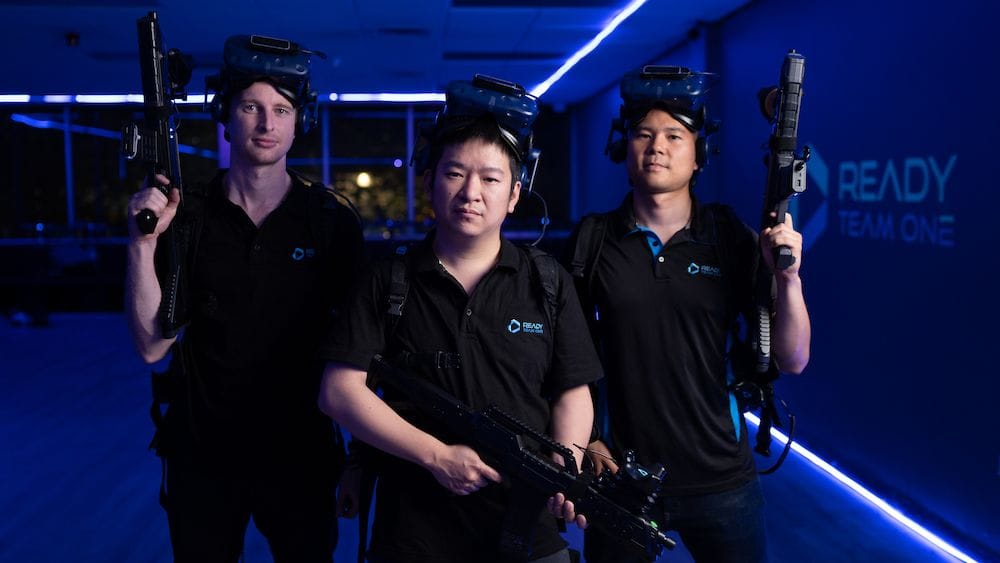 Founded in 2017, Ready Team One allows teams of 2-12 players to free-roam in a 200-square-metre arena in a full-body tracking system that enables players to use their bodies as video game controllers.
While the trio has different backgrounds in engineering, consulting and operations, they worked together to develop the proprietary tracking system within a year.
"We've got sensors that track hand movement, where your arms are, where your legs are, the rest of your body as well. That's available off the shelf, but to make all that work together to track the full body within the game, that took about a year to develop," Cheng explained.
"It was a pretty steep learning curve but we got there. I've got a bit of a programming background for my engineering degree, so it wasn't completely new. But it was a lot of hours…overnight, all-nighters and missing public holidays when we first got staff."
According to Tang, the average age of customers is 30, with group sizes typically ranging from four to 10 people.
"We've attracted a lot of families and corporate team-building events. Sometimes they come in groups of 30 and they're looking for like a fun activity that's a bit different, but very high tech and something that they can do together," he said.
The games on offer are also developed in-house, with the majority of titles being action shooters like TR: Apocalypse, Tactical Response and First Contact that require you to take down enemies like zombies, opposing combat teams or aliens.
The latest title - Isle of Trials: Curse of the Fire God - opted to pivot away from the shooter format, offering gamers a carton-themed world that challenges them to seven different mini-games. Ready Team One is aiming to add one title to its library every six months, with an escape-room-inspired horror game next to launch.
"We're also developing a documentary experience with Screenworks and Curtin University," Tang said.
"It's [about] rediscovering HMAS AE1 - a wartime submarine that was lost in World War One and was rediscovered in 2017. They sent a group of researchers down to survey the submarine shipwreck and built a 3D reconstruction of it into a CAD model. We've been working with Curtin University to put that into our proprietary VR system to allow our guests to free roam and explore the shipwreck as it lay on the bottom of the ocean."
When asked what inspired the three friends to start up Ready Team One, Cheng said all three founders had a deep love and appreciation for gaming.
"In our younger years, we used to have little LAN parties and go to internet cafes [and] play games all night. We missed that side of things and we saw that a lot of gaming was moved online," Cheng said.
"It just wasn't the same because you don't have that person-to-person social experience when you're playing online.
"We've got a love for gaming. We wanted to make it more accessible for people to come together to play games and we thought VR was a really exciting medium…we could fully immerse people in their games, take them into a completely new world along with their friends and give them an experience they'll remember."
Get our daily business news
Sign up to our free email news updates.
Help us deliver quality journalism to you.
As a free and independent news site providing daily updates
during a period of unprecedented challenges for businesses everywhere
we call on your support