You might not think it at first glance, but MMA fighting and the start-up life aren't so different from one another.
For instance, both smack you in the face, punch you in the guts, and, to put it bluntly, beat the crap out of you.
That's why Leigh Rust (pictured left) - who along with his brother Nathan won the Manufacturing, Wholesale & Distribution category at Sydney's 2018 Sydney Young Entrepreneur Awards - believes owning and operating a business is an earned privilege, not a right.
Out of school, Leigh was sent away by his dad to get a trade before he would be allowed to step foot inside the family business.
He trained as a mechanic, which he hated, before starting back at the bottom - sweeping the factory floors at his father's company before working his way up the ranks.
"I got to a place where I was quite senior, but it was always going to be dad's business, not mine," he said.
"My Dad has always been my biggest inspiration - he always wanted me to go out and start my own business."
"I always wanted to do something of my own, and always had that entrepreneurial instinct, so my brother Nathan and I broke away to start our own business."
And so Safetyline Jalousie was born.
The company supplies high-end, hybrid European-designed louvre window systems to the construction sector.
Rated by the CSIRO as the highest-grade system in the world for wind, water, noise and strength, Safetyline Jalousie has worked with major developers like Meriton, Mirvac, and Frasers, as well as more than 150 schools in NSW, QLD, VIC and WA.
"We started out manufacturing in a small 60m2 factory with three staff," Leigh said.
"Now, we have offices in Brisbane, Sydney, and Melbourne, and our headquarters is a 1000m2 facility with more than 30 staff, plus an offshore base in Malaysia."
Having previously participated in a 20-week Wimp2Warrior MMA fighting programme, Leigh attributes at least some of his success to the lessons learned before winning his first amateur fight.
"My motto is 'I never lose either I win or I learn', and I've always stood by that, both in cage fighting and in business," he said.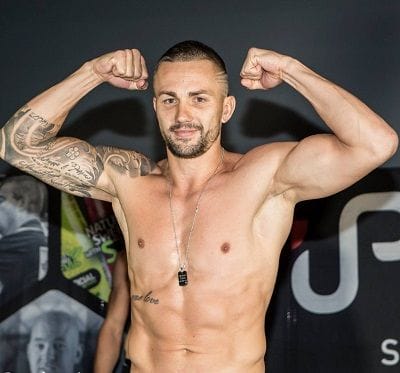 "It might seem bizarre to some to compare a combat sport like cage fighting to running a business, but I think there's a big parallel between what it takes to succeed at both."
"For one thing, whether you want to succeed as a cage fighter or as an entrepreneur, you have to be extremely disciplined, work hard, and persevere, persevere, persevere."
He says the biggest challenge of starting a business was the initial capital outlay to get things moving.
"We had very rapid growth from the outset which was good, but trying to fund that when you have nothing coming in the door was the biggest hurdle, like how how are you going to keep buying when you're not getting enough sales in the early stages? Will we survive?
"But sometimes you just have to take the risk, and keep pushing to get what you want."
"Eventually it will all pay off. We're on track to double or triple our growth over the next few years, so it was definitely worth it."
Over the next few years, Leigh says the company intends to continue investing in innovation and establishing strategic partnerships with major developers and government departments, to ensure the company continues to go from strength to strength.
Never miss a news update, subscribe here. Follow us on Facebook, LinkedIn, Instagram and Twitter.
Business News Australia
Get our daily business news
Sign up to our free email news updates.