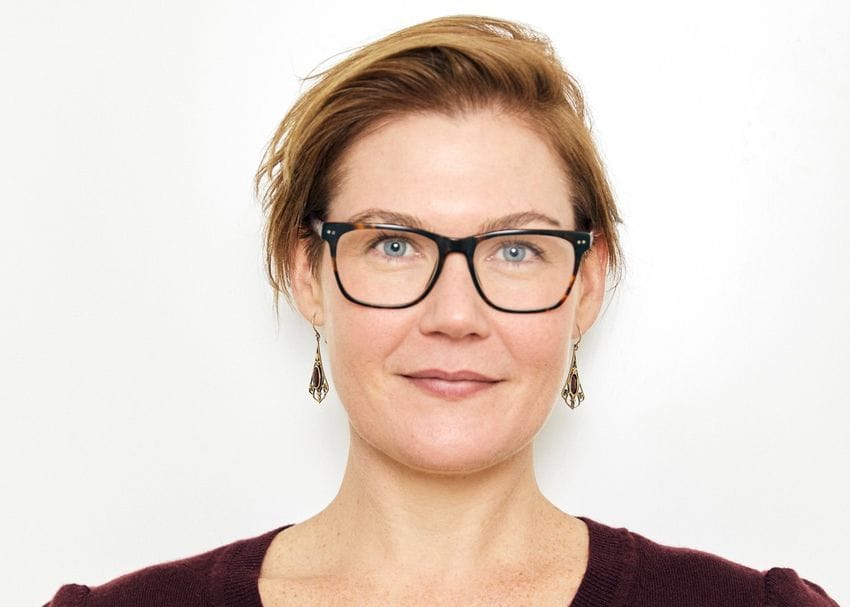 "Fashion over function": Christina Stephens founder's quest to make adaptive clothing mainstream
Upskilling was the name of the game when energy specialist Jessie Sadler (pictured) went back to university, but little did she know the experience would turn her into an entrepreneur forging new paths in fashion for the physically impaired.
Sadler had chosen to study a Master of Business Administration (MBA) at the University of Queensland (UQ) Business School with her family in mind, having returned home to Brisbane after working with Austrade in Sydney and Milan.
She knew the UQ MBA offered the flexibility she would need when starting a family, to help fit into her life during pregnancy and then as a mother who was working full-time. It was also important to Sadler to build her business leadership and have a network that would be useful to reach the next stage of her professional journey.
"The MBA was originally to further my career at the time within the energy sector, but through the program you are exposed to different opportunities that make you think differently and come up with different ideas," she says.
"The social component of business and having a triple bottom line rather than just a financial bottom line is the new business world - that's something the MBA exposed me to."
Then everything changed in 2015 when her mother suffered a bad fall, injuring both elbows in the process.
Sadler says her mum's accident was the main driver for her pivot towards starting a business, as she noticed a gap in the market for adaptive clothing and post-surgical attire.
With no background in the fashion industry but a solid grounding in business fundamentals from the UQ MBA, Sadler started weaving together business ideas for what would eventually become the adaptive and inclusive clothing brand Christina Stephens, named after both her parents.
"Over time and in consultation with focus groups the business ended up somewhere different than where I started. Now it's concentrated on females with physical disabilities, predominantly dexterity and movement restrictions," says Sadler.
"If you have dexterity restrictions it's very difficult when you have trims such as buttons and zips or tight little pockets. Imagine putting on a pair of jeans while you're in a wheelchair with dexterity issues - it doesn't work."
The Christina Stephens business was eventually incorporated in 2018 and Sadler quickly identified capability requirements that would drive recruitment priorities - such as e-commerce, fashion and social media - in what is a small but nimble team.
"I was actually part of a startup challenge during my UQ MBA, which was one of the most valuable experiences I took away. I still apply what I learned now as I continuously assess and refine the direction, recruitment, innovation processes and best market fit for my business," reflects Sadler.
She says the clothing needed to be designed so that it would appeal to both able-bodied and physically impaired people.
"It's fashion before function, but it needs to be fit for purpose," she says.
"Any adaptive clothing or inclusive clothing as a design principle shouldn't sacrifice the aesthetics for functionality, because a female with physical restrictions wants to feel and look as good as an able-bodied woman. And why shouldn't they?"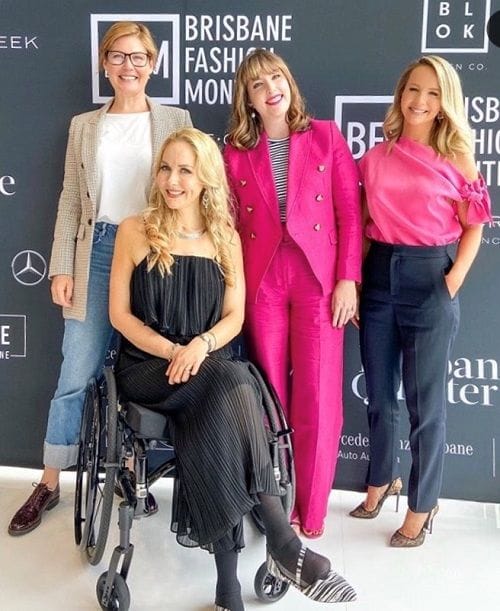 Photo courtesy of Brisbane Fashion Month.
Depending on how you look at it, Sadler chose the best or the worst time to launch a fashion business - in March, just two weeks before COVID-19 lockdowns came into place.
"Great timing wasn't it?" Sadler jokes. "Although, my MBA put me in good stead to have the confidence to be agile and pivot to challenges."
"We manufacture in Sydney, so while our manufacturing supply chain wasn't disrupted, interstate travel while preparing the first collection was tight," she says.
"I did a dash down to Sydney to do a final quality control check about a week before the lockdowns."
The rest of the label's supply chain is predominantly in Australia too, reinforcing an importance on local inputs. The certified organic cotton is grown in India, then knitted in Melbourne, while the bamboo fabrics come from China.
All fabric manufacturing for Christina Stephens' clothing is then completed in Sydney.
"Our preference would be to source locally as much as possible depending on price, and we use Merino wool which people understand we have access to the raw materials for in Australia and New Zealand," she clarifies.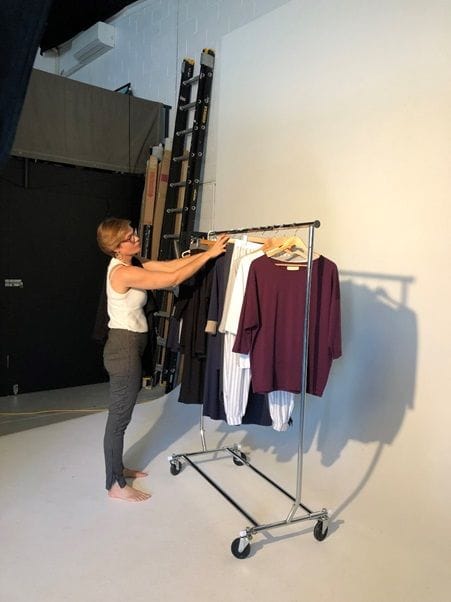 The COVID-19 pandemic has been a litmus test for retail's e-commerce capacity with its share of winners and losers.
"We have our online platform and we're also retailing through a third-party, Every Human, which is also an Australian adaptive clothing retailer," she says.
"We've just signed up with a retailer in the US and in the UK, and as part of that agreement we featured in London Fashion Week this year, which was a bit different in format because of COVID, but exciting nonetheless.
"The retailer deals have been very helpful for us - we are finding our sales spike and it's interesting to see the kinds of marketing activities that lead to those spikes."
With the confidence from her MBA to test and scale, Sadler's goal is for the label to go mainstream, potentially stocking with the likes of Farfetch, Net-a-Porter, The Iconic or "whatever a department store looks like post-COVID".
"Just look at how plus-sized fashion has gone mainstream. Adaptive or inclusive clothing is in its nascent time and has a lot of growth ahead.
"We are talking about 20 per cent of most populations living with a disability. But it should be accessible to our customers wherever clothing is available to the mainstream," she says, noting able-bodied customers have also been drawn to the brand.
"A key learning from my MBA innovation courses, is that positioning and creating value are key to becoming mainstream. Adaptive clothing is on the rise in an emerging market, but it tends to be for a younger demographic. For example, Tommy Hilfger recently announced its adaptive clothing line in Australia, and it's very much the signature Tommy Hilfiger colours, look and street style."
In contrast, Christina Stephens caters to a more sophisticated demographic.
"Securing brand loyalty and a strong customer base where we are, there's limited competition out there globally for this particular customer," she says.
"Now we're just trying to be creative with our marketing techniques as well as at the same time pushing a brand awareness campaign to a wider audience such as the Allied Health Network.
"The customer profile actually changed from when the idea began. At the start we were quite conservative and a bit shy in how we marketed ourselves and the language we used around disability, but we found out you have to tell it like it is. My experience is that people living with disabilities much prefer that approach."
The entrepreneur is encouraged by the signs so far. There have been lots of return customers, social media engagement has been good, and at the same time Sadler has also been able to find new contacts, suppliers and even customers thanks to her UQ MBA network.
"The UQ MBA really helped me build a high calibre network throughout the country that I feel I can call on anytime if I need advice or a new perspective to business challenges."
Register to attend the UQ MBA Information online webinar on Tuesday, 10 November 2020 and then apply to study an MBA before the closing date on 30 November 2020.
This story was written in partnership with The University of Queensland Business School.
Never miss a news update, subscribe here. Follow us on Facebook, LinkedIn, Instagram and Twitter.
Business News Australia
Ranks among the world's top universities, as measured by several key independent rankings, including the CWTS Leiden Ranking 2020 (31)*, U.S. News Best Global Universities Rankings 2020 (36), the Performance Ranking of Scientific Papers for World Universities 2019 (39), QS World University Rankings 2021 (46), Academic Ranking of World Universities 2019 (54), and Times Higher Education World University Rankings 2020 (62).
180 UQ staff (including honorary and adjunct appointments) and emeritus professors are Fellows of Australia's five learned academies, AAS, AAHMS, ASSA, ATSE, and AAH.
UQ is one of only three Australian members of the global Universitas 21, a founding member of the Group of Eight (Go8) universities, and a member of Universities Australia.
More from UNIVERSITY OF QUEENSLAND