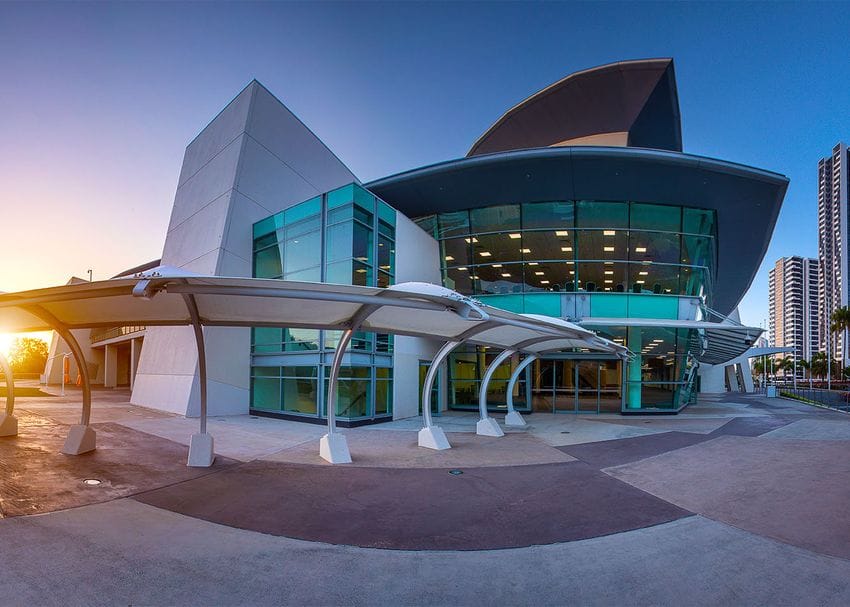 Confidence in conferencing grows on the Gold Coast
After months of limited event activity, the Gold Coast Convention and Exhibition Centre (GCCEC) is witnessing a surge in enquiry and bookings, including the confirmation of three international conferences this month.
The event industry took a sudden and enormous hit in February as COVID-19 forced mass gatherings to a standstill, leading government bodies and health experts to establish a roadmap to recovery.
For the sales team at the GCCEC, client conversations between February and August were largely around postponement, cancellation and force majeure.
But while fears around being physically close to others have not been ideal for the conferencing industry, venues have known the demand is still there and have developed and applied for approval of their COVID Safe plans.
GCCEC led the way for convention centre approvals, getting the go-head to operate under its Site-Specific Covid Safe Plan in June and has successfully run many events since, with guidelines and a checklist provided to incoming clients.
Over the past several weeks, enquiry levels are again increasing, and client conversations are around capacities, processes and our ability to host hybrid events.
The centre will welcome three large conferences in October, while expectations are high that event frequency and size will continue to increase month-over-month. The centre is also hosting many day meetings, breakfasts and lunches, as well as school formals that will be live streamed to families.
The event sector's prospects are also boosted by a Federal Government scheme to help subsidise business events and the costs of participants.
"There was a lot to absorb early on, however we have successfully navigated our way through the complexities of regulations and have been hosting events under the new COVID safe requirements," says GCCEC's director of sales and marketing, Michelle Mann.
"Client confidence and satisfaction has never been more relevant, and we have been working closely with all stakeholders to ensure a safe and memorable meeting space for all events, from government meetings to school formals to conferences.
Mann says everything from guest arrival to departure has been reimagined at GCCEC, with floorplans remodelled, menus and service redesigned, and cleaning and sanitisation protocols enhanced.
"The venue is full of signage, COVID messaging and sanitiser stations. It's not business as usual but the new normal is working well and giving event organisers and delegates the confidence to go ahead with events," Mann says.
This story was written in partnership with the Gold Coast Convention and Exhibition Centre (GCCEC).
Never miss a news update, subscribe here. Follow us on Facebook, LinkedIn, Instagram and Twitter.
Business News Australia
The Gold Coast Convention and Exhibition Centre (GCCEC), a $167 million masterpiece of innovation, is as ground-breaking in design as it is inspiring in its capabilities.
A premier Gold Coast venue where large-scale national and international conferences and exhibitions roll out seamlessly from beginning to end; a concert and sporting event destination where every seat is the best seat in the house; a place where the standard and presentation of every dish showcases the creativity and passion of its experienced team of award-winning chefs.
Located in the heart of Broadbeach, just 500 metres to the beach and walking distance to thousands of accommodation options, GCCEC is Australia's largest regional convention centre.
GCCEC has a massive main arena, four exhibition halls and a range of meeting rooms catering for 10 to 6,000 people. It's the destination-of-choice for conferences, exhibitions, concerts, trade shows, and events.
More from Gold Coast Convention and Exhibition Centre
After months of limited event activity, the Gold Coast Convention and Exhibition Cent...
Gold Coast Convention and Exhibition Centre