91. Harry Karefilakis (34)
Kare Group Australia, Ethos Electrical Services, All Steel Designs
Melbourne
After persisting through lockdowns in Melbourne with his electrical contractor Kare Group in 2020, Harry Karefilakis launched his second business in the sector in 2021 to cater to larger, unionised projects.
With strong momentum since then he believes Ethos Electrical Services could end up outpacing his original company.
"Because of the COVID pandemic we have decided to pivot and grow our service and maintenance works," he adds.
"We decided to do electrical audits as part of the new tenancy legislation and have already signed up over 4,000 properties – this work is recession- and pandemic-proof, and also high gross profit work."
In the second half of this calendar year he also launched All Steel Designs, a nationally-focused business that provides internal steel doors and front doors for houses.
"For a startup I can't believe how much work we've got. It's delivery of service only, we don't install," he says.
"I just love business. I can sit and work on someone else's business for days, not getting paid and I don't even notice I'm doing it.
"It's a game in my head - how to manoeuvre, how to outstep people. I don't even focus so much on the profits that will come with it."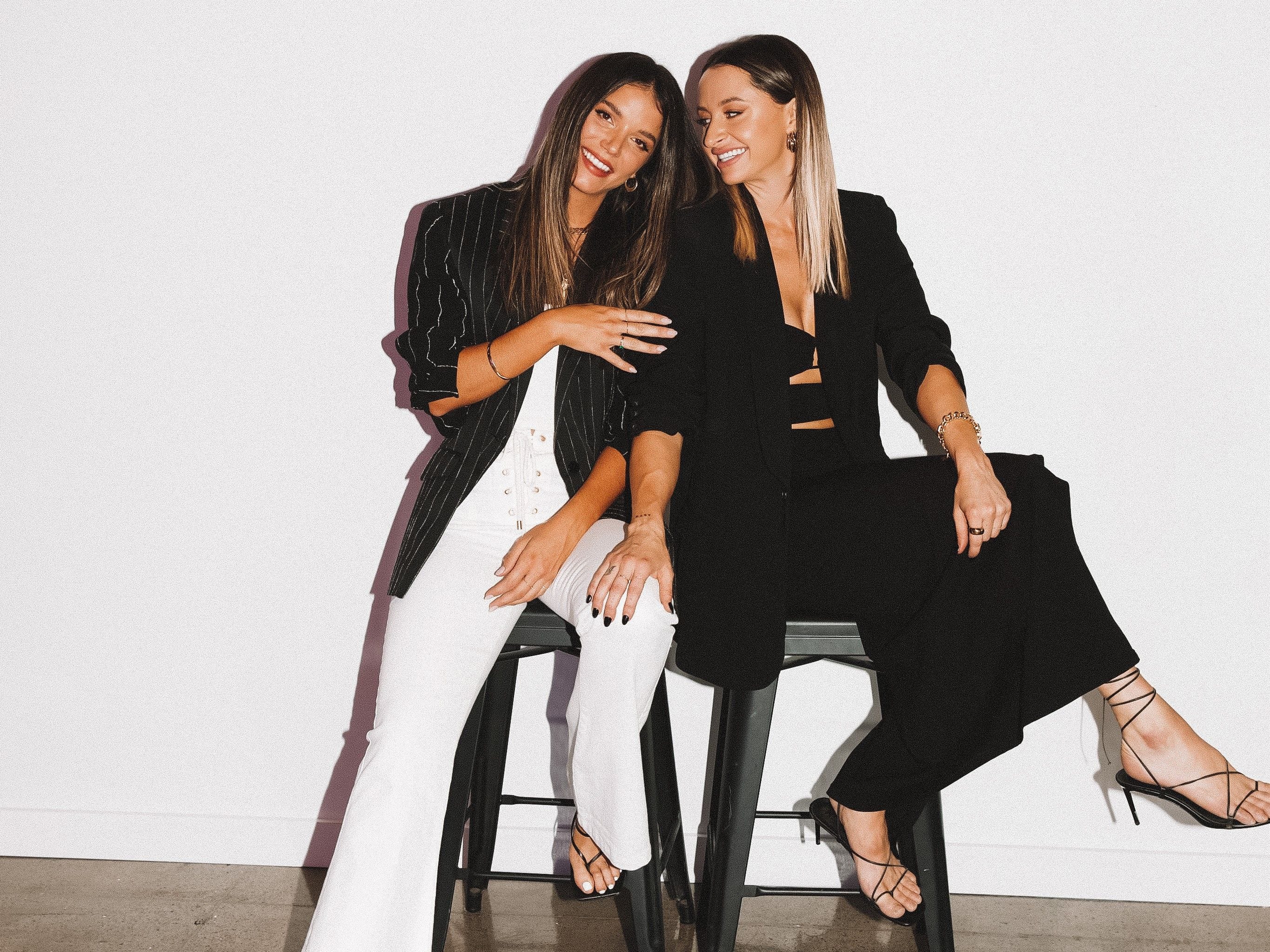 92. Lucy Jackson (31) and Nikki Westcott (30)
We the Wild Ones, Jagger & Stone, Happy Hour Podcast, The Punter Club, Jackson West Wines
Gold Coast
When Lucy Jackson and Nikki Westcott met through their university jobs at Red Bull, a life-changing friendship blossomed between the two.
Both sharing a love of fashion, they took the plunge to start Jagger & Stone and help young women seeking cool festival wear.
"Building our Instagram account, we just became so focused on festival fashion and style. It made sense for us do our brand based around what our whole following was following us for," explains Jackson.
Designed for the quintessential 'bad girl', the fashion label has gone from strength-to-strength since 2018 and is stocked on e-commerce sites Princess Polly, The Iconic, Surfstitch and Dolls Kill.
Their future plans for the brand?
"Our big goal for us is to really push into the US market," says Westcott.
Another venture that took off is the pair's podcast Happy Hour, where they discuss business, relationships and wild party stories.
"At the start we really underestimated how well the podcast would go," says Westcott.
"It was a lot about our lives. We are always getting asked 'How did you start your business? What did you study at university?' It's just really grown from there."
With more than 6 million downloads and counting, the best friends launched online merch store The Punter Club for their loyal listeners. They also hosted a live show at the start of the year, with the Veronicas playing a guest performance at Star Casino Theatre.
The podcast's popularity also caught the attention of Spotify, which acquired it as an exclusive on the platform last month.
"It's crazy to think that only two years ago we started it."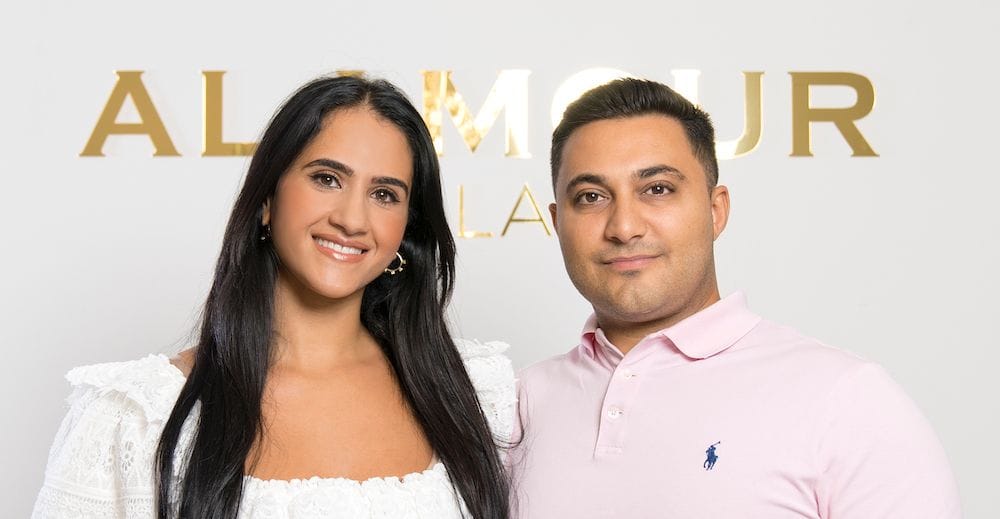 93. Alex Hamze (33) and Nof Hamze (30)
Brisbane
When Alex and Nof Hamze made their first venture into business, the couple opted to play it safe and stick to what they knew.
Combining their knowledge of accounting and marketing, they brought A&N Boutique to life, and began approaching labels to stock clothes via consignment.
"That was our getting off the ground strategy. The problem with consignment was stock wasn't guaranteed. You don't have control of logistics and the outgoing of stock, so it had its limitations," explains Alex.
It was during their honeymoon in the Maldives that the pair were hit with an epiphany.
Instead of relying on other brands for stock, why not create your own? So, that's exactly what they did. In 2016, Alamour The Label hit the shelves of their boutique. To grow the luxe brand's credibility they also launched an e-commerce store, and it was such a hit that it overtook the couple's first business.
But as COVID-19 put an end to the label's skyrocketing growth, Alex came to a fork in the road. "We were given the choice of giving up or throwing more money at it," he says.
"We threw more money at it and we came back stronger than ever. It was crazy, I didn't expect that to happen at all."
The label has captured the attention of US consumers, with the country becoming its biggest market. Alamour is also finding its way into the wardrobes of A-list celebrities.
"We actually have a showroom in LA with our stuff in it. Almost all the celebrity stylists have access to our clothing in Beverly Hills," explains Alex.
"We have a PR agent there who's working with us to get our brand out there to the stars. We've already had Jennifer Lopez wear our stuff recently. It's pretty cool."
The major plan? Making the online site reach every corner of the globe.
"We want to have hubs all around the word," says Alex. "We want to incorporate in the UAE, we want to incorporate in the UK, and we want to incorporate in the USA.


94. Wyatt Westmoreland (24) and Edward Hodge (27)
MiHIGH
Brisbane
After spending time in New York's infrared sauna studios, friends Wyatt Westmoreland and Edward Hodge took a chunk out of their savings to make a portable blanket that could deliver all the same benefits from the comfort of your own home.
Spending six months on research and development, they threw themselves into the project with all the knowledge they had gained from their careers in digital marketing.
"There were no investors at all. We just pulled together the funds for our first round of fifty blankets and instantly sold those in about a week," Wyatt Westmoreland explains.
"We just doubled down and continued to double our inventory orders until we were filling containers and the business was funding itself."
This caught people's attention quickly, with inbound enquiries creating a snowball effect.
"A few players on the England rugby team reached out to us, and then before we know it, we have pretty much the whole team using our blankets," Westmoreland says.
"We gifted a few blankets to some lower-tier UFC fighters and then the UFC placed a wholesale order with us."
"We had Jake Paul in our sauna blanket before his fight. It just [happened] organically."
One of the blanket's great strengths has been its versality, whether it's to heal an injury or simply destress.
"We've managed to do really well with Facebook ads - we're publishing great partnerships with sports stars and influencers and can really just get the word out there as much as possible," says Westmoreland.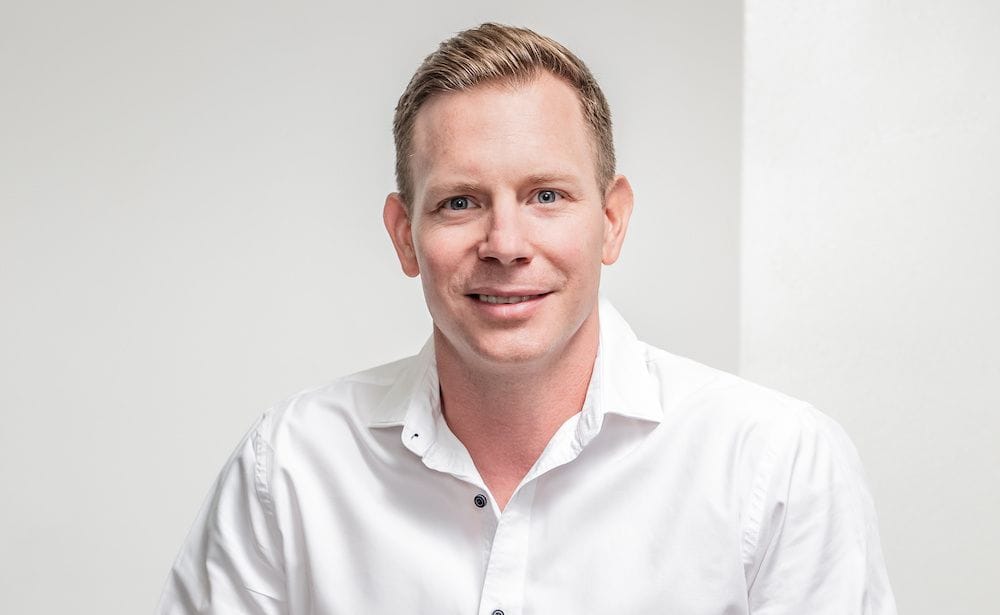 95. Matej Varhalik (38)
Perth
In the crowded space that is fitness franchising, Matej Varhalik has found a niche for workouts with electrical muscle stimulation (EMS) equipment across 29 studios Australia-wide.
Even though his business is based in WA where border restrictions have been tight, it was during FY21 that SpeedFit made its first forays east with openings in Victoria and New South Wales, and also this month in the ACT.
Of the 29 studios - comprising a blend of franchised, corporate and hybrid franchised-corporate businesses – 10 are now outside WA, and the entrepreneur has ambitions to also expand into Queensland next year.
"The success of SpeedFit is because we found where we're really strong – 70 per cent of our clients are 40-plus, and that's where we see our niche where we can really help with our low-impact exercise," Varhalik says.
"A lot of people are looking for that. They're looking for something short and effective. They're really busy with their lives and they're not really looking at going two or three times a week with 45-plus-minute sessions.
"One session a week for 20 minutes is a very unique offering for that demographic, and that's where we see our strength."
Varhalik's journey with EMS began with a bout of back pain in his native Slovakia.
"Although I wasn't a fitness fanatic, I had been a regular gym goer and I played handball professionally before injury prevented me from returning to my pre-pain workouts," he says.
"While seeking a form of rehabilitation that would not take up endless hours of my day, I discovered Electronic Muscle Stimulation (EMS) training. EMS is a high intensity training technology that activates muscle groups as participants complete a series of low impact exercises.
"It was the perfect way to avoid aggravating my injury while I regained my fitness."
He was running a few business in Slovakia which had nothing to do with health and fitness, but he started thinking about whether there was an opportunity in EMS.
"While EMS was fairly well-known in Europe, it was virtually unheard of in Australia. So I thought maybe we could pioneer the Australian market using the expertise and experience of the European market.
"Why Australia? My wife Zuzana and I had travelled to Australia for holidays a few times and were in love with everything it had to offer."
The couple and their daughter moved to Australia in 2013 and Varhalik took up a Diploma in Sports and Recreational Management and a Certificate III in Fitness, which ultimately led him to set up the first SpeedFit studio in Perth.
"I saw a few key target markets – injured athletes and time-poor parents to gym-avoidant professionals and people living with disability – and designed the workouts and marketing based on those demographics," says Varhalik, who co-founded SpeedFit with Roland Safar, who has since sold out his equity but remains as a franchisee.
The entrepreneur even went on to Shark Tank, but walked away from an offer because he felt it undervalued the company.
"To be honest it was a bit difficult obviously because you have so much respect for these people and what they've achieved, and you know they could be a massive help, but what they were offering was not close to what we were asking and we knew we could execute what we wanted.
"We've bootstrapped the business until now. Everything is going back into the business."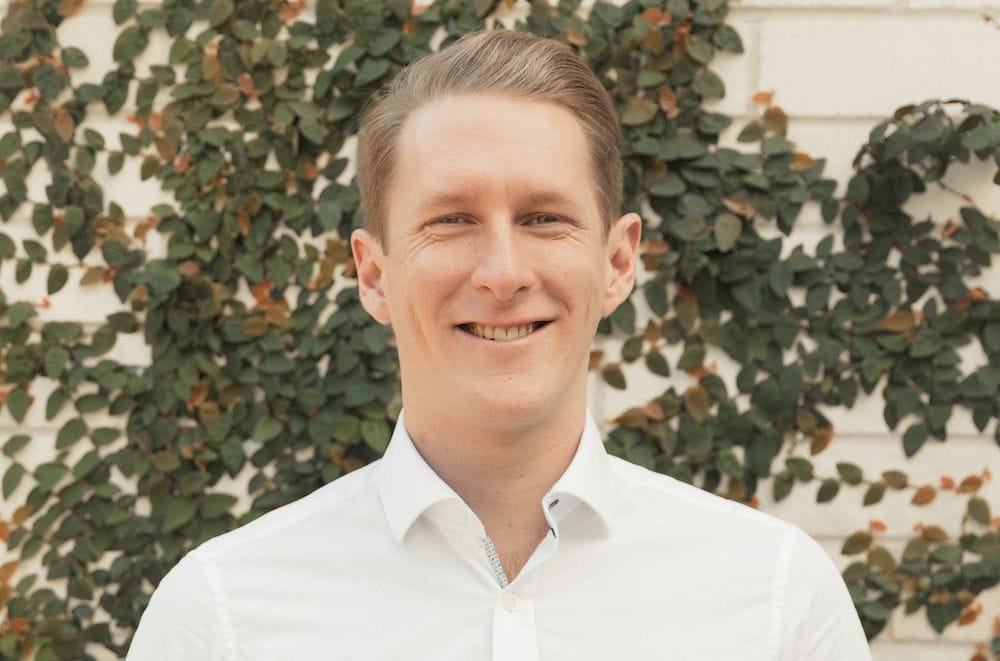 96. James Mutton (29)
Motorcycle Trading, DMS Innovations, Strategic Funding
Brisbane
When James Mutton's father was diagnosed with brain cancer in 2017, the family was faced with the difficult decision of whether or not to sell-up their motorcycle dealership business in Southeast Queensland.
An offer was on the table from one of Australia's largest motorcycle retailers, but as general manager James was determined to keep the company in family hands and "went all in" to hit performance targets and front up his own personal savings to purchase the business himself.
This culminated in him forming his own company Motorcycle Trading, which acquired all the dealership's assets and intellectual property in 2019.
All pistons were firing for the revamped business with Windsor and Caboolture locations, thanks in part to people withdrawing their superannuation during COVID-19 and motorbikes proving a popular item.
But Mutton also puts the success down to improvements in the business itself - trading as Brisbane Motorcycles – with the help of in-house technology and processes that continued accelerating sales activity in 2021.
The company also made an opportunistic expansion into a new market with the acquisition of a business in Ipswich, even though Mutton had previously been reluctant to buy more dealerships.
"We still had our hands full with the two sites that we've got. The previous owner actually advertised it for sale and I got contacted by a business broker. The time wasn't right, but the more I looked into it, it seemed like a really good opportunity," he says.
"Ipswich I believe is a high-growth area, the population out there is quite strong and the demographic is similar to our Caboolture store, and also had the Yamaha brand which is the number one selling motorcycle brand in Australia.
Culture is key for Mutton, who says the business got lucky as the Ipswich dealership was family-owned with a core group of long-term employees who were well aligned with the brand's focus on quality already.
Ipswich also became a testing ground for technology developed by another of Mutton's businesses, DMS Innovations, which stands for 'dealer management software'.
"Our biggest hinderance was our retail point of sale software. No one out there offered what we needed, and we looked literally all over the world for something suitable, couldn't find anything, so we made the decision to start our own which we've been working on since January," he says.
The plan is to roll out the DMS platform Australia-wide in 2022, and eventually take the software global.
"There's a lot of people that offer software that tries to do what we're doing; it's just not a complete solution. They all have large shortcomings in one particular area," he says.
"Ours will be a 100 per cent cloud-based solution. If at the dealership wanted to do a ride day offside in the middle of nowhere, so long as I have 4G phone reception I can log in and do a vehicle contract on the spot."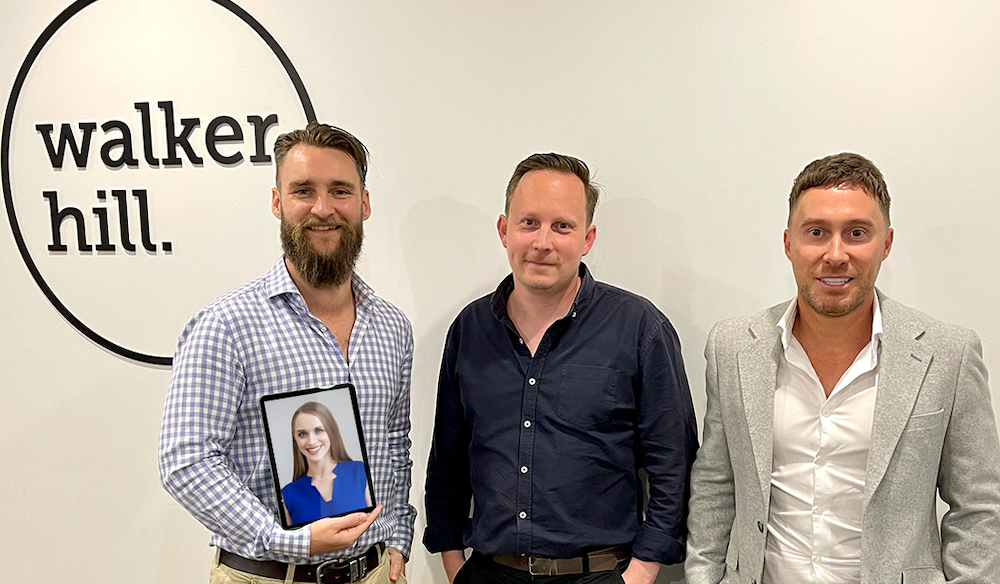 97. Lana Hill (31), Nick Hill (36), Andrew Walker (37) and James Walker (39)
Walker Hill Group
Brisbane
Helping businesses grow since 2012, the Walker Hill Group accommodates start-ups and well-established companies with all their digital and financial needs.
Equipped with an array of specialists covering accounting, social media marketing and mortgage brokering, the group has been on a recruitment drive this year amidst growth in new projects and clients.
Last year the company brought its accountancy, digital and finance businesses all under the one roof, which co-founder Nick Hill says has brought added benefits in 2021.
"As a result of the consolidation we've found a lot more collaboration across not only our staff but the service offering," he says.
"We've seen some really good growth in all divisions – all have been in the double-digits, and the digital business would be close to doubling in size."
The digital business grew out of the incorporate last year of Walker Hill Digital, co-founded by James Walker and Lana Hill and formerly known as Space Digital.
"James and Lana have both been in the digital space for over a decade, and in recent years identified a gap in the market for small businesses around Google Adwords and paid Facebook ads," Nick Hill says.
"They now specialise in this space and have helped not only their clients but those of the accounting firm take their small businesses to the next level."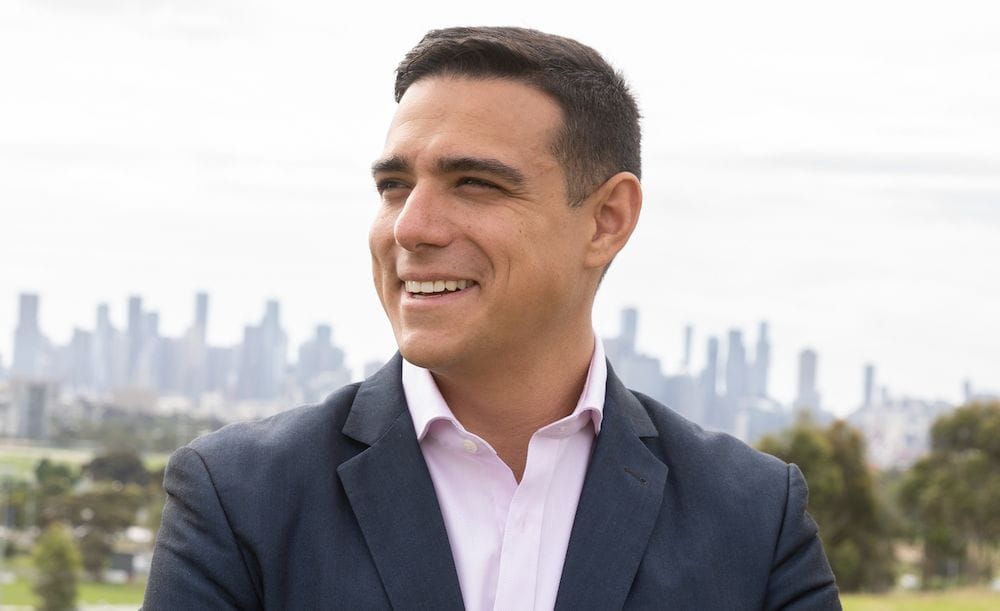 98. Daniel Pearson (34)
Melbourne
Ever since he first convinced his father to sell satellite internet to local businesses in his hometown Bacchus Marsh at the age of 16, Dan Pearson's entrepreneurial spirit has been insatiable, building up a veritable warehouse of companies in sectors ranging from pilot training to digital marketing to fitness technology.
The fastest-scaling business however is PingCo, with a Software as a Service (SaaS) offering specialising in voice and video calling that can be integrated into Microsoft Teams.
Microsoft is a longstanding partner of PingCo's, and is introducing the software integration to its global network of Tier 1 carrier telcos where the technology serves is a specific niche.
"Microsoft are introducing us to just about all of them because the technology we have solves problems for them to be able to use Microsoft technology more," Pearson says.
This is just one business in the stable however, which also includes digital marketing agency Soda & Lime, and its Incubator Hub with accelerator programs and co-working spaces in both Melbourne and the Gold Coast.
The Innovation Hub as led to the development of numerous companies such as electro-muscular stimulation fitness technology studio 20v, and business back-end service companies such as Longford Legal, HR Solutions and bookkeeping business Just the Right Balance.
20v was been running for less than 18 months as a tech-based gym with studios in Prahran, Tullamarine and the Gold Coast, with a Sydney gym due to open soon.
"It's all about electro-muscular stimulation and strapping yourself into a body suit that does the equivalent of a four-hour workout in 20 minutes...we've built studios, trained up staff and invested quite heavily in that space to roll that out," Pearson explains.
The TVSA Pilot Training business is also a major part of Pearson's portfolio of companies, all the more so in light of some of the structural issues that have affected the industry over the past 18 months.
"Travel will open up. Qantas announced recently the purchase of a whole new fleet of aircraft – they don't have enough pilots to fly their current aircraft," he explains.
"Our pilot industry's been decimated by COVID because of the forced retirement, and people aren't going to come back to flying again. They'll never get the Qantas EBA contracts they were on.
"All the young guys are actually being poached. The US have poached a lot of our pilots already."
It is against this backdrop of shortages that the entrepreneur sees strong demand for pilots, so he is optimistic that the millions spent on dedicated training, accommodation facilities, and upgraded or refurbished aircraft, will pay off.
"It's a very capable and well-placed organisation to solve the demand problem of pilots in the future."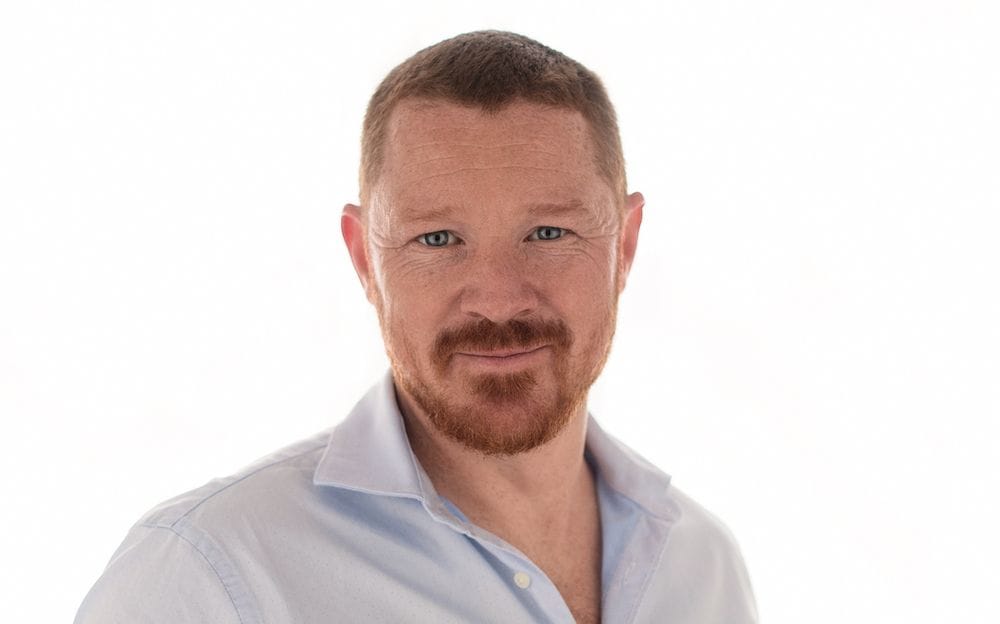 99. Paul Eastwood (38)
Pollen Consulting
Sydney
As businesses come to grips with a global logistics paradigm in flux that has exposed weaknesses previously overlooked, Paul Eastwood's business specialising in end-to-end supply chain consultancy finds itself in a sweet spot.
In this context he notes there is the noise of businesses needing to figure out how to get through the pandemic in the short term, but better businesses are looking beyond the fires they need to put out now and how they can be poised for future success.
"When you peel back layer of COVID chaos and you get to what's underlying, there's a big change in consumer demand preferences and also business' views of supply chains," Eastwood says.
"Historically businesses used to see supply chains as the end of the process – the bit that gets the products out the door, and not something that's core or of strategic importance.
"COVID has accelerated the multi-channel purchasing behaviours and the risk in supply chains. What people are suddenly realising is a strong supply chain is actually a competitive advantage to them."
With a growing business in the UK and a recent entry into New Zealand in November, Eastwood sees now as an ideal time for Pollen Consulting to capture market share.
"We're a very small part of the market...if you think about market share, we look at this as a great time to grow," Eastwood says.
"We're getting new clients we haven't worked with before, but we're always historically very good at maintaining and building the client base.
"When people work with us, they generally only ever work with us going forward. And that's how our legacy of our growth's come."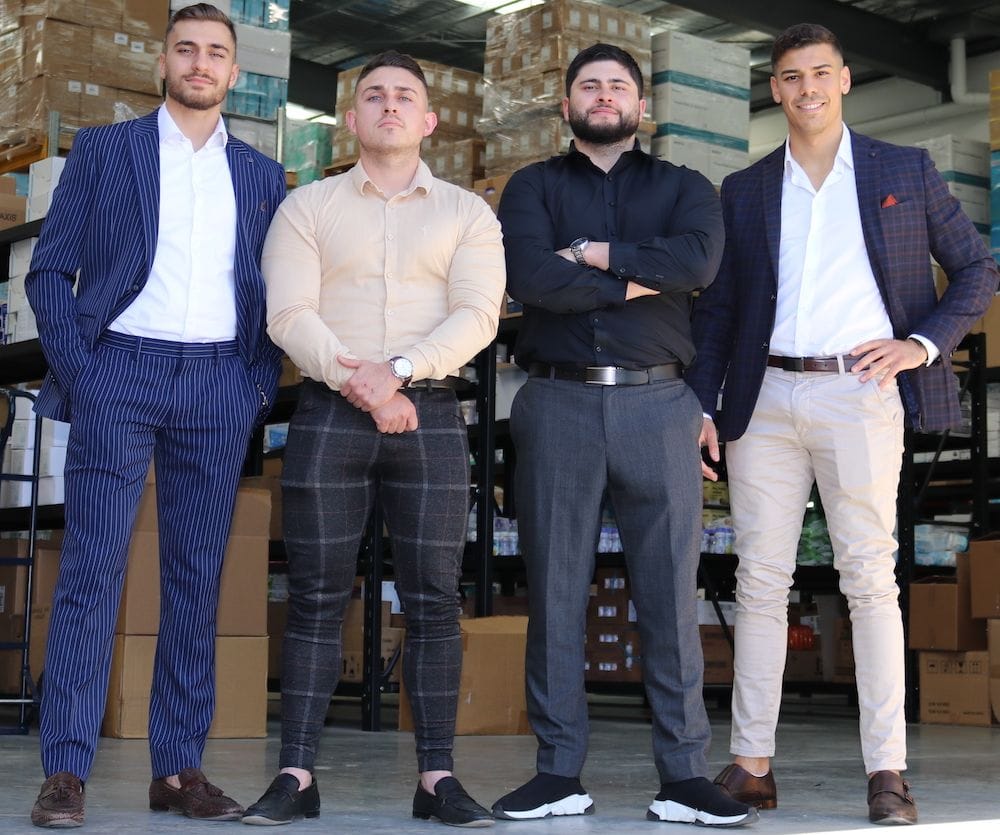 100. Jamal Elamsy (25), Dylan Johnstone (25), Burak Kamit (26) & Omar De Guise (25)
Melbourne
When COVID-19 sent the supply chain into a tailspin, these four friends banded together to supply healthcare equipment during a time when it felt impossible to get your hands on it.
The founders each brought a unique perspective to the table from their backgrounds in digital marketing, engineering, wholesaling and safety to tackle the healthcare sector head-on.
"A lot of the people that we were speaking to at the time requested that we have an organization that was niche to the medical market, so we called ourselves Platinum Health Supply Group - that was pretty much how we started," explains De Guise.
De Guise also notes that when the virus struck in early 2020, global companies supplying personal protective equipment in Australia focused on sending stock to Europe and America as increased profit. But Platinum Health Supply took a different approach.
"We focused on the Australian market and supplied a number of hospitals, aged care homes and the government," says De Guise.
"We also had an opportunity to supply the Hong Kong government very early on, and that pretty much opened the doors for us to be able to bring in stock to Australia where no one can or no one could. "And we still have a strong relationship with our suppliers overseas in China. We have a great network of people that we deal with."
Initially, the site stocked between 50 to 100 products online. A year later, it now has more than 3,000 products and is set to double that figure in the next six months.
The group focuses on giving back to the community, and donates 1.5 per cent of all gross sales from its custom-made Starlight Children's surgical masks back to the charity. "We don't have the red tape like most organisations do. If a client wants to be able to get stock then and there, on the next day, on a weekend - we do make it happen by jumping through hoops," says De Guise.
---
Click below for this year's top 100
Get our daily business news
Sign up to our free email news updates.