Hot on the heels of its $20 million acquisition of Freedom Foods' (ASX: FNP) cereals and snacks division, iconic biscuit company Arnott's is growing its breakfast market footprint with a 75 per cent acquisition of Diver Foods for an undisclosed sum.
Founded by the Diver family in 2003, Melbourne-based Diver Foods is the largest manufacturer of healthier snack bars and breakfast muesli products in Australia.
Diver Foods owner and managing director Chris Diver (pictured above) will continue to own 25 per cent of the business with the deal due for completion later this month.
"Over the last 18 years, Diver Foods has successfully partnered with an array of leading brands and retailers to become one of Australia's largest cereal and snacking manufacturers," says Diver, whose company contract manufactures products for the likes of Carman's Fine Foods, Woolworths, Coles, Kelloggs, Nestle and Mother Earth.
"We see huge potential for the future and are excited at the prospect of joining with a business like The Arnott's Group that has similar values and strong Australian heritage.
"Together, we will remain focused on quality, local ingredients, investing in sustainable supply chains and partnering with the communities in which we operate."
After more than a decade under the full ownership of the Campbell Soup Company, in mid-2019 Arnott's was bought by US private equity firm Kohlberg Kravis Roberts (KKR) for US$2.2 billion.
Following today's announcement Arnott's has slated plans to launch a new business division, Good Food Partners, branching out from its portfolio historically centred around biscuits, soups and juices.
The Arnott's Group CEO George Zoghbi (pictured below) says the company is a custodian of a 150-plus-year legacy of Australian food manufacturing, and has "made no secret" of its desire to build on that with expanded operations nationally.
"Diver Foods presents a fantastic strategic growth opportunity for us, with products and capability that will complement our existing brands while helping to diversify our iconic product portfolio and drive our entry into new categories," Zoghbi says.
"Our intention is to create a new cereal and snacks division that will bring the Diver Foods and Freedom Foods businesses together when the transactions are complete.
"We are currently working closely with Chris on how best to integrate their operations into The Arnott's Group family and look forward to sharing more detail about these exciting plans when they are finalised."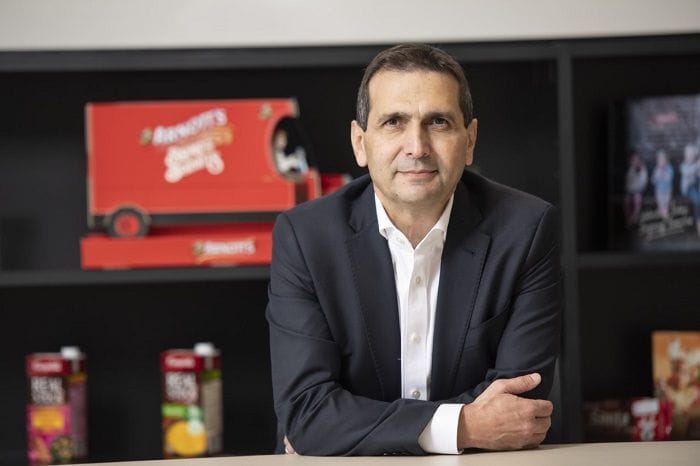 Never miss a news update, subscribe here. Follow us on Facebook, LinkedIn, Instagram and Twitter.
Business News Australia
Get our daily business news
Sign up to our free email news updates.