Many people think that entrepreneurs are always pursuing things that haven't been done before. While this may be true of some, most are seeking to do something better rather than something new.
This is certainly the case for many of the entrants here.
Whether adding new flavours to the food and beverage space, leveraging technology to offer an improved recruitment service or applying the principles of Airbnb to a new space, these entrepreneurs thrive off elevating ideas.
---
31. Vu Tran (30), Chris Hood (37), Andrew Barnes (30) & Chris Eigeland (29)
GO1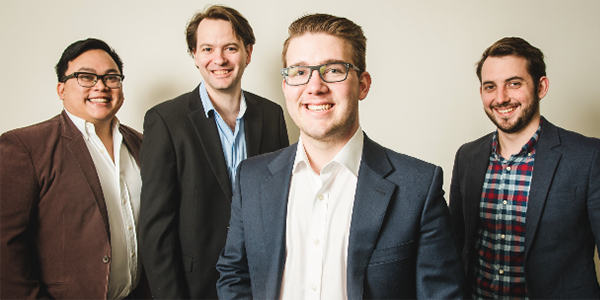 The four founders of Queensland's GO1 have never been ones to take it slow.
Dubbed as 'Netflix for the workplace', GO1's mission is to make learning easy. With thousands of resources and course from the world's top training providers there's hardly a topic not covered by the GO1 platform.
GO1 was named in the Top 25 most sought-after startups in Australia by LinkedIn in 2018 and has more than 500,000 courses and learning resources in total from a variety of content partners.
More than 22 million users have access to GO1's content through its platform and integrated partner network.
Customers include ANZ Bank, Delta, Hasbro, NBC Universal, St John Ambulance, Suzuki and Thrifty.
Earlier this year the group moved their global HQ to the city of Logan, just south of Brisbane. The new HQ is the launchpad from which the group will continue to grow its global business.
"Logan is a high-growth area and well-connected with its transport infrastructure, making it easy for our staff to travel and have a work-life balance that is the envy of many," says Tran.
In March, the tech startup success raised more than $30 million in a series B funding round led by M12, Microsoft's venture fund. As part of its investment M12 received a seat on the board of of the startup.
Even more recently, GO1 partnered with ASX-listed intelliHR on a revenue sharing agreement, under which the two will construct an integrated ecosystem of HR tools for business.
IntelliHR will be promoted as a member of GO1's partner community, increasing intelliHR's third party lead generation capabilities and its footprint.
---
32. Josh Cameron (30), Alex Ghiculescu (28), Tasmin Trezise (26) & Jake Phillpot (27)
Tanda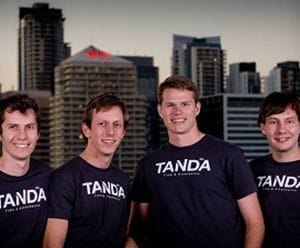 Tanda began as a solution to issues Tasmin, Jake, Josh and Alex experienced while they were still studying at the Queensland University of Technology.
As leaders of the QUT Student Guild the Tanda founders represented thousands of students, with their responsibilities encompassing the handling of QUT's commercial outlets.
Time theft, inaccurate attendance logs, and shift tampering were rife within the organisation, so the group set about building Tanda: a simple, convenient and comprehensive way to manage staff.
"We needed a simpler, more convenient, yet comprehensive way to accurately track time and attendance - and if it worked for our employees at the school, then we could surely expand it to make it work outside of it," says Trezise.
"What we offer is total workforce success: giving businesses labour insights on wages, rostering, and attendance to take the guesswork out of people management and free up time for managers to do what they're best at."
Since its inception in 2013 Tanda has gone on to find serious success in Australia and overseas.
Tanda's recent acquisition of US company Human Capital Media and their new partnership with the workforce brand that arose as a result is fuelling growth for the years to come and will enable the team to expand even further internationally.
---
33. Dr Sean Parsons (39)
Ellume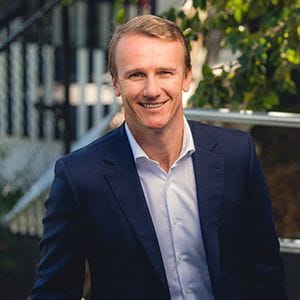 After experiencing the strain placed on doctors to diagnose patients during the swine flu epidemic in 2009, Parsons took the leap from doctor to entrepreneur in a bid to solve a pressing problem.
He believed that with the right technology and service patients would be able to self-diagnose at home. The task then was to make that vision a reality.
In 2010 he founded Ellume and undertook seven years of technology development at the company's facility in East Brisbane.
As a result Ellume has created easy-to-use patented products with small biosensor chips and 'quantum dots' that assist in detecting and diagnosing common treatable illnesses.
Ellume has scored partnerships with GlaxoSmithKline for influenza testing and Qiagen for tuberculosis.
"What we're doing is it's really democratising the diagnosis of tuberculosis by putting it in the hands of small laboratories that can do it more readily and more quickly, and putting it in the hands of clinicians so they can diagnose TB rapidly and accurately in their office," he says.
There is a potential IPO on the cards as well, and the company is also on the commercialisation path for its Ellume.lab professional platform as well
"Those products are about the technology to enable doctors to make rapid and accurate diagnoses of common conditions such as flu and strep, and that's mostly focused on the US market," he says.
---
34. Justin Hales (38)
Camplify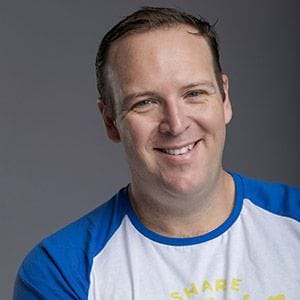 Just like Airbnb did with properties, Hales has made his mark on the sharing economy with Camplify by putting idle RVs to good use.
His idea and business model were so promising that Apollo Motorhomes bought a 25 per cent stake in 2017, just two years after Camplify was established.
"What Apollo brings is 25 years of RV rental experience they've been able to assist us greatly around the actual process of how to effectively run a rental fleet," he says.
"For us it's about making sure that we definitely do grow and we meet the demand of both sides of the marketplace, but we want to have a business that actually supports our customers and provides sustainable growth because this is a community of customers who use our service."
What began as an Australian community has gone global with more than 150,000 customers worldwide.
The company recently launch into New Zealand where Hales expects an "exciting market" once marketing ramps up, as well as in Spain where there has been a phenomenal take-up of customers.
Camplify is teaming up with a small village tourism group called Bonita España (Beautiful Spain) that encourages people to visit more of the country's interior rather than just the highly-frequented coastal towns and cities.
Once the business is firmly established in Spain, Hales intends to be present across the Iberian peninsula with an expansion into Portugal, with potential for operating in other European countries too like Italy, France and Croatia, in addition to a US entry in the pipeline.
---
35. Drew Bilbe (33) & Troy Douglas (30)
Nexba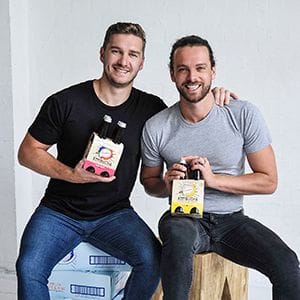 Going up against the major beverage companies is no easy task; with decades of name-brand power plus deeper pockets than any startup could ever hope to contend with make the sector supremely intimidating.
But as consumers are increasingly looking for healthier options, and turning away from products high in sugar content, the sector is ripe for disruption.
Nexba is certainly on its way to achieving that level of disruption with its diverse range sugar-free soft drink, tonic, and kombucha substitutes.
This year was arguably the company's best yet: Troy and Drew signed contracts with groups like Domino's, Coles, and Woolworths and they set a record for the largest non-tech crowdfunding raise in May.
The Sydney-based company is currently expanding into the United Kingdom with a leading supermarket retailer backing their launch.
And perhaps most indicative of their booming success is the opening of Nexba's 'innovation lab' in St Leonards, allowing the group to experiment with new products and acts as the ideal place to bring prospective clients and customers.
While Nexba might be sugar-free, Troy and Douglas are certainly about to seriously hit some new highs in 2020.
---
36. Mathew Stillone (35)
Integrity Food Co, Botanika Blends, Protein Supplies Australia, Stillone Investment Group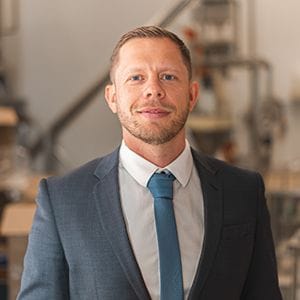 After building his protein supplies business from the ground up to become a manufacturer with nationwide distribution, Stillone came up with a concept that would utilise his knowhow to assist health food businesses reach their full potential.
The result was Integrity Food Co, founded in mid-2017 as a contract manufacturer to work with smaller businesses.
"I wanted to bridge the gap between the small disruptors and innovators and retail, allowing them to bring their ideas to life, get them to the market quickly and grow with them," he says.
"We help brands bring their concepts to life with in-house R&D, test labs, pilot batches and full turn key solutions from customised products to 'white label' ranges. Our focus is around natural, healthy and honest ethical business."
The company has completed 207 projects to date and 52 custom formulations, and carries a wide range of certifications in food and dairy processing as well as other global and domestic standards.
Stillone remains focused on food trends and niche products to bring new products to the market more quickly, and so far has launched world firsts including a probiotic plant protein porridge and a vegan macaroni and cheese.
The company has also invested in facilities to manage vegan and allergy-free products for a growing consumer market in both those segments.
---
37. Marquis Pohla (37)
Metrix Consulting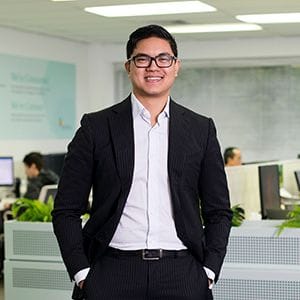 Marketing today is tougher than ever, and whilst data can be a useful tool it can also be overwhelming and potentially distract business leaders from the bird's eye view that's needed to formulate good strategy.
For 10 years Pohla has been growing his business Metrix Consulting by leveraging insights to give marketers "the full picture, not just fragments of it".
"Marketers have always needed insights they can act upon, but today more than ever we seem to focus only on what is in front of us. Information alone is passive," he says.
Pohla has sought to become a leader in the space through the creation of innovative, off-the-shelf big data products, accessing data from a range of sources before applying analytics expertise to develop meaningful insights for businesses and brands.
This led to the 2018 launch of Metrix's 'Tourism Tracker', which connects credit card transaction data from a major bank with a geo-demographic segmentation model to provide granular tourism visitation data for any region in Australia.
The company's specialty in tourism also helped its selection as one of just four businesses to receive a Federal Government Business Research and Innovation Initiative (BRII) grant as part of the development of an Australian tourism "knowledge bank".
"Other innovations in the pipeline include a product that will allow FMCG retailers to cost-effectively predict the likely ROI from in-store changes, and a product that will provide retailers and service providers with a more granular way to track category growth and changes in market share," says Pohla.
---
38. Drew Roberts (39) & Daniel Cully (40)
Triaxial Consulting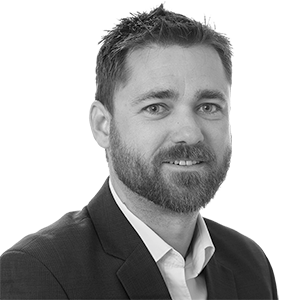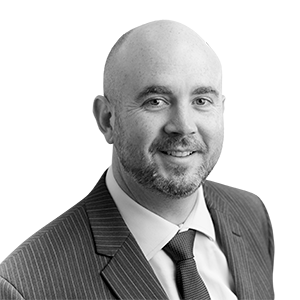 When Cully, Roberts and Jeff Knox started trading in 2012, the idea was to create an engineering consulting company with a wide range of expertise and good service.
Fast forward seven years and they now have seven offices in Sydney, Parramatta, Mudgee, Bathurst, Darwin, Adelaide and Barossa, with potential openings in Melbourne, Brisbane and Albany in the pipeline.
"We have sustained a healthy organic growth which can be directly attributed to the prompt, personalized and professional service afforded to all our clients," says Cully, noting the company's growth has been self-funded.
They offer a wide range of structural and civil engineering consulting services, with particular expertise in property, construction and mining, but also offering solutions in the rehabilitation, remedial, insurance and legal industries.
A cloud-based IT system and flexible work environment have also helped the team to be more adaptable and farm work around the country, keeping offices busy when otherwise they might be "light on".
"For example, a project won in Sydney could be designed in Darwin and drafted in Bathurst," says Cully.
"We have a clear strategy to chase larger more lucrative contracts now that we are at the size and have the resources available," he says, noting there will be a move away from smaller projects and more focus placed on government jobs.
---
39. Sean Barry (30) & James Strathdee (35)
One Power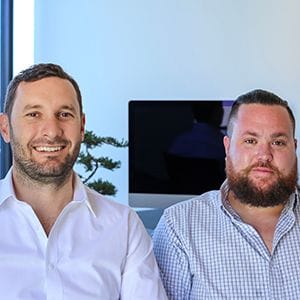 One Power is uniquely positioned to ride high on the solar revolution continually sweeping the nation.
The company is a solar power retailer that works with leading wholesalers to bring clients the best offers possible.
One Power is a one-stop-shop, and carries out all applications, installations, and works with clients after installation to ensure they're receiving the maximum savings possible.
The Gold Coast-based group recently expanded into Sydney, where Strathdee says the company is seeing great early signs.
Like many of our Top 100 entrepreneurs Strathdee is expanding his empire and diversifying where the opportunity arises.
His latest venture Cobra Digital, founded with Reuben Scheckter, is a dynamic advertising and lead generation agency.
The group launched in June last year with a mission to source better-priced leads for One Power.
When the Cobra Digital team started generating far more leads than One Power could service, they began selling 'hot leads' to businesses across a range of industries. The quality of those leads earned Cobra Digital a strong reputation in the ultra-competitive media buying space.
Cobra Digital also launched its own eCommerce brand MeTea this year; dubbed the world's most caffeinated tea product.
---
40. James Meagher (39)
MAX Build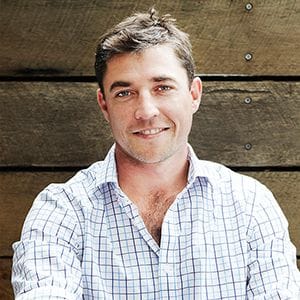 After completing his carpentry apprenticeship Meagher had the opportunity to work for a fit-out company, but he was fascinated by the prospect of renovating old properties with a remedial building company.
This decision put him on an ascendant career trajectory to learn all about managing operations, and in 2009 he bought a dilapidated terrace home in Darlington, Sydney, renovating at night and on weekends.
"Once it was finished, I had the property revalued and extended the mortgage to cash flow my new business," he says.
Thus MAX Build was born in 2011 with three main business streams: rectifying sub-standard developments; rectifying older, weathered buildings; and renewal projects.
In its eight years of business the company has completed one of the biggest Home Building Compensation Fund (HBCF) insurance claims in strata history, which involved replacing 176 bathrooms while most occupants were still in residence.
The company has also won a tender to rebuild an 18-unit building overlooking Bondi Beach.
Meagher says in an environment that has trended towards sub-contracting, he has gone in the opposite direction with in-house teams.
"Why? We are convinced that to get the best quality you need ownership and accountability," he says.
"We are doing all the right things and have a very solid foundation for growth."
---
Click below for this year's top 100
Get our daily business news
Sign up to our free email news updates.
Help us deliver quality journalism to you.
As a free and independent news site providing daily updates
during a period of unprecedented challenges for businesses everywhere
we call on your support