Job creation is often brought up in discussions about entrepreneurship, but employment is about more than just a bunch of names and figures in your Xero payroll.
The companies in this section impact the lives of staff in many ways, whether it be tailoring the employee experience within large multinationals, upskilling for the future or providing better food to workers in remote areas.
One of the companies even has its own incubator program to foster entrepreneurship amongst its employees, while others are making waves in areas such as health & fitness, supply chains, fashion, hospitality, user testing and app development.
---
51. Bernard Mangelsdorf (33) & Kane Sajdak (31)
BITS Technology Group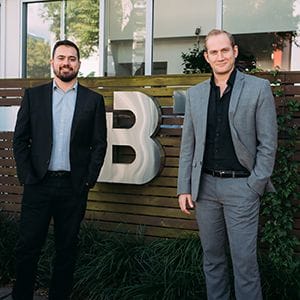 Automation is fast enveloping most aspects of human life, and those clever enough to harness its powers are coming out on top.
Two entrepreneurs doing just that are Kane Sajdak and Bernard Mangelsdorf, whose award-winning company BITS Technology Group is looking far into the future.
The duo have realised that collaboration is the key when it comes to innovation.
In March, Sadjak and Mangelsdorf teamed up with 2018 Young Entrepreneur Awards winner Thuy Lam, founder of Blackbook.ai, to develop an automation as a service product.
From things like finance and accounts payable, accounts receivable, and other back office operations, Blackbook.ai and BITS are working to streamline processes that are often offshored by Australian businesses.
More recently, Sajdak revealed his latest venture in partnership with two other Young Entrepreneur Awards alumni Karl Brown (founder of Instyle Solar) and Tomas Steenackers (founder of National Veterinary Care (ASX: NVC)).
Called Homeguardian.ai the device is a patented AI machine that uses sensors to monitor the interaction of objects and people within its surroundings, and alerts carers and family members if an elderly or disabled person is to fall over.
The device promises to revolutionise the aged care sector, and it couldn't come at a more pivotal time.
The industry as a whole in Australia has been under significant fire, with allegations of neglect and abuse rampant at aged care facilities nationwide.
The device, which does not require a WiFi connection to operate, is ideal for elderly people that prioritise privacy but still require that extra bit of attention.
---
52. Tim West (38)
12RND Fitness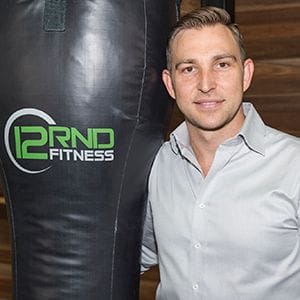 West is a master when it comes to the business of health and fitness.
Before starting popular boxing gym 12RND in 2014 - which became a franchise in 2016 - he had a hand in growing several major Aussie fitness brands including FitText, a few Jetts franchises and the personal training booking service EzyClient.
After exiting the latter West saw an opportunity to offer sports and team-based fitness to the public, going against the grain of "fad-based" fitness that was in vogue at the time.
"It also needed to offer the functional aspects and conditioning that I valued from my studies. I made the initial decision to take the leap of faith and open a 12RND concept store to test the product," he says.
"Looking at the existing markets, I created solutions for what I had identified as barriers to growth in the fitness industry."
The concept was immediately successful, reaching capacity within six months despite zero brand awareness.
"In a consumer space, our major points of difference are skill-development, convenience, support and technology, whilst in the business space, we differentiate through higher revenue potential and higher member retention," says West.
Four-time boxing world champion Danny Green has been instrumental in helping to build the business, with 80 more than clubs now under 12RND's belt including international expansions into Singapore and New Zealand.
---
53. John Goleby (32) & Andreas Zhou (33)
Orange Digital, Askable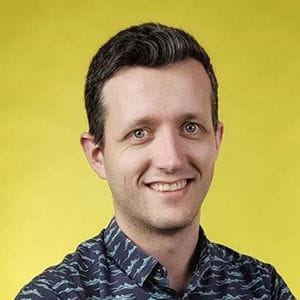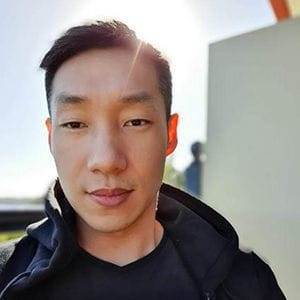 After studying industrial design together at QUT, Zhou and Goleby decided a traditional career was not for them, so they formed their own company instead.
From its origins in Goleby's dad's garage and with funding coming from side hustles and part-time work, Orange Digital has gone on to become one of Brisbane's leading digital marketing agencies.
In an industry where attracting talent is extremely competitive, in 2013 the pair decided to set up an internal incubator program within Orange called ThinkDo, giving staff one full day a week to create and launch their own products to market.
"When we met at uni we started a project together that stopped your headphone cords from tangling, and there was another one with a sugar packaging solution, so we really began with innovation and thinking of new ideas to solve interesting problems," says Zhou.
"We wanted to bring that back because it was a cultural value for us."
To date ThinkDo has spawned more than 30 products, of which Askable is arguably its biggest success story.
Launched in 2017, Askable solves a major pain point for businesses by finding, organising and paying participants in usability testing and market research; a massive and expensive challenge for UX designers and researchers.
Askable was monetised from day one and in a short space of time it has attracted major customers including Atlassian, Qantas, Vodafone, Medibank and Flight Centre.
The company is now standing well and truly on its own two feet, and is currently relocating from Orange Digital's headquarters in Brisbane's Fortitude Valley to The Barracks in Petrie Terrace.
A recent expansion into New Zealand has augured well for the platform's demand and functionality overseas, with further international openings on the horizon and a new move into online self-moderated testing also on the cards.
---
54. Craig Johnston (28) & Lucy Johnston (31)
Temp Chef Labour Hire, My Private Chef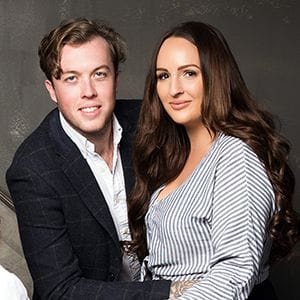 In the past year the Johnstons' Temp Chef Labour Hire (TCLH) secured its two biggest contracts to date, providing hospitality services for remote working camps in Queensland and Western Australia.
Both had a background in hospitality, and with humble beginnings the business was founded in 2015 servicing local restaurants around the Gold Coast.
"There was no office or home computer, so for the first six months everything was done on the computers at Broadbeach Library, including writing up the first client agreement," says Lucy.
"As the business grew we both learned that our expectation levels of service and quality were much higher than the standard that was out there, and this was both disappointing and frustrating.
"So, we decided to work harder and harder to start raising the bar in people's expectations, and delivering a better service of chef hire than ever previously received."
TCLH's reputation and workforce grew in the process, along with a substantial widening of its geographical range.
"We saw a gap in the market in the remote hospitality industry and decided to move the business in that direction," says Lucy.
"Our areas of service delivery are the remote industries - mainly mining, oil & gas and remote construction.
"We now proudly service ASX-listed clients such as Toll Energy & Mining, Civeo Mining Camps, Northern Star Resources, WBHO Infrastructure, Main Roads WA and Road Tek QLD to name a few.
Lucy says one of the best things about TCLH is its ability to "put back into the local community" by hiring and upskilling Indigenous Australians, running wellbeing programs for remote workers and educating people about nutrition.
"We believe that a nourished, well-fed workforce is a happy and productive workforce; something that has been fed back to us from our clients time and time again.
---
55. Scott Chapman (36) & Shae Chapman (35)
The SS Group, Mashed Pumpkin Productions
From a path that began in franchising and continues with four Zambrero Mexican restaurants in Queensland, the Chapmans have now expanded into consulting and media.
"Don't put all your eggs in one basket," is their motto.
They have especially become sought-after consultants in the quick service retail (QSR) sector, but they also support not-for-profits; Scott serves on the board for child protection agency Bravehearts.
Before getting into hospitality Scott previously worked for the likes of Morrison Media and Southern Cross Austereo, which was partly what prompted the decision to launch Mashed Pumpkin Productions.
Through this new venture they have worked with talented director Jack Laurence to produce and promote a new TV series called 'Please Rewind'.
After season one of the series they intend to pitch season two to Screen Australia and then to other networks including Netflix.
However, the retail space is still the major driver of growth with six restaurants opened in the past four years.
"Last year we sold one of our stores for a record price within Zambrero," he says.
"Our restaurants have now donated over 600,000 meals to people in need in the last five years."
---
56. Dougal Jackson (40) & Jen Jackson (37)
Everyday Massive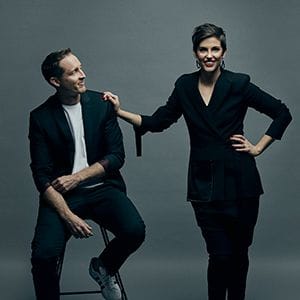 For Jen and Dougal Jackson, prioritising the wellbeing and happiness of employees is essential for any business in 2019.
This rings especially true for the Millennial workforce, who are increasingly looking for something more than just a pay packet at their place of work.
Everyday Massive exists to assist businesses in improving the experiences employees have at work.
Their secret? Human connection.
The business Jen and Dougal run isn't your traditional consultancy company.
Angling in at the intersection of art and science, the team at Everyday Massive employ behavioural and motivational science with psychology and top-notch creativity to help organisations transform the employee experience.
Their client list is certainly impressive too: PepsiCo, Amazon, Bond University, BOQ, Nestle, Coca-Cola Amatil, McDonalds, and even the Australian Government have turned to Everyday Massive for assistance.
---
57. Lisa Parnis (39)
Redhero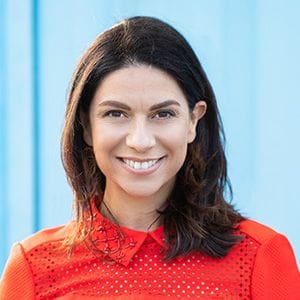 As the founder of rapid upskilling company Redhero, Parnis believes that helping businesses prepare for the workforce of the future should be a critical priority for every CEO.
"And if not, then it should be," says Parnis.
As a former sales capability manager at Google, the entrepreneur has encountered many businesses leaders around the world who struggle to adequately define what knowledge or skills their staff needed to be truly "awesome".
"Knowledge is not skill, and most of the learning industry focuses on knowledge," she says.
"But you can be highly knowledgeable about a particular subject and not be able to apply that to your real job and your real life to actually be competent."
When coaching and training clients, Redhero aims to lift productivity by giving them a deployment mechanism for lifting knowledge to make the strategy scalable.
In the end this often means that rather than going through the rigmarole of hiring and firing for new positions, businesses can build their future workplace structures around the human resources they already have.
"Redhero leverages technology and its proven RapidUpskill models to achieve immediate skill uplift. We heatmap that capability to on job performance in real time, so that clients know exactly what learning each human in their business needs," she says, adding this business model has made customers more than $20 million since the business began.
"Businesses leverage data to make smart commercial decisions, but they dont know how to turn the capability of their teams into a dataset they can use to unlock the potential of their people and drive commercial outcomes."
---
58. Louise Elia (28)
Eliya The Label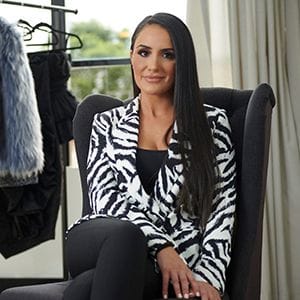 After quitting her lab job in cosmetics to follow her true calling in 2015, fashion has proved the right way forward for Elia.
She founded Eliya The Label in 2016, a womenswear label specialising in cocktail dresses and statement party pieces for a target audience aged between 17 and 45.
"Every piece is designed with the sole intention to give women the confidence to step out in one of our pieces and feel absolutely sensational, to celebrate being a woman and to be able to feel fearless and powerful," she says.
Her designs have been sported by the likes of Rebecca Judd, Delta Goodrem, Sophie Monk and Jennifer Hawkins to name a few, and growth has been steady with items stocked in 50 premium boutiques in Australia and globally as well as e-commerce channels such as The Iconic.
With her Lebanese cultural background, Elia is very cognizant of the wide variety of cultures and beliefs that exist and her manufacturing-on-demand business model helps allows her to adapt easily to different customer demographics.
"To offer a competitive edge and to appeal to customers who may have limitations within their cultural beliefs as to what can and cannot be worn, we have recently been offering customisation to our designs upon request for women that may need sleeves or the length of their garment changed," she says.
Her goal in 2020 is to have 80 retail stockists for Eliya The Label across the globe, with a particular focus on department store majors such as David Jones, Harvey Nichols and Bloomingdales.
---
59. Paul Eastwood (36)
Pollen Consulting Group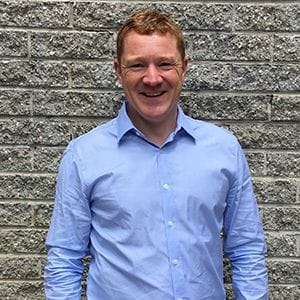 In 2019, supply chain is everything.
With goods moving at an extremely fast pace around the world and within Australia, it takes a special someone to help manage that process.
Pollen Consulting Group (PCG) has the supply chain for the fast-moving consumer goods sector (FMCG) locked down.
At just 33, Eastwood founded PCG which has since grown into a major player in the FMCG logistics sector.
By finding the best possible solution for clients, PCG's mandate is to maximise profitability and minimise waste.
"I have a real passion for simplifying supply chains and operations and thrive most on the factory floor with our team and clients," says Eastwood.
"We are confident in our delivery and as such can offer satisfaction guaranteed payments which really helps to get the best results.
"Most recently we have added to our list of capabilities beyond just consulting, we can now offer asset advisory, procurement, Pollen Technology and our Training Academy to our portfolio of services."
Eastwood also has long-term contracts with leading food and beverage industry players like Woolworths.
---
60. Michael MacRae (29) & Jamie Shostak (24)
Appetiser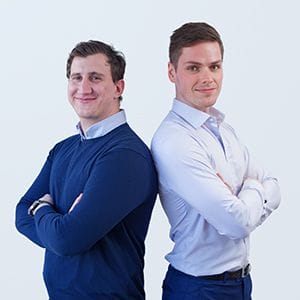 After McRae and Shostak met at a coffee machine in a co-working space in Melbourne, Appetiser was formed in 2016 with a view to offer native and web app development for startups through to large companies.
With a plethora of apps out there, many of which are either pointless or lacking on the user interface front, Appetiser has an emphasis on good design and helping clients achieve their goals.
It's a philosophy that has helped the likes of Youfoodz, Schweppes, Lego and the Salvation Army.
Now in its third year of operation, the company has four offices, more than 100 staff and startup clients that have gone on to record valuations worth around $269 million.
The idea for Appetiser did not simply appear out of thin air however. The two were experienced entrepreneurs even at a young age.
At 14, Shostak had started a server network for gamers, and at 18 he managed advertising for a free bottled water project with biodegradable plastics.
McRae already had a few notches on his belt in app development before the pair met with his first company amiiSolutions, developing successful apps such as "First Time Pregnancy", a GPS encryption app with audio-visual integration called Geavi, and a White Ribbon Australia-supported app designed to reduce violence against women.
---
Click below for this year's top 100
Get our daily business news
Sign up to our free email news updates.