The Commonwealth Bank of Australia (ASX: CBA) has continued into aggressive push into the digital space following a $20 million investment in electricity retailer Amber - a start-up whose platform is aimed at supporting the transition to renewable energy.
The announcement comes hot on the heels of a $30 million investment in online retail aggregator Little Birdie to enrich the CommBank app (more below), and a partnership with BigCommerce just over two weeks ago to help business customers create their own online stores.
Amber, founded four years ago in Sydney by Chris Thompson and Dan Adams, offers customers real-time access to wholesale retail prices, which it says empowers them to save on their energy bills.
The service also shows the percentage of renewables in use at any given time, allowing customers to modify their power usage to maximise power consumption during these periods.
Following the Series B capital raising, CBA is partnering with Amber to offer services and discounted pricing to its customers. In turn, Amber plans to steer customers to CBA's CommBank Green Loan that provides lower-cost finance for the purchase of household batteries, smart electric vehicle chargers and other smart devices.
Amber, which launched its app to the market last year, provides a fee-based service charged at $15 a month. Under the partnership with CBA, the plan is to boost its customer base to 100,000 by next year, which would give Amber a base subscription of $18 million a year.
Adams, the co-CEO of Amber, describes the partnership with CBA as a "big step" towards shifting Australia to renewables by incentivising customers to save on their power bills.
"CBA's investment in Amber means we can accelerate our business to reach more people sooner and fast-track Australia's renewable transition," he says.
"With a million Amber customers, we could shift enough demand to replace an entire coal-fired power station with wind and solar farms."
Amber is also currently developing technology to optimise household batteries, EV chargers and other smart devices to automate the load shifting for customers to low-cost and renewable power.
"Through this partnership with Amber we will help our customers see how their energy costs are calculated, help them save money on their energy bills and help them use renewable sources of
power," says CBA group executive Angus Sullivan.
CBA's $20 million investment in Amber follows a $10 million Series A funding round completed in September last year.
The investment in Amber is the latest in a series that highlights CBA's insatiable appetite for emerging digital and e-commerce assets.
Earlier this month, it launched a partnership with Sydney-born BigCommerce (NASDAQ: BIGC) to help business customers create their own online stores by offering its customers integrated access to the BigCommerce platform. The move was a direct response to the rapid shift online by Australian businesses over the past year.
This week, CBA announced a $30 million investment in Little Birdie, which is described as the "new homepage of online shopping".
E-commerce aggregator Little Birdie ready to fly
Online retail may be saturated but there is still plenty of room for growth and refinement of the user experience. In fact, an excess number of e-commerce options plays into the hands of startup Little Birdie.
Founded by Jon Beros, Russell Proud, Guy Polak and Kalman Polak, Little Birdie's straightforward but AI-backed aggregation solution has attracted more than 1,000 before even launching, and attracted a $30 million investment from CBA before it even made a cent.
"We see Little Birdie as being a place where instead of having 10 or 12 different tabs open when you're trying to buy something online, without having to subscribe to 10, 15 or 20 different newsletters from different retailers to try to get an idea of what's happening," CEO Jon Beros tells Business News Australia.
"We're a friend to the retailer. Our model is to drive customers to the retailers. We're not a gatekeeper because we're not a marketplace that makes the transaction ourselves," he says.
"We don't keep the customer within our ecosystem - we actually pass the customer on to our retailer, and that's one of the reasons why we've been so supported."
He says Little Birdie is brand-agnostic and retail partners don't need to "pay to play" to be featured or ranked highly. The company gets a small commission from retailers for the transactions of consumers whose traffic it refers.
"It's a performance driven model where we get a fee for every successful transaction that goes through the retailer," he says.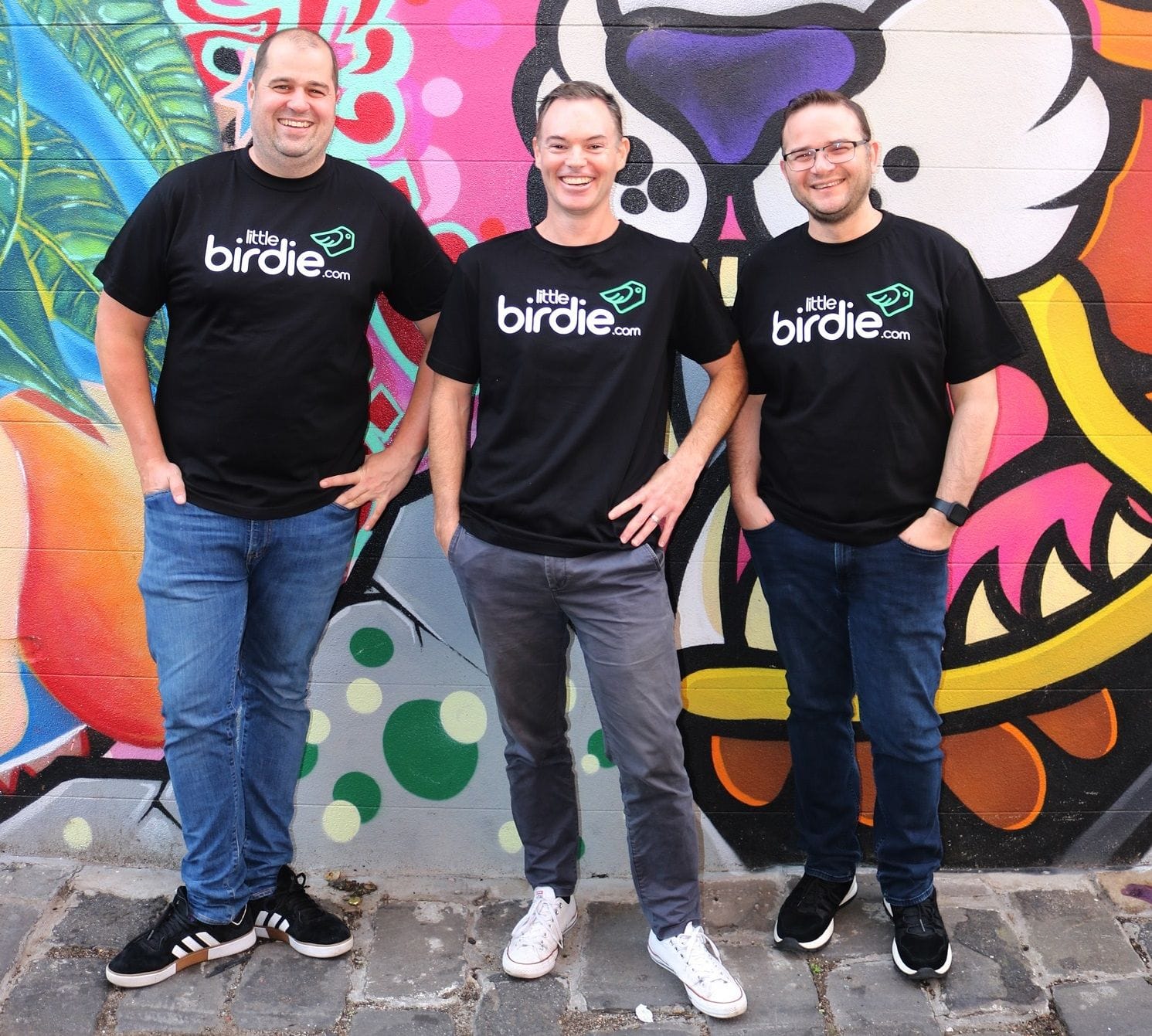 (Left toright) Little Birdie CTO/COO Russell Proud, CEO Jon Beros and head of partnerships & distribution Guy Polak.
Beros says the partnership with CBA was not part of the founders' original thinking, but rather came about because of a strategic fit.
"It's not so much about the funds that we've raised, but more so that partnership where we know from our perspective we've got over 1,000 retailers that have signed up the platform. Essentially we see our role as being that marketing or acquisition channel that sends qualified customers through to these retailers," he says.
"Then on the CBA side, they're looking to enhance their consumer experience within their app then getting access to our catalogue of shopping offers with over 70 million different products that they'll be able to access from our launch."
He says Little Birdie caters to both shoppers who are intent on buying a particular item, but can also curate to drive discovery by allowing visitors to find out what's new, trending and selling well.
"We feel that online is pretty good at really optimising your experience - it's pretty quick, you can find the items you're normally looking for pretty well, you can check out pretty easily, delivery's pretty good," he says.
"But what it's not great at and this is kind of our background is that real discovery lens where you just see something that you weren't even thinking about purchasing, but it's such a great offer or such a great brand that you end up making that purchase.
"Customers can also personalise their journey as well, so you can follow your favourite brands, you can follow your favourite stores, you can follow products and categories, and that way you can get your personalised view of the world as well."
Beros clarifies the CBA deal has some exclusions in place for working with other major banks.
"But part of partnering with other companies that have a large audience that are looking for shopping content is something that we'll be doing," he says.
"The ambition is definitely for this to be a global offering. We are looking to obviously get Australia cemented and up and running, but then definitely it's going to be looking at other regions and other markets internationally."
Get our daily business news
Sign up to our free email news updates.
Help us deliver quality journalism to you.
As a free and independent news site providing daily updates
during a period of unprecedented challenges for businesses everywhere
we call on your support