With a University of Sydney researcher estimating more than one billion animals have been killed in Australia's devastating 2019-20 bushfire season, businesses have pledged to lend a helping hand.
Woolworths Group (ASX: WOW) yesterday joined the likes of Cadbury and Crown Resorts (ASX: CWN) by pledging to donate at least $250,000 to animal welfare and rescue organisations around Australia to help care for wildlife affected by bushfires.
The retailer has already donated $10,000 to support those working to save Kangaroo Island's wildlife in South Australia, while local teams are contacting shelters in impacted regions to understand what further support is required on the ground.
In addition to financial support, Woolworths stores will provide practical support with donations of surplus food where possible.
As part of its efforts, the supermarket chain has engaged the NSW Wildlife Information, Rescue and Education Service Inc (WIRES) and the World Wildlife Fund (WWF).
However, Woolworths managing director for supermarkets Claire Peters says its financial commitment will go towards wildlife organisations both large and small.
"The impact of these bushfires on Australian wildlife has been truly shocking," says Peters.
"Our customers have asked us if there is anything more we can do both financially and through the donation of surplus food to help impacted animals.
"While we already have food diversion programs in place at all our stores with hunger relief agencies and farmers, we're looking for opportunities to donate any remaining surplus food to animal shelters after honouring our existing commitments."
After Christmas, Woolworths also extended its paid leave entitlements by four weeks for staff who volunteered for rural fire services.
The company has committed $3.7 million in total to bushfire relief efforts thus far including through its longstanding partnership with the Salvation Army.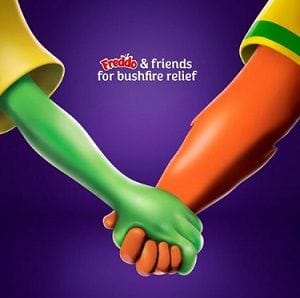 Yesterday's announcement followed chocolatier Cadbury's recent guarantee of at least $500,000 to support wildlife rescue, treatment and habitat restoration projects delivered by Zoos Victoria, Taronga Zoo Sydney and Kangaroo Island Wildlife Park.
Cadbury's Freddo & Friends for bushfire relief initiative will give 100 per cent of proceeds from Cadbury Freddo, Caramello Koala and Furry Friends products sold over a week to help save wildlife impacted by the fires.
"Our hearts go out to all that have been affected by the devastating bushfires. The impact on families, homes and the environment is truly devastating," the company said in a Facebook post on 10 January.
"Like all that have been affected, our precious and much-loved native wildlife have suffered incredibly."
Meanwhile, Crown Resorts and the Packer Family Foundations have offered $5 million, of which $1 million will go towards WIRES and Zoos Victoria.
"This has been and continues to be a tragic event and we are incredibly thankful for the hard work and sacrifice of our nation's firefighters, emergency services and charitable organisations," the Hon. Helen Coonan said on behalf of the Crown Resorts Foundation.
"We encourage all Australians to give generously to assist those that have lost their homes and livelihoods, and to support our wildlife and firefighters risking their lives in the field.
The Australian branch of Brooks Running has also pledged to donate 100 per cent of online sales today to Wires and the Red Cross.
WIRES CEO Leanne Taylor thanked people for their support on Friday including contributions from "businesses, organisations, high profile celebrities and the overwhelming support of the international and local community".
"While NSW has been hit the hardest with an estimated 800 million of the 1 billion animals affected to date and approximately 5 million hectares of land burnt, a National Emergency requires a national response and WIRES will act to provide assistance to all wildlife in line with our mission," Taylor said.
"The allocation of donations received by WIRES will be used to assist as many animals as possible across our nation - we can and will allocate funding and support to all states and territories where needed to assist animals affected by this crisis.
"We will soon be announcing some new initiatives that have been made possible through these generous contributions."
Taylor spoke about an immediate need to locate, rescue and care for injured animals, as well as a much needed longer term focus on supporting animals affected by the loss of habitat, the shortage of food and depletion of their populations in the wild.
"With the imminent risk to threatened species on the pathway to extinction as a result of the mass elimination of habitat, urgent action is needed," she said.
"Right now, our staff, qualified experts and volunteers are working around the clock to ensure that as many native animals as possible receive the ongoing care, supplementary food and recovery they need. This includes koalas, kangaroos, wallabies, wombats, possums, echidnas, birds, reptiles and more.
"During this difficult time we would also like to make a very special mention and pass on our sincere thanks to the thousands of volunteers across Australia who rescue and care for native animals every day."
Click here for a list of DGR-endorsed animal welfare charities, and here are some quick links if you would like to donate towards helping Australia's wildlife:
Gofund me for Kangaroo Island's koalas and wildlife
Wild 2 Free Kangaroo Sanctuary
Adelaide Koala & Wildlife Hospital
Impact estimates for animal populations
The estimated figure of more than one billion animals killed in the bushfire season since September, including 800 million in NSW alone, came from University of Sydney Professor Chris Dickman.
"I think there's nothing quite to compare with the devastation that's going on over such a large area so quickly. It's a monstrous event in terms of geography and the number of individual animals affected," Dickman told National Public Radio (NPR) in the US.
"We know that Australian biodiversity has been going down over the last several decades, and it's probably fairly well known that Australia's got the world's highest rate of extinction for mammals," said Dickman, a past president of the Australian Mammal Society and of the Royal Zoological Society of NSW.
"It's events like this that may well hasten the extinction process for a range of other species. So, it's a very sad time."
The figures are based on a 2007 report for the World Wide Fund for Nature (WWF) on the impacts of land clearing on Australian wildlife in New South Wales.
The authors of that report had deliberately used very conservative density estimates for mammal, bird and reptile populations.
Dickman said what we were seeing with these bushfires were the effects of climate change.
"Sometimes, it's said that Australia is the canary in the coal mine with the effects of climate change being seen here most severely and earliest We're probably looking at what climate change may look like for other parts of the world in the first stages in Australia at the moment," he said.
"I think there is a feeling among environmental scientists and ecologists in Australia that we've been frozen out of the debate, certainly out of policymaking.
"think it's now time to bring the scientists back into the tent to look at what is likely to be happening over the next few decades and to think about how we can maintain both the human community in good health and as much biodiversity as can be retained under this evolving situation."
Never miss a news update, subscribe here. Follow us on Facebook, LinkedIn, Instagram and Twitter.
Business News Australia
Help us deliver quality journalism to you.
As a free and independent news site providing daily updates
during a period of unprecedented challenges for businesses everywhere
we call on your support